---
www.dollymania.net News July 2011
---
July 30:
First Tour Date Breaks Top 20



The first numbers are out for Dolly's Better Day World Tour, and its starter proved to be one of the 20 biggest shows of the week nationwide. This week's Boxscore from Billboard includes concerts of the week that her tour opened in Knoxville, and Dolly's performance ranked No. 19 for largest gross, with $450,574 in ticket sales. Just under 94 percent of the venue's available 9,193 seats for the fund-raiser show to benefit her Imagination Library were sold. Officials have said the show should net – after expenses – about $200,000 for the charity. Hopefully, the next several dates on the tour will be on next week's chart, assuming the venues report them. In related tour news, The News Observer offered a Q&A with Dolly here Friday in advance of Tuesday's Durham concert, and The Chicago Tribune provided a glowing review from her Thursday night engagement in that city here. Access Hollywood offered a cute interview this week from backstage at the Hollywood Bowl, viewable in the media player above or by clicking here. And check out, yes, another set of photos from the Knoxville show courtesy Harrell here.

New Dolly Book To Hit Shelves
AOL's The Boot country music blog on Friday profiled the new scholarly book The Words and Music of Dolly Parton, coming out July 31. The tome features several sections that cite Dollymania.net as the source of their information! Read what AOL had to say about the publication here, and order your copy here!

Video Falls Off CMT Chart
After just one week at No. 19, Dolly's video for "Together You And I," the debut single from Better Day, dropped out of CMT's Top 20 Countdown Friday. You may vote for it on next week's show here and the network's Pure 12 Pack countdown here.
---
July 29:
'Better Day' Doesn't Fall Much In Week Four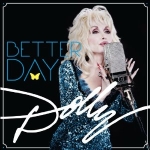 Dolly's Better Day held on pretty steady in its fourth week sales, the Aug. 6 charts from Billboard released on Thursday confirmed. The set inched down just one slot to No. 22 country, seven spaces to No. 129 on the all-genre Top 200 "pop" albums chart and three tabs to No. 120 on the current albums tally. Up north, it slid three to No. 65 Canadian country. Elsewhere on the charts, The Grascals' Country Classics With A Bluegrass Spin, featuring Dolly on three tracks, falls back off the 15-position bluegrass albums list, down from No. 12 the previous week, its 26th. Overall, Blake Shelton's Red River Blue remains at No. 1 country and falls five to No. 6 pop, while Jason Aldean's My Kind of Party rebounds one to No. 2 country and slips one to No. 8 pop in its 38th week.
Tour Hits Chicago, More Coverage Posted
Dolly's Better Day World Tour continues on, with Chicago on Thursday night. In previewing the show there, Time Out published a brief here and The Chicago Reader showed off a fan's Dolly tattoo here. Following Wednesday night's stop in Minnesota, The Star Tribune called the show "entertaining" here but complained about the degree to which she used canned vocals (a staple in most of her tours for the past decade). And in advance of Sunday's Washington, D.C.-area stop, The Washington Blade focused on her LGBT fan base, interviewing yours truly, 9 To 5: The Musical scriptwriter Patricia Resnick and Hollywood To Dollywood stars Larry and Gary Lane for the piece here. (In somewhat related news, check out an interview with The Lane Twins about their project from Associated Content here.) And check out the next set of pictures from the Knoxville tour opener from Harrell here.
U.K. Fan Talks About Meeting Dolly
The Stirling Observer on Thursday profiled the local singer who met Dolly and got a "master class" from her in singing for the BBC television show Tonight's The Night which aired a few weeks ago. Read it here.
---
July 28:
Another Tour Interview, Photo Gallery
Dolly's Better Day World Tour, hitting Chicago on Thursday, Connecticut on Saturday and the Washington, D.C.,-area on Sunday, garnered a cute little interview with The Washington Post's "Express" here on Wednesday, including her comments about Roseanne Barr's claim she's "covered" in tattoos. Also, just because I haven't had time to post many pictures, don't stop sending them in! I'm still getting through the tour opener in Knoxville, with another set from Harrell here!
Paper: DeGarmo Departure Improved '9 To 5'
Dolly's 9 To 5: The Musical on Tuesday night opened in the final city of its first national tour, Ft. Worth, Texas, where The Star Telegram opined that the show is much improved with the replacement of Diana DeGarmo as Dolly's Doralee character. Read their review here. DeGarmo left during the show's Minneapolis-area run, the tour's next-to-last stop. It closes in Texas on Sunday.
Another 'Better Day' Review Released
Rolling Stone gave a mixed review to Dolly's new Better Day CD in a piece posted here this week, noting her writing is "a mixed blessing," sometimes generating sassy and genius numbers while at other times going too cutesy with her pen.
Contest Winners Meet Dolly
The Shreve family of Lone Oak, Texas, recently won the Pigeon Forge Family Challenge webcast game show and as part of their prize got to meet Dolly herself, the Associated Press reported here.
---
July 26:
Latest From California
Dolly's California stops on her Better Day World Tour continued to earn notice on Monday. Her Hollywood Bowl duo of dates snagged coverage from AOL's The Boot here and a review from She Wired here. Photos from Sunday's engagement in the San Francisco area showed up on CMT.com here and netted a review from The San Jose Mercury News here. Her rap from the show made celebrity gossip site TMZ here. And thanks to Jamie for alerting me to his footage from her Joyful Noise medley on YouTube here. Finally, her promoter Down Under, Chugg Entertainment, has announced a 14-part webseries will premiere at month end on its Facebook page filmed over a week with her in Nashville offering never-before-seen behind-the-scenes footage of her life each week leading up to the segment of the tour in Australia. Learn more from The Star Observer here. The tour next moves to Prior Lake, Minn., on Wednesday.
Another Positive CD Review
A great Better Day review was published this week in South Florida Gay News here.
---
July 25:
Dolly Hits Los Angeles Running
I'm told Dolly was spectacular over the weekend at the Hollywood Bowl, playing to a crowd that included celebrities such as Chad Lowe, Tobey Maguire and goddaughter Miley Cyrus. Check out a gushing review from The Orange County Register here and one from The Los Angeles Times here that found a few faults but thought the overall show was still spectacular. And thanks to Tabby for finding some pics of Dolly visiting LA's Il Sole restaurant with former manager Sandy Gallin here. Finally, check out another set of images from her Better Day Tour kick-off in Knoxville courtesy Dollymania.net correspondent Harrell Gabehart here.
'Very Best' Gone Down Under
After several weeks back on the chart Down Under, The Very Best Of Dolly Parton, Volume 1 this week falls back off the top 20 Australian country albums chart, down from No. 19 in its 77th week.
Aussie Library Story Posted
A profile about Dolly's Imagination Library, especially its British program, is available here from Australia's Sydney Morning Herald.
---
July 23:
Dolly Enchants Jay On 'Tonight'



Dolly was the usual jokester, keeping the host in stitches in her first return to NBC's The Tonight Show with Jay Leno in three years with an appearance on the program Friday night before her Hollywood Bowl concert. Check out footage of the episode in the media player above or by clicking here. In related news, check out an interview about her Better Day World Tour with The San Francisco Bay Guardian here, as the tour heads to the Bay Area on Sunday, and another Harrell Gabehart gallery from the tour's Knoxville opener is now available here.

Video Makes CMT Chart
Dolly's video for "Together You And I," her first single from Better Day, debuted Friday on CMT's Top 20 Countdown, coming in at No. 19. You may vote for it on next week's show here and the network's Pure 12 Pack countdown here

T-shirt Flap Splashes Dollywood Water Park
Dollywood's Splash Country water park managed to get itself into a little hot water this week, with the blogosphere all a twitter on Friday about the tale of a lesbian couple, one of whom was asked by park staff on a recent visit to turn a "Marriage is so gay" pro-same-sex marriage t-shirt inside-out in compliance with the park's policy against clothing that might offend other patrons. The publicity apparently started with the local NBC station here on Tuesday, and then several blogs got wind of it on Friday. Coverage Friday included The Atlantic Wire here, All Headline News here and Unicorn Booty here (which included a copy of the woman's letter to the park). In response, a park spokesperson told one blog: "Dozens of times a month, we ask patrons to turn their shirt inside out. The park tries to provide an environment that is away or removed from everything else in the world--where people can just enjoy themselves. Our park is open everyday to everybody. It's open to every and all kinds of families enjoying their day." For many years, Dolly has as an individual been an outspoken public advocate for gay rights, including her support for gay marriage (she even donated a song for a gay marriage fund-raising CD a few years ago), but her business interests have largely attempted to avoid issues that some may see as controversial.
---
July 22:
Chenoweth Premieres 'WWDD'


Broadway star and Dolly devotee Kristen Chenoweth this week stopped by Chicago's US 99.5 radio station to sing several songs from her upcoming country CD, Some Lessons Learned, which features a cover of Dolly's "Change" as well as her original song "What Would Dolly Do?" and she performed the latter number for a small audience in the studio. Watch it in the media player above or by clicking here.

'Better Day' Falls From Top 20, Top 100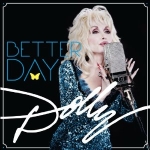 Dolly's Better Day drops further in its third week on the charts, the July 30 Billboard numbers released Thursday revealed. The album dips four places to No. 21 country, 34 digits to No. 122 on the all-genre Top 200 pop albums list and 30 spots to No. 117 on the current albums chart. Elsewhere on the charts, The Grascals' Country Classics With A Bluegrass Spin, with three Dolly guest appearances, inches up one to No. 12 bluegrass albums in its 26th week on that list. Overall, Blake Shelton's Red River Blue debuts at No. 1 country and pop, while Chris Young's Neon debuts at No. 2 country and No. 6 pop.
Better Day Tour Interviews, Pics
Dolly's Better Day World Tour hit Albuquerque, N.M., on Wednesday and is now in the City of Angels for the weekend. She'll tape NBC's The Tonight Show with Jay Leno Friday afternoon for a Friday night airing, possibly while she is on stage for her premiere Hollywood Bowl concert, the first of two engagements at the famed venue. The tour then heads to Concord, Calif., near San Francisco on Sunday. As promotions for the tour continue, check out interviews from Thursday with AOL's The Boot here, The San Francisco Examiner here and Atlanta Journal Constitution here as well as a review of Tuesday's Dallas-area concert here from The Dallas Observer, a "10 things you didn't know about Dolly" profile here from The Oakland Tribune and a three-star mixed review for the CD from Country Weekly here. The reviewer found the music nice but not as stellar as her mid-1970s classics. In addition, check out the next gallery of shots from Knoxville courtesy Dollymania.net correspondent Harrell Gabehart here. Thanks!
Kenny Has Fun At Dollywood
Dolly's good friend Kenny Rogers recently visited her Dollywood theme park with his family, according to The Knoxville News Sentinel. Read about it here.
Florida Library Shuts Down
State budget cuts have resulted in the closing of a Florida chapter of Dolly's Imagination Library literacy program, The St. Augustine Record reported here. Just over three years into the program in Putnam and St. Johns Counties, the more than 4,000 children enrolled received their final books in June. The Early Learning Coalition, which operated the program there, was funded primarily through state grants which were so severely cut this year that they could no longer afford the program, according to the story.
---
July 20:
Knox Photos Posted, Dallas Interviews
Thanks to Dollymania.net correspondent Harrell Gabehart for sending in some great shots from Dolly's Better Day World Tour opener in Knoxville Sunday night. Check out the first here of several galleries to come. The tour rolled into the Dallas area on Tuesday night and moves on to Albuquerque, N.M., on Wednesday night. Check out an interview with The Dallas Observer here and one with The Dallas Morning News (available only to subscribers) here.
---
July 19:
Video, Set List From Knoxville Tour Starter



News continues to pour out from Dolly's Better Day World Tour opener Sunday night in Knoxville, including videos posted to YouTube by The Knoxville News Sentinel of the opening segment here and in the media player above and "Better Get To Living" here and in the media player below. Look for lots of photos here in coming days submitted by attendees. Thanks to Chris for the set list available below. And check out stories from The Knoxville News Sentinel here (which was abbreviated by The Associated Press here) and CMT (with a photo gallery) here. There's also an interview with The Chicago Daily Herald here and a story from The Albuquerque Journal here.

Light of a Clear Blue Morning/Walking On Sunshine/Shine Like The Sun

Better Get To Livin'

Jolene

Bluegrass Segment (each song abbreviated): Rocky Top, Mule Skinner Blues, Help, Shine, Stairway to Heaven

My Tennessee Mountain Home

Precious Memories

Coat of Many Colors

Smoky Mountain Memories

Son of a Preacherman

Better Day

Together You and I

Holdin' Everything

Queen Latifah Rap

Medley of songs from Joyful Noise

He's Everything (from Joyful Noise)

INTERMISSION

White Limozeen

The Best of Both Worlds (Hannah Montana Theme)

The Sacrifice

In The Meantime

Little Sparrow

Band Introductions (with lots of dancing from Dolly during "River Deep, Mountain High")

Here You Come Again

Islands In The Stream

9 to 5

Encore: I Will Always Love You

Light of a Clear Blue Morning (new version)


British Library Gets London Paper Notice
The Guardian, one of Britain's most respected newspapers, this week profiled the U.K. version of Dolly's Imagination Library literacy program. Read it here.
---
July 18:
Better Day World Tour Kicks Off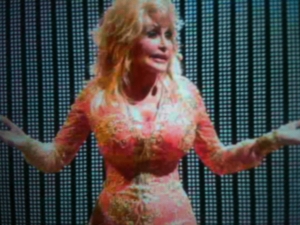 "It was a better day to see her!" one concert-goer enthusiastically reported following Dolly's Knoxville opening of her Better Day World Tour Sunday night as the reader who wished to remain anonymous sent in the photo at left. He also reported she "moved and danced" more than in any previous tour. The concert opened with a "Walkin' On Sunshine"/"Shine Like The Sun"/"Light Of A Clear Blue Morning" mash-up and the energy never died down. Check out a photo from Getty Images here, a story from Volunteer TV here and a note from Knoxville News Sentinel columnist Terry Morrow here. If you took photos you wish to share, please send them here. Thanks! The tour next heads to the Dallas, Texas, area on Tuesday night.
'Better Day' Continues To Be Discussed
As the tour rolls on, so does the promotion of her CD it's named after, Better Day. The music video for its first single, "Together You And I," is now available for voting for CMT's Top 20 Countdown here and its Pure 12 Pack countdown here. (Thanks, David!) The project also earned a Los Angeles Times story and interview here over the weekend.
Aussie Chart Update
The Very Best Of Dolly Parton, Volume 1 sticks around another week Down Under, falling three to No. 19 in its 77th week on the Australian country albums top 20 list.
'9 To 5' Nears Wrap-Up
The national tour of Dolly's 9 To 5: The Musical wraps up soon in Ft. Worth, Texas, with a one-week engagement starting a week from Tuesday, and that garnered a story in The Ft. Worth Star-Telegram here over the weekend. The only new items discussed are that star Diana DeGarmo has already left the touring company and that the number of original songs Dolly wrote to be considered for the project exceeded 100 all total.
---
July 16:
M&G Rules For Tour Announced
After months of speculation on the part of fans and just two days before her new Better Day World Tour begins in Knoxville, Dolly Records on Friday announced the rules for the tour's meet-and-greet contests with Dolly through the label's official website, DollyPartonMusic.net. Entrants must be members of the website's online fan club, the Dollyites, to enter and at the time of the concert if selected as a winner. Entrants must also have tickets to the concert if chosen as a winner. If chosen as a winner, the person will be able to go backstage, meet Dolly and have a professional photograph taken. Personal cameras and autographs are not allowed. Guests (including the winner's children) are not allowed backstage with the winner unless the winner is under the age of 13, in which case he or she may be accompanied by an adult. To be eligible for the contest, Dollyites will register via the site's tour page. Registration for each concert will begin approximately two weeks prior to the show and close two days prior to the show. Between two and 10 winners for meet-and-greet passes will be randomly chosen from all entrants. Winners will be ineligible for a second meet-and-greet contest win until the start of their next Dollyite membership year. In related news, reviews of Dolly's Better Day CD were posted Friday to Hampton Roads here and Blinded By Sound here.
---
July 15:
'Better Day' Falls To No. 17 Country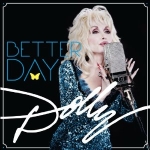 Dolly's Better Day had a significant sales drop in its second week, the July 23 Billboard charts released Thursday confirmed. The set plummets 37 spots to No. 88 on the all-genre Top 200 pop albums list and 38 places to No. 87 on the current albums chart, while it falls off the 25-position Internet album sales tally, down from its No. 25 debut there last week. The collection also tumbles six spaces to No. 17 U.S. country albums and 10 points to No. 27 Canadian country albums. Elsewhere on the charts, The Grascals' Country Classics With A Bluegrass Spin, featuring several Dolly collaborations, slips two to No. 13 bluegrass albums in its 25th week on that list. Overall, Jason Aldean's My Kind of Party holds steady at No. 1 country and No. 6 pop in its 36th week, while Justin Moore's Outlaws Like Me gains one spot to No. 2 country and No. 12 pop in its third week.

CD, Tour Promotions Continue



Dolly's promotions to support the album and its corresponding tour continued on Thursday. The USA Today story linked here online Wednesday night appeared in the print edition of the national newspaper on Thursday, complete with front page above-the-fold photo teasers for it in the A section and the Life section of the publication. GAC aired her hour-long episode of The Collection, which repeats Friday and Sunday (check out a clip from that interview in the media payer above or on YouTube here). And print interviews appeared in The Dallas Voice here, The Maryville Daily News here and The Knoxville News-Sentinel here (with a side-bar here).

Library Expands In Kentucky
Dolly's Imagination Library literacy program is headed to south Kentucky thanks to a partnership with the United Way of Southern Kentucky, TV station WBKO reported here Thursday.
---
July 14:
Crook & Chase Giving Away Backstage Passes
Dolly Records has teamed with Premiere Radio Networks and its programs The Crook & Chase Countdown and After MidNite with Blair Garner to offer one lucky fan a major prize package to meet Dolly. Entries (limit one per person) will be accepted here through 11:59 p.m. Sunday for a contest to win two VIP tickets to a Dolly concert on her upcoming Better Day World Tour, two backstage passes to meet Dolly at the show, roundtrip airfare for two and two nights' hotel accommodations. The location of the concert has not been announced. Thanks, Greg!
Latest Tour Dates Added
Readying for the Better Day World Tour to start this weekend, Dolly Records on Tuesday announced five new dates for the second American leg of the tour this fall. In addition to officially announcing the Oct. 14 engagement at Wild Adventures theme park in Georgia that had previously been reported on this site, Dolly Records revealed the following dates:
• Oct. 7, Cedar Park Center, Cedar Park, Texas
• Oct. 8, BOK Center, Tusla, Okla.
• Oct. 11, Mississippi Coast Coliseum, Biloxi, Miss.
• Oct. 15, Ruth Eckerd Hall, Clearwater, Fla.
• Oct. 16, Van Wezel PAH, Sarasota, Fla.
In other news, the label this week revamped its official website, DollyPartonMusic.net. And interviews leading up to the tour appeared in USA Today here, The San Francisco Chronicle here and The Dallas Observer here.
Sales Not Looking Good For Week Two
Sales for Dolly's Better Day don't appear to have picked up in its second week, according to preliminary reports by Hits Daily Double. The site's tally of sales figures from major retailers don't include the album in this week's top 50 overall titles or top 11 country CDs of the week. Although early sales numbers with 56 percent of the list's retailers reporting had the album sitting at No. 48 with about 3,000 units moved, it fell out of the top 50 when the final list was released on Tuesday. Its No. 50 title sold 8,200 copies for the week, indicating that Dolly likely sold fewer for the week. Last week, the HDD list correctly predicted the CD's official No. 11 country albums debut with just over 10,000 units sold, although it only made it to No. 51 overall pop compared to HDD's No. 48 prediction.
'H2D' Gets More Showings
The guys with Hollywood To Dollywood tell me that the project has been accepted into two film festivals in Dolly's home state of Tennessee. It will be in the Sept. 9-15 Outflix Film Festival of Memphis and the Oct.26-Nov. 4 Southern Appalachian International Film Festival in Kingsport and Knoxville. Announcements of several additional festivals are expected soon, they tell me.
Who's Knocking At My Door
Ed. Note: The following is a narrative from Patric Parkey about Dolly's recent visit to his and Harrell Gabehart's home to see their collection of her memorabilia.
It's July 5Th around 3 pm Harrell and I were sitting in our living room waiting on instructions for our next scene for the TLC show The Obsession Collection.  Our friend Sharon that is visiting from Puerto Rico when out on to the porch staying out of the way.  The producer went outside and asked Sharon what are you doing out here and told Sharon that she had to go upstairs to the bedroom and take the dogs with her and stay there until he told her to come out.  Sharon didn't understand why until later on but still got mad.  We were given instructions for us to start talking about what part of our collection we would like to try to get into the Chasing Rainbow Museum at Dollywood.  The person over the Museum would be here in around 5-10 Min's and we had to have a answer by the time he got here.  We were sitting and talking as they filmed us then there was a knock on the door. 
Before we had a chance to get up the door open and someone called out Patric Harrell are you here.  We both looked at each other with the most shocking expression on our face.  We still didn't get up since we thought someone was playing a joke on us. The camera man looked at Patric really odd like he was trying to tell him to GET UP, Patric got up and to his surprise Dolly was there in the foyer of our house and gave Patric a great big hug.  Patric told Dolly that we thought that she was Justin from Dollywood. Dolly then told Patric as she reached for SHOCK AND AWE do I look like a Justin to you.  As I finally got up I saw Patric's face turn every shade of red that there is.  I walked over and Dolly gave me a big hug and said that she wanted to stop by and see all of our collection that we have  We then walked Dolly down the stairs into the basement and to Dolly's amazement and surprise Dolly herself didn't realize what we really had in our collection.  Dolly was so astonished about all her stage costumes and clothes that Dolly was almost speechless.  Harrell and I gave Dolly a short tour of some of the collection then the producer told us that he was getting ready to interview Dolly and we had to go up stairs while he done that.  
We were upstairs until they were finished then Dolly walked upstairs to us and told us that we needed to show her the rest of the house, so we were showing Dolly the walls in the stair case and then Dolly got to the top of the stairs and the camera man told Dolly to open the door to the bedroom.  Harrell and I panicked because Sharon was asleep on the bed with the dogs. Dolly opened the door before we could get up to the door and the dogs gave Dolly a very warm welcome then Dolly when in the bedroom and panicked when she saw Sharon on the bed and told the cameraman to stop filming someones asleep in there.  I then told Dolly it was all OK and I turned the light on and told Sharon that we had company and to her surprise Dolly walked over and gave her a big hug and told Sharon it was nice to see her again.  
Dolly was looking around our bedroom at all of the things on the wall then the producer told Harrell and I to get on top of the bed and stand.  Dolly was also instructed to get on the bed so Dolly kicked off her heels and got on top of the bed then the producer told all of us to jump up and down on the bed.  Harrell and I got scared since we just fixed the bed that morning because it broke and was afraid with all of us jumping up and down on the bed it was sure to bust again and this time with Dolly on it.  Our comforter still has all of the glitter that bounced off of Dolly's clothes all over it.  Dolly then looked in our master bath and was looking at the Christmas Tree that we got out of Dolly's apt in 2002.  After that everything is still a blur and have to think about the rest of this story.
---
July 11:
AP Talks To Dolly About 'Better Day'



The Associated Press has posted to YouTube a video interview with Dolly about her new album, Better Day, and its first single, "Together You And I," including clips from the music video. Check it out here or in the media player above.

'Very Best' Rises Down Under
The Very Best Of Dolly Parton, Volume 1 gets a little push this week, rising three to No. 16 in its 76th week on the Australian country albums top 20 list.

'9 To 5' Heading To Minneapolis
The first national tour of Dolly's 9 To 5: The Musical is nearing the end of its run, entering its second-to-last city, Minneapolis, on Tuesday. In advance of that show, The Minneapolis Star Tribune spoke with her about the musical and other things going on. Read the interview here.

Knoxville Getting Ready For Dolly
Dolly's Better Day Tour kicks off in just a few days in Knoxville with the show there to benefit her Imagination Library, and I'm told Knoxville's Club XYZ will be celebrating. A special show on Saturday night features the Hello Dolly Jubilee with Paige Passion and the XYZ Queens. Then on Sunday night there is a concert after-party featuring Dolly karaoke.

'H2D' Proving Popular In Festivals
Larry and Gary Lane tell me that the folks at Philadelphia's QFest say their project Hollywood To Dollywood broke attendance records with 115 guests at the screening on Saturday (a second screening is scheduled for Monday). The documentary has been added to several other festivals recently. Those coming up are:
July 16, Los Angeles Outfest (just 75 seats away from selling out the 600 seats); Q&A follows
week of Aug. 11: North Carolina GLFF
week of Aug. 18: Sacramento Film and Music Festival
Aug. 21: San Diego Film Out
week of Oct. 15: Glasgay (Glasgow, Scotland)
week of Nov. 3: Chicago Gay and Lesbian Film Fest
March 29, 2012: American Documentary Festival (Palm Springs)
---
July 8:
'Better Day' Debuts At No. 11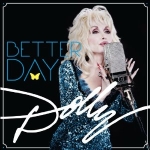 Although Dolly Records had announced on Wednesday that her new release, Better Day, would debut at No. 9 on the upcoming Billboard country albums chart, when the actual chart was released on Thursday the album didn't break the top 10. As was predicted earlier in the week by the preliminary sales figures of a little more than 10,000 copies sold as compiled by Hits Daily Double, the title debuted at No. 11 country. Surprisingly, once the few retailers that are not counted by HDD were added in for the Billboard numbers, the album actually fell lower on the pop side, coming in at No. 51 on the overall Top 200 chart instead of No. 48 as HDD had predicted. However, once older titles are removed and only current releases included, it did reach No. 49 on the Current Albums list. On Internet sales, it debuted at No. 25 on the 25-position tally. For some reason, it was not included in the top 50 independent albums list, although it should have been. In addition, it ranked No. 17 country on the Canadian charts but didn't break the top 100 pop list up north. Elsewhere on the U.S. chart, The Grascals' Country Classics With A Bluegrass Spin, with three Dolly guest vocal appearances, gets a 24th week on the bluegrass albums chart, re-entering the 15-position list at No. 11. Jason Aldean's My Kind of Party regains one to No. 1 country and four spots to No. 6 pop in its 35th week, while Scotty McCreery's American Idol Season 10 Highlights debuts at No. 2 country and No. 10 pop.
New Interview, Critic Piece Released
A great new Dolly interview with Taste Of Country, complete with a video, was posted to the publication's website on Thursday. Check it out here. Also, CMT.com's Chet Flippo focused on Dolly, with praise for her new CD, in his weekly "Nashville Skyline" column here Thursday.
Dolly's Bed Auction Nearing End
Fans have just a few more days to get their bids in to own Dolly's bed from her former Dollywood apartment. The item is being auctioned off to benefit the Dr. Robert F. Thomas Foundation, a charity that supports health care in her native Sevier County, Tenn., and for which she serves as honorary chair. The auction ends on Sunday, and as of press time Thursday night, the bidding stood at $3,383, which was below the set reserve price. The winner get the headboard and footboard, frame, autographed pillow cases, sheets, curtains and valances, bedspread, dust ruffle and shams, but not the matress or box springs. See the auction here.
A Possible Hiatus
Your webmaster is heading out of town for a few days, and my Internet service may be interrupted, so if there are fewer updates, please forgive :)
---
July 7:
'Better Day' To Hit No. 9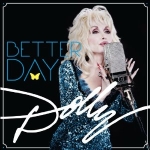 Better Day will barely break the Billboard country top 10 after all, Dolly Records revealed on Wednesday in advance of the full chart releases on Thursday. The label says the CD will debut at No. 9, as sales from retailers that don't report to Hits Double Daily's preliminary sales totals pushed it up a couple of places from its expected debut at No. 11 that was reported here based on HDD's Tuesday report. The album's pop debut was not yet known, but its two-spot jump on the country tally indicates its final first-week sales were most likely in the 15,000-unit area, which could translate to a No. 29-No. 34 or so pop debut, up from its HDD No. 48 projected landing on the overall album sales list.

CMT Gets Dolly's Next Video Diary



As part of her being CMT.com's "Posted" artist for the month, the cable channel's website this week got the next installment of Dolly's video diary instead of her official record label's website and YouTube. This edition promotes her upcoming tour. Watch it here or in the media player above.

Dolly Snags Another Honor
Dolly's Imagination Library has earned her another national award, it was revealed Wednesday. This time, the honor comes from the American Association of School Librarians, which has named her this year's Crystal Apple recipient. Read more from The School Library Journal here.
---
July 6:
'Better Day' Might Not Break Top 10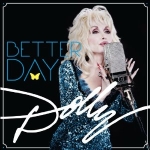 Better Day, Dolly's new album that came out last week, could have had a much better week, early chart indicators suggest. The Hits Daily Double preliminary sales chart released Tuesday projected that the set moved only 10,190 copies in its first week, which if accurate would allow for a No. 48 pop debut and No. 11 country debut when the official charts come out Thursday. HDD uses data reported by the majority, but not all, major retailers. The industry "bible," Billboard, bases its charts on Soundscan data compiled from nearly all U.S. retailers, resulting in a much more accurate but very similar list. For example, HDD in 2008 projected her most recent studio set, Backwoods Barbie, would land at a No. 2 country and No. 18 pop debut with 26,500 copies sold, and when the Billboard list arrived, it was No. 2 country and No. 17 pop with 27,000 copies sold, more than two and a half times the preliminary first week numbers for her new release.
In related news:

Interviews about the project appeared this week with LGBT publication Out and About here and Chicago's US 99 radio station here.

Additional gushing reviews came out Tuesday from GAC here ("It's all about seizing the moment here, and with tight production, accessible melodies and expressive songs, Better Day accomplishes being an uplifting collection that celebrates today while managing to continue looking to an even brighter tomorrow.") and The Boston Globe here ("a feisty antidote to uncertain times").

NPR on Tuesday promoted the album with a very positive six-and-a-half-minute review on its Fresh Air program which noted: "There's a sincere and earnest quality to this music that enables it to stand apart from so much of the trumped-up emotionalism and cheesy irony of the pop-music world all around it." Read or listen to the full review here or in the media player below.


Dolly Surprises Site Contributors With Visit
Would you have a heart attack if Dolly showed up unannounced on your doorstep? Well, frequent Dollymania.net correspondents Harrell Gabehart and Patric Parkey know now they have well-functioning hearts because I don't believe any medics were called to their Pigeon Forge home on Tuesday when Dolly made a surprise appearance. The pair, who own what is undoubtedly the largest private collection in the world of big-ticket Dolly items they've picked up at auctions over the years (including literally dozens of her stage costumes, shoes, musical instruments, even a car of hers), was expecting a camera crew from cable network TLC to shoot an episode of their new program, My Collection Obsession, on their wall-to-wall Dolly memorabilia. They didn't expect that the camera crew would be accompanied by Dolly herself, though, who The Knoxville News Sentinel reports here was filmed taking a tour of their collection.

Library Addition For Blind Gets Noticed
The announcement that Louisville, Ky.-based American Printing House for the Blind was teaming up with Dolly's Imagination Library literacy program to provide Braille and audio books for children with visual impairments made The Louisville Courier-Journal on Tuesday with a brief here.
---
July 5:
'Together You And I' Video Premieres



Dolly's music video for her current single from her Better Day CD, "Together You And I," premiered Monday on CMT.com. Watch it in the media player above or by clicking here. In related news, check out a review of the album from Theatremania here that says it finds her "in fine form." And Billboard posted a six-question interview with Dolly about the project and other matters here. (Although it counts only three songs from her Broadway musical, missing "Get Out and Stay Out.") A review also has been released by Billboard here.

More Canadian Press
With the final week of shows in Toronto starting for the touring company of Dolly's 9 To 5: The Musical, she is getting some attention across the border. Interviews appeared in The National Post on Monday here and in The Toronto Sun here (in the latter of which, the reporter drew her to repeat her endorsement of same-sex marriage and add that people who call themselves Christian but oppose gay marriage have "forgotten that the Bible preaches acceptance, tolerance and forgiveness.") Reviews of the show made Post City here, which calls Dolly's score "humdrum," and The Globe and Mail, which notes the show is "harmless fluff" but enjoyable here.

'9 To 5' Cast To Sing In Minnesota
The sister-in-law of the actor who plays Mr. Hart in the touring company of 9 To 5: The Musical has secured 13 cast members to perform numbers from other Broadway shows in which they've performed as a fund-raiser for the Women's Fund of the Central Minnesota Community Foundation July 18, The St. Cloud Times reports here.
---
July 4:
Happy Independence Day!



Here's hoping everyone has a wonderful Fourth of July! See Dolly's message on the holiday via YouTube here or in the media player above.

'Better Day' Vinyl Coming Aug. 16
Retailers have been notified to expect commercial availability of the vinyl version of Dolly's Better Day album on Aug. 16. No word on whether the version sold in stores will be yellow vinyl, as is the version to be shipped to those who advance ordered the premium CD package through Dolly's official online store. Reserve your copy of the vinyl release, her first full-length vinyl album to be released in 20 years, via Amazon.com here! In related news, thanks to Tony for alerting me Dolly has been announced as a guest for next weekend's CMT Top 20 Countdown show, which premieres Friday morning. In the latest reviews, The Philadelphia Inquirer gives the collection three out of four stars here, noting Dolly is one of just a few artists who can sing about positivity "and not only not sound ridiculous but also sweep up the listener in her optimism and down-home wisdom." Likewise, The Toronto Sun gives it three out of five stars, saying here while cliché, "Dolly sells it so sweetly and sincerely you can't help but buy it.."

Dolly Nears Bottom Down Under
With the extra sales due to her slate of media appearances to promote this fall's tour Down Under dying down, the four-year-old compilation The Very Best Of Dolly Parton, Volume 1 may be ready to drop back off the Australian country albums top 20. It slips three more spots this week, its 75th on the tally since release, to come in at No. 19.

Latest '9 To 5' Reviews
Critics continued over the weekend to chat about the Canadian stop of Dolly's 9 To 5: The Musical, which Blog To gave a mixed review which liked most of the music but disliked the script here. Likewise, The National Post here hated the script but found the music enjoyable, noting it's not exactly "a good theatre score" but shows Dolly has the talent to write "a very good one" if she had a better script on which she could base the songs.

Dolly Guests On BBC Next Week
Thanks to Amanda for alerting me that Dolly will appear on the BBC program Tonight's The Night next weekend. Hosted by Torchwood star John Barrowman, he oversees everyday people fulfilling their dreams. On next Saturday's show, premiering at 7:10 p.m. British time on BBC One, a teaching assistant sings with pop group The Wanted, a lady vicar rally races, a DJ joins Million Dollar Quartet in the role of Elvis and Dolly mentors a fan.
---
July 2:
More 'Better Day' Interviews, Reviews
The Dolly publicity train continued chugging along throughout the week promoting her new Better Day CD. She appeared Friday on the Great American Country (GAC) weekly Top 20 Country Countdown to talk about the album, tour and more. The channel should post unaired footage from that interview soon on the "Top 20 Extras" portion of its website here. CMT.com launched its revised "Posted" section of its website here, and as was previously reported here, Dolly was the first highlighted artist. (However, unlike the article that announced it had suggested, her month to be profiled is July instead of the online service rotating among an artist from MTV and VH1 for a month each before highlighting a CMT star.) The section includes links to her videos, her recent CMT.com interview and a behind-the-scenes photo shoot from her upcoming music video. Seattle radio station 100.7 FM posted an audio interview with her here, and Albuquerque's Local IQ posted a written interview with her here in which she asserts that her current appearance is "leaning towards more cartoonish than beautiful because of what I've done to try to be beautiful in my life." Also, The Knoxville News Sentinel reviewed the project here, saying it's "not a new classic, but it's definitely prime Parton" and sounds like a 12-step help group.
Dolly's Songwriting Recognized In Billboard
Your webmaster is quoted in the ChartBeat column this week on Billboard's website in response to a piece last week on singers writing songs for other artists. I provided a list of several charted songs by other artists written by Dolly. Read the article here.
---
July 1:
Dolly: Video Moved To Next Week
As the week draws to a close, more interviews from Dolly's Tuesday media whirlwind satellite tour continue to pop up. Thanks to James for sending one from Good Morning Texas in Dallas here, which includes her statement that the much-anticipated music video for the first Better Day single, "Together You And I," has been delayed until next week. Officials with her record label had previously announced that it would premiere the same day the album was released this week. Interviews also were posted in written form with The Los Angeles Times here, Illinois Entertainer here and part two of her CMT.com interview here, while another video interview, this time with Knoxville radio station WIVK, is available here. Also, a strong review, giving it three-and-a-half out of five stars, was published by Taste Of Country here.
'9 To 5' In The Canadian Press
While Dolly's 9 To 5: The Musical is up in Canada, it is getting some press. LGBT publication Xtra interviewed star Diana DeGarmo here, while The Toronto Sun gave a mostly negative review of the show here.  
Grascals Fall From U.S. Charts
After a nice 23-week run on the bluegrass albums chart, The Grascals' Country Classics With A Bluegrass Spin, featuring several Dolly guest vocal appearances, this week falls off the tally dated July 9, it was revealed Thursday. The Cracker Barrel-exclusive release falls from No. 13 on the 15-position chart the previous week. Elsewhere on the charts, Justin Moore's Outlaws Like Me debuts at No. 1 country and No. 5 pop with 65,000 copies sold in its first week, while Jason Aldean's My Kind of Party slips one to No. 2 country and five places to No. 10 pop in its 34th week with 40,000 units moved.
Imagination Library Chided In Tenn. Report
Tennessee officials are objecting to the inclusion of a state subsidy for Dolly's Imagination Library in a "pork" report alleging it is government waste, according to Knoxville TV station WBIR here. The annual report by the Tennessee Center for Policy Research argues that using $3 million per year in taxpayer dollars to buy books through the program that prepares children for kindergarten is inappropriate, but state officials counter that it is a necessary investment in education.
---