---
www.dollymania.net News August 1999
---
Aug. 30: Dollymania passed 20,000 visitors yesterday! Again, many thanks to all who've come by and the many repeat visitors!

* * * * *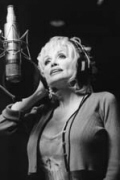 Aug. 29: Sugar Hill Records yesterday released several photos of Dolly in the studio recording The Grass is Blue, her bluegrass album due out in October. To see them, click here.
* Did you catch Donnie & Marie on CNN's Larry King Live Friday? They always show clips before heading out to commercials, and two of the four or five clips were of when Dolly was the guest.
* Buddha Records' re-issue of Dolly's Coat of Many Colors made it onto Country.com's reviews of the best CDs released last week. To read what they have to say, click here.
* The Knoxville News Sentinel's Wayne Bledsoe gave Linda Ronstadt and Emmylou Harris' duet album a lackluster review on Friday, even though it spoke pretty well of Dolly: "Funny how after two outings with the trio of Emmylou Harris, Dolly Parton and Linda Ronstadt that the music seems so sparse when only Ronstadt and Harris team up. Western Wall has a several gorgeous moments, the duo's take on Jackson Browne's 'For a Dancer,' Patty Griffin's 'Valerie' and especially 'All I Left Behind,' written by Harris with Kate and Anna McGarrigle. Overall, though, Western Wall sounds unfocused and uninspired. Maybe it's the absent Parton who made the singers click GRADE: C"

* * * * *
Aug. 27: Order the Dolly mix of Culture Club's "Your Kisses Are Charity," the version with Dolly, for ordering. To get it, click here.
* Dolly made it onto ABC's Who Wants To Be A Millionaire? last night. The question was what artist has had national top 40 hits in the '50s, '60s, '70s and '80s. The choices were Ray Charles, The Rolling Stones, Stevie Wonder and Dolly. The guy chose his 50/50 "lifeline," where they take away two of the wrong answers, leaving Ray Charles and Dolly. Of course, Ray Charles was the correct answer. Any true Dolly fan knows she had no hits in the '50s, and although her first country hits were in the '60s and first Top 100 pop charted singles in 1974 ("Jolene," No. 60), she did not make it into the Top 40 until "Here You Come Again" made it to No. 3 in 1977.

* * * * *
* As reported here in May, the cable network Bravo will air its "Profile" on Dolly next month. From the network: September 1999 Bravo Profiles, Dolly Parton. Premieres Monday, Sept. 6th @ 10PM (ET). Bravo profiles the "country girl" from east Tennessee who conquered the world. Dolly Pardon debuted at the Grand Ole Opry at age 13. She heads a $100 million media empire which includes the Smokey Mountain theme park Dollywood, has had successful forays into films and television, and is a country music singer/songwriter whose crossover hits include "Jolene" and "I Will Always Love You." Bravo follows Dolly through her jam-packed schedule that includes motion pictures and television and discovers that her dedication to her first love, music, is nothing short of astounding. Thanks Chris!

* * * * *
Aug. 25: Got a little more information today on Dolly's upcoming bluegrass CD, including the fact that she's booked in early November for NBC's "The Tonight Show" to promote the late-October album. For the full press release from Sugar Hill Records, click here.
* All praise Buddha! Buddha Records' long-awaited reissues of Dolly's Coat of Many Colors and 9 to 5 and Odd Jobs were released today!

* * * * *
Aug. 20: It was announced yesterday that Dolly has received a rather unique honor, being named the 1999 Celebrity Catfish Lover by the The Catfish Institute. For the full story, click here.
* Columbia has finally released the track listing for Dolly's Sept. 14 Super Hits collection: My Tennessee Mountain Home (1994, live), Jolene (1995), The Seeker (1995), Coat Of Many Colors (1994, live), To Daddy (1994, live), Silver And Gold (1991), Why'd You Come In Here Lookin' Like That (1989), Rockin' Years (with Ricky Van Shelton, 1991), Romeo (1993), He's Alive (1989). To order, click here.

* * * * *
Aug. 19: Dolly TV show update! From World Entertainment News Network Wednesday: Busty country and western star Dolly Parton is set to become a rival for talk show king Jerry Springer when she launches her own talk show. The "9 to 5" hitmaker has been in talks with U.S. TV chiefs for months and reckons she would make a great host. She says, "I love talking and listening and I would love to go on television and talk to other people about their lives. I am very into self help, too. For my last album I went into the mountains and fasted to get new experiences. People tell me things very easily and it's an area I'm keen to work in."
* From an article in the New York Daily News Tuesday on pop star Michael Jackson having an audience in New York with the Dali Lama: A few weeks ago, Jackson dined at a New York apartment with Dolly Parton and Elizabeth Taylor. According to a source, the focus of much of their table talk was the death of John Kennedy Jr. and the dangers celebs face when flying private planes. (Mike Todd, Liz Hubby No. 3, died in a plane crash.)

* * * * *
Aug. 17: I received my copies of the "Walking on Sunshine"/"Two Doors Down" remixes and Alison Krauss' new CD yesterday, and I am in heaven! The "Walking" tracks are OK, but the "Two Doors Down" ones are awesome! Did you realize those are NEW vocals on "Two Doors Down?" The lyrics are those which Dolly performs in concert, not the ones on any of her albums. She sings "mosey" (down the hall) instead of "wander," substitutes "lousy room" for "lonely room" and does the "oh-oh-oh, Two Door Down" bridge herself. It also includes some great shouts by Dolly of "Let's party!" and "Alright!" And she and Lyle Lovett sound beautiful with Alison Krauss harmonizing on "Dreaming My Dreams With You." (Plus Krauss does a truly haunting version of Shennandoa's "Ghost in This House.") If you haven't gotten either of these yet, do so now! Order Dolly's "Walking on Sunshine" or Alison Krauss' Forget About It.

* * * * *
Aug. 16: The ACME Dolly website is reporting that Dolly is to get her own syndicated talk show, but I have been unable to confirm this or get further details yet.
* Although he didn't mention Dolly, Elton John did give a few more details on his production company's upcoming project last night in an interview aired on A&E. (As you may recall, it was reported here in March that Dolly and Sir Elton were co-writing songs for the first film by his and lifepartner David Furnish's Disney-offshoot company Rocket Films.) The comedy recently completed filming and is titled Women Talking Dirty. It stars Helena Bohnam-Carter.

* * * * *
Aug. 14: For a recap of my wonderful vacation to Dollywood, click here.
* Ironically enough, OUT Magazine had a great article this week on Dollywood. To read it, minus the great photos it includes, click here.
* My copy of the Culture Club song "Your Kisses Are Charity" featuring Dolly arrived yesterday, and is it ever fab-u-lous!
* * * * *
Aug. 11: Although she has dabbled with a bluegrass song here and there throughout her career, The Grass is Blue is to be Dolly's first-ever full-bluegrass album when it hits stores, scheduled for an Oct. 26 release on Sugar Hill Records and Dolly's own Blue Eye label. According to the record company, the album was recorded last week with harmony vocals being added this week. They added that "Smilin'" Jimmy Mills, Ricky Scaggs' banjo player, called in and said the whole experience has been fabulous. Although catering was ordered, it was ditched when Dolly showed up with home-cooked chicken and dumplings, getting everyone in the mood for bluegrass. The band consists of Jerry Douglas, Sam Bush, Stuart Duncan, Bryan Sutton, Jim Milles, Barry Bales and producer Steve Buckingham. Providing harmony vocals are Alison Krauss, Dan Tyminski, Alan O'Bryant, Keith Little, Claire Lynch, Rhonda Vincent and Darrin Vincent. The tracks included, but not in order, are "A Few Old Memories" (Hazel Dickens), "Travelin' Prayer" (Billy Joel), "Cash on the Barrelhead" (Louvins), "Silver Dagger" (PD), "I Still Miss Someone" (J. Cash/R. Cash), "I'm Gonna Sleep With One Eye Open" (Flatt & Scruggs), "I Wonder Where You Are Tonight" (J. Bond), "Train, Train" (Shorty Medlocke), "The Grass is Blue" (D. Parton), "Steady as the Rain" (D. Parton), "Endless Stream of Tears" (D. Parton), "Will He Be Waiting For Me" (D. Parton), "I Am Ready" (D. Parton) - a capella gospel. Special thanks to Steve Gardner of Sugar Hill Records' radio promotion department for the info!
* Buddha Records' website has finally added pages for its Aug. 24 reissues of 9 to 5 and Odd Jobs here and Coat of Many Colors here. (To advance order them, click here for 9 to 5 or Coat of Many Colors.)
* The "Walking on Sunshine"/"Two Doors Down" remixes were released yesterday. To order them, click here. It has an error, though. The second track, identified as Junior Vasquez's remix of "Peace Train" is actually the original album version of the song.
* * * * *
Aug. 9: The Tennessean reported Friday that Dolly is back in Nashville this week and next to record a new bluegrass album for the Sugar Hill label tentatively scheduled for a fall release with an acoustic band including Jerry Douglas, Sam Bush and Stuart Duncan and produced by Steve Buckingham, who co-produced all of Dolly's last seven albums except Hungry Again and Precious Memories. The newspaper reported that the songs will include both classics, such as Flatt & Scruggs' "I'm Gonna Sleep with One Eye Open" and "I Wonder Where You Are Tonight," as well as new Dolly originals. "Although I've done some bluegrass songs scattered around in shows and in certain albums, this is the most exciting thing that I have done in years," Dolly told The Tennessean, "and one of the most exciting ever."
* Dolly recently paid low six-figures for the film rights to The Jew Store, a memoir about growing up Jewish in early 20th century Tennessee, Variety reported Friday. The newspaper continued to state that Dolly plans to produce the feature film with her own money and act in a supporting role.
* The Knoxville News-Sentinel reported Sunday that Dolly last week wrapped up filming for her Lifetime made-for-TV movie Blue Valley Songbird, on which Dolly serves as both star and executive producer, and that it is scheduled to air on the cable network in November.
* TNN's Crook & Chase on Wednesday reported on Vestal Goodman's upcoming duets album, including discussing her song recorded with her good friend Dolly. "Me and Vestel love the makeup and fingernails," Dolly said. "I hope the Lord blesses us." (In her autobiography, Vestal!, the singer recounted their great friendship and how when Dolly moved to Hollywood, she warned her not to lose her soul. She said Dolly told her when the song "White Limozeen" came out years later that the line in the song "She met the devil in the City of Angels, but she never lost her soul" was her way of telling Vestal that she had heeded her advice. Later, when Dolly performed "He's Alive" on the Dove Awards, Vestal said both she and Dolly had a premonition that they needed to speak. Vestal said she knew something serious was wrong with Dolly and asked her, to which she responded that it was something physical. She said she told Dolly that she knew she would be healed that night. The choir members on stage said when Dolly entered the stage, they felt a surge of energy and knew Dolly was "gettin' a healin'!" Vestal said Dolly confirmed to her afterward that her physical problems had, in fact, disappeared after she stepped on stage.)
* * * * *
Aug. 4: Well, Trio got the nomination Tuesday for the CMA Awards for Best Vocal Collaboration, which the girls won in 1988. Best of luck! (Tim McGraw leads with seven nominations.) And remember, Dolly is to be inducted into the Country Music Hall of Fame on the show's September broadcast!
* Modern Maturity Magazine, the national publication of the AARP, recently released a study on the sex lives of the middle-aged and elderly and with it named its "Top 50 Sexiest Celebs Over 50," and the country women named (titled the "Sexy in Boots" category) were Dolly, Naomi Judd and Barbara Mandrell.
* * * * *