---
www.dollymania.net News August 2000
---

Aug. 31: The good folks organizing the Stars Over Mississippi benefit concert, which Dolly will headline in Amory, Miss., Oct. 7, have informed me they are auctioning off a dozen front row center tickets to the event on ebay. Also, eight tickets to the gala the evening before the show will also be up for grabs on the auction site. The items were purchased and then donated back to the foundation which hosts the benefit (to raise money for college scholarships) by the William Morris Agency. William Morris International Head of Television Sam Haskell started the concert series and the foundation in memory of his mother, a school nurse in Amory. To bid on the tickets, which should be up for about another week, go to ebay (perhaps the easiest thing to do is go to the search page on ebay and search for "Stars Over Mississippi"). And if you get outbid, tickets (although not front row) are still available at 1-877-677-8279, or you can just click on the banner at the top of this page for more information! Thanks, Hartman!
* The Boston Globe on Wednesday ran a story about the current issue of The Oxford American magazine (the one with Dolly on the cover and her version of "Silver Dagger" on the accompanying CD), noting that Dolly's song is just "gorgeous."

* Someone e-mailed me not too long ago about Skeeter Davis' 1972 album Skeeter Sings Dolly, telling me he had heard it was available on an import. Well, I did a little searching, and lo and behold, it is! It is part of a two-album Skeeter Davis CD from England, which you may find (currently on sale, too!) by clicking here.
* And I thought I had put something on the site about this, but apparently I did not, but Dolly is currently featured in the special issue of People titled People Celebrates the '70s. The magazine, in which Dolly is one of only a handful of country artists profiled and, I believe, the only female one, includes a full-page spread on her with the photo from her famous haystack poster. It is to remain on newsstands until Oct. 16. Thanks, Solomon!
* * * * *

Aug. 29: The reviews are coming out on Big Mon, the tribute album to Father of Bluegrass Bill Monroe, as the CD is released today (Tuesday). Diane Samms Rush, a critic for Knight Ridder Newspapers, lauded the album this week, particularly singling out several excellent cuts, including Dolly's. She wrote: "Parton sings Jimmy C. Newman's 'Cry, Cry Darling' as if it were a new song." To order the CD, click on the graphic at left!
* Country.com's lead story Monday was the new CD, with producer Ricky Skaggs noting in it that he at first asked Dolly to re-record her 1970 hit "Mule Skinner Blues (Blue Yodel No. 9)," the Jimmy Rodgers song she cut in the style Bill Monroe had recorded it. However, the story reported, Dolly didn't want to revisit the past, so he suggested the Newman song, which she said was perfect.
* * * * *
Aug. 28: Wanna hear a clip of Dolly's performance of "Cry, Cry Darlin'" before the big Bill Monroe tribute CD comes out Tuesday? Then check out the official Big Mon Web site here, and remember to order your copy of the CD here!Thanks, Justin!
* The Isaacs family Web site has posted several photos of them in the recording studio with Dolly laying down tracks for Dolly's upcoming CD. To view them, click here. Thanks, Justin!
* Finally, I'm told that Dolly is participating in a project by Julie Clay, the daughter of Brenda Lee, in which several stars tell personal stories for a book titled The Stars That Shine, which will be issued as a fund raiser for St. Jude's Children's Hospital. Thanks, Justin!
* * * * *
Aug. 24: Dolly is participating in an online celebrity reading of the new Elizabeth Haydon fantasy novel Prophesy as a fund raiser for the Elizabeth Glaser Pediatric AIDS Foundation. Dolly was one of the featured readers, each of whom read about a sentence from the book, on the first day of the project last week. Other readers include several of science fiction and fantasy's top authors as well as actors, including nearly the entire cast of Star Trek Voyager. The main site for the project, which runs through Aug. 31, is here, and Dolly's clip is accessible here. (In her little biographical sketch on the site, it notes her work on the upcoming bluegrass/folk album and two film projects.)
* It's nearly here, Dolly's next venture into bluegrass with Tuesday's upcoming release of the Bill Monroe tribute album Big Mon, on which Dolly performs "Cry, Cry Darlin'." Reserve your copy today by clicking here!
* * * * *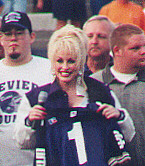 Aug. 21: Dolly wowed the local crowd Saturday night as she presented her alma mater with the 1999 Tennessee 5A Football Championship trophy at Sevier County High School, according to the Knoxville News-Sentinel. The paper reported that Dolly presented the trophy to the team captains, making them blush when she commented, "I know you worked your little tight buns off for this!" The school's principal announced the school's alumni association has raised a $100,000 scholarship pool for graduates, and Dolly, a 1964 graduate, said that the Dollywood Foundation will match dollar-for-dollar each scholarship from that fund. For the full story, click here.
* Thanks to my friend Debbie for the picture of the event shown above. She attended and was kind enough to provide several photographs on display here exclusively at Dollymania. Debbie reports that Dolly was presented with a letterman's jacket and jersey with her name on the back and a large "#1" on the front. See more of the pictures here. Thanks, Debbie!
* Tickets are just now available for the Grand Ole Opry's 75th Anniversary Oct. 14 at a 3 p.m. show. The matinee has been added since tickets to two evening shows that night have been sold out for more than a year. Tickets are also still available for the celebration's two shows on Friday, Oct. 13, at 6:30 p.m. and 9:30 p.m. While Dolly is scheduled to appear, it has yet to be announced at which show she will perform. (Although I would guess it's most likely to be one of the Saturday night shows which are already sold out.) The web site is http://www.wsmonline.com. Tickets are $22.50 each on the main floor. Thanks, David!
* * * * *
Aug. 14: According to the Knoxville News Sentinel, Dolly will be on hand Saturday, Aug. 19, to present the Sevier County High School "Smoky Bears" the 1999 Class 5A football state championship trophy prior to this season's opening game. Fireworks will follow the game. Proceeds from the $10 admission tickets benefit the school's Alumni Association Scholarship Fund.
* Dolly was featured in the June issue of Country Music Live Magazine in their Applause section. To read an excerpt and see a photo, click here.
* And Dollymania on Sunday welcomed its 65,000th visitor! Thanks to all who've stopped by and those who keep on coming!
* * * * *
Aug. 11: Already honored with a British Country Music Association Award (Top International Independent Label Artist) and Association for Independent Music Awards (Best Bluegrass Album), The Grass is Blue is up for the BIG awards in bluegrass! Dolly's critically-acclaimed first bluegrass album ever has snagged a nomination for Album of The Year at the International Bluegrass Music Association Awards, it was announced this week. The CD is up against the self-titled Blue Highway, Larry Cordle and Lonesome Standard Time's Murder on Music Row, IIIrd Time Out's John and Mary and Rhonda Vincent's Back Home Again, which happens to feature Vincent's own bluegrass cover of Dolly's classic "Jolene." In addition, Dolly is up for Female Vocalist of The Year at the awards, which will be presented Oct. 19 at the Kentucky Center for The Arts in Louisville. In that category she faces frequent Dolly back-up singers Claire Lynch and Vincent as well as Lynn Morris (who covered "Coat of Many Colors" a few years back) and Laurie Lewis.
* Those nutty folks at Nutty Sites, the people who brought you that amazingly cute little fuzzy guys in the Hamster Dance, have put a little Dolly to the animated computer dance scene with Office Supply Dance. The site, located here, features office supply materials and furniture "dancing" to a computerized version of "9 to 5."
* From the T-100 site this week (and also reported on Country.com): Newcomer Sonya Isaacs was contacted by Dolly Parton's office last week and asked to sing harmony on a couple of songs on Dolly's upcoming acoustic CD. The two originally met when Sonya was in the studio recording her record. Producer Vince Gill recruited Dolly to sing background vocals on a song. "It 's one thing to have her sing on my album," says Sonya, "but it's the biggest honor in the world to be asked to sing on hers." Sonya's debut Lyric Street records project is set for release on Oct. 10. Thanks, Justin!
* * * * *

Aug. 9: I'ts never to early to start Christmas shopping, and Sony Music will soon be giving Dolly fans a little gift: Home For Christmas, Dolly's gold Christmas album, will be re-issued again this holiday season, according to Amazon.com and CDNow, both of which have announced an Oct. 1 release date. If you don't have this great Dolly holiday favorite, order yours today!
* * * * *
Aug. 7: Dolly's version of a Bill Monroe classic on the upcoming tribute album to the Father of Bluegrass is getting some raves weeks before the CD's Aug. 29 release. The Pittsburgh Post Gazette on Sunday reviewed the album, noting that while a few performances fall short of what one would expect, two of them steal the entire recording: "Dolly Parton wrings the tears out of 'Cry, Cry, Darlin',' and Patty Loveless shines on 'Close By.' That shouldn't come as much of a surprise, since both women grew up on bluegrass" To advance order the CD, click here!
* Dolly has been added to the line-up for the Oct. 14 Grand Old Opry 75th birthday party, it was reported by several media outlets last week including CountryCool.com and CountryNow.com. Dolly joins a cast of luminaries including Garth Brooks, Trisha Yearwood, Vince Gill, Loretta Lynn, Travis Tritt, Steve Wariner, Alison Krauss, Porter Wagoner and Bill Anderson, to name a few.
* And these items come from Chris at Dolly Parton Central: Dolly will be doing harmony vocals on the debut album of Ricky Skagg's band member Paul Bewster to be released in September. Also Sonya Isaacs' album with Dolly singing on "Healing Hands" will be released Oct. 10 . (The CD was originally planned for release in May.) Thanks, Chris!
* Norman James with the Stars Over Mississippi concert, the star-studded Oct. 7 event which Dolly is headlining, provided a little more information Friday on intended co-host Whoopie Goldberg's change of plans. He said she just landed the lead in a new film which will be shooting in Canada in September and October, and since she does not fly, it wouldn't be possible for her to make it to Amory, Miss., for the weekend show. Although disappointed over the change, she plans to make a special video recording for the show. James notes: "We're still very excited that she will be appearing, even if it's electronically!. This year's concert promises to be our best show yet." Thanks, Norman! Also, it's rumored that Dolly has extended her planned performance from the originally scheduled one hour to an hour-and-a-half or longer! Order your tickets today at 1-877-677-8279 ($25 reserved, $15 general admission).
* * * * *
Aug. 3: Those who have purchased advanced tickets to Dolly's headlining show in Amory, Miss., on Oct. 7 should be receiving their tickets in the mail this week! (Mine arrived yesterday. I'm so excited!) Many tickets are still available, and organizers are hoping a sell-out of 9,000-10,000, so if you don't have yours yet, call 1-877-677-8279 for tickets. Remember, this is a benefit show for a scholarship program, and Dolly plans to perform for about an hour! However, show publicist Norman James informs me that organizers just found out planned co-host Whoppi Goldberg will be unable to attend. Instead, she will send a videotaped performance to be shown at the concert. Co-hosts Kathie Lee Gifford and Brooke Shields are still on, though! Also, special T-shirts, caps, shirts and mugs are available at the toll free number above as well!
* The Sydney Morning Herald reported Wednesday that Dolly plans a concert down under next year to coincide with the expected Easter opening of her new Aussie Stampede there!
* TNN issued a press release Wednesday about the Sept. 5 Chet Atkins tribute planned on the network with Dolly as one of the main stars paying homage to the guitar legend. In the release, Dolly noted: "When you say Chet Atkins, you might as well say Elvis Presley. Everybody knows Chet." For the full release, click here.
* And although it's disappeared from the Billboard charts, The Grass is Blue is still in the Top 5 of the bluegrass charts, according to the August charts released this week by Bluegrass Unlimited. At No. 4, down from No. 3, the CD is in its eighth month on that chart, which it topped at No. 1 in April.
* * * * *