---
www.dollymania.net News August 2013
---
Aug. 31:
Regal Cinemas Getting Dolly Sevierville Commercial
If you catch a flick at your local Regal Cinema, you just might see Dolly up on the big screen. According to reports, her hometown of Sevierville, Tenn., has launched a two-month campaign to use big-screen advertisements at various Regal Cinemas around the country to promote the city. Instead of shooting a new commercial, they had Cinemarr Studios edit down to 30 seconds a set of commercials that had been shot featuring Dolly and her statue on the county courthouse lawn a few years back.
'Coat Of Many Colors' Reviewed In New Zealand
New Zealand's Otago Daily Times must look back at old music quite often, since this Friday they reviewed Dolly's 1971 classic Coat Of Many Colors here.
Bill Murray Covers 'IWALY'
Comedian Bill Murray appeared on CBS's Late Night With David Letterman this week to celebrate the show's 20th anniversary (he was Letterman's first guest on the program) and observed it by arriving on stage in Liberace drag and "singing" the song that was most popular at the time the show started: "I Will Always Love You." Check out his performance here.
---
Aug. 30:
Nashville Releases Film, TV Promotional Video With Dolly



The City of Nashville has released a new promotional video to pitch the city to the film and television industry featuring Dolly as its host in her role as "Tennessee's ambassador to film and music." Check out the video, "Location Nashville," which was uploaded Wednesday to YouTube here or in the media player above.

Nelson Duet Release Delayed Three Weeks
To All The Girls, the Willie Nelson duet album featuring his collaboration with Dolly on her "From Here To The Moon And Back," has been delayed. Instead of its originally-planned release date of Sept. 24, the project will now come out three weeks later on Oct. 15, it was revealed Thursday.

Kenny CD Coming Sometime In Fall
Kenny Rogers' next album, which is expected to include the new Dolly duet "You Can't Make Old Friends," will hit stores in the fall, he told The Summit Daily in advance of a concert there. He said the record label is preventing him from releasing many details, but it's different than any past albums he has made and different than what anyone else is doing now, he said. Read more here.

Latest '9 To 5' Audition Revealed
Dolly's 9 To 5: The Musical continues to entertain. Interested performers may audition for the Back Alley Musicals production in Owensboro, Ky., Sept. 15 and 16, Surf KY reported here.

U.S. Chart Updates
I Will Always Love You: The Best of Whitney Houston, featuring her cover of Dolly's title track, loses three spots this week to No. 56 on the R&B/hip-hop albums in its 41st week, the Sept. 7 Billboard charts issued Thursday showed. Overall, Luke Bryan holds steady at No. 1 country and pop with 159,000 units sold of Crash My Party, while Florida Georgia Line's   Here's To The Good Times remains at No. 2 country and dips four to No. 12 pop in its 38th week.
---
Aug. 29:
Dolly Slots Invade Atlantic City
Dolly is all over Atlantic City, N.J., or at least her slot machines are, the casino columnist for The Press Of Atlantic City noted this week, saying "practically every casino in town has all three versions" of the slot machines, which he goes on to describe. Check out his column here.
'New Yorker' Praises Dolly's Voice
The New Yorker took the popularity that the slowed-down version of "Jolene" brought for Dolly as an opportunity to praise her talents, noting her own "stage stunt" of speeding up "Do I Ever Cross Your Mind" is "a flourishing exhibition of her impressive control of her instrument" and that the slowed-down "Jolene" allows one to inspect her voice since it comes through clearly when most singers slowed to that degree "sound like gloopy, slothlike creatures." Instead, Dolly's "seems unbelievable because her voice comes through so intact, and its expression is subtle enough to carry the song at this pace. Could Parton really be doing all that at the original speed?" Read the full column here.
Dolly Wraps Lifetime Role
Dolly had a little more filming to do at Dollywood for the upcoming Lifetime Christmas movie, apparently, as on Tuesday she Tweeted and posted to Facebook a photo from her dressing room with the tagline: "Just finished up a Lifetime movie-of-the-week at Dollywood! I had such a blast with the wonderful cast, and I hope you enjoy seeing it as much as we enjoyed making it!"
---
Aug. 27:
Preview Dolly Duet From Civil War Music Project



It was previously reported a month ago that Dolly had recorded a duet of "Listen To The Mockingbird" with Stuart Duncan as a track from the upcoming CD of Civil War music, Divided & United, which will be released on CD and vinyl Nov. 5. On Monday, USA Today released the complete audio of that track as a preview for the project. Take a listen via SoundCloud here or in the media player above.

Dolly Says 1980s Series Could Come To DVD
Thanks to Marvin for a few additional details from Dolly's conversations with the audience between takes at last week's Lifetime movie filming. He said she was asked about the possibility of releasing her 1987-88 ABC television variety series on DVD and said she had been "thinking about releasing it" as soon as she "owned all of it," adding that she doesn't want to release everything from her archives so that some unreleased things could eventually come out posthumously. She also said her autobiographical movie is still in the works, that she had chosen all of the music for it but what she thought was a good script was being reworked by others so it was almost like being back to square one. She said she is also still working on her life story as a stage musical as well.

Another Slowed Down 'Jolene' Comes Out
Unsatisfied with the male-sounding slowed-down Dolly vocals on the viral video "Slow Ass Jolene" from the other week, one enterprising fan slowed the song down but corrected the pitch so that Dolly's voice remains in her correct octave. Check out that version on YouTube here.
---
Aug. 26:
Video Gets Out From Movie Taping Last Week
Although I'm sure extras were probably asked not to take pictures or video from Thursday and Friday's Lifetime movie taping at Dollywood, in which she hosts the talent contest that includes the film's main character as a finalist, some pictures have shown up on Facebook, and video has made its way to Facebook and YouTube. I understand that between takes she decided to entertain fans, at one point singing "Tennessee Waltz," which was captured on Facebook here and YouTube here. In addition, a performance of "Jingle Bells," apparently from the actual movie taping, has made it to YouTube as well here. The holiday-themed movie is expected to air around Christmas.
Australian Chart Update
Down Under, The Very Best Of Dolly Parton, Volume 1 loses two places this week to No. 28 in its 285th week on the top 40 Australian country albums chart.
---
Aug. 24:
Dolly On Health: 'I'm Fine'



Extra got Dolly to assure fans in an interview broadcast Friday that she has no major health issues at present. The comment came when the interviewer asked her about a recent National Enquirer story claiming she had surgery to prevent esophageal cancer. Initially, she stood by her policy of not commenting on the usually false stories published by the "supermarket tabloids," responding: "I will not make comment on some story in a rag magazine!" However, when pressed further to make a comment, she said: "I'm perfectly fine." When pressed even further to deny she had the surgery, she refused to answer directly, instead repeating: "I'm fine! Do I look sick to you?" Watch the exchange in the media player above or by visiting the show's website here.

Songs From New CD Revealed At Movie Taping
Many fans were on hand at Dollywood Friday for the second day of filming for Dolly's part in an upcoming Lifetime Christmas movie, and according to their Facebook posts, they spent 12 hours in the theatre with her as she acted and sang, offering them song performances between takes to keep them entertained. (Knoxville TV station Local 8 reported on the taping here.) She also reportedly revealed at the filming some information about her upcoming CD, namely that two tracks recorded for but then cut from her Those Were The Days project in 2005 will appear on this release: "Blue Smoke" and "I Dreamed About Elvis" with Ronnie McDowell. In addition, she has recorded for the new CD a third version of "Early Morning Breeze" (the first two appeared on Coat Of Many Colors in 1971 and then Jolene in 1974), a cover of Bob Dylan's "Don't Think Twice, It's Alright" and a song called "Miss You, Miss Me" that she performs in the Lifetime movie.

Dolly's Internet Coverage Noticed
A couple of different media outlets noticed that Dolly had a pretty impressive week on the Internet, blowing up with the viral video of the slowed-down "Jolene," Comedy Central's hilarious but still somewhat respectful Drunk History segment on her relationship with Porter Wagoner and news coverage of her $300 million Dollywood expansion announcement. Check out the notes from The Los Angeles Times here and Zimbo here. In related news, if you have questions about the park's 2014 roller coaster addition or 2015 resort hotel, a Twitter Party chat from 6 p.m. until 7 p.m. Monday will answer them. Tweet @Dollywood using the hashtag #DWFuture with a question and see if it gets answered in the hour.

Ronstadt Reveals Voice Is Gone Due To Disease
Fans hoping for a Trio III from Dolly with Linda Ronstadt and Emmylou Harris likely will never see it come to be, as Ronstadt revealed this week that she is suffering from Parkinson's disease and one of the effects is that she can no longer sing. Read more from the AARP's blog here previewing an interview that will be released next week in the organization's magazine.
---
Aug. 23:
More Dollywood Resort, Coaster Stories
Although Dolly was on park Thursday taping scenes for a Lifetime Christmas movie in which she hosts a talent contest held at Dollywood, the media were still covering her announcement from Wednesday of the park's roller coaster addition for 2014 and its resort hotel coming in 2015. Interviews with her are available from Nashville's FOX 17 here and Asheville, N.C.'s WLOS here. The Knoxville News Sentinel published an interview with her here, and The Nashville Business Journal talked with business manager Ted Miller here about her remaining open to creating an attraction in Music City sometime in the future.
Two Views Of '9 To 5' In Chicago
Different critics have different views of Dolly's 9 To 5: The Musical upon its opening in Chicago. The Chicago Sun Times loved the show, saying "it is funny, true, playful and poignant in just the right ways" here. The Chicago Tribune, on the other hand, opined here that upon seeing this third production (following the reviewer attending the Broadway original and the touring company revision) that the movie "never wanted to be made into a musical, doesn't work as a musical and can't really be fixed up as a good one for now." The show plays in the Windy City through Oct. 13.
Writer: Dolly Brought Me To Jesus
Some fans consider being in the presense of Dolly a religious experience, but one woman credits her with her conversion to Christianity. Read her story here.
U.S. Chart Updates
I Will Always Love You: The Best of Whitney Houston, with the late singer's version of Dolly's title track, slides nine places this week to No. 53 on the R&B/hip-hop albums in its 40th week, the Aug. 31 Billboard charts released Thursday revealed. Overall, Luke Bryan debuts at No. 1 country and pop with 528,000 copies sold of his Crash My Party, while Florida Georgia Line's   Here's To The Good Times dips one to No. 2 country and gains two to No. 8 pop in its 37th week with 31,000 units moved.
---
Aug. 22:
Dollywood Announcement Garners Lots Of Coverage



Dolly's big announcement on Dollywood's 2014 ride addition and 2015 resort hotel sparked much interest online, sending the park trending as one of the top three search topics for most of the day on Yahoo. Coverage included The Bristol Herald Courier here, WBIR here, WATE here, USA Today here, The Associated Press via NBC Bay Area here, The Knoxville News Sentinel here, and The Mountain Press with a story here and interview here (in which Dolly notes the hotel will sell alcohol – but that the theme park and Dixie Stampede would never sell alcohol, that the first phase hotel is on just 20 of the 100 acre site, and that there will be at least one or two additional future phases which could include a more expensive luxury hotel, a less expensive hotel and/or campgrounds). The website for the resort hotel went live immediately after the announcement, including a "Founders Club" registration form to sign up for guaranteed best rate savings and free room upgrades, access to special offers, invitations for special events and surveys about what to offer as the opening draws near. In addition a special website section promoting the Firechaser Express roller coaster debuted Wednesday here. Watch the full hour-long announcement event online here, and watch the Today show interview that first revealed the additions here or in the media player above. Scroll down to the Aug. 21 updates to read your Dollymania.net coverage that was posted as it became known throughout the morning, check out artist's renderings of the new ride here and resort here, and read the complete press release that was issued after the announcement below.

Entertainment legend Dolly Parton announced today plans for $300 million in capital investments in The Dollywood Company over the next 10 years. The investment includes new attractions, resorts and the creation of more than 2,500 jobs.

Construction is under way on the new FireChaser Express rollercoaster, opening in March 2014 at Dollywood. To mark the company's 30th anniversary in 2015, the 300-room Dollywood's DreamMore Resort will open adjacent to Parton's award-winning Dollywood theme park and Dollywood's Splash Country waterpark, both located in Tennessee's famed Great Smoky Mountains.

"I've always been a big dreamer just like I've always wanted to do more for my home here in these beautiful Smoky Mountains," Parton said, "This is where I nurtured my heart's dreams, and I want to share more of them. My plans for the next 10 years are to expand my Dollywood properties to offer families more opportunities to play together and grow closer while they make their best memories. It's truly the culmination of this country girl's wildest dreams!"

"With Dolly Parton's vision and world-class properties like Dollywood theme park and Dollywood's Splash Country waterpark as our foundation, The Dollywood Company is poised to become a family vacation destination like no other," said Craig Ross, President of The Dollywood Company. "Dolly welcomes folks into her home and her heart, and our plans to grow and expand The Dollywood Company are steeped in her desire to bring families closer together by creating experiences delivered from the heart."

The scope of the company's future developments resonates in Parton's native Sevier County and throughout the contiguous counties in East Tennessee. An independent economic impact study commissioned by The Dollywood Company projects that Dollywood and its hospitality investments will add $150 million annually to the local economy. Additionally, more than $7 million in state and local taxes will be generated by the company's 10-year investments. Approximately 2,500 jobs will be created, primarily in the hospitality and construction industries, due to the addition of the resort.

Scheduled to open summer of 2015, Dollywood's DreamMore Resort is situated on 100 acres and features a design reminiscent of the iconic Southern gathering spot, the front porch. With rocking chairs that invite guests to linger and admire pristine mountain views, the property is nestled amid the foothills of the Great Smoky Mountains and offers the best of both worlds—tranquility and adventure—throughout the sprawling resort and surrounding grounds.

The resort features a variety of accommodations to suit parties of all sizes. It will include special one- or two-bedroom reunion suites with family parlors that serve as a gathering hub. The resort also includes specialty suites on the ground floor with private gated porches with outdoor access.

Dollywood's DreamMore Resort includes more than 8,000 square feet of indoor meeting space complete with state-of-the-art technology. Outdoors, the property can accommodate groups as large as 500.

The property's crown jewel is the 2,200-square-foot Dolly's Suite Dreams celebrity suite, with décor inspired by Parton.

A full-service restaurant, fashioned after an old farmhouse, provides indoor and outdoor dining opportunities, including a wrap-around veranda with views of the pool and surrounding mountains while an indoor pool, carefully situated amid all-glass windows, invites the outdoors inside. An intimate amphitheater nestled in the rolling countryside offers outdoor entertainment while an event lawn welcomes craft demonstrations and special entertainment. Fire pits, hammocks and story spots allow guests to take full advantage of the outdoors. The resort's spa and salon will offer both a serene indoor and outdoor spa experience.

Dollywood's DreamMore Resort is just minutes from neighboring Great Smoky Mountains National Park, the most visited in the U.S. The property joins Dollywood Cabins as the company's second venture in the lodging industry. Launched in 2009, Dollywood Cabins offers luxurious, amenity-rich cabins just two miles from Dollywood and Dollywood's Splash Country.

FireChaser Express is the latest addition to The Dollywood Company's list of innovative new rides. In March 2012, Dollywood opened the $20 million Wild Eagle, the country's first wing coaster. In 2013, Dollywood's Splash Country followed with the addition of RiverRush, Tennessee's first and only water coaster. The nation's first dual-launch family coaster, FireChaser Express travels forward and backward on a winding 2,427-foot track, leaving the loading station in one direction and returning in the opposite direction. Perched 12 stories above the park's Wilderness Pass area, the coaster's 39-inch minimum height requirement invites families to ride together.

'Drunk History' Dolly Segment Praised By Critics
Several online critics on Wednesday held up the Porter & Dolly segment from Tuesday night's episode of the Comedy Central series Drunk History as amazing. A.V. Club praised it here as "one of Drunk History's best yet." Tucson Weekly called the segment here "educational, emotional and hilarious." Jezebel noted the drunk narrator's "sincere adoration . . . makes it so great" and posted video of the entire segment here in the censored form it aired on television. Comedy Central has a three-minute excerpt from the segment below, although it is the uncensored version so be warned of some profanities throughout.


Altered Dolly Track Explains Alternate Dimensions
One writer has an interesting use for the recently-viral slowed-down version of Dolly's "Jolene" – using it as a real-world example of the physics theory of the existence of alternate dimensions. Read more from Australian newspaper The Age here.
---
Aug. 21:
UPDATE: Dollywood Building Resort, New Coaster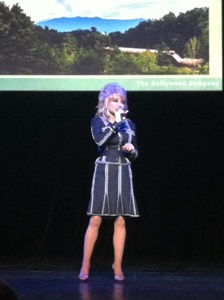 Dolly will at 11 a.m. Wednesday announce publicly for the first time that Dollywood is building a 300-room Dream More Resort to be located near Dollywood's Splash Country water park. It is expected to open in summer 2015. The resort will feature a full-service restaurant, spa and salon, indoor/outdoor pools, a recreation area/fitness center, and Dollywood weddings. Although not active as of the time of this report shortly after 8:30 a.m., the resort will have its own URL to direct guests to its section of the Dollywood website at dreammoreresort.com. In addition, the Firechaser Express roller coaster will also be coming in 2014. It is being billed as the world's first forward/backward dual launch coaster. The 2 minute, 19 second ride will have a 39-inch height requirement, reach speeds of 34.5 miles per hour, have 2,427 feet of track, and feature a height of 120 feet. The reveals came from Dolly herself at an 8 a.m. employees' meeting at the park. Dolly has long expressed desire for a hotel resort at the park and has mentioned that in multiple interviews over the years. She said in 2010 that the park had designed and planned a resort shortly before but shelved it when the economy crashed. Those plans have now been revived. Anonymous photo submitted. Click on it for a larger view from the announcement.
UPDATE: The resort hotel and coaster were also revealed in an interview Dolly had with NBC's Today just after 8:30 a.m. Eastern, although specific details of each were not given. The report, available here, gave a price tag of $300 million for the park's next 10 years of commitments but didn't say how much of that was coming from this new coaster and resort. Remember there is a live stream of the public announcement with all of the details at 11 a.m. Eastern here.
ANOTHER UPDATE: I've received the backstory for the coaster: Crazy Charlie owns a gas station and fireworks store in the same building up in the mountains. As you're getting ready to board, fire alarms sound and the station gets a call that a fire has broken out. You load and the train launches from 0 to 16 MPH in 1.1 seconds. You climb the lift and ride through the mountainside with six zero-G moments, two helices and side-to-side twists. Suddenly, the train pulls into the back room of Crazy Charlie's business when real fire starts burning and fireworks start exploding. Then Big Bertha, the largest firework of them all, falls over in front of the train and points right at it. The fuse lights and burns fast. When it "explodes," the train launches backwards from 0 to 20 MPH in 2 seconds and you ride the track backwards to the station. The official announcement is just moments away! Watch here!
ANNOUNCEMENT COVERAGE: The public announcement has come! Dolly moments ago welcomed the audience saying: "Today is a very special day because my dreams are just about to come true," alluding to her longstanding dream of having a resort hotel for the park. She explained over the past 28 years she and her partners have invested $250 million in Dollywood projects, which currently employ 2,500 people and entertain 3.5 million guests (2.5 million a year at Dollywood and 1 million between the water park and Dixie Stampede dinner theatre). Over the next 10 years, additional attractions will result in the investment of $300 million "to make this area and Dollywood one of the biggest and most popular destinations in the whole country." She said about half will be at Dollywood and Splash Country on "major new rides the scope of Wild Eagle," the first of which is next year's Firechaser Express forward and backward launched coaster, which Dolly said she didn't understand how it would work but: "You know I'm not gonna wear it. Ha! Wear it! RIDE it." She noted "little kids" would be able to ride it, giving an entire generation of children the opportunity to ride their first roller coaster at Dollywood. She didn't specify on how the other half of the $300 million would be spent, but presumably most of that will be in hotel resorts. She said the Dream More Resort, a 100-acre "world class resort" near the water park, would serve as their "front porch" for families to have fun but that it is just the first phase of what they expect to be multiple Dollywood resorts in Pigeon Forge. She noted that their plan is to continue adding more to the parks so that their attendance increase at a rate higher than the number of rooms other hotel owners in the area have so that they don't cannibalize from other properties. She added the previously-announced news that she will appear as a hologram as the Ghost of Christmas Past in this winter's new Dollywood's Christmas Carol at the park. She said she knew the crowd would want to know what she's up to in addition to the park, joking that she thinks she's "up to about 115 (pounds) now." She revealed that she has just finished her new CD that has previously been reported here and that it should be released in late fall 2013 or early 2014. She repeated, as was first reported anywhere here a couple of months ago, that she will tour next year in Europe, Australia and the U.S., adding that the Australian tour includes the roll-out of her Imagination Library literacy program with their national United Way in that country. She noted that she will be filming her Lifetime movie Thursday and Friday on the park, featuring lots of acting and several songs she has written for the other characters to sing, and that she understands it will air during the holidays. Finally, she reminded everyone of her recent announcement that the tour will include an East Tennessee concert next year as a fundraiser for the Imagination Library and Dr. Robert F. Thomas Foundation. Congratulations and thanks were given by the Pigeon Forge City Manager, Tennessee Director of Tourism, and Governor of Tennessee, who announced $8 million more in state funds for tourism promotion. Then Dollywood Co. President Craig Ross gave more details on the additions, including the addition of 2,500 new jobs as a result of this investment over the next 10 years. They took a photo op with everyone and then Dolly took questions.
Dollywood Announcement Coming At 11 A.M. Wednesday
The big reveal is only hours away at Dollywood when Dolly will announce what is being promoted as the biggest news in the park's 27-year history. The final clue was released Tuesday morning: "dual launch." Your webmaster's guess at arranging the clue sentence in order is: "Make Dollywood thrilling thanks to Dollywood's dual launch ultimate family express in 2014 and my beautiful new vacation destination opening in 2015." Knoxville television station Local 8 quoted park spokesperson Pete Owens saying here: "If you go all the way back to 1982 when Dolly told Barbara Walters she was going to build something like a Dollywood, and then in 1986 when we opened, those where big, this maybe bigger." Watch the announcement streaming online live here at 11 a.m. Eastern Wednesday and check back to this site for updates throughout the day as more information is known.
'Drunk History' Takes On 'IWALY' Genesis
For those catching this update early enough Tuesday evening, you'll want to tune in to Comedy Central at 10 p.m. Eastern for the Nashville episode of the series Drunk History. The program, which gets people drunk and then has them tell historical stories as actors and comedians re-enact them lip-synching to the dialogue of the drunk narrator, will tell the tale of Dolly's leaving mentor Porter Wagoner's show in 1974 among other stories from Music City's past.
Miley Quotes Godmother On 'Costs A Lot To Look This Cheap'
Miley Cyrus on Tuesday paraphrased the wisdom of godmother Dolly Tuesday in an MTV Style interview in which she said: "It takes a lot of money to look this cheap." Check out more from Zimbo here.
Springsteen Dolly?
After a slowed-down version of Dolly's "Jolene" went viral over the weekend, The Huffington Post got into the act, digging up a 2010 YouTube video of Bruce Springsteen's "I'm On Fire" sped up and claiming to sound like Dolly singing. Read more here and listen to the track here.
'9 To 5' Co-Star Considers Wedding Bells
Now that same-sex marriage is legal in California, longtime Dolly friend and 9 To 5 co-star Lily Tomlin, 74 in another two weeks, says she and her partner of 42 years, Jane Wagner, 78, are considering getting married. Read more from E Online here.
---
Aug. 20:
Dollywood Clue Contest Happens Tuesday
Don't forget to enter the Dollywood contest here on Tuesday (entries accepted between noon and 5 p.m. Eastern time) for a chance to win two Super Gold Season Passes for 2014 from among those who correctly rearrange the clues for Wednesday's big announcement at the park (and remember to watch the announcement at 11 a.m. Wednesday here). As of Monday, the clues are:

express

make Dollywood

in 2014

thanks to

ultimate

beautiful

new

and my

thrilling

family

Dollywood's

opening

vacation

in 2015

destination

Whitaker Named Top Tourism Director
Tennessee Tourism Director Susan Whitaker, former vice president of marketing at Dollywood, has been named the national State Tourism Director of the Year by the U.S. Travel Association's National Council of State Tourism Directors, it was revealed Monday. In the announcement press release, Dolly noted: "Susan is not only a friend of mine but she's one of the best friends that our Tennessee tourism industry has ever known. Susan makes sure that the welcome mat is always out for folks who want to visit our great state, and I appreciate her enthusiasm, dedication, and get-it-done attitude!"

Dolly Up For Inspirational Award
Dolly is a nominee for this year's 19th annual Inspirational Country Music Awards, to be presented at Two Rivers Fellowship Opryland on Oct. 24. She's up for Mainstream Country Female Artist against Carrie Underwood, Lauren Alaina, Martina McBride and Reba.

'9 To 5' Gets So-So Review From Scotland
In a rare mediocre review for Dolly's 9 To 5: The Musical, The Scotsman on Monday opined that it "seems to drag slower than Dolly trying to run in high heels." Read more here.
---
Aug. 19:
Clues: Announcement To Touch On 2014 And 2015
Two more Dollywood clues about Wednesday's big park announcement came out over the weekend, and these indicate that the announcement will cover both next year's addition and the one for the year after. Saturday's clue was "vacation" and Sunday's was "in 2015." Previous clues included "in 2014." Thus far the clues are:

express

make Dollywood

in 2014

thanks to

ultimate

beautiful

new

and my

thrilling

family

Dollywood's

opening

vacation

in 2015

'Evening' Keeps Inching Toward 60,000
Although it's still below the No. 40 benchmark that Billboard uses for its official music DVD chart, the Cracker Barrel exclusive DVD/CD set An Evening With . . . Dolly last week sold enough copies to re-enter the top 50 list from SoundScan. It had dropped off the tally the previous week, moving just 100 copies nationwide, but its 175 sales last week returned it to No. 46 on the list with a cumulative total since release of 59,745 units moved.

Australian Chart Update
Down Under, The Very Best Of Dolly Parton, Volume 1 gains another two spots this week to No. 26 in its 284th week on the top 40 Australian country albums chart.

'9 To 5: The Musical' Keeps Popping Up In U.S.
Dolly's 9 To 5: The Musical is stirring them up here from coast to coast. The Spokesman-Review offers its review here from the Coeur d'Alene Summer Theatre in Spokane, Wash., where it plays through next week, saying the show "is not rocket science. It's not Chekov. But it's fun and lively and an enjoyable night at the theater." And on the Atlantic side of the country, Charleston, S.C., gets the show at The Historic Dock Street Theatre starting Aug. 30 for a month, Beach Carolina reported here.

Ohio County Celebrates Library Graduates
Five years after bringing Dolly's Imagination Library to Brown County, Ohio, using the newborn strategy (meaning it is one of the few communities where only newborns may register for the program) the first graduates to reach their fifth birthdays and age out of the program's monthly free book deliveries were recognized, The News Democrat noted here.

'Slow Ass Jolene' Becomes Viral Hit
Even though the video was posted to YouTube over a year ago, a slowed-down version of the original Dolly recording of "Jolene" went viral over the weekend. Dubbed "Slow Ass Jolene," the track is now approaching 600,000 views and mentions on dozens of blogs, including LOGO TV's New Now Next here. The song has the track slowed 17 percent – which at 37.3 RPMs puts it just a tad faster and a tad higher in pitch than the traditional trick of slowing down the song from its 45 RPM single to an LP's 33.3 RPM speed. Take a listen here or in the media player below.

---
Aug. 17:
Dolly Interviwed For 'Today' Show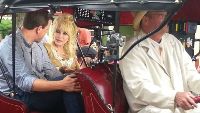 Dolly got out one of her antique cars for an unannounced surprise appearance at Dollywood on Friday where she was interviewed by Willie Geist for NBC's Today show. Reader "Digi Image" sent in some great shots from the interview in a "mock parade" that are available here, including the one at left. Thanks! The segment should air on the program sometime between Monday and Wednesday, likely during the 9 a.m. Eastern hour. Also, another little bird tells me that, apparently for the first time, Dolly herself will be attending and addressing the park employees at one of their employee meetings, known as Town Halls for the park's "hosts." Underscoring the size of this "big" announcement, she is expected to share the news with them (and a small select group of the media) in the Pines Theatre at 8 a.m. Wednesday before the official announcement for the media and VIP guests in Showstreet Theatre at 11 a.m. that day which will be streamed live online. Clues released Thursday and Friday were "Dollywood's" and "opening." Once the final clue is revealed on Tuesday, the contest for correctly completed clue sentences will be open noon until 5 p.m. with instructions on the park's Facebook page on how to enter.
Catch Dolly On Outdoor NY Big Screen
New York City-area Dolly fans will want to come check out a free outdoor showing of her 1982 classic film The Best Little Whorehouse In Texas next week. Nitehawk Cinema is screening the film Monday night at Havemeyer Park for free with a suggested donation. Doors open at 6:30 with limited space, followed by a performance of the Dolly tribute band Doll Parts at 7:30 and the film starting at 8:30. Learn more here.
Corps Digs Up Dolly Dam Dedication Pic
The U.S. Army Corps of Engineers selected a vintage photo of Dolly to represent the 125th anniversary of the creation of the Nashville District to control the waters of the Cumberland and Tennessee River basins. The anniversary falls on Sunday, but in announcing it, the Corps on Thursday issued a press release containing a photo of Dolly performing at a dam dedication in October 1973 in Carthage, Tenn. Check it out here.
'9 To 5: The Musical' Hits Columbus, Ohio
Dolly's 9 To 5: The Musical is playing now in Columbus, Ohio, with Imagine Productions mounting the show at Wall Street Nightclub through Sunday, The Columbus Dispatch reports here.
U.S. Chart Updates: Whitney Gains Ground
I Will Always Love You: The Best of Whitney Houston, featuring her cover of Dolly's title track, rises six spots this week to No. 44 on the R&B/hip-hop albums in its 39th week, the Aug. 24 Billboard charts released Thursday showed. Overall, Florida Georgia Line's   Here's To The Good Times remains at No. 1 country and No. 10 pop in its 36th week with 26,000 copies sold, while Brett Eldredge's Bring You Back debuts at No. 2 country and No. 11 pop.
Library Kicks Off On Mississippi Gulf Coast
It was previously reported here that Dolly's Imagination Library was coming to Bay St. Louis, Miss., thanks to its local Rotary Club. The official kick-off of the program there was covered this week by The Sun Herald here and television station WLOX here.
Musgraves Looks Up To Dolly
In an interview with Scotland's STV, American country newcomer Kacey Musgraves said she wants to be like Dolly. ''I think she's a great storyteller with her lyrics. She's a pretty face but she's also intelligent and witty... she's definitely someone I look up to," she said here.
---
Aug. 15:
Park Teases New Ride Location, Clue Contest



Dollywood continues to promote what it's calling the biggest announcement in the park's history next week. On Wednesday, a "behind-the-scenes" video that didn't give away much was released. Watch it in the media player above or by visiting YouTube here. The video also announced that a contest will open at midnight next Tuesday morning when the clues are finished being released and one name drawn from those who submit the words arranged in the correct order will win two super gold season passes. Meanwhile, theme park website ScreamScape has suggested that it believes the announcement will be a "family coaster" which will use the name Firechaser Express, since that name was trademarked by the park earlier this month, and that the announcement will also include revelations that a Dollywood resort hotel will open in summer 2014, based on a tip that park officials were in meetings with city officials Tuesday to start the permitting process. Read more here. Regarding the supposed coaster, I'm told that the two remaining towers from Adventure Mountain have been turned into fire towers, employees have been receiving trinkets bearing fire towers and they were asked to let the park know if they knew firefighters who could come participate in the announcement. All will be revealed next Wednesday! The new clues released so far this week are:

and my

thrilling

family

Impressionist Still Working On Dolly
Singer and impressionist Christina Bianco in recent days became an Internet sensation with more than 1 million hits to her YouTube video here or in the media player below in which she does pretty spot-on impersonations of several of the world's leading divas, but one was conspicuously absent. She was interviewed by NPR this week and explained who that was: "The one I'm terrified to do, the one I've not yet unleashed to the world, is Dolly Parton. She's an inspiration to me, and I really want to do her justice." Read the interview here.

---
Aug. 13:
CBS Reporter: Put Dolly On Our Money



CBS Sunday Morning over the weekend called for Dolly Dollars nationwide. Commentator Faith Salie noted the British 10 pound note being issued with author Jane Austin's image, which prompted her to suggest notable American women for our own currency. Along with historical artists such as Harriet Beecher Stowe and Emily Dickenson and historical leaders such as Harriet Tubman and Rosa Parks, she chose some contemporary women including Hillary Clinton and Maya Angelou, but her top choice was someone we all know and love. "When it comes to noteworthy American women, our cups runneth over," she explained as "9 To 5" played in the background. "Which brings me to my favorite pick: Dolly Parton. There is not a truer American story than hers: born dirt poor in Tennessee, she invented, enhanced, and bedazzled herself to become a national treasure, a brilliant musician, composer and mogul. And she is all woman." Wonder if she's ever been to Dollywood to see a real Dolly Dollar! Watch the report in the media player above or by visiting their website here. Thanks, Russell!

'Jolene' Taken By Another Aussie Talent Show Contestant
Australian The X Factor contestant Dami Im on Monday wowed judges with a piano version of Dolly's "Jolene," even if she did mess up the lyrics in the middle of the verse. Watch her rendition here.

Nettles' 'Jolene' Answer Song Debuts
It was previously reported that Jennifer Nettles' first single from her solo album, a song inspired by Dolly's "Jolene" and told from Jolene's perspective, was to be shipped to radio next week, but early leaks got enough airplay last week for "That Girl" to debut at No. 57 on the country singles chart that will come out Thursday, Billboard revealed on Monday. The single will be available for downloading here a week from Tuesday.

Another Rave Review For '9 To 5: The Musical'
Dolly's 9 To 5: The Musical goes to another city on its U.K. tour and gets positive marks. This time, they come from The Redditch Standard, which said here: "It would be hard to pick out a single fault with the evening, with everything from the staging and the costumes to the dancing and singing coming together for a top rate night of entertainment."
---
Aug. 12:
Dolly Announces Plan For 2014 Benefit Concert In East Tenn.



Dolly's big announcement at this year's Dr. Robert F. Thomas Foundation "Evening of Elegance" charity fundraiser on Saturday night was that in May 2014 she will perform a charity concert somewhere in East Tennessee with proceeds split between the Thomas Foundation's medical work and her Imagination Library literacy project. The location of the show and its exact date have yet to be revealed, but officials indicated it should occur sometime around Memorial Day and will be part of her 2014 world tour. Knoxville television station WATE reported on the announcement here, and the hospital posted footage of the video announcement to Facebook that is available here or in the media player above. In related news, her Aug. 21 big announcement regarding Dollywood's future plans is still on tap, and the clues thus far are:

Express

in 2014

make Dollywood

thanks to

ultimate

beautiful

new

'Very Best' Gains One Spot Down Under
The Very Best Of Dolly Parton, Volume 1 inches up one place this week Down Under to No. 28 in its 283rd week on the top 40 Australian country albums chart.

Drag Queen Covers Dolly's 'Potential New Boyfriend'
Thanks to Rodney for alerting me that former standout RuPaul's Drag Race contestant Willam Bell a couple of weeks ago released a cover of Dolly's 1983 top 20 single "Potential New Boyfriend." Download it from Amazon here.

Imagination Library Updates
Mendocino County, Calif., is celebrating its 100,000th book delivered in Dolly's Imagination Library program, The Ukiah Daily Journal reports here. In related news, The Daily Times in Maryville, Tenn., updated its readers on the local Post Office taking a hiatus on destroying non-deliverable books in the program here.
---
Aug. 10:
Dollywood Movie Taping Moves
Things appear to be jumping around a bit for the taping of the Lifetime flick A Dollywood Christmas at Dollywood later this month. Audience Associates' website, BeInAMovie.com, through which extras for the scene being filmed at the park may register to be in the audience, on Friday changed its taping dates from Friday and Saturday, Aug. 23 and 24, to Thursday and Friday of that week. They also removed the picture of Dolly and the proclamation that they're taping a scene with her to taping one with "one amazing country music star," although the bottom of the page still refers to the project as "this Dolly Parton Christmas special." No word on the reason for the change. Dolly should be on park that week, as she will be making what is being heralded as the park's biggest-ever announcement on Wednesday, Aug. 21. Friday's clue toward the announcement was "ultimate."
'Essential' Falls Back Off Irish Tally
It just popped back around for one week, as The Essential Dolly Parton this week drops back off the top 100 Irish pop albums chart after returning for one week at No. 85 last week.
---
Aug. 9:
Dollywood: Aug. 21 Announcement Is Big, Big, Big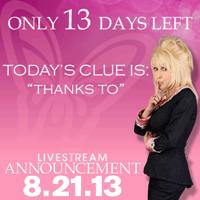 Dollywood is ramping up the anticipation for Dolly's Aug. 21 announcement at the park, suggesting it will be much more than just another ride. In the media invitation that went out to the press on Thursday, the park repeated the claim this will be "the biggest announcement in Dollywood's history" and added "Not since her 1985 announcement to create Dollywood has she shared news of this caliber which underscores her commitment to make the Smoky Mountains the ultimate family vacation destination." Meanwhile, the promotional DestinationDollywood.com continued throughout the week to give clues to the announcement. As of Thursday they were:

express

in 2014

Make Dollywood

Thanks to

U.S. Chart Updates
On Billboard's Aug. 17 charts, I Will Always Love You: The Best of Whitney Houston, with the late singer's version of Dolly's title track, regains six to No. 50 R&B/hip-hop albums in its 38th week. Overall, Florida Georgia Line's   Here's To The Good Times holds steady at No. 1 country and dips four to No. 10 pop in its 35th week with 28,000 copies sold, while Blake Shelton's Based On a True Story remains at No. 2 country and falls four to No. 20 pop in its 19th week.

In Memoriam: Jack Clement, Karen Black



The entertainment world lost two luminaries on Thursday with connections to Dolly. "Cowboy" Jack Clement, songwriter and producer, died at age 82. He composed "Just Someone I Used To Know," which as a Dolly duet with Porter Wagoner resulted in the first of her record 45 Grammy nominations (she's tied with Beyonce for the most nominations for a vocalist and the most nominations for a female artist). See footage above or by visiting YouTube here of Porter and Dolly performing it with Clement at a Country Music Hall of Fame event just a few years ago. Also passing on Thursday was actress Karen Black at age 74. Black's character in the 1975 Robert Altman film Nashville was described by People as a caricature of Dolly and Tammy Wynette. A year after that film, she guest-starred on Dolly's syndicated television variety show. Watch the two perform a duet of "Me And Bobby McGee" on YouTube here or in the media player below.

---
Aug. 8:
New York Big Band To Play Dolly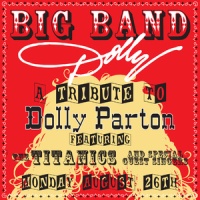 A New York City big band will give some imaginative interpretations of Dolly classics later this month with a tribute concert featuring several Big Apple singers. The Titanics will play "Big Band Dolly: A big band tribute to Dolly Parton" at The Cutting Room, 44 East 32nd Street, on Aug. 26 at 7:30 p.m. They promise blues, swing, bossa nova and samba arrangements of Dolly hits and cuts from deep within her catalog, plus a few country versions, too. Several guest vocalists will join the 11-member jazz band for the evening. Get tickets here.
Isaacs Were In Studio For Dolly's CD
The Isaacs confirmed this week they were, in fact, in the studio with Dolly recording background vocals for her upcoming CD. The sisters posted a picture to their official Twitter account with the news. It was previously reported here that another outlet had posted a different picture of them in the studio with Dolly to Facebook.
Rogers' Holiday CD With Dolly Tune Getting Re-Issue
Kenny Rogers' 1997 holiday album, Christmas In America, for which Dolly wrote the title track for him, is getting a re-issue. The project comes out on CD again Oct. 1, having previously been re-issued on CD in 2011. Reserve your copy here!
'9 To 5: The Musical' Lauded In West Succex
Dolly's 9 To 5: The Musical has landed in another city on its U.K. tour, resulting in yet another rave review. Check out this one from The West Sussex County Times here.
---
Aug. 6:
Dolly: 'Big' Announcements Coming Aug. 10, Aug. 21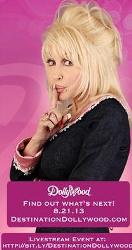 Dolly has revealed plans for two major announcements later this month. The first occurs this weekend and no indications have been made of what it entails, while the second takes place in just over two weeks and should disclose Dollywood's next major addition. The first announcement will take place at Saturday's Evening of Elegance, the annual fundraiser for the Dr. Robert F. Thomas Foundation to benefit healthcare in Dolly's native Sevier County, particularly through its LeConte Medical Center. In recent years, Dolly has brought in hundreds of thousands of dollars for the charity through her donations of herself for the event's annual auction – in 2009 and 2010, her "Backwoods BBQ" donation allowed two winners to spend a night in the guest cottage at her Tennessee Mountain Home while Dolly stayed in the main house, serenading them and their guests with a mini-concert that night and feeding the two winners with a home-cooked breakfast herself the next morning, and in 2012, her High Rise Hideaway Getaway treated six people to a personally-led tour of spots around Music City important to her career, the grounds of her estate in Brentwood, her office and her high-rise condo in Nashville, where the winners and their guests spent the night. Collectively, those three auctions raised $303,000. In 2011, the bedroom suite from her former Dollywood apartment was auctioned. A donation from her for this year has yet to be announced, so that could be the announcement being made via videotape by Dolly at the event itself. In a press release issued Monday, Dolly noted: "I've got some big news, and I've got a big mouth, too, but I'm keeping it zipped 'til Aug. 10 when I can share some great news with some very special friends of mine at the Dr. Thomas event." Dr. Robert F. Thomas Foundation Executive Director Deborah Dowling added: "We have no clue what Dolly plans to announce but we couldn't be more excited. Dolly simply let us know to save room on the program for a very, very special announcement. The anticipation is almost more than we can stand but you better believe we will all be on the edge of our seats to see what Dolly has to say on Aug. 10!" The announcement will come at the conclusion of the event. Tickets are available for $200 each from Amy Woods at (865) 446-9628. The second announcement comes Aug. 21 and will be streamed live online via LiveStream. A Dollywood website set up to promote the announcement is being plugged all over the park's social media accounts. The site, DestinationDollywood.com, promises from Dolly: "This is my biggest announcement ever. Join me each day for a new clue. Unscramble the words and see if you can figure it out first!" Monday's clue was "Express." The announcement with Dolly will take place from 10:45 a.m. until 11:45 a.m. Eastern Daylight Time Wednesday, Aug. 21. The park is taking down its Adventure Mountain attraction with the intention of building a new addition in that area for 2014.
The Isaacs Join Dolly In Studio This Week
Dolly was in the studio Monday with frequent collaborators Becky and Sonya Isaacs. Although it did not disclose whether they were laying down vocals for her upcoming album or she was recording an appearance on theirs, the Facebook page Friends of Gather Music posted a photo of the trio in the studio on Monday.
Get 'Rhinestone' Reissue DVD This Week
Don't forget that Dolly's 1984 flick with Sylvester Stallone, Rhinestone, is re-released on DVD Tuesday. Get your copy here!
---
Aug. 5:
Apply To Be An Extra On Dolly's Movie
Audience Associates, a company that recruits unpaid extras for various film and television projects, is seeking crowd members to attend the filming of the closing concert sequence of Dolly's upcoming lifetime movie in a theatre at Dollywood Aug. 23 and 24. Visit their website, BeInAMovie.com, for more information.
Australian Chart Update
The Very Best Of Dolly Parton, Volume 1 regains three spots this week Down Under to No. 29 in its 282nd week on the top 40 Australian country albums chart.
---
Aug. 3:
Willie Nelson Duet Streamed Online



Legacy Recordings on Friday formally announced the upcoming Willie Nelson all-female duets project, To All The Girls, which had previously been revealed here along with its release date, Sept. 24. The announcement earned several press mentions, including USA Today here. In addition, the label teased the project with a full-length stream of its first track, a cover of Dolly's Joyful Noise song "From Here To The Moon And Back" with Dolly herself. The song was posted to SoundCloud but made available as an exclusive track to Rolling Stone magazine. Take a listen by using the player above or by visiting the magazine's website here. The song sounds much more laid back in Nelson's voice than Dolly's lead vocal in the film version, but her verse sounds very similar to the original with the exception of a lyric change from "I would blow you a kiss from the star where I sat, I would call out your name to echo through the vast" to "I'd blow you a kiss as I wish on a star, counting my blessings for all that you are." Also surprising is that on the chorus Dolly sings harmony beneath Nelson's lead vocal, a marked contrast to her usual singing at a higher pitch than the lead whenever she does harmony. Reserve your copy of Nelson's album here!

Dolly's Role In Lifetime Movie May Be Small
Dolly's role in the upcoming Lifetime movie appears to be smaller than originally thought. Sources tell Dollymania.net that she will be taping all of her scenes over just a few days in Tennessee, possibly even at Dollywood itself, which suggests a small part in the movie, maybe even a cameo as herself. As was first reported here, Dolly was the sole actor cast in the project just a few weeks prior to filming when the balance of the cast was being hired, but her role has yet to be announced. The project is using three different working titles, The Dollywood Christmas, Nashville Dreams and A Year of Grace, and is filming this month in Los Angeles and Tennessee. It will star Desiree Ross as a biracial girl whose family moved to California from Appalachia and her desire to be a singer, resulting in becoming a finalist in a Grand Ole Opry youth singing contest which reunites her divorced parents, as her struggling singer-songwriter father remained in Nashville after the family broke apart. Others confirmed cast in the project include Megyn Price, child actor Preston Bailey and Mary Kay Place – likewise, none of their roles have been announced yet either. Some reports claim singer Brian McKnight has been cast as the father and Nick Clifford as a character called Richie.

Shot Of Dolly In New York Exhibit
A classic image of Dolly applying lipstick at a mirror is in a new photography exhibit in New York City that attempts to present iconic images that capture America. "It's an American Thing" runs at the Staley-Wise Gallery through Sept. 14. Check out a story from Britain's Daily Mail here, which includes Dolly's image, and scroll through the exhibit's various works here.

Dolly Back On Irish Charts
It's been gone for a while, but The Essential Dolly Parton re-enters the top 100 Irish pop albums chart this week at No. 85, it was announced Friday.

'9 To 5' Heads To Illinois
Another community is getting Dolly's 9 To 5: The Musical. Quad Cities Music Guild in Moline, Ill., will perform the show Aug. 9-18. Thanks, David!
---
Aug. 2:
'Evening' Weeks Away From Passing 60,000 Copies Sold
The Cracker Barrel exclusive An Evening With . . . Dolly continues to come close to re-entering the Billboard top 40 music DVD sales chart, SoundScan numbers showed this week, but it still falls just short. Last week, the title was the 42nd best-selling music DVD, moving 173 copies to bring its cumulative total since release to 59,407. If it continues at this pace, it should pass 60,000 units before the end of the month. On the actual Aug. 10 tallies, the only Dolly-related title is I Will Always Love You: The Best of Whitney Houston, which features her cover of Dolly's title track. That compilation dips two to No. 56 R&B/hip-hop albums in its 37th week. Overall, Florida Georgia Line's   Here's To The Good Times remains at No. 1 country and loses one to No. 6 pop in its 34th week with 30,000 copies sold, while Blake Shelton's Based On a True Story holds steady at No. 2 country and drops five to No. 16 pop in its 18th week.
Frieda's Punk Rock Album On Amazon
Just happened to stumble across this. Did you know that Two Faced, the 1984 punk rock album by Dolly's sister Frieda, was available for download? Check it out from Amazon.com here!
---
Aug. 1:
Poll: Dolly One Of Top 56 Songwriters
A new poll of British music fans has ranked Dolly among the best composers of popular music in history. The survey by U.K. site MusicRadar.com of "The Greatest Songwriters of All Time" placed Dolly at No. 54 out of the 56 artists who made the cut. The publication recognized her as: "You know Jolene, you know 9-5, but did you know that Dolly wrote I Will Always Love You, which proved to be something of a minor hit for Whitney Houston? OK, you probably did. Nevertheless, the philanthropic blonde bombshell has written more than 3,000 songs and is one of the best-selling artists of all time." The only other country artist on the list was Johnny Cash at No. 18, although The Bee Gees, who penned "Islands In The Stream" for Dolly and Kenny Rogers, made No. 29.. Coming in at No. 1 was the Beatles songwriting team of John Lennon and Paul McCartney, while Bob Dylan, one of Dolly's favorites, was No. 2. Read more here.
Another Rave '9 To 5: The Musical' U.K. Review
Speaking of the U.K., the British touring company of Dolly's 9 To 5: The Musical got another review this week, receiving five stars and a "What a way to make a living!" from Click Liverpool here in the Beatles' hometown.
'Rhinestone' Remembered On AOL
AOL's country music blog, The Boot, on Wednesday kicked off a new series called "Hollywood Country," where they look at a "classic film either about country music or starring a country musician." The debut installment took a look at Dolly's 1984 flop with Sylvester Stallone, Rhinestone, which happens to get a DVD re-issue next week here. Read what AOL had to say about the project here.
Dolly's 'Buffy' Ties Cited Online
Entertainment news site Spinoff chose Dolly for its "TV Urban Legend" column this week, focusing on whether or not it's true that she produced the cult classic fantasy series Buffy The Vampire Slayer. (It's true!) Read how her production company got involved and brought it to the big screen and then launched it on the small screen here.
---