---
www.dollymania.net News September 1999
---
Sept. 30: In case you didn't know, Country Music Magazine has named Dolly one of country's 12 most influential artists of all time! For the text of what they said, click here.
* Sugar Hill Records says they will ship "A Few Old Memories," the first single off The Grass is Blue, to more than 3,000 country radio stations before the end of the month.
* Heartland Music just released a new Dolly compilation CD titled Inspirational Favorites. Not available in stores, it is sold through Time-Life Music and can be ordered for $13.98 by calling 1-800-382-2348. It is a re-release of her 1971 gospel album Golden Streets of Glory with the addition of four tracks: "Coat of Many Colors," "Turn! Turn! Turn!", "God's Coloring Book" and "Everything's Beautiful" with Willie Nelson.
* Gospel legend Vestal Goodman's new disc Vestal and Friends comes out Tuesday, and her duet with Dolly on the CD is called "Satisfied." Country Music Magazine, which calls the duet "rousing," quoted Dolly as saying about the recording: "Vestal has been my sister in prayer for many years. When she asked if I could be a part of this project, I just said, 'Tell me where and when and I'll be there.'" To order it, click here.
* * * * *
Sept. 28: Here's what Patty Loveless had to say about winning Vocal Event of The Year with Vince Gill for "My Kind of Woman, My Kind of Man" and Dolly's performance of the song with him in her absence: "It was wonderful Dolly was the person to sing the duet with Vince, after all, the evening was hers with the Hall of Fame induction. She's always been like a big sister to me, and in response to her comment that she was no Patty and Vince was no Porter Wagoner, well I'm no Dolly either!" (Source: CountryCool.com)
* * * * *
Sept. 27: The Grass is Blue is spectacular! "Enough to turn even die-hard rockers into bluegrass fans." To read the official Dollymania review (the first review of the album published anywhere!), click here.
* Dolly's 1989 appearance on Saturday Night Live is raking in rave reviews as critics look back at the series' 25 years. Ed Bark of the Dallas Morning News ranked Dolly as the 10th best host in the history of the show, and Jim Slotek of the Toronto Sun Times noted the "Planet of the Enormous Hooters" sketch with Dolly in his list of the 25 most memorable moments from the series. (He also said this sketch was originally planned in the '70s to star Raquel Welch but that the producers scrapped it because they thought it too lewd at the time.)
* Dolly was on E! For about two minutes this weekend as they highlighted travel in the South on Wild on Dixie, complete with a little Dolly interview on Dollywood. "You can't do Dixie without doin' Dolly!" she exclaimed.
* * * * *
Sept. 25: After the CMA Awards Wednesday, Entertainer of the Year Shania Twain noted: "The fact that Reba presented it, I think meant more to me than the award itself. She's always so gracious and classy about everything. Of course, I was blown away by Dolly Parton's performance. She's my biggest idol of all time."
* In recognizing the 25th anniversary of Saturday Night Live this weekend, the Pittsburgh Post Gazette on Friday dedicated a column to the show's points of interest, including a list of the only seven musicians who doubled as host of the show. Noting it was in the spirit of Shimmer ("It's a floor wax and a dessert topping!"), they listed Paul Simon, Garth Brooks, the Rolling Stones, Ray Charles, Stevie Wonder, Sting and, of course, Dolly.
* On Thursday, Tennessee Gov. Don Sunquist honored the Country Music Hall of Fame and its 1999 inductees Dolly, Conway Twitty and Johnny Bond with a reception at the Governor's Mansion, The Tennessean reported. Although many from the Country Music Foundation, which administers the Hall of Fame, were present, Dolly, the only living member inducted this year, could not attend because of her flight to London to appear tonight on The National Lottery to sing "Your Kisses Are Charity" with Boy George. The BBC reports that Dolly will not only sing that song but also the new dance version of "Jolene" which is to be the first single from the soundtrack of the Elton John-produced film Women Talking Dirty.
* * * * *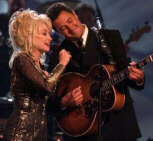 Sept. 23: Well, last night was certainly one of the highlights of Dolly's illustrious career as she became the youngest living person to ever be inducted into the Country Music Hall of Fame at the 33rd Annual CMA Awards telecast on CBS. Although Trio didn't win Vocal Event of The Year, Dolly performed two songs: "Train, Train" from her upcoming bluegrass album and "My Kind of Woman, My Kind of Man" with Vince Gill subbing for an absent Patty Loveless. The big winners of the evening were The Dixie Chicks and Shania Twain, together snatching up half of the evening's trophies. For my complete review of the awards, a complete list of winners and the text of Dolly's acceptance speech, click here.
* And Dolly was wonderful on CBS This Morning yesterday. To see the network's review on their website, plus a video clip, click here.
* Sugar Hill Records passed along a great article from BPI (the publishers of Billboard) released earlier this week about her upcoming bluegrass album The Grass is Blue. One surprise noted in the story is that she may do a reunion album with Porter Wagoner! For the story, click here.
* * * * *

Sept. 22: Sugar Hill Records has released the cover art for Dolly's The Grass is Blue, to hit stores Oct. 26. Advance order your copy by clicking on the album cover at left! The label has also posted several new web pages detailing the album. For Dolly's biography in bluegrass and her stories behind each song on the album, click here. For the complete liner notes from the album, click here. And for quotes from the musicians about working with Dolly, click here.
* Want to see Dolly's driveway? John Cunningham's celebrity driveways has it here.
* The folks at Lifetime tell me that the Dolly film Blue Valley Songbird is scheduled to air Nov. 1, but since it has yet to be officially announced, that date could change. They plan to get some behind-the-scenes footage posted on their website, likely mid-October, with more information about the film, I'm told. I had also recommended Dolly for the network's Intimate Portrait series, but I'm told word around the network is they approached her on the subject but that she doesn't feel it is the right time to be profiled on the show.
* And, according to the Sugar Hill press on the bluegrass album, the new version of "Jolene," which is to be the first single from the soundtrack of the Elton John-produced British film Women Talking Dirty for which Dolly has contributed five songs (six according to Country Weekly), will be yet another DANCE single. No word on whether it will be released as a single stateside.
* * * * *
Sept. 20: The Toronto Sun has reported that the film Women Talking Dirty, the first effort of Elton John's Rocket Productions which premiered at the Toronto Film Festival this weekend, features at his insistence a fictional nightclub dedicated to Dolly's tunes. Thanks Robert!
* After recently obtaining copies of the original Dolly show of 1976-77, I have posted a catalog of its episodes here.
* Although her TNN petition has ended, Ginger Shoemate continues her campaign to get the cable network to return to its country roots. She plans to soon list TNN's sponsors and their contact information in the hopes fans will pressure them to put Nashville back in The Nashville Network. To check it out, click here.
* * * * *
Sept. 17: The Associated Press on Thursday issued its predictions for Wednesday's CMA Awards, picking Trio II to win. They noted it was a "tough choice" and that it would be "a nice touch" since Dolly is being inducted into the Hall of Fame during the show.
* From another AP story this week: "Where do L.A.'s most public personalities shop for their most private garments? It's no Secret: it's Trashy Lingerie. Located on La Cienega Boulevard, Trashy Lingerie is the preferred destination for stars seeking push-up bras, naughty nighties and scanty panties . . . Dolly Parton dropped $8,000 in one spree, snapping up corsets as well as dresses, jackets and shoes."
* * * * *
Sept. 16: Dolly has been added to the performance list of the CMA Awards, to be telecast Wednesday on CBS. According to the CBS press release issued Tuesday: "Dolly Parton's appearances on the CMA Awards over the past three decades have always been among the show's most-highly anticipated and memorable of any other artist. This year, Dolly is being inducted into the Country Music Hall of Fame. Dolly will thrill the audience again as she has agreed to perform as part of her induction ceremony. The dynamic blonde's long-time duet partner, Kenny Rogers, will introduce Dolly's induction ceremony. Also being inducted into the Hall of Fame, posthumously, are Conway Twitty and Johnny Bond."
* And speaking of the CMAs, did you catch TNN's preview show last night? Of course, the Trio was profiled briefly in the Vocal Event of the Year category for their nomination for Trio II, and it was pointed out that the first time this award was given, the girls won it for the original Trio album (1988). Then the show devoted just about its longest segment of the night on any single person (more than two-and-a-half minutes) to Dolly's induction into the Country Music Hall of Fame. Clips were shown of her singing "Jolene" and "I Will Always Love You" from the Porter Wagoner Show and appearing with Porter on her ABC Dolly! show, her films Straight Talk and Steel Magnolias, Whitney Houston performing "I Will Always Love You" to showcase her songwriting success, Dollywood and her cosmetics line to show her business efforts, singing "Islands in The Stream" with Kenny Rogers on the CMA Awards, her videos for "Straight Talk," "Honky Tonk Songs" and "To Know Him is To Love Him" with the Trio as well as a few interview excerpts talking about her career. After the segment, host Lorianne Crook noted that Blue Valley Songbird airs on Lifetime Nov. 1.
* * * * *
Sept. 14: The Sept. 21 issue of Country Weekly boasts a host of articles on Dolly in its CMA Awards Show preview! In addition to talking about the Trio's nomination for Vocal Event of the Year, there's an article on her induction into the Hall of Fame and memories from past award shows. For excepts, click here.
* Dolly got a mention on a CNN Worldbeat story Monday tracing the evolution of country music. In a segment titled "Country goes pop," the narrator said, "Something completely different happened in the late 1970s and early 1980s as country went pop. Dolly Parton's 1980 film 9 to 5 led the crossover to the masses." After a clip from the film, the show discussed how Dolly influenced country's reigning queen, Reba.
* * * * *
Sept. 13: Dolly has been immortalized as the centerpiece of the 104th Hard Rock Café, which opened last weekend in Gatlinburg, just about seven or eight miles east of Dollywood. The newest of the worldwide establishments (and third in Tennessee: They already have them in Nashville and Memphis) features Dolly's dress from the Something Special album cover and one of her guitars in the banquet room. Others of the 325 items on display include Alanis Morrisette's blouse near the men's room, Madonna's "Girlie Tour" hat at the top of the stairs and an original doodle by Jimi Hendrix in the restaurant. The café also boasts Hard Rock's first wedding chapel; the 30-guest chapel sports a complete Woodstock motif.
* * * * *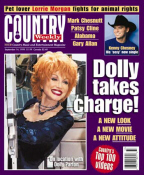 Sept. 10: I finally got around to uploading the Country Weekly article on Dolly's upcoming film and her busy schedule. To read the full story, click here.
* * * * *
Sept. 8: Dolly's upcoming Lifetime movie, Blue Valley Songbird, is mentioned in the Sept. 11 TV Guide fall preview section: "The Blue Valley Songbird (Lifetime, Nov. 1) Dolly Parton, the original Dixie chick, plays a country singer in this TV-movie inspired by her hit single. She must come to terms with her unhappy childhood and abusive father before she can achieve stardom. Nashville country star Billy Dean is a fellow crooner who woos Parton." (Although it's been presented that way before, "Blue Valley Songbird" from Hungry Again was not released as a single.)
* Michael Creed, who runs the England-based Dolly Part'ners UK Dolly information service tells me Miss Dolly will be in London on Sept. 25 to appear on the BBC's National Lottery to perform "Your Kisses Are Charity" with Culture Club and a new version of "Jolene" set to appear in Elton John's producing debut film Women Talking Dirty, for which she and John were also collaborating on songwriting. Thanks Michael!
* If you missed Dolly's Profile on Bravo, here's a recap from my friend Christopher: "It was very well done; very polished, and they pretty much used clips and photos where Dolly looked the most fabulous! Especially the clips of Dolly on British TV, like an old one on Top of the Pops where she sings Jolene in a tight yellow jumpsuit with butterflies. Also her recent appearances to promote Hungary Again in Britain. They lit her so perfectly maybe as good as the Treasures TV special and she wore that silver outfit which I love! It was a little over-edited though and could have been meatier if you ask me but that's just my opinion." Thanks Christopher!
Sept. 6: Scripps Howard News Service on Friday reviewed Buddha Records' reissues of Coat of Many Colors and 9 to 5 and Odd Jobs: "Dolly Parton is one of America's great songwriters and interpreters. While Parton's album catalog is a mixed bag, these are two of her finest hours. The hard country Coat of Many Colors (1971) is all Parton-written (save 'If I Lose My Mind'). The title cut is a classic, a true story told simply and honestly. Other standouts include Parton's underappreciated 'My Blue Tears' and 'She Never Met a Man (She Didn't Like).' 9 to 5 and Odd Jobs (1980) was released just after Parton's movie debut and her move to incorporate pop music. Along with the fun pop of '9 to 5' and some other fine originals, Parton includes an excellent take on Woody Guthrie's 'Deportees (Plane Wreck at Los Gatos)' and one of the most beautiful versions of Merle Travis' 'Dark as a Dungeon' as has ever been recorded. The disc's only downfall is Mike Post's sometimes too trendy production and arrangements, for example, 'House of the Rising Sun' set to a dance beat. With luck, Buddha's next move will be to release Parton's great New Harvest ... First Gathering and Jolene. Grade: A (Coat), B (9 to 5).
* I know this is a little late, but I missed this episode. On the June 23 installment of Comedy Central's "The Daily Show," host Jon Stewart discussed rapper Snoop Dogg's plan to open a Doggyland theme park, not unlike Dolly's Dollywood and quipped, "(This makes) it the first time in history a black musician has ever stolen an idea from a white one."

* * * * *