---
www.dollymania.net News September 2003
---

Sept. 30:
DVD Update
This isn't a lot of new information, but Wal-Mart is showing an Oct. 14 release date (the same as the Dolly tribute album) for a DVD release titled Behind The Music: Dolly Parton at a cost of $9. My suspicion is this is the Dolly DVD by Americana Entertainment which it was noted here about two weeks back would be coming out in mid-October. Nothing has been released yet on what the DVD will contain, but Americana is now showing a shot of Dolly in the studio on its page promoting its DVD production division (see here). More information as it becomes available. Thanks, Jason!
Another Gospel Re-Package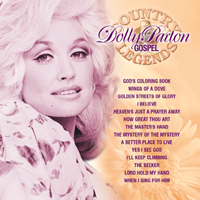 Green Hill Music has just released a new Dolly gospel compilation titled Country Legends: Dolly Parton Gospel. The CD features nine of the 10 songs from her 1971 gospel album Golden Streets Of Glory plus "The Mystery Of The Mystery" and "A Better Place To Live" from 1971's Coat Of Many Colors, "When I Sing For Him" from 1972's Sings My Favorite Songwriter: Porter Wagoner, "The Seeker" from 1975's Dolly and "God's Coloring Book" from 1977's Here You Come Again. Get your copy here.
Australia Update
Ultimate Dolly Parton inches down one more spot on the Australian country charts in its fifth week to reach No. 7, it was announced on Sunday. The CD peaked Down Under at No. 4 country, No. 49 pop.
Congratulations, Shaunna and Randy!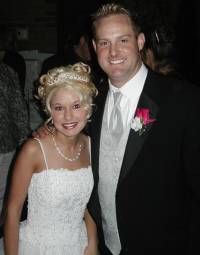 Congratulations to Randy Kohrs and Shaunna Larkin, who were married Sunday in a beautiful ceremony at the Ryman Auditorium in Nashville. Randy, who led Dolly's touring band the Blueniques, proposed to Shaunna on the stage at the Ryman during Dolly's concert there last year following her performance of "Marry Me." Dolly was originally scheduled to sing at the nuptials, but she was forced to cancel several weeks ago due to a scheduling conflict (apparently the taping of the Women Rock! concert in Hollywood on Tuesday). Shuanna was radiant as she walked down the isle to the historic stage, her white flowing gown back-lit so that it glowed. The pastor said a special friend of the couple's couldn't attend but sent a video message.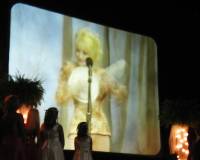 Dolly then appeared on a large screen at the center of the stage, saying that she hated she had to be out of town and miss the event, but since it all started with "Marry Me," she felt it would be nice to perform the song, even though she said it may not be the most traditional of wedding numbers. To the crowd's laughter, Dolly "played" a fake banjo and guitar as she lip-synched the number, later lifting the guitar to her chin to become her fiddle as she used a wooden spoon as its bow. As the number came to its instrumental end, Dolly said, "If you're at the Ryman, I suggest you stay in your seats. But if you're at the reception, get up and dance!" She then said it was time to get more serious, so she re-wrote the words to a song which was very special to her and hoped that it suited the occasion. She proceeded to sing her classic "I Will Always Love You" with the following new lyrics:

"On this, our wedding day,
I pledge my love to you always.
And through the years,
Our love will show,
As together we watch our future grow.
And I will always love you.
I will always love you.
Making memories, through the years,
I will share your smile and dry your tears.
We'll make plans.
We'll see them though.
Come what may, I'm always here for you.
And I will always love you.
I will always love you.
I hope life treats you kind.
And I hope you have all you ever dreamed of.
I wish you joy, and happiness.
But above all of this, I wish you love.
And I will always love you.
I will always love you."
"Congratulations," Dolly told the couple. "Have a happy life together. I love you." Afterward, the two exchanged vows and rings. A reception at the Gibson Bluegrass Showcase Café at Opry Mills Mall followed the ceremony. Everyone enjoyed good food, music and great toasts by best man Jim Lauderdale and Shaunna's sister and duet partner, Tina Larkin. (Images of the happy couple at the reception and of the bridesmaids watching Dolly's performance by Duane Gordon.)
---
Sept. 27:
Louvin E-Card Features Song Samples
You can hear a sample of Dolly's duet with Sonya Isaacs on "The Angels Rejoiced" from next week's Livin', Lovin', Losin': Songs Of The Louvin Brothers on a new e-card for the project posted on Friday. Click here to access it. The tribute CD comes out on Tuesday featuring a ton of music's best artists. Reserve your copy here, and don't forget to enter the Dollymania contest to win the CD and artwork here through Oct. 25! The project also received high praise in Thursday night's "Nashville Skyline" column by Chet Flippo on CMT.com. Read his comments here.Thanks!
Dolly In The Press
The lead story in the Billboard country music news column in its Sept. 27 edition was Dottie Rambo earning the most nominations, seven, in this year's Christian Country Music Association Awards, three of which are with Dolly for their duet "Stand By The River." It is also noted in the piece that Dolly is tied with Randy Travis and the Fox Brothers for the third-most nods with four each, as her other nomination is for Mainstream Artist Of The Year.
And Again
Dolly's "My Blue Ridge Mountain Boy" from 1969 made one critic's "dream mix tape" list this week. British paper The Guardian asked five music experts to compile their "fantasy cassettes." Greil Marcus put Dolly's classic second on the tape, saying it's "a nice, light, sweet tale of a girl who goes all the way down the mountain." Read all of the lists here.
---
Sept. 26:
Still On The Chart


Ultimate Dolly Parton inches up one spot to come in at No. 68 on the Oct. 4 country albums chart for its 16th chart week, Billboard announced Thursday; the CD had peaked at No. 20. Alan Jackson's Greatest Hits Volume 2 remains at No. 1 country for a sixth week but falls four to No. 8 pop, while Johnny Cash's American IV: The Man Comes Around remains at No. 2 country and drops eight pop to No. 30 in its 46th chart week, the second week of sales following the legend's death.
More On Leno Appearance
It has been confirmed that Dolly's Oct. 9 appearance on NBC's The Tonight Show With Jay Leno reported here Wednesday night is, as suspected, to promote Just Because I'm A Woman: Songs Of Dolly Parton. I'm told that she and Mindy Smith, who sings the album's first single, "Jolene," will appear together to perform the song as a duet. Thanks!
'Undercover' Is On CD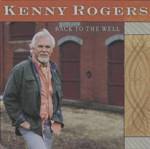 I've gotten several e-mails concerned that Amazon.com is not showing the Dolly duet "Undercover" on the track listing for Kenny Rogers' Back To The Well, which was released Tuesday. I got my copy from Amazon and can assure you that the track does appear on the CD. Apparently, retailers (including Amazon, CD Universe, Tower Records and others) either were not notified or did not realize that the U.S. track listing was different from that of the European version released in May and simply posted that earlier song order on their sites. The song appears on the U.S. version as track No. 4. Another addition to the U.S. version is the song "It's A Beautiful Life." Removed from the American release are the songs "Suitcase Of Blues" and "You Have No Idea," which apparently appeared on the European version. (The U.S. version also has a couple of shots of Dolly in the recording studio in the liner notes!) Regardless of what these sites are showing as the track listing, they are all selling the version with Dolly. Just be sure if you order one to get the one released in September by Dreamcatcher (the European version will show a May release date from Sanctuary). Get your copy here!
Another Contest


Another Dolly-related contest is up and running. Klew Media is offering Dollymania readers a chance to enter to win items associated with the Universal Records' Sept. 30 tribute CD Livin', Lovin', Losin': Songs Of The Louvin Brothers. A first place winner will receive a complimentary copy of the disc plus a limited edition "hatch print" poster from the project. Two additional winners will receive a copy of the CD. Click here to enter, and click here to reserve your copy of the album, which features Dolly and Sonja Isaacs singing "The Angels Rejoiced" and other appearances by Vince Gill, Terri Clark, Joe Nichols, Rhonda Vincent, Alison Krauss, James Taylor, Johnny Cash, Merle Haggard and more.

'Fortune': She's 'Genius'
Fortune magazine gave props to Dolly Wednesday. In an article on the ultimate CDs one should collect, it noted: "If you think Shania Twain exemplifies mainstream country music, check out The Essential Johnny Cash and RCA Country Legends by Dolly Parton. Why: To clear up that pesky Shania Twain problem with a bracing dose of the genius of the recently departed Cash's 'Ring of Fire' and Parton's 'Jolene.'" Read their full list here.

'Crossroads' Tickets Gone
All of Sugar Hill Records' guest tickets for the Dolly and Melissa Etheridge taping of CMT's Crossroads concert series on Oct. 8 are gone, the label announced on Thursday, so don't send in any additional e-mails trying to get some :) The show will premiere on CMT Nov. 28.
---
Sept. 25:
Dolly On Leno Next Month
No official confirmation yet, but some TV listing services are showing Dolly as a guest on NBC's The Tonight Show With Jay Leno on Oct. 9. I would expect she will be there to promote the tribute CD Just Because I'm A Woman: Songs Of Dolly Parton, which will be released five days later on Oct. 14. More details as I learn them.
Contest Details Released
Sugar Hill Records has announced the details of the Dolly contest running in connection with the tribute album. The label, in association with Miles Of Music, will pay tribute to Dolly and the collection by giving away complete sets of her Sugar Hill catalog: the Grammy-winning The Grass Is Blue, Grammy-winning Little Sparrow and an autographed copy of the Grammy-nominated Halos & Horns. Three lucky winners will take home the prize packages. Enter by visiting the album's e-card here or the contest page directly here. Entries will be accepted through the album's release date of Oct. 14.
Vote For Dolly
CMT.com on Wednesday asked readers who is their favorite guest on Kenny Rogers' new album, Back To The Well, which was released on Tuesday featuring the new Dolly duet "Undercover." As of Wednesday evening, Tim McGraw, who performs on "Owe Them More Than That," was leading with 44 percent; Dolly was second with 22 percent; "none of the above" third with 19 percent; and Alison Krauss, who sings on "Love Like This," was last with 15 percent. Vote on the site's main page here!
'Crossroads' Press
The Associated Press on Wednesday profiled CMT's Crossroads show, which pairs a country star with a rock star, mentioning Dolly's coupling with Melissa Etheridge, which will film in Los Angeles on Oct. 8 to air on the cable network Nov. 28. Read the story on the series here.
---
Sept. 24:
Get Your E-Card!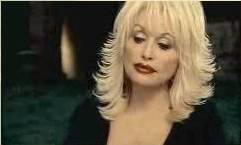 Sugar Hill Records this week posted a new e-card on the upcoming Dolly tribute album Just Because I'm A Woman: Songs Of Dolly Parton. The card features clips from all 13 of the album's cuts, the full video for Mindy Smith's cover of "Jolene" (with Dolly opening and closing the story, see image at left), a contest (although it doesn't say exactly what you can win -- but you may enter through Oct. 14; more details to come soon) and a link to e-mail the card to friends. Take a look here! Thanks!
Revised Cover Art Issued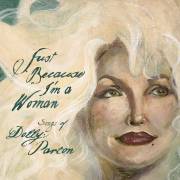 And what is apparently the album's final cover artwork was released this week as well, changing very little from the preliminary version issued a few weeks ago. The painting of Dolly and font of the title are the same, but the names of the artists who appear on the CD have been removed. Just Because I'm A Woman: Songs Of Dolly Parton will be released on Oct. 14. Click on the image at left for a larger view.
'Undercover' And Behind-The-Scenes
It was reported here a few weeks ago that it would be coming soon, and the in-the-studio footage of Kenny and Dolly recording "Undercover" for his Back To The Well album, which was released Tuesday, is here! The clip was posted on CMT.com Tuesday afternoon with a story about the CD. One new tidbit in the story is that after they let a few people know they were planning a reunion, Don Henley submitted a song for them titled "I'm Still Here," but Kenny felt it "just wasn't right" for the pair and asked Dolly to write something for them, which resulted in "Undercover." Read the full story, and view the footage, here, and get your copy of the new album here! (The text does, however, repeat a few of the inaccuracies which have circulated about the duo since the duet was announced, namely that they haven't recorded together in 20 years when it actually has been 13 years, and that they first discussed recording together at Jane Fonda's fundraiser this summer when instead the impending duet and its title were first publicly announced at that event. It also calls "Handprints On The Wall" the album's first single, when it was the second cut released in the U.S. from the CD. "Undercover" is expected to hit radio as a single early next year.)
Cash Covers Dolly, Three Times!
Rolling Stone reported on Tuesday that Unearthed, the upcoming Johnny Cash boxed set of unreleased songs from his "American" recording sessions over the past 10 years, will include two versions of the Dolly-penned tune "I'm A Drifter," which originally appeared on her 1976 collection All I Can Do. Cash's producer, Rick Rubin, said the song was first cut for his 1994 American Recordings CD and twice more for possible inclusion in its follow-up, Unchained in 1996, but none of the versions made the final track listings. "They're both good," Rubin explained of the two final versions, "but neither of them felt up to what was on the rest of the album. I felt like we never really captured it. We never found a way to get the song over in a way that the most successful songs had gotten over for him." The two later versions, one recorded with Tom Petty and the Heartbreakers and the other with the rhythm section from the Red Hot Chili Peppers, are set to appear on the boxed set, which is expected to be in stores by December. Read the full interview here.
'Farther Along, We'll Know All About It'
Dolly's sister Stella, who in recent years has become a very popular gospel performer, recently appeared on televangelist Jim Baker's new syndicated program and commented on her famous sister's spirituality. Stella said: "Christians come in all different shapes and sizes, and my sister Dolly is one of the most angelic persons I know. I believe God is using her in a special way."
---
Sept. 23:
'Crossroads' Tickets Released
A handful of tickets are available for the public to the CMT Crossroads taping of Dolly with Melissa Etheridge, it was announced late Monday. Sugar Hill Records will accept requests for one ticket each to the first 50 people responding to contest@sugarhillrecords.com. The concert tapes Wednesday, Oct. 8 at 8 p.m. at Sony Pictures Studios 15 in Culver City, Calif., and is set to premiere on CMT Nov. 28. Thanks!
Tribute Preview Week Nine
Sugar Hill Records on Monday posted the ninth preview track for the Oct. 14 tribute CD Just Because I'm A Woman: Songs Of Dolly Parton, Kasey Chambers' version of "Little Sparrow." Take a listen from their site here and visit the Dollymania page dedicated to the project here.
Is Dolly An 'Alpha Female'?
With all the recent talk of the "alpha male" leader, some folks are wondering if there is a female equivalent. British newspaper The Guardian on Monday took a stab at the question, identifying women such as former Prime Minister Margaret Thatcher, actress Nicole Kidman and Dolly as potential "alpha females." About Dolly, it was noted: "She is a flawless image of womanhood who doesn't alienate other women. She is talented and financially powerful, she doesn't have children so she can't be a bad mother. And she is self-created. Couldn't be better." Read the full article here.
'Well' Gets Great Review
USA Today on Monday afternoon posted its review of Kenny Rogers' Back To The Well, which hits stores on Tuesday. The reviewer gives the CD three out of four stars, praising Rogers' ability to remain "commercially relevant" by recording with younger artists. It ends with: "And when he sings 'Undercover' with Dolly Parton, it's as if 1983 never ended." Read the full review here. Get your copy here!
---
Sept. 22:
Down A Bit Down Under


Ultimate Dolly Parton slips two spots to No. 6 on the Australian county albums chart, it was announced Sunday. The CD had peaked for three weeks at No. 4 country and even entered the top 50 pop albums chart Down Under for one week at No. 49. In the U.S., it had peaked at No. 20 country, No. 130 pop, and in the U.K., it had peaked at No. 1 country for three weeks and No. 17 pop.
Kenny Reminder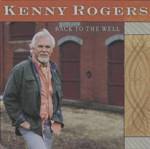 Remember that Kenny Rogers' 61st album, Back To The Well, drops on Tuesday featuring the much-anticipated Dolly duet "Undercover." The song, which Dolly wrote especially for the U.S. release of the CD, marks their first collaboration since 1990's "Love Is Strange." The pair first recorded together with the worldwide smash hit "Islands In The Stream" in 1983, put out a Christmas album in 1984, toured together in the U.S. and abroad, and have released two additional duet singles. As was reported here exclusively earlier this month, "Undercover" is expected to be released as the album's third single early next year. Get your copy here!
---
Sept. 20:
DVD Due In Oct., Content Unknown
A new Dolly DVD should hit large retailers next month, according to a mention in The Tennessean on Friday. The story focused on the annual convention for Americana music in town this week and heavily played up a relatively new company called Americana Entertainment. The company's president said one of its upcoming projects is a Dolly DVD which will be released around mid-October at the price of $6 to mass-market retailers such as Wal-Mart. No word yet on the disc's content. One previous Dolly project the company produced was the radio special to promote Halos & Horns. Read the full story here.
Magazine: Tribute Superb
Money magazine Forbes gave the thumbs up this week to the Dolly tribute album Just Because I'm A Woman: Songs of Dolly Parton, arriving in stores Oct. 14. The magazine's reviewer noted that Dolly "has one of the strongest songwriting catalogs in country music" and that this "lovely" CD captures several "reverent classics." Alison Krauss and Norah Jones were singled out for their performances, and Shania Twain's cover of "Coat of Many Colors" was called "moving." He also lauded Dolly's new version of the title song, saying "she sounds good as ever." Read the full review here.
A Little Recognition
Dolly's presentation of a plaque to commemorate her Dottie Rambo duet "Stand By The River" hitting No. 1 on the Christian country chart and her subsequent Christian Country Music Association Awards nominations got some coverage this week in the Southern Gospel News. Read the story here.
But Will You Get Sued For Downloading It?
Dolly also got a mention in the new issue of music magazine Maxim Blender, which asked celebrities to offer their lists of the best songs to download online. Pop star Mandy Moore put Dolly's cover of "Stairway To Heaven" at No. 11 on her tally, saying she breathed new life into the rock classic.
Dallas Gets Relief
It's a bit late for Dolly fans, but concertgoers at the venue she played last year in Dallas are getting some relief. The Granada Theater, which hosted her Texas stop on last year's concert tour, finally got its air conditioning repaired two years after the movie theater re-opened as a music hall. Those in attendance at Dolly's event there will well remember the sweltering heat on which even Dolly herself commented from the stage a time or two. (I wonder if they've fixed the ceiling as well -- a piece of it fell on some members of the audience during Dolly's show.) Read the story here from the Dallas Morning News.
---
Sept. 19:
Slipping On The Charts


Ultimate Dolly Parton falls back down 15 spots to come in at No. 69 on the Sept. 27 country albums chart for its 15th chart week, Billboard announced Thursday; the CD had peaked at No. 20. And her Halos & Horns falls back off the bluegrass albums chart after logging in a 56th chart week last week at No. 14; it had peaked at No. 2 bluegrass, No. 4 country. Alan Jackson's Greatest Hits Volume 2 remains at No. 1 country for a fifth week but falls one to No. 4 pop, while Johnny Cash's American IV: The Man Comes Around shoots up 14 places to No. 2 country and hits No. 22 pop in its 45th chart week, besting its previous peak at No. 4 country and reflecting the first week of sales following the legend's death.
'Girl Guide' Features Dolly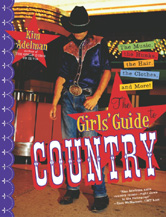 I'm told that a new book coming out next month will include a "huge section" on Dolly. The Girls' Guide To Country, to be released Oct. 14 by Broadway Books, is described as a major collection of country history, style and personality from a woman's point of view. In promotional materials, it notes: "From the diva chic of Shania Twain to the kitschy appeal of Dolly Parton, this book is a primer on all of the industry's fabulous faces, celebrating enduring icons Loretta Lynn and George Jones alongside current superstars Faith Hill and Tim McGraw." It is written by filmmaker Kim Adelman, whose previous book was The Girls' Guide To Elvis.
DJ: I Didn't Announce Dolly/Shania Concert
Contrary to rumors that have been wildly circulating, there have been no announcements made of Dolly appearing at Shania Twain's Oct. 22 Chicago concert, Dollymania has learned. A couple of weeks ago, postings to the fan club message board at Shania's official Web site began discussing a claim that Chicago DJ Lisa Dent had announced on the air that Dolly would be serving as Shania's opening act during her concert in the Windy City. Dent says that's not so. Instead, she said she only discussed Shania's upcoming appearance with Dolly on The Oprah Winfrey Show and may have mentioned that Shania was playing the city on Oct. 22 (at the time, the show was to be filmed the same day as the concert, but since then the film date has moved to Oct. 20), but there was no announcement made that Dolly was to appear during the concert, and to the best of her knowledge there are no plans for her to do so. Thanks, Lisa!
---
Sept. 18:
Movie May Shoot At Park
A new film could soon be shooting at Dollywood, The Tennessean reported Wednesday. A Western made-for-television movie titled Lady Colt will be casting in Nashville next month and may be shot partially at the park, the paper reported. Its director/producer had offered the lead roles in the film to Dolly and Kenny Rogers, but they were unable to appear in it. Read the brief here.
---
Sept. 17:
No CW Noms
Dolly didn't get a Country Weekly Fan Favorite Awards nomination this year, it was announced Tuesday. Dolly had been one of the 20 semi-final nominees for Favorite Female Artist but didn't make it into the final five: Faith Hill, Martina McBride, Reba, Shania Twain and Terri Clark.
Lynne Talks Up Project
Shelby Lynne talks a little about the upcoming Dolly tribute album Just Because I'm A Woman: Songs Of Dolly Parton in an interview with the Mobile Register this week. She says her involvement was due to her relationship with Dolly's longtime friend and producer Steve Buckingham, whom she knew when he was at the CBS/Columbia label in Nashville. "We got reaquainted this past year because he approached me about doing the Dolly thing, and he knows I'm a huge Dolly fan. That's how it happened." Lynne performs "The Seeker" on the disc, due out Oct. 14, and her little sister, Allison Moorer, sings "Light Of A Clear Blue Morning." Read the full interview here.
---
Sept. 16:
Oprah Change Confirmed, Tribute Week Eight
It was confirmed to Dollymania on Monday that Dolly's taping of the Oprah Winfrey Show has, in fact, been moved to Oct. 20. Although an air date has not been officially confirmed, it is rumored that plans are to air it on or around Oct. 22. Currently, the only confirmed guests for the program who have been announced are Dolly and Shania Twain, whose cover of "Coat Of Many Colors" with Dolly and Alison Krauss and Union Station from Sugar Hill Records' Oct. 14 tribute album Just Because I'm A Woman: Songs Of Dolly Parton was made available by the label on Monday on its preview page here.
Dolly And Melissa Concert Announced
CMT on Monday confirmed that Dolly and lesbian rocker Melissa Etheridge will tape an episode of CMT Crossroads next month. The series pairs a performer from country with one from the pop or rock field in a series of duets. Etheridge, who performs "I Will Always Love You" on the Dolly tribute CD, has long cited Dolly as a major influence on her music and life. The hour-long concert will tape before an invitation-only crowd in Los Angeles on Oct. 8 and premiere on the network at 10 p.m. Eastern on Nov. 28.
'Gay Day' At Dollywood
Speaking of out-of-the-closet Dolly fans, East Tennessee Pride, a gay and lesbian organization, hosted the first unofficial "Gay Day" at Dollywood on Sunday. The event was the finale for the group's annual pride celebration week. Similar to events held at Disney World and King's Island, the day is an unofficial gathering at which gay and lesbian attendees are encouraged to wear bright red shirts, but it is not sanctioned by the parks. Area television station WCYB reported that the red-shirted crowd numbered about 400. Read their story here.
---
Sept. 15:
CCMA Nominations Announced
Dolly is up for four Christian Country Music Association (CCMA) Awards, with final nominees announced. Dolly faces her sister, Stella, as well as Diamond Rio, Randy Travis and the Oak Ridge Boys for Mainstream Artist of the Year. "Stand By The River" by Dolly and Dottie Rambo is up for Song of the Year against Darryl Worley's "Have You Forgotten," the Fox Brothers' "In This House," Del Way's "One Nation" and Randy Travis' "Three Wooden Crosses." Dolly and Dottie are also nominated for Vocal Duo Of The Year with Branded, Twice Robin, Calvary Cowboys and Young Harmony, and their song is up for Video Of The Year against "Have You Forgotten," "Three Wooden Crosses," Diamond Rio's "I Believe" and Glenn Kearney's "Grace In A Prison Place." Dottie is also nominated for Entertainer of the Year, Songwriter of the Year, Female Vocalist of the Year and the Pioneer Award, with Stella also nominated for that latter honor. Awards will be handed out Nov. 6 at the Ryman Auditorium in Nashville.
Possible Oprah Date Change
Country Stars.com is reporting that Shania Twain's taping of The Oprah Winfrey Show on which she and Dolly will duet on "Coat Of Many Colors" will be held Oct. 20. No official word yet on whether this new date is correct, will be the new tape date for the entire episode focused on the Dolly tribute album or is just to tape the Shania segments. As had been reported earlier, Dolly was scheduled to tape the show on Oct. 22, the same day as Shania will be in Chicago, where the show is filmed, for a concert. More as I find it out! Thanks, Christian!
'Jolene' Video Preview
I saw an advance copy of Mindy Smith's video for "Jolene" from the tribute album Just Because I'm A Woman: Songs Of Dolly Parton over the weekend, and it's great. It begins with Dolly seated at a table outside, opening a book and writing the lyrics on the page. It cuts to a house where Smith watches her boyfriend drive away to meet Jolene on a dark country road. Smith tosses in bed, sits on the floor playing her guitar, then sets out into the night with a lantern to confront the pair. As the song ends, Dolly is again shown closing the book. The single and video should be sent to radio and television in the next few weeks.
Gospel Chart Updates
The September issue of Power Source magazine is out, and there's a Dolly mention: Dottie Rambo talks about their duet in an interview, saying she was surprised at their preliminary nominations in the CCMA Awards. "I was shocked . . . But everyone was so excited. I was more happy than shocked. Dolly and I had the most fun doing that song and it was so special." Unfortunately, all of Dolly's songs fall off the publication's charts. "Hello God" from Halos & Horns is off the 100-position Christian country chart, down from No. 79 in August. It had peaked at No. 2, while former No. 1 "Stand By The River" with Dottie falls off the same chart, down from No. 68 last month. "River" also falls off the Southern gospel chart, down from No. 86 the previous month.
Down Under Chart Action
Ultimate Dolly Parton falls of the Top 50 Australian pop charts this week after one week at No. 49, it was announced Sunday. The CD remains steady at No. 4 country.
---
Sept. 13:
In Memory
One of the biggest icons in American entertainment left us Friday morning. Johnny Cash, to many the personification of country music, died in Nashville from respiratory failure due to complications from diabetes. He was 71. On Friday afternoon, Dolly released the following statement through Sugar Hill Records: "Johnny Cash has only passed into the greater light . . . he will never, ever die. He will only become more important in this industry as time goes by. I'm sure he's happy today now that he's with June." His wife, June Carter Cash, herself a country legend, died from heart surgery complications at the age of 73 four months ago next week. The couple were longtime friends of Dolly's, and he actually introduced a 13-year-old Dolly when she made her first appearance on The Grand Ole Opry and received three encores. Cash's career was one of the most prolific and lengthy in music. From "Cry, Cry, Cry" in 1955 through "Hurt" earlier this year, he charted 137 singles on the Billboard country chart, a feat surpassed by only two other performers. A total of 52 of these reached the top 10, and 14 went to No. 1. He charted 65 albums on the country albums chart, with his most recent, American IV: The Man Comes Around, peaking at No. 4 to become his 29th top 10 album, nine of which reached No. 1. He earned 11 Grammy Awards, most recently Best Male Country Vocal Performance earlier this year. He was nominated for four MTV Video Music Awards this year and is up for four CMA Awards in November (he has won six in the past). He saw 23 albums and singles receive gold and platinum awards. He was inducted into the Country Music Hall of Fame in 1980 and was also a member of the Rock & Roll Hall of Fame and Songwriters Hall of Fame. The legacy he leaves behind will live on for generations to come, who will always remember The Man In Black.
Another Loss
Another country music ally was lost this week, when actor John Ritter died of a heart ailment at the age of 54 Thursday night. Ritter was the son of Country Music Hall of Fame member Tex Ritter and, consequently, was friends with many in the music industry. He also appeared with Dolly in her 1986 telefilm A Smoky Mountain Christmas.
Join 'Country Stars'
Country Stars.com, the official Web site of the cable music video network Great American Country, has unveiled a special offer to join its club. For a $20 membership fee, you'll receive a year's subscription to Country Weekly magazine and your choice of one free gift. Among the items to choose from is a CD single of Dolly's "I'm Gone." Thanks, Chad and Lynette!
Vote For Dolly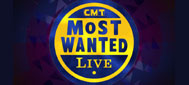 And the folks over at CMT asked me to remind everyone that their new MWL fan-voted video countdown recently premiered, and Dolly's video for "I'm Gone" is one of the selections for which you may cast your vote here (or click on the icon at left)! Thanks, Hal!
---
Sept. 12:
Shania To Do 'Oprah'
Shania Twain's official site (here) on Thursday confirmed she will be a guest on The Oprah Winfrey Show "this fall" to perform both her new single, "She's Not Just A Pretty Face," and a duet with Dolly on "Coat Of Many Colors." It doesn't specifically list the Oct. 22 date, but I'm fairly sure that will be it because that's the day Dolly is scheduled to tape an episode dedicated to the tribute album Just Because I'm A Woman: Songs Of Dolly Parton, and that is also the night Shania will be in Chicago, where Oprah films, for a concert. The show is also expected to include additional artists from the CD, but no others have been announced yet.
'Ultimate,' 'Halos' Up


Ultimate Dolly Parton inches up another three spots to come in at No. 54 on the country albums chart for its 14th chart week in the Sept. 20 numbers, Billboard announced Thursday; the CD had peaked at No. 20. And her Halos & Horns re-enters the bluegrass albums tally for a 56th chart week, coming in at No. 14. Alan Jackson's Greatest Hits Volume 2 remains at No. 1 country for a fourth week and gains one to No. 3 pop, while Shania Twain's Up! remains at No. 2 country in its 42nd week but loses nine to come in at No. 28 pop.
'I'm Gone' Is Gone
Dolly's video for "I'm Gone" from Halos & Horns falls out of CMT's weekly Top 20 Countdown, the network announced Thursday night. The video, which was No. 19 last week, spent 11 weeks on the chart, peaking at No. 7.
Walsh Talks Dolly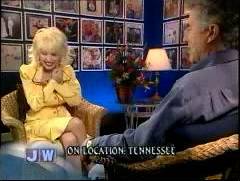 I haven't had a chance yet to see Dolly's performance on The John Walsh Show (the station airing it here wasn't broadcasting today, but I did capture a shot from the show's preview at left), but the Knoxville News-Sentinel on Thursday offered a great interview with Walsh about the special episode. "Dollywood is Americana," he told Terry Morrow. "This is middle America. (Dollywood) is much more relaxed than Washington, D.C., or New York. This is what America is all about." Read the full article here.
Dolly To Present Teacher Honor
A friend asked me to help promote that Dolly will again this year recognize a teacher for overcoming obstacles and performing in an outstanding manner in the classroom by presenting the second annual Dolly Parton's Chasing Rainbows Award. Any teacher who has been selected at a state level as Teacher Of The Year in the past, whether currently teaching or retired, may be nominated. The deadline for nominations is Oct. 1. The winner will be notified in early November and brought to Dollywood for Dolly's Christmas concerts to be presented with the award by Dolly herself. The awards program, a collaborative project among Dolly, the Dollywood Foundation and the National State Teachers Of The Year Organization (NSTOY), was created following the NSTOY's honoring of Dolly with a Chasing Rainbows Award at the park's season opening in April 2002. It was given in recognition of her overcoming obstacles to find success and using that success to help educate children across the nation through her Imagination Library program. As the organization notes in the application packet: "Dolly has not only captured the rainbow, but the pot of gold at the end as well. But it wasn't the pot of gold that captured the NSTOY's attention; it was 'a heart filled with gold.' . . . It takes two things to make a rainbow: a bright shining light and tiny droplets of water. This bright light, representing Dolly and the teacher, shinning through the tiny droplets of water, which are the children, make a beautiful rainbow and lead us all to the pot of gold, our future generation!" The first honoree of Dolly Parton's Chasing Rainbows Award was Dr. Renee O'Leary, who was a Delaware Teacher Of The Year in 1982 and was recognized at Dolly's concerts last December. The name of this year's winner will be added to a crystal award beneath Dolly's and Dr. O'Leary's on permanent display in the show window of Dolly's Chasing Rainbows Museum at Dollywood. Access the application packet here. Thanks, Donna!
---
Sept. 11:
Historical Wagon At Dollywood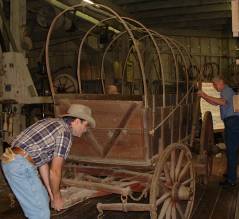 History buffs who wish to see the sole known surviving wagon used on the infamous Trail of Tears will need to travel to Dollywood later this month, the park announced on Wednesday. The wagon, on loan from the Foxfire Museum and Center in Mountain City, Ga., and known as the Zuraw Wagon, will be on display throughout the park's Harvest Celebration Sept. 26-Nov. 1 as part of a showcase of Native American life. The park's artisans will also create a full replica of the wagon which will be presented to the Museum of the Cherokee for display at its facility a few miles across the Smoky Mountains in Cherokee, N.C. In a statement, Dolly said: "Dollywood is so proud to provide the Cherokee people with this wagon, truly a missing link in their rich heritage. Not only is it a gift to our Cherokee neighbors, but also to future generations so that they, too, will always know the historical significance of the Trail of Tears." The nine-and-a-half-foot wooden wagon was constructed in the late 18th century and was used by a former Severville, Tenn., resident in the Trail of Tears, one part of the U.S. government's several-decades-long effort to restrict all Native Americans east of the Mississippi River to reservations in the Indian Territory, what is today Oklahoma. In October 1838, more than 14,000 Cherokees from the Appalachian region were forcibly moved on a six-month, 2,200-mile journey to the Indian Territory, most on foot, as wagons such as the one above were likely used for transporting only the very young, very old or sick as well as supplies and equipment. More than 4,000 Cherokees died along the brutal journey. (Image at left of the wagon's arrival at the park this week courtesy Dollywood. Used with permission.)
Karaoke Without Royalties Targeted
Belting out your favorite Dolly tune such as "I Will Always Love You" or "9 To 5" at your local bar or nightclub's karaoke night may not be as easily done in the near future, depending on the outcome of a federal lawsuit filed this week. BMI, one of the two major associations which regulate the performance of music in the U.S. for the collection of songwriting royalties for composers, filed suit in U.S. District Court on Monday against a bar in Indianapolis, Ind., attempting to stop karaoke night, The Indianapolis Star reported Wednesday. The suit alleges the bar, Parrotheads, violated copyright law by not paying licensing fees to BMI for allowing patrons to perform songs written by its composers. BMI filed the suit on behalf of its hundreds of songwriters, including Dolly, naming them, several publishing companies and a trust for Sonny Bono as plaintiffs in the action against the bar. BMI represents the authors of about 4.5 million songs, including more than 3,000 written and published by Dolly. Read the full story here.
Catch 'Dolly Would' Again!
Dolly Would, the cabaret show comprised of Dolly music performed by Chicago artist Stephen Rader which premiered in the city earlier this year, is back for two limited engagements, the Windy City Times reported this week. The show will be presented at the Speakeasy Restaurant on Devon Avenue at 10:30 p.m. this Friday and Sept. 19.
Dolly Named A 'Babe'
I doubt the title accurately describes her beliefs, but Dolly has been named as this week's Republican Babe Of The Week by the New Jersey Republican Web site JerseyGOP. (My guess is Dolly is more of an independent than a Republican or Democrat, and she wisely chooses not to enter most political discussions. However, when she has made comments which are more political in nature, they have almost always tended to be on the more liberal side of the discussion.) See their page on her here.
---
Sept. 10:
'Hello God' Gets Gold Cross
The International Country Gospel Music Association recently announced the winners of its annual awards program, the 47th Annual Gold Cross Awards, and Dolly took home Single Of The Year for "Hello God" from Halos & Horns. Congratulations! Thanks, Tony!
Walsh On King


CNN has announced that John Walsh will be Larry King's guest for his program Thursday evening on the cable network. As this interview falls on the evening of his program with Dolly at Dollywood in observance of Patriots' Day (a day of remembrance of the victims of the terrorist attacks two years ago), I would expect the two will likely talk about the show, and possibly, air clips. Larry King Live airs at 9 p.m. Eastern Thursday, with repeats at midnight and 3 a.m. Friday. The Dolly-themed episode of The John Walsh Show airs Thursday, but broadcast times and stations vary by market, as it is syndicated. (And his Web site features a great promo with Dolly for the episode posted here!) See photos from the taping by visiting the Dollymania galleries here. (Image courtesy CNN. Used with permission.)
'What A Way To Make A Livin''
If you're out of work and would like a little laugh, check out the top 10 songs for job seekers posted on Tuesday by MSN. Among the 10 is Dolly's "9 To 5," about which the editors note: "What a way to make a living. Featured as the title track for her 1980 comic film with Jane Fonda and Lily Tomlin in which the three assistants teach their jerky boss a lesson, this Dolly Parton ditty tells you not to forget that the daily grind can suck. Be careful what you wish for." Read the full list here.
'Wildwood Flower' Out Now
The final recording by longtime Dolly friend and influence June Carter Cash, Wildwood Flower, hit stores on Tuesday, featuring her versions of classic Carter Family tunes, original songs and collaborations with husband Johnny Cash. The CD also features bonus video footage of the recording sessions. For liner notes, click here, and for more information, click here. And don't forget the contest currently running here!
---
Sept. 9:
Dolly 'Rocks' To Fight Cancer
Dolly will be one of the performers raising money for breast cancer research in the fourth annual Women Rock! concert benefit later this month, Billboard announced Monday afternoon. Mandy Moore will host the special, which will tape at Hollywood's Kodak Theatre on Sept. 30 and air on the Lifetime network Oct. 23. Joining Dolly to sing tunes from films under the theme "Songs From The Movies" are Celine Dion, Anastacia, Alison Krauss, Mya and Kenny Loggins, the first male co-headliner in the concert's four-year history, it was reported. Read the full story here.
'Undercover' On Album, Single Coming In '04
Dolly's new duet with Kenny Rogers, "Undercover," will appear on his Sept. 23 release Back To The Well and is expected to be released as the album's third single in early 2004, it was confirmed to Dollymania on Monday. A spokesperson for Rogers' company, Dreamcatcher Entertainment, said an exact date for the single to ship to radio has yet to be determined, and some behind-the-scenes footage of the duo in the recording studio will likely be available on CMT.com in a few weeks. As has been previously reported, the album's U.S. release was postponed to allow the inclusion of the new Dolly-penned duet track, which was not on its European version issued in May. "Handprints On The Wall," the CD's second single, hits radio this week, following its first single, "I'm Missing You," earlier in the summer. Reserve your copy of the album here! Thanks, Claire!
Vote For Dolly!
Dolly is up for another round of gospel awards, it has been announced. She is a nominee in three categories for the first annual Country Gospel Connection Artist Achievement Awards. Both she and sister Stella Parton are preliminary nominees for Female Vocalist, and she shares nominations with Dottie Rambo for Duo and Song Of The Year for their duet "Stand By The River". Rambo is also nominated herself for Songwriter and Industry Pioneer. Readers may vote for up to two people in each category by visiting their Web site here. Thanks, Tony!
Tillman Tribute Moved Up
A tribute project including Dolly will hit stores a little earlier than expected, CMT.com announced Monday in its weekly "Hot Talk" column. Floyd Tillman: The Influence, a collection of 14 duets with the Country Music Hall of Famer originally to be released around his 89th birthday in December, will drop in late October, it was reported. The site further identified that Dolly's contribution to the album will be Tillman's most famous song, "Slippin' Around," which in 1949 was the first "cheating song" to hit No. 1 on the country chart. Tillman, who wrote hits for Bing Crosby, Gene Autry, the Supremes and Ray Charles, died late last month at his home near Houston, Texas. Others featured on the album include Merle Haggard, George Jones and Willie Nelson. Read the full story here.
Up Down Under
Dolly's Ultimate Dolly Parton debuts on the official Australian pop charts at No. 49 this week, it was announced Sunday. The CD also remains steady at No. 4 on the Australian country albums chart. Thanks, Cleve!
Tribute Week Seven
Sugar Hill Records on Monday updated its Just Because I'm A Woman: Songs Of Dolly Parton preview with Emmylou Harris' 1978 recording of "To Daddy." Take a listen from Sugar Hill's site here, and visit the Dollymania page dedicated to the project here. Reserve your copy of the Oct. 14 release here.
---
Sept. 8:
Off The U.K. Chart


The European release of BMG's Ultimate Dolly Parton falls off the U.K. top 75 pop albums chart in the Sept. 7 edition, it was announced Sunday. The CD, which is down from No. 67 last week, had spent six weeks on the British chart, peaking at No. 17 pop and three weeks at No. 1 country. It features an interesting new remix of Dolly's "Early Morning Breeze" by pop duo Bent, merging Dolly's early-1970s vocals with an almost-orchestral arrangement accompanied by a synthesized drum beat. The import is available in the U.S. here.
'Undercover' Under Wraps?
The second single from Kenny Rogers' upcoming album Back To The Well will be "Handprints On The Wall," not his new duet with Dolly, "Undercover," his official site announced on Thursday. The song will ship to radio this week, the site reported. Rogers had told the Associated Press a month ago that "Undercover," which was written by Dolly, would be the next single and hit radio about three weeks later, but that target date passed without the song being released (original story here). No word from his record label yet on the reason for the change or whether the song will even be included on the CD, as his site and numerous online record retailers are not showing the cut on its track listing. The album's first single, "I'm Missing You," peaked at No. 49 on the U.S. country singles chart in June. The American release of the album, which was issued in Europe in May, was delayed several months for the inclusion of the Dolly duet, he had said. Back To The Well drops Sept. 23. Reserve your copy here. Thanks, James!
Find Those Dolly Titles!
Dolly gets her own crossword puzzle in the Sept. 16 issue of Country Weekly, I'm told. The edition will be on newsstands this week. Thanks, Dolly Jo and Solomon!
---
Sept. 6:
It's Autumn At Dollywood
Dollywood is expanding its annual Harvest Celebration, it has been announced. This year's five-week event will feature a living showcase of a Native American village as well as spotlighting traditional crafts, music and food of the Great Smoky Mountains. In a written statement, Dolly explained: "Our Harvest Celebration is all about our music, our handiwork and, of course, good food. It gives our guests a chance to experience some of the Smoky Mountains' most time-honored traditions and reminisce about a time when life was just simpler." The Native American village will feature replicas of Cherokee summer and winter homes as well as displays and demonstrations of skills and culture, including daily native dances. In conjunction with the festival, there will also be the eighth annual Southern Gospel Jubilee throughout the period and the Smokies' only outdoor crafts festival, highlighted by the Woodcarving Showcase Oct. 3-5, as knives take to a team competition, whittling competition and pumpkin carving competition. In addition, the National Caricature Carving Competition winner will be announced at the park Sept. 27. Harvest Celebration runs Sept. 26 through Nov. 1.
New Contest Soon
Be on the look-out in coming weeks for another Dollymania contest in cooperation with BMG Heritage, where you'll have the chance to win copies of the re-mastered 1968 album Just Because I'm A Woman, which the label will re-issue on Oct. 7. Check back for more details soon!
Credit Correction
It was brought to my attention that some photographs of Dolly filming the John Walsh Show, which is to be broadcast nationally on Thursday, were improperly credited. They should have been credited to Karl Lewanski. My apologies for the error. Take a look at the awesome shots here and here.
---
Sept. 5:
1968 Album On CD Soon


BMG Heritage, the same imprint of RCA parent company BMG which released Ultimate Dolly Parton earlier this year, will re-issue her 1968 RCA album Just Because I'm A Woman next month, it has been announced. The remastered CD will include all 12 of its original cuts plus a bonus, previously unreleased live recordings of "Coat Of Many Colors" and the title song. The album hits stores on Oct. 7, a week before the Sugar Hill tribute of the same name (available here). This will mark the first time the album, now 35 years old, has been available on CD in the U.S. BMG had issued it on CD in Europe in 1995 as a two-on-one package with her first duet album with Porter Wagoner, 1968's Just Between You And Me, but it has been out of print for several years. Reserve your copy here!
Up A Little


Ultimate Dolly Parton gains two spots to come in at No. 57 on the country albums chart in its 13th chart week in the Sept. 13 numbers, Billboard announced Thursday. Alan Jackson's Greatest Hits Volume 2 remains at No. 1 country for a third week but falls two to No. 4 pop, while Shania Twain's Up! remains at No. 2 country in its 41st week but loses five to come in at No. 19 pop.
Down A Little
Dolly's video for "I'm Gone" from Halos & Horns falls seven notches on CMT's weekly Top 20 Countdown, the network announced Thursday night. The video drops to No. 19 in its 11th week. It had peaked at No. 7.
Dolly Gets Plaque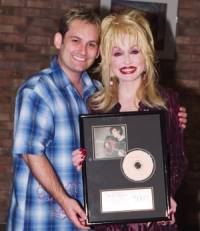 Dottie Rambo on "Stand By The River" held on the PowerSource Christian country chart in December. Shown handing over the award is Rambo's manager, Larry Ferguson. In related news, More Than Music, the company releasing the Dottie Rambo tribute We Shall Behold Him next week, has posted an e-card promoting the project here. It features audio samples from the special and a one-minute trailer, which includes a snippet from the recording studio of Dolly and Dottie performing their duet. Dolly is a featured guest on the special, albeit by videotape. Get your copy on on CD here and DVD here. Also, click here to get your copy of Stand By The River! (Image courtesy Dottie Rambo Ministries. Used with permission. Click on picture for a larger view.)
See IMAX In San Jose
The IMAX film Our Country, which features Dolly, began playing at The Tech Museum of Innovation in San Jose, Calif., on Thursday as part of its second annual IMAX Film Festival, which continues with daily shows through the weekend.
---
Sept. 4:
Shania Speculation, UK Release Info
According to Shania Twain's official Web site (here), she will be performing a concert the evening of Oct. 22 in Chicago, where the Oprah Winfrey Show is taped. This could just be a coincidence, or it might indicate that she'll appear on the show's episode focusing on Dolly and the tribute album Just Because I'm A Woman: Songs Of Dolly Parton. It could also explain why the episode is taping more than week after the Oct. 14 release date of the CD, as a Shania appearance would certainly be a major boost in ratings for the show. Stay tuned for more information as it comes in! Also, to answer readers' questions, I've done some digging, and the CD is apparently slated to be released in both Great Britain and Australia on Oct. 13. Thanks!
---
Sept. 3:
Tribute Preview Week Six
Sugar Hill Records on Tuesday continued its weekly preview of the upcoming all-star tribute CD Just Because I'm A Woman: Songs Of Dolly Parton, which hits stores Oct. 14. The sixth selection is Mindy Smith's cover of "Jolene," which is slated to be the project's first single and video, likely toward the end of this month. Visit Sugar Hill's page here with the previews! And visit the site's page dedicated to the tribute album here.
---
Sept. 2:
Revised Look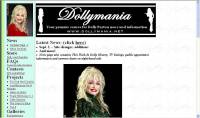 You'll notice that the site has gotten a little face-lift for the new season. Some of the graphics have changed, but the general lay-out remains the same. There are a few new additions, most notably a search function on the main page, a new chat room and a bulletin board forum. There has also been added a new page for For God And Country here. Finally, several special sections and past features that had previously been somewhat "hidden" on inside pages now have links to them on the front page and news page. Enjoy!
---
Sept. 1:
Down And Up In U.K.


The U.K. version of Ultimate Dolly Parton drops 16 spots to No. 67 in its sixth week on the British pop albums chart, it was announced Sunday. The CD, which gains one spot to No. 2 country, had peaked at No. 17 pop and No. 1 country for three weeks.
'Our Country' In Kansas City, Tulsa
The IMAX film Our Country opened last week in Kansas City, Mo., playing through Jan. 8 at the City Extreme Screen at Union Station. The Kansas City Star on Saturday offered a review of the film here. The 38-minute movie takes a look at the history of country music and features brief performances by dozens of artists, including Dolly. The film premiered in Los Angeles in May and has been playing daily since then at the Desert IMAX Theatre in Cathedral City, Calif. (near Palm Springs). It is also still showing in Nashville at the Regal Mills Opry IMAX Theatre, where it has been open since late June, and it also recently opened in Cinemark IMAX Tusla in Oklahoma. It is scheduled to run at the TI Founders IMAX Theatre at the Science Place in Dallas starting Sept. 26 and the IMAX Discovery Theatre in Myrtle Beach, S.C., starting Oct. 1. It is also slated to be shown in the near future at the Cinemark IMAX Dallas and Cinemark IMAX Rochester, N.Y., although final start dates are not yet available.
More On Walsh Show
The Mountain Press recently offered a brief interview with John Walsh explaining why he chose Dolly and Dollywood as the focus of his Patriots' Day episode to air Sept. 11. The host told the newspaper: "What people understand is America is about middle America . . . and we knew how much Dolly cared about children. That's what people don't understand about Dolly. There are a lot of celebrities that talk the talk but don't walk the walk. Dolly has been doing this for years. She represents middle America. That's why we wanted to do the show from Dollywood." Read the full story here.
Reserve Louvin Tribute
Amazon.com has added a page to reserve your copy of Livin', Lovin', Losin': Songs Of The Louvin Brothers, a tribute CD from Universal Records to one of country music's pioneering groups. The disc features covers of the group's classic cuts by artists such as Vince Gill, Terri Clark, Joe Nichols, Rhonda Vincent, Alison Krauss, James Taylor, Johnny Cash and Merle Haggard. Dolly and Sonya Isaacs offer their take on "The Angels Rejoiced." The album drops Sept. 30. Reserve your copy here!
Changes A'Comin'
Keep your eyes open for a few changes soon to arrive at Dollymania. There will be a slight re-design of the site and its graphics, plus some new features added. The additions should be posted in the next few days!
---