---
www.dollymania.net News September 2008
---

Sept. 30:
Check Out Another '9 To 5' Interview
Dolly's 9 To 5: The Musical leads a new streaming video segment on the Broadway World online magazine, "Upright's West Side Stories," where LA's Upright Cabaret producer/hosts Chris Isaacson and Shane Scheel interview theatre movers and shakers on the West Coast. At the media event at the theatre where the show is in a test run, they spoke with all four of its main stars as well as producer Robert Goldblatt, writer Patricia Resnick and Dolly herself. Watch it here.
Library Wins Another Award
Dolly's efforts in early childhood literacy are earning her another honor. She and her Imagination Library have been selected for the International Visionary Award this year by the Asian Rehabilitation Services (ASA). The award will be recognized during the organization's Ha Ha Hollywood costume party Sunday at the Twin Palms Restaurant in Pasadena, Calif. Their website makes no mention of whether Dolly plans to attend. Check it out here. Thanks, Harriet!
Helping Out Another Good Cause
Sony BMG UK has included a Dolly track in a compilation CD which is helping fight breast cancer. "9 To 5" appears on Girls Night In, released this week in Britain with £1 from every sale benefiting Breast Cancer Care's In The Pink campaign. Other artists on the two-CD collection include Whitney Houston, Celine Dion, Pink, George Michael, Roy Orbison, Brittney Spears, Christina Aguilera, Tammy Wynette and more.
---
Sept. 29:
Down One On CMT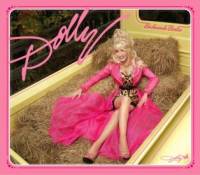 Although it started off in the pole position the previous week, Dolly's video for "Shinola" slipped one to No. 2 in its second week on the Pure 12 Pack countdown on CMT's digital cable channel, Pure Country, the network announced over the weekend. Vote for the video in next week's tally here!
Opposite Ends Of The '9 To 5' Spectrum
Two competing newspapers over the weekend in Los Angeles had completely opposite opinions on Dolly's 9 To 5: The Musical, now in a test run in the West Coast city prior to next year's Broadway opening. The Los Angeles Daily News here summed up the show as "What a way not to make a musical." It slammed the production as "overlong, pushily directed, rarely funny and largely joyless," arguing that the script does match Dolly's score because it copies too much from the film that doesn't translate well to stage, thereby sinking the action. Also, while her songs are good, they rarely advance the plot or give greater insight into the characters, the reviewer claims. On the other hand, Downtown LA Scene praised it here, saying Dolly's songs stood out in the stellar production, explaining that even though there are some uneven parts, Dolly, scriptwriter Patricia Resnick and director Joe Mantello "offer enough visual and aural treats to hold interest from the raising of the curtain to the final bows." Its reviewer agreed with many other critics that a couple of songs could be cut and some lame jokes could be removed from the script, but otherwise it was found to be a great show.
---
Sept. 27:
More '9 To 5' Lovin'
Another media outlet has issued a glowingly positive review of Dolly's 9 To 5: The Musical. Publication Gay Wired here calls her score "infectious" and the overall show "a hit that's sure to take Broadway by storm when it debuts there in 2009." The reviewer adds that it is "possibly the most faithful adaptation of a film to a Broadway musical" and that Dolly "continues to successfully make her case as a Renaissance woman . . . it's tough to take umbrage with much of Parton's score, which induced audience members to foot-tapping and hand clapping and whoops and hollers."
We Want 'Dolly!'
A reader is urging fans to start an e-mail campaign to get satellite channel RFD-TV to begin airing Dolly's 1976-1977 television variety series. The same company that owns The Porter Wagoner Show, which does air on RFD, also owns Dolly's first solo TV series. E-mails may be directed to Assistant Program Director David Costner at davis@rfdtv.com and Program Director Jeremiah Davis at jeremiah@rfdtv.com.
Another Library Expansion
Dolly's Imagination Library literacy program is coming to Petal, Miss., The Hattiesburg American reports here.
Dolly Works Another 'Office'
Thanks to Don and Maggie for alerting me that Thursday night's premiere of The Office featured Dolly's "Here You Come Again" playing during a birthday party scene.
---
Sept. 26:
'Barbie' Is Gone From Charts Again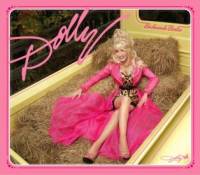 Although it had come back for two weeks, Dolly's Backwoods Barbie is once again gone, having fallen back off the 75-position country albums chart, Billboard revealed Thursday in the Oct. 4 numbers. The disc fell from its previous position of No. 74 in its 29th week on the tally. Hopefully it will come back with sales following last Friday's appearance on The Tonight Show With Jay Leno and Monday's The Ellen DeGeneres Show, but we'll have to wait until next week to find out when the first sales following those appearances are counted. In other chart developments, her 16 Biggest Hits drops two to No. 51 country in its 50th week. Jessica Simpson's Do You Know, with Dolly harmony on the Dolly-penned title track, loses two to No. 3 country and 14 to No. 18 pop albums and comprehensive albums in its second week. It also dips 18 to No. 21 on the digital albums list, one to No. 2 Candian country, 19 to No. 32 Canadian pop and off the Internet sales chart, down from No. 15. Patty Loveless' Sleepless Nights, with cover of Porter & Dolly's "The Pain Of Loving You," loses 14 to No. 27 country, 58 points to No. 144 pop and 17 spots to No. 34 Canadian country in its second week. George Jones' Burn Your Playhouse Down, with Dolly on "Rockin' Years," drops 13 to No. 41 country in its fifth week and falls off the top 200 pop albums, down from No. 168, and off the Internet sales chart, down from No. 19. Emmylou Harris' All I Intended To Be, featuring Dolly on "Gold," loses two three No. 46 country in its 15th week and is down seven to No. 45 Canadian country. Brad Paisley's Time Well Wasted, featuring Dolly on "When I Get Where I'm Going," holds steady at No. 4 on the country catalog albums list and rises three to No. 27 Canadian country, while 21 Number Ones by Kenny Rogers, including "Islands In The Stream," inches down one on the country catalog albums list to No. 22. Eva Cassidy's Somewhere, with her cover of "Coat Of Many Colors," drops 31 to No. 191 pop in its fourth week, also falling five to No. 27 independent label albums. Former Hootie & the Blowfish frontman Darius Rucker debuts at No. 1 country and No. 5 pop with 60,000 copies sold of his debut country CD, Learn To Love, while Sugarland's Love on the Inside holds steady at No. 2 country in its ninth week and declines two to No. 15 pop.
Another '9 To 5' Review, Interview
A very positive review of 9 To 5: The Musical, which calls Dolly "irrepressible" and says "hovering all over it is the down-home honesty and engaging spirit of Parton, who continues to prove that she can do just about anything and have fun along the way," appeared in Thursday's Ventura County Star here. And actress Megan Hilty is interviewed in The Gay and Lesbian Times in San Diego here about the show and what it's like to play a role originated by Dolly with her looking on. Broadway World has collected the press photos from opening night and posted them here, and Variety this week noted Dolly's sing-a-long saving of the unexpected stop in the opening night's performance with a piece here.
Thanks For Your Support!
Thanks everyone for your continued votes in the BT Digital Music People's Choice Awards. Voting ends on Saturday, so it's your last chance to cast a ballot. You may vote once per day per e-mail address here or by clicking on the icon below. Winners will be announced in early October.
---
Sept. 25:
Musical Gets First Pretty Bad Review
The only mostly negative review I've seen of 9 To 5: The Musical hit the web Wednesday from LA City Beat. Although the critic had a few nice things to say about the performers and Dolly's songs, that she accomplishes some character building through her music, the script by Patricia Resnick is slammed. "The script needs wholesale improvements before its scheduled Broadway opening next year," the paper opined. Read the full review here. Most reviews have been mixed but considerably more positive than this one. On a nicer note, the opening night is noted on Creators.com here with a mention that Dolly made a special appearance with a look-a-like who showed up at the theatre.
Patty Talks To CMT
Parry Loveless has spoken with CMT.com about her current CD, Sleepless Nights, and its inclusion of the Porter & Dolly classic "The Pain Of Loving You." She tells the site: "I was 14 when I met Porter and Dolly and they co-wrote this. I remember singing it then when I worked with them. There's a 15-year-old girl singing on this with me, Syndi Perry. When Dolly hears her, she's just gonna be blown away. Syndi took me back to that time when I was 15. Dolly was like a big sister to me. I want to be like that now, with this kind of music." Read more of the interview here.
Library Doc Gets Noticed
The Imagination Library documentary The Book Lady earns a mention on CMT's blogs here. The film premiered over the weekend at a film festival in Canada.
'Mountain Soul' 2009 Already Has Contestants
Thanks to Frances for sending a link to an item in Knoxville's Metro Pulse about next year's Mountain Soul Vocal Competition in Sevierville, which requires contestants sing songs which Dolly wrote. Organizer Amanda Maples Marr said here that a few contestants are already sending in their entries for next May's contest. (Contestants are asked to look up their song choice on Dollymania here to confirm Dolly wrote it.)
---
Sept. 24:
'9 To 5' Pics, Review, Revisit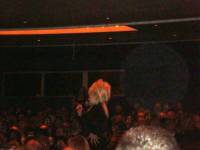 Special thanks to Diane for sending in some photos of her night at the 9 To 5: The Musical opening in Los Angeles, including the one at left. Check out the other images in a gallery posted here! Also, one of the most shinning reviews of the production came out Tuesday from Backstage, calling it "a surprisingly fresh musical frolic that has Broadway blockbuster written all over it." The piece, available here, continues with praise for Dolly's songwriting ("highly appealing and skillfully integrated"), although the critic agrees with others who have opined that the first act is too long, that one or two songs could be cut and that a joke or two are in poor taste and should be taken out. And what did Jane Fonda think of the show? She was quoted by FOX News here saying: "Dolly wrote all the songs, and they're wonderful. And you have to see the actress who's playing Dolly, Megan Hilty. She steals the show." Finally, coverage of the musical prompted Slate to offer a look at the recent DVD of the classic film with an extended commentary about it here.
'Backwoods Barbie' Tour Update
The Green Bay pre-sale for members of the Dolly-ites online community at Dolly's official record company website, DollyPartonMusic.net, will be offered through the venue's own website starting Wednesday, her site announced Tuesday. The site also sent out an e-mail noting two other pre-sales that begin Wednesday but had already been announced on its tour itinerary page: Raleigh, N.C., and Des Moines, Iowa. The subject line of the message, however, called these the "final" pre-sales, indicating these may be the final dates to be added to her Backwoods Barbie World Tour this year. (One last pre-sale, for Milwaukee, is scheduled for Sept. 29 and has already been announced, so I suppose the e-mail was referring to these being the final pre-sales to be announced, not the final pre-sales chronologically.) In other tour news, only about 100 regular tickets to her Oct. 25 charity show in Richmond, Ky., remain available via Ticketmaster, but if you really want to get into things, there are about 10 VIP tickets left. These provide seats on the floor, valet parking and an exclusive reception after the show with food and drinks for the VIP ticketholders only. These tickets are available for $175 each by calling St. Mark Catholic Church directly at (859) 623-2989. Those who have already purchased VIP tickets should be receiving them in the mail this week.
Wal-Mart Drops CD Price
Dolly has teamed up with Wal-Mart to lower the price on her current CD, Backwoods Barbie, which is available at Wal-Mart stores with an exclusive bonus live track of "9 To 5." The title is now being offered by the retail giant for the reduced price of $8.98. See a report here.
Always A Giver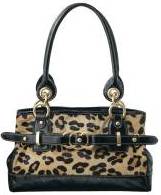 Dolly is among several dozen celebrities who have donated their purses to Handbag.com to raise money to fight breast cancer. The bags will be auctioned off via eBay Oct. 3-14 with the proceeds benefiting Cancer Research UK. Dolly's bag is pictured at left. Others participating in the campaign include America Ferrera, Annie Lenox, Ashley Simpson, Geri Halliwell, Judi Dench, Sharon and Kelly Osborne, Maggie Gyllenhaal and Scarlett Johansson. Learn more here.
Not The Best Of Associations
Dolly's name has come up in a couple of places regarding a former Nashville minister whose compound was raided in recent days on charges of child pornography and child abuse. The connection is because in addition to his pastoring, flashy evangelist (and convicted felon) Tony Alamo used to run a very successful costuming business, making outfits for the stars including Dolly, Michael Jackson, James Brown and others. The Tennessean noted his arrest here, illustrating it with a photo of him and his wife with Dolly. ABC News reported on it here, recalling that he used to operate a restaurant in Alma, Ark., where then-Gov. Bill Clinton recalled in his autobiography seeing Dolly perform a concert.
---
Sept. 23:
New '9 To 5' Reviews, Stories, Video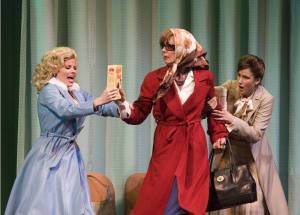 Lots more tonight from the weekend's opening performance of Dolly's 9 To 5: The Musical. Image at left of Megan Hilty (Dorolee), Allison Janey (Violet) and Stephanie J. Block (Judy) with their box of "Rid 'O Rat" is a publicity image by Craig Schwartz and courtesy the Center Theatre Group. Click on it for a larger view.