---
www.dollymania.net News September 2010
---
Sept. 29:
Fifth Dollywood Visit Of 2010 Is Wednesday
Don't forget that Dolly is at Dollywood on Wednesday to kick off the park's National Southern Gospel and Harvest Celebration and to accept the Southern Gospel Music Hall of Fame Induction Ceremony/Singing News Fan Awards' James D. Vaughan Impact Award. The appearance, her fifth time to the park this year (after Grand Opening, Homecoming/Hallmark Filming, Dolly Helps Nashville and KidsFest), is noted in The Knoxville News Sentinel here.
Paper Covers Dolly's Estimated Value
The Knoxville News Sentinel also notes in its celebrities column Tuesday that the website celebritynetworth.com claims Dolly's net worth is estimated at $225 million. (Published estimates of her net worth have varied from $100 million to $500 million, so that's an average figure.) The column, online here, also quotes actor Jerry O'Connell discussing his adoration for Dolly. He and wife Rebecca Romijn named their child after Dolly, and Dolly thanked them for the honor by sending money to be saved toward the child's college education. "Dolly Parton is cool," he told the paper.
'9 To 5' Keeps Making Noise
Dolly's 9 To 5: The Musical continues to get press as it moves on to other cities. The show's tour opened in its second city, Atlanta, on Tuesday. The fourth city on the list, Des Moines, Iowa, where it will be seen Oct. 12-17, is noted in The Newton Daily News here, while eighth tour stop, Houston, Texas, Nov. 9-21, is covered by Broadway World here. A review of the Nashville premiere has also been posted by Country Stars Central here.
---
Sept. 28:
'Ewe' Have Got To See British Show
British audiences can treat themselves this week to one of the strangest tributes to Dolly I've ever heard of being created. The new musical Dolly, produced by New Perspectives Theatre, debuts Tuesday night at Curve Theatre in Leicester. The comedy tells the "almost true" story of a young woman who helps create the sheep clone Dolly (who was named after Dolly the singer), and the show is set to Dolly's music. The musical runs at Curve through Saturday and then performs at Leicestershire Long Clawson Village Hall on Oct. 6.
More From '9 To 5'
Thanks to David for sending in a full review and pictures from the opening night of Dolly's 9 To 5: The Musical touring version in Nashville. Check them out here. The show next moves to Atlanta Tuesday through Sunday and then Charlotte, N.C., Oct. 5-10 (where they're offering "Gal Pal Special" ticket deals that benefit the Susan G. Komen Foundation for the Cure in breast cancer research, according to Broadway World here).
Latest Michigan Library Additions
Isabella and Gratiot Counties in Michigan are getting Dolly's Imagination Library literacy program thanks to a grant from the Mt. Pleasant Community Foundation, The Morning Sun reported here Monday.
Dolly's Next Appearance Approaches
It's almost time for Dolly to kick off Dollywood's National Southern Gospel and Harvest Celebration on Wednesday. She's expected to make a media appearance that morning to start the festival, followed by the Southern Gospel Music Hall of Fame Induction Ceremony/Singing News Fan Awards that afternoon, where she'll accept the James D. Vaughan Impact Award (separate tickets are required for admission into the awards show). Unfortunately, your webmaster won't be there to cover the festivities, as I'll be attending a wedding in Florida (please excuse if updates are sporadic over the next several days while I'm out of town), so anyone who goes to the park is encouraged to send their reports and their photos to share on the website here. Thanks, y'all!
---
Sept. 27:
'9 To 5' Ready To Move To Hotlanta
Dolly's 9 To 5: The Musical closes its Nashville run Sunday night, and the national tour moves to its second city, Atlanta, on Tuesday for a run that concludes next Sunday. Check out a review from Broadway World's Nashville bureau here that notes the show proves Dolly is an "amazingly gifted musical theater tunesmith" and that while the production is "not high art" it is "enormously entertaining and thoroughly delightful." Country Music Tattletale also reviewed the show here, calling the Dolly-penned score "simply fantastic."
'London' On A British Chart
For the first time in nearly five months, the British music charts company has updated its published list of the top 20 country compilation albums, and there's a Dolly appearance on it. They consider concert albums compilations instead of "regular" albums, and they chart them separately when broken into genres. Dolly: Live From London comes in at No. 14 on the tally, which it notes is down two spots from its position had they published a chart the previous week. It's been in the top 20-selling country compilations for 38 chart weeks since its release nearly a year ago.
California Library Noted
Dolly's Imagination Library literacy program's Turlock, Calif., chapter, operated through the Stanislaus Community Foundation, was profiled in The Modesto Bee this weekend here.
---
Sept. 25:
Dolly Appears At '9 To 5' Again
Dolly popped in for the crowd again Thursday night at her 9 To 5: The Musical, making an on-stage appearance following the performance in Nashville. Coverage of the show's tour continued Friday with a couple of articles on Georgia-reared Diana DeGarmo from Access Atlanta here and The Gwinnett Daily Post here. The Tennessean also provided a glowing review here.
Library News
Dolly's Imagination Library literacy project's impact on Obion County, Tenn., is profiled this week in Northwest Tennessee Today here.
---
Sept. 24:
Swift Joins Dolly On Opry
The Grand Ole Opry has announced that country teen queen Taylor Swift will be joining Dolly and other previously announced artists Trace Adkins, the Del McCoury Band, Sunny Sweeney, T. Bubba Bechtol and Mike Snider for both Oct. 9 shows of the Opry to celebrate its 85th anniversary. In addition, they released a quote from Dolly about the evening. She said: "There's so much to celebrate this year, in particular. I'm looking forward to seeing all the good country music fans that weekend, and I just hope good lookin' guys like Trace Adkins are as excited to come see me when I hit 85 as they are to celebrate with the Opry this year! Of course we don't have to worry about my 85th for a long, long time!" Tickets remain available at GetGaylordTickets.com.
'Very Best' Drops Off Again Up North
Sony's 2007 foreign compilation disc, The Very Best Of Dolly Parton, Vol. 1, slips back off the top 50 country albums chart in Canada this week after re-appearing for one brief week up north, its 39th on the tally since its release. In the U.S., Steve Martin's The Crow - New Songs for the 5-String Banjo, with a Dolly duet, rises two to No. 8 bluegrass albums in its 82nd week, according to the Oct. 2 Billboard charts. On the overall charts, Jamey Johnson's The Guitar Song debuts at No. 1 country, No. 4 pop, while Lady Antebellum's Need You Now slips one to No. 2 country and nine spots to No. 21 pop in its 34th week.
---
Sept. 23:
Pirates Of The Dolly-bbean?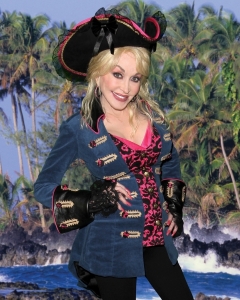 In a surprising announcement on Wednesday, Dolly revealed that the Myrtle Beach, S.C., branch of her Dixie Stampede equestrian-themed dinner theaters will close after the holidays to be revamped with a pirate theme next summer. Dolly's Pirates' Voyages attraction will open next June. In a statement, Dolly explained: "I'm so excited about this new show. I think Pirates' Voyage will take our guests' breath away! The competition and action between the pirates is incredible! Some folks may ask me why I would want to change Dixie Stampede after our incredible success all these years. Nearly seven million guests have enjoyed the show over the last 18, years. It may be a bold move but I think it's the right one. Myrtle Beach has so many repeat visitors because it is such a great vacation destination, it made sense for us to create a new adventure for families to enjoy and what speaks to this area more than Pirates, so grab your hats and eye patches and head on over to the Pirates' Voyage!" Instead of the current North and South, guests will cheer for Crimson pirates or Sapphire pirates as the two teams battle on deck, in the water and in the sky above full-sized ships in a 15-foot deep indoor lagoon to be constructed in the arena as part of $11 million in upgrades to the facility. Dolly is also writing a complete musical score for the new show, which will also feature acrobatic competitions and live animals. The changes will only impact the Myrtle Beach location and not the original Stampede in Pigeon Forge, Tenn., or its branch in Branson, Mo. A website will be launched here for the new attraction. Read the full press release here and check out a story from TV station WMBF here. Publicity image of Dolly in pirate couture is via Business Wire. Click on it for a larger view.
More From '9 To 5' In Nashville
Dolly walked a very short red carpet Tuesday night to the stage door of the Tennessee Performing Arts Center for the premiere of the re-tooled touring version of her Broadway show, 9 To 5: The Musical, I'm told. She sat in the audience during the production and attended the cast party afterward at Morton's. Check out coverage on the opening from Knoxville's WBIR television here, The Hollywood Reporter here and Country Weekly here as well as an interview with director Jeff Calhoun in Broadway World here.
Rhonda Chats About CD, Dolly
AOL's country music blog, The Boot, this week chats with Rhonda Vincent about her new album, Taken, including why she chose Dolly for harmony on "In The Garden By The Fountain." Read the interview here.
Actor Professes Love For Dolly
The Office and The Hangover star Ed Helms took a turn as a guest DJ on KCRW recently and opened his set with Dolly's "9 To 5," noting he adores her. "Dolly Parton was my first love, and I didn't even know what it was," he said. "Even to this day, I still think that Dolly Parton is one of the sexiest, smartest, sassiest women ever, and there's just something about her energy where she has everyone wrapped around her finger. I don't know what it is…she's smarter than everybody and it's just really sexy. And this is a great song – it's got a beat, you can dance to it." Check out the transcript of his visit here.
Governor Promotes Library Week In Tennessee
Gov. Phil Bredesen (D-Tenn.) was in Brentwood this week to meet with children and celebrate Imagination Library Week in honor of Dolly's literacy program. Check out coverage from Nashville's WSMV here.
---
Sept. 22:
Dolly To Voice In Animated Film
Dolly will appear in the upcoming 3-D animated feature Gnomeo & Juliet, a re-telling of Romeo And Juliet featuring garden gnomes who come alive when people aren't looking, USA Today reported here Tuesday. Dolly's role in the movie, coming out from Disney's Touchstone Pictures on Feb. 11, is described by the paper as a "cameo," so it's likely quite small, but it will mark her first time being animated on the big screen after guest spots on animated television programs including The Simpsons, Alvin & The Chipmunks and The Magic School Bus. The film is produced by Elton John and will feature his classic songs as the soundtrack. Check out a trailer released Tuesday here.
'9 To 5' Hits The Stage
Dolly's 9 To 5: The Musical touring company hit the stage for the first time Tuesday with the revamped show's premiere in Nashville. Although the show wasn't out yet by press time Tuesday evening (send your recaps here!), Playbill reports here that a second act song for Mr. Hart is gone, and Roz's song has been moved to the first act. Along with some cuts from the dialogue, these changes are aimed at trimming the show's time, which was already a little shorter than a typical Broadway musical. The Tennessean also on Tuesday released a longer story with Dolly about the show here.
---
Sept. 21:
Opry Shots, Recaps Posted
Special thanks to Dustin and Christopher for sending in their recaps and photos from Saturday's Grand Ole Opry show at the Ryman Auditorium. I'm told Dolly noted that she had hoped to have 9 To 5: The Musical star Diana DeGarmo join her on stage to sing "9 To 5," but rehearsals for the show were running late that night and she couldn't make it, so Dolly performed the number solo. Donning a black and gold outfit, she also sang "Jolene" and spoke of hearing someone who sounded uncannily like Porter Wagoner singing at Tootsie's across the way as she got out of her car. The evening's final performer, she was brought back on stage for an encore of the chorus of "9 To 5." Check out their photos here! The night also featured Little Jimmy Dickens, Connie Smith, Whitney Duncan, Mike Snider, Bobby Osborne, Rebecca Lynn Howard, The Whites, Stonewall Jackson, Chuck Mead, George Hamilton IV and Jesse McReynolds. Don't forget, Dolly will return to the Opry, this time at the restored Grand Ole Opry House, on Oct. 9 for its 85th anniversary celebration. Tickets are on sale now.
It's '9 To 5' Time!
The national tour is on! Dolly's 9 To 5: The Musical opens Tuesday night in Nashville at the Tennessee Performing Arts Center with the world premiere of the re-tooled show. Dolly has said she will be in attendance. Dolly's media event from Friday to launch the revamped show was covered Monday on CMT.com here, complete with a photo gallery here. The cast performs in Music City through Sunday before heading to Atlanta. The full schedule is as follows:

Nashville, Sept. 21-26

Atlanta, Sept. 28-Oct. 3

Charlotte, Oct. 5-10

Des Moines Oct. 12-17

Huntsville, Oct. 22-24

Tampa, Oct. 26-31

Memphis, Nov. 2-7

Houston, Nov. 9-21

San Antonio, Dec. 7-12

East Lansing, Dec. 15-19

Naples, Fla., Dec. 27-Jan. 2

Greenville, S.C., Jan. 4-9

Indianapolis, Jan. 11-16

Chicago, Jan. 18-31

Dayton, Feb. 1-6

St. Louis, Feb. 8-20

Phoenix, Feb. 22-27

Sacramento, March 9-20

Seattle, April 5-24

Denver, April 26 - May 8

Costa Mesa, May 10-15

Pittsburgh May 31-June 5

Oklahoma City June 7-12

Tulsa, June 14-19

Minneapolis/St. Paul, July 12-24

Ft. Worth, July 26-31
---
Sept. 20:
More From '9 To 5'
Diana DeGarmo, star of Dolly's 9 To 5: The Musical, is helping out the publicity train with an interview about the show in The Atlanta Journal-Constitution over the weekend. Check it out here.
Check Out 'Nate' Performance
If you missed Dolly's emotional performance of "I Will Always Love You" on last Wednesday's The Nate Berkus Show, it's available online in Jezebel.com's recap of the top 10 TV moments of last week here. It's No. 2 (her joke to him when he called her a "hoarder" that she said "hore – DER," not "whore," was No. 3). A couple of other brief videos from her appearance are available on the show's website here and here.
Send In Your 'Opry' Notes, Pics!
Any readers who were at Dolly's Saturday Grand Ole Opry performance are encouraged to send your notes and photos to Dollymania here! Your webmaster was not able to attend, and I haven't seen recaps anywhere yet. She was scheduled to headline Saturday's show at the Ryman Auditorium and returns for its 85th birthday celebration Oct. 9 at the Grand Ole Opry House.
Rhonda Release Reminder
Don't forget that Rhonda Vincent's new self-released CD, Taken, hits stores this Tuesday with a Dolly guest vocal appearance on the track "In The Garden By The Fountain." Get your copy here!
---
Sept. 18:
Nashville '9 To 5' Publicity Continues



Promotions for the premiere of the new touring version of Dolly's Broadway show, 9 To 5: The Musical, are in full swing, with multiple YouTube videos from rehearsals being released this week by the Tennessee Performing Arts Center, which will host the show's opening in Nashville Tuesday night. Check out the videos by visiting the TPAC website here, including in the media player above one of Dolly, Judy and Richard taking in a vocal run-through (listen for her to scream her approval and start the standing ovation at the end of "Get Out And Stay Out" in the clip). The show's upcoming opening also got coverage from Music City's News Channel 5 here Friday and AOL's country music blog, The Boot, here. In related news, The Tennessean's "Nashville Lifestyles" magazine this week released the full interview with Dolly about the show here (following a teaser excerpt that had been noted here a couple of weeks back) complete with a "through the years" photo gallery here.

Putman Duet Available On Amazon Now
The release date error – which claimed the song wasn't coming out for almost another century – has been corrected by Amazon.com, making the new Dolly and Curly Putman duet "Made For Loving You," and Putman's new digital CD which contains it, Write 'Em Sad, Sing 'Em Lonesome, available for download from the music retailer. The song should also be available soon from iTunes, I'm told. You may recall it first reported here a week ago that the song had been released – and that Amazon mistakenly labeled it with a 2101 release year instead of 2010, making it impossible for anyone to purchase it.

Dolly Remembers
Dolly recaps the highlights of her career and her many firsts in a little audio interview available from Nashville.com here. In it, she notes among other firsts her first song on the radio, her first Grand Ole Opry appearance (speaking of which, check out a note one Saturday night's appearance and her upcoming October show as well from Digitriad here), her first episode of The Porter Wagoner Show, her first million-seller, her first movie and more.

Dolly Back On Charts Up North
The Very Best Of Dolly Parton, Vol. 1 re-enters the top 50 Canadian country albums charts this week, it was revealed Thursday, coming in at No. 48 in its 39th chart week since release three years ago. Stateside, Steve Martin's The Crow - New Songs for the 5-String Banjo, featuring its Dolly duet, loses three to reach No. 10 bluegrass albums in its 81st week, according to the Sept. 25 Billboard charts. On the overall charts, Lady Antebellum's Need You Now remains steady at No. 1 country and No. 12 pop in its 33rd week, while The Zac Brown Band's The Foundation rises one to No. 2 country and two to No. 20 pop in its 95th week.

Hall Fundraiser Tickets On Sale
Tickets went on sale Friday morning for Keith Urban's "We're All For The Hall" concert Oct. 5 in Nashville featuring Dolly, Vince Gill, Charley Pride, Alan Jackson, Martina McBride, Miranda Lambert, Alison Krauss and Billy Currington and John Mayer. The fund-raiser helps the Country Music Hall of Fame. Get tickets from Ticketmaster here.

It's Imagination Library Week!
Gov. Phil Bredesen (D-Tenn.) has proclaimed this week Imagination Library Week throughout Dolly's home state in honor of her international literacy program. Check out a note about it from The Memphis Daily News here.
---
Sept. 16:
'Opry' Show In October Is For Birthday
(Greetings from the air somewhere over Kentucky or Pennsylvania.) The October appearance Dolly is making at The Grand Ole Opry is for its 85th birthday celebration, it has been announced. The show will be the second of two events to observe the anniversary. Dolly headlines the Oct. 9 evening, which follows a show the night before with Crystal Gayle and Jimmy Wayne. Read more from Country Weekly here. As was reported here Tuesday, the appearance is in addition to her scheduled stop by the country music institution this Saturday night.
Arkansas Museum Gets Dolly Warhol
A modern American art museum in Bentonville, Ark., funded by the family of Wal-Mart founder Sam Walton announced Wednesday that it had acquired one of Andy Warhol's 1985 portraits of Dolly for its permanent collection. Read more on the purchase by the Alice Walton-led museum from The Arkansas Times here. The painting sold recently at auction for nearly $1 million.
Berkus Show With Dolly Airs
Dolly appeared Wednesday on the new Nate Berkus Show, garnering a recap of some of her memorable stories on AOL's country music blog, The Boot, here.
---
Sept. 15:
Dolly Adds Two More 'Opry' Shows
Fans will get a double dose o'Dolly at The Grand Ole Opry in coming weeks, it was revealed Tuesday. In addition to this Saturday's 7 p.m. show appearance that was announced Monday, the Opry says she will also appear in both the 7 p.m. and 9:30 p.m. shows three weeks later on Saturday, Oct. 9, with Trace Adkins, Del McCoury Band, Sunny Sweeney, T. Bubba Bechtol and Mike Snider. Tickets are available at GetGaylordTickets.com.
TV Reminder
Remember to watch Dolly Wednesday on The Nate Berkus Show, which airs in syndication, so check local listings for show times and stations. The Tennessean noted her appearance, as well as this Saturday's Grand Ole Opry show, on Tuesday here.
DVD Reminder
Also, don't forget that the DVD set of Desgining Women: Season Four, featuring the hour-long episode with Dolly's guest spot, was released on Tuesday. Get yours here!
---
Sept. 14:
Dolly To Do 'Opry' Saturday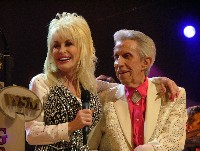 Dolly was announced Monday as the headlining guest for Saturday's Grand Ole Opry show at the Ryman Auditorium in Nashville. Also joining her will be American Idol alum Diana DeGarmo, who is playing Dolly's character of Doralee in the touring company of her 9 To 5: The Musical, suggesting that the appearance is to promote the tour's world premiere next week in Music City. This is one of the final Opry shows before it returns to the repaired Grand Ole Opry House, which has been closed since it was damaged in the Nashville flood in May. Other guests that have been announced for the evening are Whitney Duncan and Chuck Mead. Tickets are available here. This will mark Dolly's first return to the Opry since her appearance with former duet partner and longtime mentor Porter Wagoner on a special evening dedicated to his 50th anniversary on the Opry in May 2007, just five months before his death. Image of Porter & Dolly at the Opry in May 2007 is copyright © 2007 T. Duane Gordon/Dollymania.net. May not be reproduced without prior written consent.
Park Wins Best Shows, Christmas Show
For the second consecutive year, Dollywood has taken home the Best Shows trophy at the theme park industry's top awards, it was revealed over the weekend. The park also took home its third consecutive first place win for Best Christmas Event for the Smoky Mountain Christmas festival. Other honors at the annual Golden Ticket Awards included second place for Friendliest Park, third place for Cleanest Park, fourth place for Best Food, fifth place for Top Wooden Roller Coaster with two-time first place winner Thunderhead and a tie for fifth place with Holiday World and Tokyo DisneySea for Best Park worldwide. In a press release Dolly noted: "I'm absolutely thrilled and humbled that my Dollywood theme park was honored with so many Golden Ticket Awards. The Best Shows Award is really special for me because Dollywood's entertainment is a reflection of my Smoky Mountain roots and the music I love so much.  And to know that my Smoky Mountain Christmas festival won, well, that just makes it feel like Christmas came a little early for me this year!  My Dollywood family really makes me proud!"    
---
Sept. 13:
Variety: Dolly Tapes '9 To 5' Appearance
The touring company of Dolly's 9 To 5: The Musical, which opens in a just over a week in Nashville, has been radically changed from its original Broadway run, Variety reported here Sunday. The new version of the show has been "streamlined" and now features Dolly herself – albeit in video form – "introducing and contextualizing the familiar characters," the publication noted.
U.K. Chart Update
Sony's U.K. "Original Album Classics" reissue of Dolly's Eagle When She Flies, Slow Dancing With The Moon and White Limozeen falls off the top 20 British country album charts this week, down No. 16 in its sixth chart week, it was announced Sunday.
---
Sept. 11:
'Nate' Preview Video Released



In anticipation of her Wednesday appearance on The Nake Berkus Show, the program released Friday a preview video with some great Dolly moments. Watch it in the player above or by clicking here. Remember, the show is syndicated, so check local listings for times and stations.

Library Gets More Press
Dolly's Imagination Library literacy program was profiled Friday in Osage Beach, Mo., thanks to Lake News Online here and Boaz, Ala., thanks to Albertville's Sand Mountain Reporter here.

Dolly Letter Makes Roast
An old friend of Dolly's from high school got a special note from her at his roast in Cleveland, Tenn., The Cleveland Banner reported here.

Travelin' Duane
If the site's normal updates are a bit lacking over coming days, please excuse. Your webmaster is headed to a national conference, and I will be updating the site only as I have extra time to devote to it while out of town.
---
Sept. 10:
New Duet Released With Curly Putman
Dolly has joined with the man who wrote her first hit single on a new duet. "Made For Loving You" appears on a new digital release by Curly Putman, Write 'Em Sad, Sing 'Em Lonesome. Legendary songwriter Putman is famous for penning songs such as Dolly's 1967 single "Dumb Blonde" as well as classics like "The Green, Green Grass Of Home," "D.I.V.O.R.C.E" and "He Stopped Loving Her Today." The song should be available from Amazon.com as an MP3 download here (or by purchasing the full album above), but the site mistakenly states that the album and each song won't be released for another 91 years and consequently prevents you from buying it (hopefully they'll have that problem corrected by the time you read this). It's also for sale from CDBaby here, but you have to purchase the entire album. Thanks, Tor Erik!
Chart Updates
Steve Martin's The Crow - New Songs for the 5-String Banjo, with a Dolly collaboration, remains steady at No. 7 bluegrass albums in the Sept. 18 Billboard charts released Thursday, marking the album's 80th chart week since release. On the overall charts, Lady Antebellum's Need You Now regains the top spot, rising three to No. 1 country and holding steady at No. 12 pop in its 32nd week, while Ryan Bingham & The Dead Horses ' Junky Star debuts at No. 2 country and No. 19 pop.
---
Sept. 9:
'Berkus' Air Date Moves
Dolly's scheduled appearance on the new The Nate Berkus Show during its debut week has been moved a day, it was announced Wednesday. Instead of the second episode of the series, she is now to appear on the third, which will air next Wednesday. The program is syndicated, so check local listings (or the show's online station guide here) for local times and stations.
Chasing Rainbows Award Covered
This year's Dolly Parton Chasing Rainbows Award winner from the National State Teachers of the Year Organization and Dollywood Foundation is noted with a story from The Shawnee Dispatch here.
Dollywood Device Reported
The new park guide tours at Dollywood featuring Dolly herself via a handheld device are profiled in World Liesure Jobs here this week.
---
Sept. 8:
Dolly Joins 'All For The Hall' 2010
Dolly will perform in Keith Urban's second annual star-studded concert for the Country Music Hall of Fame and Museum in Nashville next month, the Hall announced Tuesday. Dolly, Vince Gill, Charley Pride, John Mayer, Alan Jackson, Martina McBride, Miranda Lambert, Alison Krauss and Billy Currington round out the bill at the "We're All For The Hall" concert, scheduled for Oct. 5 at Music City's Bridgestone Arena. Tickets, which go on sale via Ticketmaster at 10 a.m. Sept. 17, are $25 and $35 each, plus fees. That day, the Hall of Fame will also sell a limited number of VIP packages that include Urban meet-and-greets, post-concert party admission, and more on its website. The concert proceeds, which amounted to more than $500,000 last year, go toward operations at the not-for-profit Hall of Fame to provide for its long-term financial security and a safety net for its work. In a press release here, Urban noted: "Thanks to all of the artists who gave so generously of their talents and their time, last year's concert went well beyond what anyone could've ever imagined. The awareness and money raised was extraordinary. So what do we do for an encore? This year we've created a musical theme called 'Heroes.'  I've asked each artist to play one of their favorite songs from one of their country heroes, besides of course, one of their own hits. There's no doubt that this audience is going to experience a really special night - some of their favorite artists doing songs that, in some cases, they may have never even played live before...and quite possibly won't ever again." Given the theme and artists, I'd expect a great deal of Dolly during the evening. Krauss has called Dolly her hero many times, and Urban has said Dolly was a tremendous influence on his career, so much so that he regularly performs her "Jolene" live in concert (she even wrote male-version lyrics for him, but he insists on singing the female-version original lyrics instead).
Hear Great Dolly Chat From NPR
NPR's Fresh Air over the weekend re-aired a Dolly interview on the program from 2001. Take a listen to it here.
'The Boot' Kicks Up Apparent Error
AOL's country music website, The Boot, seems to have made an error in stating here that Dolly and Merle Haggard are being recognized this month in the ACM Honors ceremony. The article correctly states that Mel Tillis and Keith Urban are being honored at the fourth annual event to single out those who received off-camera awards at the Academy Of Country Music Awards. However, I suspect the statement that Dolly, last year's Jim Reeves International Award recipient (the honor Urban won this year), or Haggard, one of last year's Pioneer Award winners (the honor for which Tillis is one of this year's recipients), are on tap to be recognized again this year is in error. Dolly did not attend last year's ceremony but did accept her trophy via videotaped remarks, while Haggard was in person.
Debi Jo Selling Dolly Band Costume
Want a piece of Dolly history? Dolly's cousin Debi Jo of Dollywood's Kinfolks Show fame is selling her costume from her time as a member of Dolly's Gypsy Fever backing band in the mid-1970s. The auction is up on eBay here through next Tuesday with a minimum $2,500 bid and $3,500 "Buy It Now" price.
---
Sept. 6:
Dolly Falls On Overseas Tally
The "Original Album Classics" reissue of Dolly's Eagle When She Flies, Slow Dancing With The Moon and White Limozeen loses three spots this week to come in at No. 16 in its sixth week on the British top 20 country albums chart, it was revealed Sunday.
More Fest de Ville Coverage
The Tennessean on Sunday offered a recap of the Tennessee Performing Arts Center's Fest de Ville from a little over a week ago honoring Dolly. Check out what their society column had to say about it here.
Dolly, Tammy, Loretta Are The Tops
Dolly, Loretta Lynn and Tammy Wynette are the three most influential women in the history of country music, notes an analysis by blog Helium here.
'Nate' Show Finder Found
You might have seen it reported here Friday night that Dolly is scheduled to appear Sept. 14 on the new syndicated Nate Berkus Show. Thanks to Terry for finding the show's station-finder, where you may see when and where it's playing in your market to set your DVR to catch it! Look up your city here.
---
Sept. 4:
Dolly Helps Start New TV Show
Dolly has been announced as the in-studio guest for the second episode of the new Nate Berkus Show. The talk show hosted by the fashion design expert from The Oprah Winfrey Show premieres Sept. 13, with Dolly slated for the Sept. 14 broadcast. It is syndicated, so check local listings for stations and times.
Inspired By Dolly
She's known to have been Reba's biggest inspiration, and when child prodigy Barbara Mandrell reached adulthood and decided to retire from the music business, it was seeing Dolly perform on The Grand Old Opry that convinced her to return to performing herself, but now Rascal Flatts' Jay DeMarcus also says Dolly is the one whose music made him become a singer. "I was at the Ohio State Fair when I was probably 8 years old watching Dolly Parton," he told CMT here. "There was a switch that flipped inside of me, that I knew that's what I wanted to do for the rest of my life."
---
Sept. 3:
Martin Disc Slides On Charts
Steve Martin's The Crow - New Songs for the 5-String Banjo, featuring its Dolly duet, slips two in the Sept. 11 Billboard charts, it was learned Thursday, dropping to No. 7 bluegrass albums in its 79th chart week. On the overall charts, Little Big Town's The Reason Why debuts at No. 1 country, No. 5 pop, while The Randy Rogers Band's Burning The Day debuts at No. 2 country and No. 8 pop.
Dolly-Related Cooking Show Scheduled
It was previously announced here that actors Gary and Larry Lane had put together a dinner based on Dolly's cookbook that was filmed for an episode of Celebrity Chefs Of Bevery Hills by The Food Network. They tell me it's currently scheduled to broadcast on the cable channel as the fourth episode of the new season, which should air at 10 p.m. Eastern Nov. 11. In addition, they've released a "sizzle" teaser reel using footage from their upcoming documentary From Hollywood to Dollywood and their appearances on various TV programs and game shows over the years. Check it out on Facebook here.
---
Sept. 2:
'9 To 5' Tour Video Released



Broadway World on Wednesday released an exclusive video of a rehearsal for the touring company of Dolly's 9 To 5: The Musical in New York, complete with the director reading a letter to the cast from Dolly herself. Check it out in the media player above or by clicking here.
---
Sept. 1:
More Coverage From Nashville Appearances
Billboard magazine's online edition on Tuesday released several images from the Leadership Music event on Sunday that featured Dolly honoring Fred Foster, including one of her performing. Check those out here. Also, The Tennessean has released a gallery of images from Saturday's Fest de Ville, where Dolly was honored with the Tennessee Performing Arts Center's Applause Award. While the party shots don't feature any images of Dolly herself, three of the four Dolly impersonators who mingled with the crowd before the ceremony are pictured here. In related news, the newspaper's September issue of its Nashville Lifestyles magazine features an interview with Dolly focusing mostly on the TPAC premiere of the touring version of her 9 To 5: The Musical. Check out a teaser story on the interview online here.
Canadian Contest Pulled
A contest for Canadian residents that had been reported here a couple of weeks ago for a trip to Dollywood and a meeting with Dolly herself that required a $1,000 donation to support the Canadian chapter of her Imagination Library literacy project to enter has been withdrawn due to a challenge brought by government regulators of its procedures as a "promotional contest," organizers say.
Mandrell Auction Gets Notice
A few media outlets this week, including Country Weekly here, are picking up on an event to promote a charity auction by Barbara Mandrell's daughter , Jaime Dudney, which features a dulcimer donated and autographed by Dolly to benefit a mission in Kenya that works mostly with HIV/AIDS. As was reported here Sunday night, the auction ends Thursday on eBay here. As of press time Tuesday evening, Dolly's item was up to $405.
---