---
www.dollymania.net News September 2022
---
Sept. 26:
'Silent Night' Single Released



\Dolly on Friday released the next single from her upcoming reissue of her holiday collection A Holly, Dolly Christmas Ultimate Deluxe Edition. The recording of "Silent Night" comes from her 1997 contribution to the Annabelle's List soundtrack. Listen to it on YouTube here or in the media player above or download it from Amazon here.

'9 To 5' Lands On Digital Sales Chart
Dolly's "9 To 5" duet with Kelly Clarkson sees its chart debut on the Sept. 24 Billboard tallies, coming in at No. 6 on the country digital song sales list and No. 15 on the overall digital song sales chart. Ultimate Dolly Parton loses one to No. 49 in its 97th week on the country albums chart, while her Run, Rose, Run CD slips two to No. 4 bluegrass albums in its 28th chart week. Overseas, Run rises one to No. 15 country albums in its 29th chart week in the U.K. On the British country compilations chart, Very Best Of Dolly Parton Vol. 1 falls one to No. 10, The Complete Trio Collection Deluxe gains one to No. 7 and Emmylou Harris's Original Album Series: Volume 1 (with two Dolly covers, one track with Dolly harmony and one track with Trio harmony by Dolly and Linda Ronstadt) re-enters the top 20 at No. 15.

Dolly Sings With Appalachian Road Show
Dolly has joined The Appalachian Road Show on their new album Jubilation. She joins them on the album opener "In Time, Jubilation." The set comes out here Oct. 7.

The Points Guy Reviews Dolly's Bus
Travel writer The Points Guy recently stayed in Dolly's bus, Suite 1986, at Dollywood's DreamMore Resort. Read what he had to say here.

Bay Area Dolly Cabaret Coming Friday
Bay area fans will want to check out a Dolly Cabaret at Oasis in San Francisco on Friday, Sept. 30. Learn more here.
---
Sept. 19:
Dolly Speaks Praises Of Mexican Pizza In Musical



After a few months' delay, Taco Bell last week debuts its long-awaited musical celebrating the return of the fan favorite Mexican Pizza. Dolly appears a couple of times in cameos as herself but also narrates the three-act musical as the voice of the Mexican Pizza. She doesn't sing. The item was recently returned permanently to the restaurant's menu after a fan campaign to bring it back. Watch the musical here or in the media player above.

Dolly Talks To 'Today' About Fonda's Cancer
Dolly's longtime friend Jane Fonda last week revealed her cancer diagnosis, and Today shared Dolly's reaction that she'd reached out to Fonda and that losing her would be "like losing a sister." She added: "I have not spoken to her since she announced that she was sick; I have tried, so I would imagine she's going through her things at the moment. She'll get back to me, though. We don't talk every day but we have a very special feeling in our hearts, Lily (Tomlin), Jane and I since we did the movie '9 to 5'."

Ronstadt Includes Dolly Duet In New Compilation
Linda Ronstadt is re-releasing her 1978 top 10 country single with Dolly, "I Never Will Marry," on a new collection soon to come out. Putumayo is releasing a musical accompaniment to Ronstadt's newest memoir about her musical culture, Feels Like Home: Songs from the Sonoran Borderlands. The book comes out Oct. 4, but the accompanying CD hits stores Oct. 7 and the MP3 release Sept. 30. Ronstadt co-=cured the collection with Putumayo founder Dan Strorper and selected influential songs from her childhood and career as well as her interpretations of classic Mexican songs.

'Guinness' Book Again Includes Dolly
The 2023 Guinness Book of World Records was published last week, and I understand it contains an honor for Dolly in recognition of her longest run of top 20 singles on the country chart.

U.S., U.K. Chart Updates
Ultimate Dolly Parton slips one on the Sept. 17 Billboard country albums chart released Tuesday to No. 48 in its 96th chart week, while her Run, Rose, Run CD regains one to No. 2 bluegrass albums in its 27th chart week. Overseas, Run falls six to No. 16 country albums in its 28th chart week in the U.K. The British country compilations chart was not available at press time.
---
Sept. 12:
Dollywood Named Best U.S. Theme Park For Third Time


For the third time in a row, Dollywood this weekend was named America's best amusement park and the world's second-best park, also taking home three first place awards from Amusement Today's annual enthusiast-voted Golden Ticket Awards, known as the "Oscars of the theme park industry."

For the 14th consecutive time, Dollywood won First Place in Best Christmas Event for its Smoky Mountain Christmas, the only festival to win the award since it was introduced. For the third consecutive time, the park won First Place for Best Guest Experience, which prior to 2019 was two separate awards, Friendliest Park and Cleanest Park categories, and now focuses on cleanliness, employee friendliness, ride operations and value. Also for the third consecutive time, Wildwood Grove won First Place in Best Kid's Area, maintaining since the expansion first opened the crown it took from King's Island, which had previously dominated the category with first place wins for 18 consecutive years.

Additional recognitions were second place awards for Most Beautiful Park (down from first place last year, losing to Busch Gardens Williamsburg) and Best Food (maintaining its salutatorian status for the third consecutive year, losing this year to Knoebel's in Pennsylvania). Thunderhead maintained its No. 10 spot on the world's top wooden roller coasters tally, while Lightning Rod dropped four places to No. 11 on the world's top steel roller coasters list.

For the top prize of the ceremony, Best Park, Dollywood remained at No. 2, the position it had climbed to for the first time in 2019 after many years in the bottom half of the top five. Europa Park in Germany remained at No. 1, meaning Dolly can still claim the best theme park in the United States, followed by Phantasialand in Germay at No. 3, Universal Islands of Adventure at No. 4, and sister park Silver Dollar City at No. 5.

In a statement to Amusement Today, Dolly responded to the wins with: "We don't do what we do to win awards, but they sure are nice. Seriously, though, we're proud of the recognition we receive because it means we're doing well at what we want to do – take care of the great folks who come visit our park year after year. I've always known that the Smokies are a very special place, and for the park to be just one reason why so many people come visit this little part of Tennessee warms my heart. To hear that they think so highly of their time at Dollywood really does this Smoky Mountain Girl a lot of good."

Next year's awards will be presented at Dollywood itself.

'9 To 5' Duet Single Released With Kelly Clarkson



The highly-anticipated duet of "9 To 5" by Kelly Clarkson with Dolly debuted on Friday. Take a listen on YouTube here or in the media player above, or download it from Amazon here. Announcing the release, Dolly said: ""I love her voice on '9 to 5,' and I am so proud I got to sing with her on it. I'm equally as proud of the wonderful arrangement and production by Shane McAnally." Clarkson added: "I am so honored that Dolly asked me to reimagine this iconic song, '9 to 5,' with her. She is so talented, an inspiration to all women, and one of the sweetest people you will ever meet! I hope y'all like what we did, but even if you don't, remember I got to sing a duet with the magical Dolly Parton and now have bragging rights til the end of time!" Fans gave a mixed reaction to the song, given its slow tempo and drastically different arrangement from the original. The song was recorded for the documentary Still Working 9 To 5, which will have its limited theatrical run this month to make it eligible for Oscar consideration with screenings scheduled Sept. 16-22 at Cinema Village in New York City and Laemmle Noho in North Hollywood.

New Greatest Hits Collection Track Listing Released



Legacy Records released the track listing this week for the Nov. 18 CD, two-LP vinyl, and MP3 versions of Sony's new best of Dolly compilation, Diamonds & Rhinestones: The Greatest Hits Collection. The 23-song set contains 18 tracks from Sony Music taken from her years at RCA and Columbia Records, her recent dance single with Galantis from Warner Music, and four tracks from her indie labels Dolly Records and Butterfly Records, where she has released her own albums for the past 15 years. Check out a promotional video from Sony on Facebook here or in the media player above. The full track listing is as follows:

9 To 5

Jolene

Here You Come Again

Islands In The Stream with Kenny Rogers

I Will Always Love You

Coat Of Many Colors

My Tennessee Mountain Home

The Bargain Store

Baby I'm Burnin'

Better Get To Livin'

Why'd You Come In Here Lookin' Like That

Love Is Like A Butterfly

Heartbreaker

Red Shoes

The Seeker

Together You & I

Two Doors Down

When Life Is Good Again

Tennessee Homesick Blues

It's All Wrong But It's All Right

Real Love with Kenny Rogers

Silver Threads and Golden Needles with Tammy Wynette and Loretta Lynn

Faith with Galantis featuring Mr. Probz

Rock Hall Of Fame Tickets Nearly Gone
Tickets for the 2022 Rock & Roll Hall of Fame induction ceremony Nov. 5 in Los Angeles, where Dolly will be inducted into the institution, went on sale to the public Friday. As of press time Sunday night, a few dozen VIP tickets (ranging from just under $1,000 to $2,500) remained available as well as a few dozen resale tickets. Check them out here. Dolly has said she will accept the honor, after initially rejecting her nomination, but she has not indicated whether or not she will be in attendance at the ceremony.

Dolly Pays Tribute To Late Queen Elizabeth
Dolly this week recognized the passing of Great Britain's monarch at the age of 96. A royal performance for the Queen at her Silver Jubilee, the celebration for the 25th anniversary of her reign, was part of Dolly's coming out to celebrate her new pop career. She played New York's Bottom Line Club May 12-14, 1977, to promote New Harvest, First Gathering and then flew to Europe to play several dates to introduce her new sound. The first of those shows across the pond was a Royal Variety Show in Glasgow, Scotland, on May 17 as part of the Jubilee celebrations. In attendance for the show, Queen Elizabeth II met with the performers backstage. After the Queen's death, Dolly shared a photo from that meeting and the following statement through social media: "I had the honor of meeting and performing for Queen Elizabeth II on my trip to London in 1977. She carried herself with grace and strength her entire life. May she Rest in Peace. My thoughts and prayers are with her family at this time. Love, Dolly." Dolly also paid tribute to the Queen in June during her Platinum Jubilee celebrating her 70 years on the throne. Although she wasn't there in person, Dolly led a series of taped well-wishes from various celebrities and world leaders in a televised celebration of the milestone.

U.S., U.K. Chart Updates
Ultimate Dolly Parton regains two places on the Sept. 11 Billboard country albums chart released Tuesday to No. 47 in its 95th chart week, while her Run, Rose, Run CD holds steady at No. 3 bluegrass albums in its 26th chart week. Overseas, Run slides one to No. 10 country albums in its 27th chart week in the U.K. and falls off the Americana albums, down from No. 37. On the British country compilations chart, Very Best Of Dolly Parton Vol. 1 dips two to No. 8, The Complete Trio Collection Deluxe loses two to No. 10 and Emmylou Harris's Original Album Series: Volume 1 (with two Dolly covers, one track with Dolly harmony and one track with Trio harmony by Dolly and Linda Ronstadt) falls back off the top 20, down from No. 14.
---
Sept. 5:
'Christmas On The Square' DVD Coming Nov. 1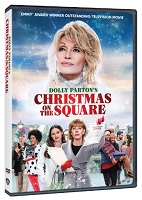 In an unusual move, the Emmy-winning Netflix film Dolly Parton's Christmas On The Square has been released to Amazon Prime Video for streaming purchase here and on DVD from Warner Brothers Video Nov. 1 here. Streaming network Netflix usually does not make many of its projects available for other streaming services to show, nor does it usually release its programming on DVD unless the show or film is among its absolutely most popular programs.
'Mountain Magic' Wraps Filming
Meanwhile, for this year's holiday broadcast season, Dolly wrapped filming last week at Dollywood on her upcoming NBC movie Dolly Parton's Mountain Magic Christmas. While an official air date has yet to be revealed, I've heard unconfirmed reports it is scheduled for a Dec. 1 broadcast. The network last week confirmed Dolly's previously-announced list of guest stars appearing as themselves (Jimmy Fallon, Miley Cyrus, Billy Ray Cyrus, Willie Nelson, Jimmy Allen, and Zach Williams) and also announced the cast acting in the show besides Dolly in the lead are Tom Everett Scott (13 Reasons Why, I'm Sorry, ER), Ana Gasteyer (Saturday Night Live, Mean Girls, The Goldbergs) and Angel Parker (Runaways, The Strain, Lab Rats). The announcement noted that the show follows Dolly's "desire to uplift an exhausted world's spirits by sharing the unique 'mountain magic' she has always found in and around Dollywood at Christmas. Throughout the movie's production numbers and rehearsal chaos, Parton finds herself taking a private journey into her past, guided by the mysterious appearances of her personal Three Wise Mountain Men. When it's time for her big special to air, a renewed and inspired Dolly goes rogue and shows the world that the real magic of Christmas lies in the hearts of the children we all once were, the realization that Christmas is about the people we share it with, and how her faith remains the common thread between Christmases past, present, and future." Dolly, Sam Haskell, screenwriter David Rambo, director Joe Lazarov and Hudson Hickman executive produce the movie for Warner Brothers Television in association with Haskell's Magnolia Hill Productions and Dolly's Sandollar Productions. Billy Levin serves as producer.
'Rolling Stone' Names 'Coat' No. 1 GOAT Country Album
Rolling Stone magazine last week released its list of the 100 Best Country Albums of All Time, naming Dolly's Coat Of Many Colors at No. 1. Dolly likely would have dominated the list, but editors noted they tried not to include too many albums from any one artist (singling out Dolly, Willie Nelson and Merle Haggard as examples of artists who could appear many times) so that the list would be "varied" and represent "the development of country album-making over the decades." Consequently, it didn't appear any artist was allowed more than three entries. Dolly was also No. 77 with Here You Come Again and No. 47 for Trio with Linda Ronstadt and Emmylou Harris. As a songwriter she also had an entry on No. 59 Merle Haggard's Mama Tried (when he recorded "In The Good Old Days (When Times Were Bad)") and Harris's No. 33 Pieces Of Sky (which includes "Coat of Many Colors"). About Dolly's Coat album, the reviewer commented: "The brilliant album is the sound of Parton taking agency over her own story — one shaped by Appalachian poverty, a connection to nature, and unfailing familial love . . . As an album that made incisive statements about family, femininity, and class struggle in its time, Coat of Many Colors only gets more relevant with each passing year. Everyone else is still playing catch-up."
New Multi-Label Greatest Hits Coming From Sony
Sony Music's Legacy Records imprint has revealed plans for a new Dolly compilation, Diamonds & Rhinestones: The Greatest Hits Collection, coming Nov. 18 on CD and double vinyl. The label hasn't released the full track listing, but it describes the project as: "A career-spanning, cross-label anthology featuring 23 essential recordings from 1971-2020 for the first time on one album. Diamonds & Rhinestones: The Greatest Hits Collection includes liner notes penned by Robert K. Oermann, who collaborated with Dolly on her 2020 autobiography, Dolly Parton, Songteller: My Life in Lyrics. Gems on Diamonds & Rhinestones include Dolly's performances with Kenny Rogers ("Islands in the Stream" and "Real Love"), Loretta Lynn and Tammy Wynette ("Silver Threads and Golden Needles" from Honky Tonk Angels) and "Faith," her delightfully surprising 2020 collaboration with the Swedish electropop dance duo Galantis (featuring Mr. Probz)."
'Orville' Appearance Used Deep Fake Tech
The Befores podcast last week offered a great episode with a rep from FuseFX, which was responsible for visual effects on The Orville this season, including deaging Dolly by 30 years for her cameo on the sci-fi show. Turns out they used "deep fake technology" to animate her face to look like the 1990s (leaving only her hair, body, and center of her eyes as the only "real" parts of her appearance on the screen in the scene and the rest of her face being computer animated by artificial intelligence.) Take a listen here.
'Run, Rose, Run' Paperback Planned For April
Hachette Book Group imprint Grand Central Publications has announced the release date for the mass market paperback edition of Dolly and James Patterson's novel Run, Rose, Run: April 11. Reserve your copy here.
Dolly's Perfumes Land New Stores
Scent Beauty last week announced their deal to expand availability of Dolly's Scent from Above eau de parfum into Perfumania and Fragrance Outlet stores nationwide. Read more from Yahoo Finance here.
Taco Bell Musical Airs Sept. 15
Taco Bell has finally announced the rescheduled premiere of its Mexican Pizza: The Musical starring Dolly and Doja Cat. The project will be first shown at 8 p.m. Eastern Sept. 15 on the restaurant's TikTok. The menu item returns to restaurants the same day,
U.S., U.,K. Chart Updates
Ultimate Dolly Parton loses two on the Sept. 3 Billboard country albums chart released Tuesday to No. 49 in its 94th chart week, while her Run, Rose, Run CD slips back down one to No. 3 bluegrass albums in its 25th chart week. Overseas, Run dips one to No. 9 country albums and 10 to No. 37 Americana albums in its 26th chart week in the U.K., while the British country compilations chart sees Very Best Of Dolly Parton Vol. 1 hold steady at No. 6, The Complete Trio Collection Deluxe gain three to No. 8 and Emmylou Harris's Original Album Series: Volume 1 (with two Dolly covers, one track with Dolly harmony and one track with Trio harmony by Dolly and Linda Ronstadt) re-enter the top 20 at No. 14. Back in the U.S., Chapel Hart's "You Can Have Him, Jolene" falls back off the digital singles sales charts after a third week at No. 15 country and No. 41 overall.
Doggy Parton Line Officially Announced
Although it was already reported several days earlier, Dolly last week officially announced her Doogy Parton line of canine goods, revealing that a portion of proceeds will benefit rescue organization Willa B. Farms. She also debuted a Doggy Parton.com website, which suggests the items will eventually be sold there and other retailers in the future in addition to their current home on Amazon and in Dollywood's Doggy Wood kennel. Watch the announcement here or in the media player below. The news gained massive coverage nationwide such as a story from NPR here.

---