---
www.dollymania.net News October 2000
---

Oct. 30: Vince and Dolly and a whole gang of people last week filmed the Grand Ole Opry 75th anniversary special to air on Thanksgiving on CBS, but Dolly was still in Nashville on Sunday to film a special segment in the Ryman, original home of the Opry, honoring Roy Acuff. Thanks to everyone who let me know about this!
* The entire Bluegrass Awards from earlier this month, including Dolly's performance and acceptance of Album of the Year, may be heard here. Thanks, Tim!
* Dolly is in a lot of magazines right now, I'm told. She and Loretta Lynn are shown at the Grand Ole Opry birthday in People, a photo of her accepting her British Country Music Association Award is in a magazine there, and Country Weekly notes her inclusion in the "Wave To The World" recording. Thanks, Sheena!
* Dolly was recently seen on Entertainment Tonight giving her two cents on the presidential race. She said, "One's a redneck, and the other's a stiffneck. So I don't know which of 'em I'm gonna vote for!" She winked at the camera and added, "Just kidding, guys!" Thanks, Sheena!
* * * * *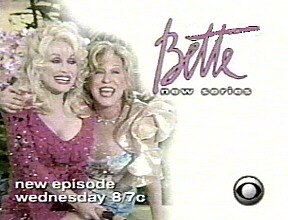 Oct. 26: Dolly was great on Bette! Wednesday night! The show opened with the two dueting at the piano. During the show, Bette was appearing on Dolly's television special, during which they sang an amazing duet of "Islands in the Stream," complete with Bette wearing her trademark mermaid costume. Bette becomes jealous of how everyone around her just loves Dolly because she is so nice and caring, and her husband's attraction to Dolly. She and her daughter go trick-or-treating, but because of a Bette-caused disaster on Dolly's set, they have no time for her to get a costume. She runs into Dolly's dressing room and steals a wig and dress and goes out as Dolly. When some bullies throw eggs at them, they throw an apple back, which breaks a car window. The cops chase them to the studio, where seeing Dolly, they arrest her for the incident. The show ended with the cast crowded around as Dolly and Bette sang one last duet. (Read an article about it from the Knoxville News-Sentinel here.)
* Just got the basics on Little Sparrow, Dolly's upcoming bluegrass/folk album. The 14-cut CD, produced by Steve Buckingham and to be released Jan. 23 on Sugar Hill/Blue Eye, features: Little Sparrow (Dolly), Shine (Eugene), I Don't Believe You've Met My Baby (Autry), My Blue Tears (Dolly), Seven Bridges Road (Young), Bluer Pastures (Dolly), Tender Lie (Sharp), I Get A Kick Out Of You (Cole Porter), Mountain Angel (Dolly), Marry Me (Dolly), Down From Dover (Dolly), Beautiful Lie (McDade), In The Sweet By and By (Bennet/Webster, arranged by Dolly). Dolly performs harmony vocals on most cuts, but special guests include Alison Krauss, Rhonda Vincent, Darrin Vincent, Claire Lynch, Stuart Duncan, Sonya Isaacs, Becky Isaacs Bowman, Rebecca Lynn Howard, Altan (who appeared on Heartsongs), Keith Little, Carl Jackson, Dan Tyminski, Maura O'Connell. Musicians include Bryan Sutton - guitar, Jerry Douglas - resophonic guitar, Stuart Duncan - fiddle, Chris Thile - mandolin, Jim Mills - banjo, Barry Bales - bass, Mike Snider - clawhammer banjo on "Marry Me," Steve Buckingham - dulcimer on "Mountain Angel"/autoharp on "Tender Lie." Special thanks to Jennifer Hoyt at Sugar Hill for all the info!
* Sorry about the lack of updates; still unpacking at the new house! But Dollymania welcomed its 80,000th visitor over the weekend. Thanks to all who visit!
* * * * *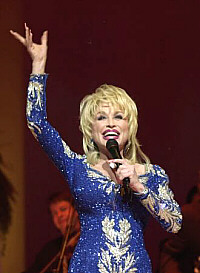 Oct. 21: The folks at Sugar Hill tell me Dolly got a standing ovation at Thursday's International Bluegrass Music Association Awards, where she won Album of The Year, and the story appeared in dozens of papers on Friday. (Photo of Dolly from the awards at left is from the Associated Press.)
* The Christian Science Monitor on Friday made a mention of Dolly possibly coming to Broadway in the near future. The story, on Hollywood stars performing on The Great White Way, included the note: "Even country singer Dolly Parton is interested in doing a semi-autobiographical stage musical. 'Dolly is interested in doing Broadway, and she'll probably do it. She has a lot of original ideas for different things,' says Teresa Hughes, Ms. Parton's personal assistant. Says Ms. Parton's longtime friend and collaborator Robert Orman, 'Dolly wants to do Broadway but she wants to do it on her own terms. She's been interested in doing a show called Wildflowers, which has some old and some new songs.'" The full story is here.
* * * * *
Oct. 20: Dolly was honored with one of the evening's top awards at Thursday's International Bluegrass Music Association Awards, picking up Album of The Year for The Grass is Blue. According to the Associated Press, Dolly accepted her award with humility. ``I feel like I'm on sacred ground,'' she said. ``I'm very, very honored, but I'm very, very surprised.'' Blue beat out the self-titled Blue Highway, Larry Cordle and Lonesome Standard Time's Murder on Music Row, IIIrd Time Out's John and Mary and Rhonda Vincent's Back Home Again, which happens to feature Vincent's own bluegrass cover of Dolly's classic "Jolene." Vincent took home the Best Female Vocalist trophy, for which Dolly was also nominated. The Grass is Blue has also won the British County Music Association's Top International Independent Label Artist Award and was named Best Bluegrass Album at the Association for Independent Music Awards. Dolly performed at the awards show, doing a medley of "Train, Train" from The Grass Is Blue, and "Bluer Pastures," a new Dolly original which will appear on her upcoming CD Little Sparrow, which Sugar Hill officials have confirmed is scheduled for a Jan. 23 release.
* And according to TV Guide, Dolly's guest appearance on Bette next week centers around her and Bette Midler filming a Halloween special together, and Bette becoming horribly jealous of Dolly during it. I can't wait!
* * * * *
Oct. 18: According to the Associated Press, Dolly is scheduled to perform at Thursday's International Bluegrass Music Association Awards show in Louisville, Ky. Dolly is nominated at the awards show for Best Female Artist and Best Album for The Grass is Blue. The awards show will be aired live on 3,000 U.S. radio stations.
* Tickets are reportedly still available for the Oct. 25 taping of the Grand Ole Opry 75th anniversary special for CBS. The show, to be co-hosted by Dolly and Vince Gill, will feature Bill Anderson, Garth Brooks, Jimmy Dickens, Alan Jackson, George Jones, Patty Loveless, Loretta Lynn, Martina McBride, Charley Pride, Ricky Skaggs, Travis Tritt, Trisha Yearwood, Porter Wagoner and others, according to a press release from the Opry. Tickets, available at 615-889-3060, are $19.25 each (signifying the year the Opry started broadcasting). Taping begins at 7 p.m.
* And the Canton, Miss., Library Board last week voted to pursue becoming the first community in Mississippi to launch a chapter of Dolly's Imagination Library! To learn how you can help, e-mail me here.
* * * * *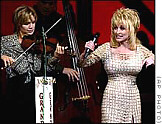 Oct. 16: Dolly was one of the dozens of legends paying tribute Saturday to the Grand Ole Opry's 75th anniversary. Dolly performed "Train, Train" and "Coat of Many Colors" with Alison Krauss and Union Station (pictured with Alison in AP photo to left). Of course, the big celebration will be made into a CBS television special which will air with Dolly co-hosting with Vince Gill on Thanksgiving!
* According to Yahoo, the single and video for "Wave To The World," the benefit song for the international paraplegic games which features Dolly, Vince Gill, Reba and more, is to be released today.
* Dolly, Kathie Lee and Brooke Shields were all featured briefly on Thursday's Entertainment Tonight from last weekend's Stars Over Mississippi concert. Kathie Lee talked about becoming a "pop" singer, Dolly talked about Kathie Lee and was shown for a few seconds singing "9 to 5" at the concert, and Brooke Shields spoke of how much she loved the area.
* And speaking of Stars Over Mississippi, Jackson's daily newspaper, The Clarion-Ledger, reported Thursday (and it was repeated that evening on Entertainment Tonight) that the weekend's festivities raised more than $600,000 for the Mary Kirklpatrick Haskell Scholarship Foundation, which provided college scholarships for deserving students from manager Sam Haskell's birthplace of Monroe County, Miss. A large percentage of the money came from corporate and individual donations, according to the article, but it was the largest amount ever collected for the fund, which has averaged about $200,000 in each of its previous four fundraising concerts. Also, it set the largest ticket sales record (about 11,000) for the biannual event, and although nearly 40 percent of tickets were sold in the metropolitan Jackson area, this was the first year that people in foreign countries made orders for the show, organizers said in the article. As previously reported here, the concert was attended by people from 29 states and six foreign countries. And Dollymania is proud to have assisted in spreading the word around the world about this concert through the Internet! If you haven't checked out our coverage of the show, click here for photos and here for the story!
* Country.com recently reviewed Sonya Isaacs' self-titled CD, which features Dolly harmony on "Healing Hands," calling the cut with Dolly "outstanding." To read the review, click here. To purchase the CD, click here.
* On Rosie last week, Felicity actor Scott Foley recounted how he and friend Josh Jackson of Dawson's Creek recently took a road trip across the nation, including a stop at Dollywood. He said they told the people at the gate that they were looking for job applications, and after they were let in to fill out applications, they snuck away and spent the entire day there for free. Thanks, Justin!
* Dolly has reportedly recorded a new bluegrass version of her song "My Blue Tears" (which she has recorded previously on 1971's Coat of Many Colors, with the Trio on Linda Ronstadt's 1982 Get Closer and on 1994's Heartsongs) for next year's CD, Little Sparrow Thanks, Chris!
* And sorry for the lack of updates last week (and what will be a likely lack of updates for the next couple of weeks). We just bought a wonderful old 110-year-old house and are spending much of our free time moving in!
* * * * *
Oct. 10: Photos from the Stars Over Mississippi parade, handprint ceremony and concert have been uploaded here! (And if you haven't read it, see yesterday's story on all the events here)
* * * * *
Oct. 9: Amory was amazing (even if Dolly couldn't finish her set)! For the complete Dollymania report, click here! Photos should be posted late Monday or Tuesday!
* Also, for a couple of local papers' views, read what Jackson's The Clarion Ledger had to say about the show here or Tupelo's Northeast Mississippi Daily Journal's recap of Friday's pre-show gala here.
* And Sonya Isaacs' debut CD featuring Dolly harmony on two songs comes out Tuesday. Order your copy here!
* And Blue Valley Songbird is scheduled to air on the Women's Television Network in Canada at 9 p.m. Eastern Friday (with a repeat at 1 a.m. Saturday). I don't know if this network is available in the U.S., and if so, whether the film will air at that time here as well. Thanks, Bob!
* * * * *
Oct. 2: In an extended version of the interview reported on here in July, Sonic.net says Dolly is also including "Down From Dover" in her upcoming folk/old world CD done as an Irish ballad. As one of her best songs ever, I'm so glad it will be on there! You can read the entire interview here.
* Over the weekend, Dollymania passed 75,000 visitors! Also next week, the Web site will celebrate its second birthday! Thanks to all who keep coming back!
* * * * *