---
www.dollymania.net News October 2001
---

Oct. 31:
New Dolly Single Shipped
Curb Records has shipped "Two of The Lucky Ones," Dolly's duet with Hal Ketchum from his new CD Lucky Man, to radio as the third single from the album, Dollymania has learned. Co-written by Sherrie Austin, this is a great song and I believe has the potential to become both a country and pop hit if it gets airplay, so everyone call your local stations and request it today! Get your copy of the CD here!
Bluegrass Charts Out
Bluegrass Unlimited has released its November charts, and Dolly is still up there with several cuts from Little Sparrow. The CD itself falls three spots to No. 7 in its eighth chart month (album positions are based on single performance, not album sales). On the singles side, "Marry Me" slides from last month's No. 1 position to No. 3, "Bluer Pastures" inches up two to No. 6, and "Seven Bridges Road" drops nine spots to No. 19. Thanks, Chris!
Good Company
Dolly gets a mention in the current issue of Rosie O'Donnell's magazine Rosie. A writer to advice columnist Linda Richman asks how she can get people to stop making comments about her height, and Linda answers: "Let them know you belong to an elite group of women – Susan Lucci, Dolly Parton, and Sally Field are short too. Hmmm, an Emmy winner, a Grammy winner and an Oscar winner. Not bad company." Thanks, Cassidy!
On The Stage
According to a story in the Kansas City Star on Tuesday, a very campy acting troupe there, Megee's Late Night Theatre, plans a show this year called Come Back To The 9 to 5, Dolly Parton, Dolly Parton, lampooning the hit play and film Come Back To The Five and Dime, Jimmy Dean, Jimmy Dean. The show will be paired in a double feature to also include a Dangerous Liaisons parody called Dangerous, Dirty Little Liaisons, the report continued. Also, I've seen reports of at least two theatre groups around the country performing a music-filled play called Honky Tonk Angels, which supposedly tells the story of Dolly, Loretta Lynn and Tammy Wynette (who, of course, released a gold-selling trio album titled Honky Tonk Angels in 1993).
---
Oct. 30:
A Real Institution
The November issue of Smithsonian includes an article on "The Roots of American Music," with Dolly as one of about a dozen artists featured for their contributions. In one passage, the article notes: "A select array of women singers exhibited their links to southern working-class culture while also breaking new ground for their sisters. Loretta Lynn and Dolly Parton sometimes seemed willing to play the role of simple mountain girls, but their masterful performances, rapport with their audiences, and shrewd promotional acumen gave them an edge that most men could only envy . . . Best of all, they emboldened young women to pursue their own independent paths in show business, suggesting in the subtext of their lives and songs, 'We made it, and so can you.''" The article also includes a half-page black and white photo of Dolly from the Hungry Again photo shoot standing behind a car with her leg propped up on her suitcase. Other legends lauded in the article include Bob Dylan, Janis Joplin, Bill Monroe and Hank Williams. Thanks, Solomon!
Flying High
The American Eagle Foundation, a non-profit organization headquartered at Dollywood which works to promote environmental education and the recovery of the American Bald Eagle, has joined forces with eBay to present the "Friends of Eagles Auction" Nov. 1-10 as a fund raiser. The auction will feature many limited edition eagle art and photo prints but will also grant the most generous bidder in a special "Name An American Eaglet" auction the right to name a baby eagle which will be released into the Great Smoky Mountains next summer. For more information, go to www.eagles.org.
---
Oct. 29:
'Sparrow' Down, 'Lucky' Up
Little Sparrow falls five spots to No. 17 on the British country albums chart released Sunday. Currently in its 40th chart week overseas, the CD peaked for two months at No. 1 and reached No. 30 pop. Also on this week's chart, Hal Ketchum's Lucky Man, with the amazing Dolly duet "Two of The Lucky Ones," moves up four places to No. 11 in its second week.
Speaking Of Charts
The Sweet November soundtrack, with beautiful Dolly harmonies on Paula Cole's "Heart Door," fell off the Nov. 3 Billboard soundtrack albums chart issued last week after 11 weeks, down from No. 22. On a brighter note, Jennifer at Sugar Hill Records tells me they recently sent Dolly's "Shine" to Christian country radio as part of a sampler CD, and within three weeks the song debuted at No. 29 on the charts there, where it is expected to quickly reach No. 1. Thanks, Jennifer! Also, IndieWorldCountry did not update its charts over the weekend, so I am not able yet to give you the position for "Shine" on its independent label country singles chart. The song has spent the last two weeks at No. 1. (Remember to cast your vote daily for "Shine" at CMT's Most Wanted Live here and on Great American Country's Top 15 Countdown here.)
Could Video Come By New Year's?
The long-awaited release of Dolly Parton and Friends may come by year's end, Dollymania has learned. While no date is listed for the three-DVD collection, CDNow is now showing a Dec. 31 release date for each of three VHS video tapes by the same distribution company using the same title. The distributor's official calendar of releases still doesn't show the collection, although it only lists those items coming out through the end of November. Of course, as Dollymania was the first to report, the collection had originally been scheduled for release Oct. 30.
Postponement Press
The postponement of Dolly's Red White And Bluegrass fund raising concert, originally scheduled for New Year's Eve in Nashville, made several newspaper reports over the weekend, following the Associated Press finally posting the press release about the news on their wire service Saturday afternoon. Of course, Dollymania on Thursday was the first media outlet anywhere to report of the postponement, and it was also the first Dolly site earlier this month to report the initial scheduling of the concert. As soon as anything is announced regarding the re-scheduling, you can be sure to find it here as well.
---
Oct. 25:
UPDATE: New Year's Concert Postponed
Dollymania is sad to be the first media outlet to bring you news that the New Year's Eve benefit concert Red White and Bluegrass is being postponed, likely until spring or summer of 2002, it was announced Thursday. In a statement, Dolly explained: "Many of the artists and musicians were already committed to family gatherings or other concert appearances. All of us involved want to put on the best show possible so we decided to reschedule." As Dollymania was the first Dolly site to report, the concert, originally scheduled for New Year's Eve at the Grand Ole Opry House in Nashville, will benefit a scholarship program for the children of victims killed or disabled in the Sept. 11 terrorist attacks. Dolly will serve as hostess and headliner. Gillian Welch had been the only other confirmed performer, it was reported last night. No new date for the event has been decided. Look for updates on Dollymania as soon as another date is selected.
Off The CMT Chart


Dolly's video for "Shine" from Little Sparrow falls off CMT's weekly Top 20 countdown, it was announced Wednesday. The song, which had peaked at No. 4, spent 13 weeks on the chart. Remember to cast your vote daily for "Shine" at CMT's Most Wanted Live here and on Great American Country's Top 15 Countdown here. And while you're at it, Hal at CMT asked me to pass along that all MWL votes cast between Oct. 26 and Nov. 2 will be automatically entered in a drawing to win a trip to the CMA Awards, accomodations at the Opryland Hotel and more! Thanks, Hal!
Dolly On New CDNow Chart
CDNow on Tuesday began publishing a new chart, showing the top 100 positions of CDs in each genre since the store went online several years ago. While Dolly doesn't show up on the pop or all-CDs lists, she comes in several times on the country chart. Little Sparrow is No. 32, followed closely by The Grass Is Blue at No. 39. Her second effort with Emmylou Harris and Linda Ronstadt, Trio II, makes it to No. 59, while her double platinum holiday duet album with Kenny Rogers, Once Upon a Christmas, comes in at No. 97. Also of note, Alison Krauss' Forget About It, with Dolly harmony "Dreaming My Dreams With You," is at No. 17.
Send A Note
I'm told that Dolly gets a mention in Mrs. Westlock's Manhunt in the new issue of Talk magazine with Mayor Rudolph Gulliani on the cover. It even gives the address for her New York residence! Thanks, Brandon!
---
Oct. 23:
Benefit Tickets Coming Soon
An announcement regarding tickets for Dolly's New Year's Eve benefit concert "Red White And Bluegrass" should be coming "any day now," sources tell Dollymania. The announcement is expected to include ticket prices, the date they will go on sale and the retailer from which they may be purchased. Indications are that they will most likely be sold directly from the Grand Ole Opry's ticket services. As Dollymania was the first Dolly site (and just the second media outlet anywhere, to my knowledge) to report, Dolly is planning the New Year's Eve show at the Grand Ole Opry House in Nashville to benefit a scholarship fund established for the children of victims killed or disabled in the Sept. 11 terrorist attacks. Additional bluegrass and roots music performers are expected to be announced soon, and Dolly will serve both as headliner and hostess for the evening. Look for news of ticket information to be posted here as soon as it becomes available.
---
Oct. 22:
A Soothing Voice
A great article in the Moncton, New Brunswick, Canada, Times & Transcript on Friday told the story of how Dolly brightened the day of a sick fan. Gertrude Hennigar had been pretty much bedridden since her lung cancer had spread to her bones. Diagnosed in February, she only has a couple more months to live. Sitting in her wheelchair Tuesday afternoon enjoying a cup of tea, she got a telephone call. The voice on the other end said, "Hello, how are you?" It sounded familiar, but she couldn't put her finger on it. Then she said, "My name is Dolly Parton." Gertrude recalled: "I froze. I couldn't believe it." A Dolly fan for decades, she had hoped to make it to Nashville earlier this year for the Grand Ole Opry 75th birthday bash, which Dolly hosted. Her dying wish could not be realized because she was too sick to travel, so her sister, Marlene, decided to bring Nashville to her. Calling her on some of her favorite stars, she didn't get a response from Loretta Lynn, and Porter Wagoner's representative said "he doesn't want to deal with death," the newspaper reported. However, within days of faxing Dolly, Marlene got a call from Dolly herself looking for her sister. She provided her with her sister's number, and Gertrude picked up the phone. "My God, was that ever a surprise to me," Gertrude said. "I didn't know what to say until I got off the phone." They spoke for 10 minutes, during which Dolly asked her several questions. She said she was about to leave for a picnic with her husband, Carl, but wanted to stay in touch with Gertrude. "It took me three hours to realize what happened," Gertrude explained, adding, "I didn't get to see her, but I got to talk to her and that's the next best thing." Doesn't that just show you what a caring, big-hearted person Dolly is! Thanks, Brian!
'Sparrow' Hanging In, 'Lucky' Debuts
Little Sparrow inches down one spot to No. 12 on the British country albums chart released Sunday. Currently in its 39th chart week overseas, the CD peaked for two months at No. 1 and reached No. 30 pop. Also on this week's chart, Hal Ketchum's Lucky Man, with the amazing Dolly duet "Two of The Lucky Ones," debuts at No. 15.
No. 1 Another Week
Dolly's "Shine" holds on to the No. 1 spot on the Independent Country Singles Charts for a second week, according to the chart week ending Oct. 19, which was published Friday by IndieWorldCountry.com.
Praising Dolly On TV
I'm told a character on the WB's Dawson's Creek last week extolled the virtues of Dolly's music. The incident occurred between Charlie, the new love interest of the character Jennifer, and Jen. Charlie, who plays in a band and is a radio station DJ, was arguing with her over the merits of musicians such as The Smiths and The Ramones when he noted that Dolly's original 1974 recording of "I Will Always Love You" blows away any of the dozens of subsequent covers of the song, including Whitney Houston's 1992 hit version. He described the great levels of emotion which Dolly put into her song. Jen says she's surprised that Charlie is a country fan, to which he replies that he is not but just likes good music (implying Dolly). Touched by the conversation, Jen sleeps with him for the first time. Applause for the show's writers! Thanks, Greg!
Expanding Imaginations
An article Saturday in the local Spartanburg, S.C., newspaper noted that their United Way chapter is starting Dolly's Imagination Library program for their entire county! Read the story here.
'November' Still On Chart
Although no Dolly CD is on the U.S. Billboard charts in the Oct. 27 issue, the Sweet November soundtrack, with beautiful Dolly harmonies on Paula Cole's "Heart Door," remains on the soundtrack albums chart for a 11th week, falling one place to No. 22.
---
Oct. 18:
CMT Charts Updated


Dolly's video for "Shine" from Little Sparrow falls four spots to No. 17 on CMT's weekly top 20 countdown for its 13th chart week, it was announced Wednesday. It had peaked at No. 4. Remember to cast your vote daily for "Shine" at CMT's Most Wanted Live here and on Great American Country's Top 15 Countdown here.
Dolly Down Under
I came across an article this week which listed the top 10 country albums in Australia, and Dolly is in there! The awesome three-CD Dolly compilation Legendary comes in at No. 7 this week. The article referenced that the CD had "re-entered" the top 10, so it must have been there before. The collection was released by BMG last year in the U.K. and in Australia. It contains the first, and (in my opinion) superior, version of "Two Doors Down" for the first time on CD (and really for the first time anywhere in nearly a quarter-century). The song appeared only on the original pressing of Dolly's 1977 classic Here You Come Again, being replaced on all subsequent releases of the album starting in early 1978 and all other compilation collections with the single version. The original had an additional first verse and very different instrumentation. It also didn't include the "bridge" which appears in the single version before the final chorus. Order your copy here!
---
Oct. 15:
'Sparrow' Up A Little
Little Sparrow moves up one spot to No. 11 on the British country albums chart released Sunday. Currently in its 38th chart week overseas, the CD peaked for two months at No. 1 and reached No. 30 pop.
Dolly Hits No. 1 Again!
Dolly's "Shine" takes over the No. 1 spot on the Independent Country Singles Charts for the week ending Oct. 12, moving up one place for the week. I understand "A Tender Lie," also from Little Sparrow, hit the top spot earlier this year on this chart compiled by IndieWorldCountry.com. Thanks, Chris!
Dolly Saves A Life
A writer to the nationally-syndicated Dear Abby newspaper column published on Friday credited Dolly with saving her life. A woman wrote in of the torment she endured in school and a serious incident which led her to consider suicide. She found a bottle of termite poison and was ready to drink it when Dolly's "Coat of Many Colors" came on the radio. Hearing Dolly's story of torture at school as a child, she thought: "Look where Dolly is today -- she didn't run home and kill herself. She got through it." She put down the bottle, returned to school the next day, and ignored her tormenters. She found success in her academic endeavors and went to college. "I'm successful and happy now and have a loving family. I work with disadvantaged kids in my spare time. Life is wonderful. Thank you, Dolly. And thank you, Abby," wrote Carol, who called herself "A Survivor." Abby herself said she was struck by the letter's dual message of the healing power of music and the ability of the human spirit to rise above suffering.
Paisley Praise
In an interview with Live Daily published on Friday, Brad Paisley was asked what it was like to perform with Dolly at this year's Grammy Awards. He replied: "Great. We hung out some during the rehearsals for the Grammys for the couple days I was out there. She'd be sitting there in the audience, I'd go out and sit down with her. We'd just talk. She'd ask, 'Can I get you something?' She's very motherly, really giving and down to earth." Read the interview here.
In A Perfect World
Speaking of the annual awards, music critic Ben Wener of The Orange County Register on Friday offered his opinion on which CDs from the past year will – and which ones should – be nominated for Album of The Year at the 2002 Grammy Awards (the one-year period of eligibility by release date ended Sept. 30). His picks for those he expects to be nominated – although he goes far to admit most of them do not deserve it – are U2's All That You Can't Leave Behind, the O Brother, Where Art Thou? soundtrack, Alicia Keys' Songs In A Minor, Sade and Bob Dylan's Love and Theft. Other CDs he believe stand an outside chance are Outkast's Stankonia and Radiohead's Amnesiac. However, he said four "dark horses" that don't really have a chance of being nominated but which deserve it more than any of these other albums are REM's Reveal, PJ Harvey's Stories From The City, Stories From The Sea, Ani DiFranco's Revelling/Reckoning and Dolly's Little Sparrow, which he called "outstanding" but predicted its chances for honors at the Grammy Awards will suffer against the slightly inferior O Brother collection. (As you may recall, The Grass Is Blue won the Best Bluegrass Grammy this year.) Read his full column here.
More Benefit Coverage
Dolly's benefit concert on New Year's Eve, "Red White and Bluegrass," has continued to get coverage in major publications. A story based on the press release moved Thursday night on the Associated Press, with the AP story being picked up on several news outlets from FOX News to The National Post on Friday and from PollStar to CNN on Saturday. Still no details on when tickets will go on sale.
To The North
The film Songcatcher opened in Canada Friday. Of course, Dollymania readers know the soundtrack contains a beautiful new Dolly song cut as a duet with Emmy Rossum, a young girl in the film. The song, "When Love Is New," plays over the movie's closing credits. Get the awesome soundtrack here.
---
Oct. 12:
'Sparrow,' 'Songcatcher' Fall Off The Chart
As was mentioned last week on Dollymania as a possibility, both Dolly's Little Sparrow and the Songcatcher soundtrack fall off the 75-position country albums chart in the Oct. 20 edition, Billboard announced Thursday. In its 36-week run, Sparrow peaked at No. 12. It came in at No. 73 the previous week. In its 15-week run, Songcatcher, which includes a wonderful new Dolly song "When Love Is New" performed with movie cast member Emmy Rossum, peaked at No. 42. It was No. 70 the previous week. The Sweet November soundtrack, with beautiful Dolly harmonies on Paula Cole's "Heart Door," slips one spot on the soundtrack albums chart to rest at No. 21 in its 10th week.
Benefit Show Getting Press
Dolly's New Year's benefit concert has been getting publicity on a number of sites on the Net. Country.com posted a brief on its news page late Wednesday. Billboard Online published a story Thursday (it referred to Dolly as a "country music icon;" read it here), and Sonicnet.com led its Country Beat column Thursday with the news. Of course, Dollymania was the first Dolly site to post a story on the event Wednesday evening, but other Dolly sites followed suit Thursday morning. Note: I have received dozens of e-mails since posting the story asking for ticket information. No ticket prices, sale locations, etc., have been announced. As soon as something is announced, look for it on the news page here.
---
Oct. 11:
'Red White and Bluegrass' New Year's Benefit Concert Announced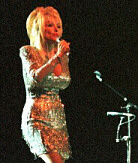 Dolly will host an all-star concert on New Year's Eve at the Grand Ole Opry House in Nashville to raise money for a new scholarship fund benefitting the families of the victims killed or disabled in the Sept. 11 terrorist attacks, it was announced Wednesday.
The concert, called "Red White And Bluegrass," will feature an "all-star" acoustic band with Dolly headlining and acting as hostess for the evening, according to a press release from Dollywood. Announcements of additional performers for the show will be made soon, officials said.
In the release, Dolly noted: "We are trying to gather some of the greatest talent from the bluegrass and roots music community. I would like to do a series of concerts throughout the year in order to make this an on-going program to raise money for something so worthy."
The concert will benefit the Families of Freedom Scholarship Fund™, which is being administered by the Citizen's Scholarship Foundation of America, the nation's largest non-profit administrator of private scholarship programs. Former President Bill Clinton and former Senate Majority Leader Bob Dole are spearheading the fundraising campaign for the new scholarship program. (Visit www.familiesoffreedom.org for more information.)
Dolly added: "I wanted to show my true colors, which are red white and blue, by being a good American and a good Samaritan and doing whatever I could to help the victims of the terrorist tragedy. The Families of Freedom Scholarship Fund™ reflects my belief in education and the efforts we have made with The Dollywood Foundation and the Imagination Library."
Dolly started the Imagination Library in her native Sevier County, Tenn., in 1996 to provide preschool children with one free book a month to stimulate their imaginations and promote literacy. In late 1999, she announced a $7 million donation from her Dixie Stampede dinner theaters to assist establishing the program in communities worldwide. The program earned her the American Association of Publishers' annual AAP Honors award in 2000 and an invitation to address the National Press Club in Washington.
Any additional news of the concert will be reported on Dollymania as it becomes available.
Image at top of this story is from Dolly's Jan. 1, 2000, Opryland Hotel concert. © 2000 Duane Gordon. All Rights Reserved.
'Shine' Drops Four


Dolly's video for "Shine" from Little Sparrow falls four spots to No. 13 on CMT's weekly top 20 countdown for its 12th chart week, it was announced Wednesday. It had peaked at No. 4. Remember to cast your vote daily for "Shine" at CMT's Most Wanted Live here and on Great American Country's Top 15 Countdown here.
Ross, Director, Dead At 74


Herbert Ross, legendary director of dozens of hit films including Dolly's Steel Magnolias, died Tuesday at a New York hospital. He was 74. The cause of death was not immediately released. The acclaimed director started his career as a dancer, turning to choreography after breaking his ankle. His film directing career, which began in 1969, spawned several hits, including Footloose, The Owl and The Pussycat and Funny Lady. During his time behind the camera, he made several successful films based on Neil Simon plays, including The Sunshine Boys and Best Picture nominee The Goodbye Girl. He also received Academy Award nominations for Best Picture and Best Director for Turning Point. One of his last projects before his death was the recording of a director's commentary on a special DVD edition of Steel Magnolias released last year.
Lucky And Talented
The Tennessean had a little story Tuesday about Hal Ketchum's new CD, Lucky Man, noting that the recording "produced some good material." Included in that list of "good material" is the awesome duet with Dolly on the Sherrie Austin-composed "Two of The Lucky Ones." Read the full article here.
---
Oct. 9:
Dolly On Indie Chart
A Dollymania reader alerted me to what is the only independent label country artist singles chart I've ever seen, operated on IndieWorldCountry.com, which shows Dolly's "Shine" at No. 2 for at least the second week! Thanks, Rick!
---
Oct. 8:
Down A Little In England
Little Sparrow slips four spots to No. 12 on the British country albums chart released Sunday. Currently in its 37th chart week overseas, the CD peaked for two months at No. 1 and reached No. 30 pop.
Get Your 'Memories'
Remember, the new Dolly compilation CD Mission Chapel Memories (1971-1975) hits stores Tuesday. The 24-track CD from Raven Records will include four songs from each Coat of Many Colors, Touch Your Woman, Sings My Favorite Songwriter: Porter Wagoner and Jolene, three from each Love Is Like A Butterfly and The Bargain Store and two from Bubbling Over, many of which are being made available on CD for the first time. Get your copy here!
Off The Air In Seattle
Although their online broadcast schedule showed Dolly's performance on Austin City Limits was scheduled to air over the weekend on Seattle's PBS affiliate, KBTC, I'm told that instead, the episode featuring Phish aired in its place. This is the same episode which came on in place of Dolly's when the show was originally scheduled to air earlier this year. No reason was given for the switch. Sorry, Seattle! Thanks, Ren!
---
Oct. 5:
No Dolly Wins, But Collaborators Sweep Awards
Nominated in three categories for Thursday's International Bluegrass Music Association Awards, Dolly didn't take home any trophies at the ceremonies in Louisville, Kenn. Rhonda Vincent won Female Vocalist of the Year, an award for which Dolly had her second consecutive nomination; Vincent also won last year's honor. Vincent, who with her band The Rage won Entertainer of the Year, was also an honoree as part of Carry Me Back to the Fold: A Tribute to Women in Bluegrass, which beat out Ricky Skaggs, Dolly and friends on Big Mon: The Songs of Bill Monroe for Best Recorded Event. As expected, the soundtrack for O Brother, Where Art Thou? bested Big Mon for Album of the Year, the award which Dolly took home at last year's event for The Grass Is Blue. The majority of winners, though, appeared on Dolly's Little Sparrow, including the following: Chris Thile won Mandolin Player of the Year, and his band, Nickel Creek, was named Instrumental Group of the Year; Dan Tyminski, a member of Alison Krauss' band who sang lead on "Man of Constant Sorrow" from O Brother, took home Male Vocalist of the Year and was part of Instrumental Album of The Year winner Knee Deep in Bluegrass: The AcuTab Sessions; bassist Barry Bales was also honored as part of Knee Deep; Krauss won Gospel Recorded Song of the Year for "I'll Fly Away" with Gillian Welch from O Brother; guitar great Jerry Douglas, another member of Krauss' band, was named Dobro Player of the Year for a seventh time; and Jim Mills, a banjo player in Ricky Skaggs' band, won his third consecutive Banjo Player of the Year honor. One other Dolly connection -- photographer Les Leverett, who shot many of Dolly's early '70s album covers at RCA, was honored with a Distinguished Achievement Award.
Dolly Albums Nearing End Of Charts
Little Sparrow may be nearing the end of its chart run, as in its 36th chart week it slips seven spaces to No. 73 on the 75-album country chart, according to the Oct. 13 Billboard positions released Thursday. For comparison, The Grass Is Blue logged 35 weeks on the chart (24 weeks in its initial release and 11 additional weeks on the wave of Sparrow's success and the CD's Grammy win) and Trio II 37 weeks. Her most recent album other than those two to exceed 25 weeks on the chart was 1993's million-selling Slow Dancing With The Moon with 35 weeks. Also on this week's charts, the Songcatcher soundtrack, which features the lovely Dolly and Emmy Rossum duet "When Love Is New," falls one notch to No. 70 on the country albums chart in its 15th chart week. The Sweet November soundtrack, with beautiful Dolly harmonies on Paula Cole's "Heart Door," had enjoyed a strong showing the past few weeks following the film's release on home video, but the CD drops four places to No. 20 for its ninth week on the top 25 soundtrack albums chart and falls off the top 200 pop album chart after peaking at No. 170 last week, its 11th chart week.
A Real Seal Of Approval
For nearly 100 years, the editors at Good Housekeeping have bestowed their Seal of Approval on quality consumer products, but this year they are honoring actual people for the first time ever with the Seal. In the inaugural class of four ladies profiled in the November issue, Dolly is among those receiving the Seal of Approval, I'm told. An accompanying article profiles the charity work she has accomplished through the Dollywood Foundation and its Imagination Library. The issue has been sent to subscribers but is not yet available on newsstands. Thanks, Robert!
---
Oct. 4:
'Shine' Down


Dolly's video for "Shine" from Little Sparrow falls five spots to No. 9 on CMT's weekly top 20 countdown for its 11th chart week, it was announced Wednesday. The video also falls off the network's heavy rotation list this week. Remember to cast your vote daily for "Shine" at CMT's Most Wanted Live here (where you'll be automatically entered in a contest for a trip to Nashville) and on Great American Country's Top 15 Countdown here.
Rumor Definitely False
This update on the Dolly radio boycott rumor (see Oct. 3 news report): Columbus, Ohio, country station WCOL, identified as the leader of the supposed boycott in an AOL posting which circulated the rumor, on Wednesday released an official statement to Dollymania confirming the rumor is completely untrue. The station's program director, John Crenshaw, told Dollymania: "WCOL does not have any knowledge of Ms. Parton's involvement or non-involvement in any activities, hence we have no reason to boycott. WCOL's involvement in the boycott of anything is DENIED."
Dollywood Happenings
Dollywood's annual autumn festival, Harvest Celebration, kicks off Friday at the park. The event features numerous craftsmen from around the U.S. showcasing ancient traditions from woodcarving to cooking as well as the largest showcase of gospel music in the nation with the Sixth Annual Southern Gospel Jubilee. "As a little girl growing up in the Smoky Mountains here in East Tennessee, the fall harvest was one of the most special and important times of the year," Dolly remarked. "At Dollywood, we like to show the folks who come see us in the fall how crafts and special foods and colorful decorations and gospel music all play a part in the way we celebrate it." The celebration runs daily (except Thursdays, when the park is closed) through Nov. 3. Call 1-800-Dollywood or visit www.dollywood.com for more information.
Cross Your Fingers
We'll learn soon whether Dolly will walk home with another International Bluegrass Music Association Award or two, as the annual honors will be handed out in a ceremony Thursday at the Kentucky Center for the Arts in Louisville. Dolly, last year's winner of Album of The Year for The Grass Is Blue and a nominee last year for Best Female Vocalist, is up again for Best Female Vocalist against last year's winner Rhonda Vincent as well as Sonya Isaacs, Claire Lynch and Lynn Morris (the first three appear with Dolly on Little Sparrow, and the Morris has recorded "Coat of Many Colors") . She's also included in a large group up for Album of The Year and Best Recorded Event for her participation in the Big Mon: The Songs of Bill Monroe tribute album put together by Ricky Skaggs. Nominated with her and Skaggs for the CD are Mary Chapin Carpenter, the Dixie Chicks, Charlie Daniels, John Fogerty, Bruce Hornsby, Patty Loveless, Joan Osborne, Travis Tritt, Steve Wariner, The Whites and Dwight Yoakam. Nominated against Mon for album honors are the O Brother, Where Art Thou soundtrack, Talkin' to Myself by Lonesome River Band, Empty Old Mailbox by Don Rigby and Carry Me Across the Mountain by Dan Tyminski. Up with the CD for event are Follow Me Back to the Fold: A Tribute to Women in Bluegrass, Knee Deep in Bluegrass: The AcuTab Sessions, The Legacy Continues and Music from Rancho deVille.
---
Oct. 3:
AOL Dolly Rumor Likely A Hoax
By Duane Gordon
© 2001 Dollymania
Reports on America On Line of a supposed boycott of Dolly's music by radio stations nationwide is likely a hoax, Dollymania has learned. The rumor centers around claims that numerous stations won't play Dolly's songs because she allegedly refused to participate in any of the fund raising events following the terrorist attacks on the World Trade Center and Pentagon and would not contribute any money to the efforts, things which those close to her say could not be true.
It apparently started Sunday night on an AOL message board dedicated to Dolly when someone posted a message which passed along the rumor and asked if it is true. On Monday, numerous additional messages were posted attesting that the boycott was being imposed by stations in their area, although the only station identified by name was WCOL in Columbus, Ohio, which one writer on the board said was "leading the boycott."
No official response could be obtained from WCOL by the time of this update. However, a disc jockey at WCOL told Dollymania that he had not heard of any boycott there.
Likewise, many sources close to Dolly's career and her business interests said they were unaware of the supposed boycott. They also confirmed that to the best of their knowledge Dolly had not been invited to participate in any of the fund raising events following the attacks.
Many expressed shock at the rumor, especially at the claim that she wouldn't contribute financially to the efforts.
"As to her refusal to contribute any money, I find that hard to believe since she gives to more charitable organizations than people will ever know. However, Dolly does this very quietly and does not draw attention to herself," said her producer, Steve Buckingham.
Another associate of hers noted, "We all know what a big heart she has, and I believe this is just a big fat rumor."
Dolly herself was out of town at the time of this report and unavailable for immediate comment.
Over the years, Dolly has been a noted philanthropist, lending her name, talents and image (not to mention contributing millions of dollars) to causes as varied as literacy, education, AIDS, Down's Syndrome and the International Paraplegic Games. She has donated numerous items for charitable auctions ranging from highly-publicized national fund raisers to small-town events benefitting a specific sick child. She has not only supported but also initiated dozens of additional charitable endeavors, especially in her native Appalachia.
To slander the good name of such a loving person is simply abhorrent, and to take advantage of this horrific national tragedy to do so is even more sickening. Whoever started this rumor should be ashamed, very ashamed.
Editor's Note: Thank you to all of those associated with Dolly who assisted with your insights into this and to all of the readers who alerted me to the postings on AOL.
She's Got Class!
On a much brighter note, a European magazine, Your Life, this week released a poll of the world's classiest women of all time, and who was chosen as the lady with the second-most class ever – Dolly! Actress Isabella Rossellini topped the list. Mo Mowlam, Madonna and Vivienne Westwood rounded out the top five. Also in the top 10 were Mariella Frostrup, Hillary Clinton, Nigella Lawson, Helen Mirren and Joanna Lumley. The magazine surveyed a large panel of European style experts and celebrities, including long-time Dolly fan Graham Norton, for their choices. Mary Frances, the magazine's editor, explained in a statement: "Whilst you might expect the Katharine Hepburns or the Brigitte Bardots of this world to be topping the list, these women were chosen for their different approach to style and beauty and their ability to reinvent themselves – real classy chicks!"
A Page Turner
Reba McEntire has always cited Dolly as the biggest influence on her career, and she does so again in next week's issue of TV Guide. In an interview with the publication, she recounted how she and her siblings would sing in their family car, which did not have a radio. "And I'd sing Dolly Parton or Loretta Lynn," she said. Asked were they her role models, she responded: "In every way. They came up [in] large families, poor, always wanting more and staying the same. No matter what I do in my life, I want my friends to say, 'She's never changed, even though she is busier than ever.'"
More Dolly In Print
The new issue of Country Weekly features a large shot of Dolly at Dollywood, I'm told. Thanks, Kent!
Win With A Vote
Hal over at CMT wants me to encourage all Dolly fans to vote for "Shine" on the network's Most Wanted Live program because it will give them a chance at winning a wonderful prize package. Between now and Monday, each ballot for a video on the show automatically enters the voter in a contest with Arby's and the Grand Ole Opry Live program for a free trip to Music City. Vote once a day here! Thanks, Hal! (And remember to also vote on Great American Country's weekly countdown here.)
---
Oct. 1:
'Marry Me' Hits No. 1
The October bluegrass charts have been released by Bluegrass Unlimited, and Dolly's "Marry Me" moves up one place to take the top spot for the month on the singles chart for her first bluegrass No. 1! While Little Sparrow drops one spot to No. 4 on the albums chart for its seventh chart month, the CD has two additional songs in the bluegrass Top 10! "Bluer Pastures" is up four to No. 8, and "Seven Bridges Road" moves down three to No. 10. The CD's title cut, which had been at No. 21 for September, falls of the singles chart. Thanks, Chris!
Still In Top 10 Overseas
Little Sparrow slips one spot to No. 8 on the British country albums chart released Sunday. Currently in its 36th chart week overseas, the CD peaked for two months at No. 1 and reached No. 30 pop.
Aspen Loves Bluegrass
The Aspen Times over the weekend offered a great article on the current bluegrass boom, including a lot of discussion on Dolly's two most recent CDs and the fact that her bluegrass and acoustic efforts have earned her "much attention and acclaim." Further, the article offers brief reviews of several recent CDs, including Ralph Stanley's Clinch Mountain Sweethearts and the Songcatcher soundtrack, on both of which Dolly appears. The full article is available here.
---