---
www.dollymania.net News November 1999
---

Nov. 29: Amazon.com has named The Grass is Blue the eighth best country release of 1999 and has picked it as its current "Holiday Spotlight" CD as the best possible country Christmas present. The site has also updated its genre listings to show the CD as its biggest-selling bluegrass title. Also, on the site's list of its 100 biggest sellers overall for the year, Trio II came in 10th and 1987's original Trio 90th, and Emmylou was named their country entertainer of the year.
* * * * *

Nov. 27: Delta has just released the cover art for the re-issue of Dolly's 1972 RCA/Camden compilation Just The Way I Am. To advance order your copy, out Dec. 14, click on the cover art at left.
* The Christian Science Monitor reported Friday that Dolly is expected to schedule her first concert for PBS' Austin City Limits next season as part of the series' 25th anniversary celebration. Dolly is one of only a handful of performers producers say they've always wanted on the show but who have never appeared.
* * * * *
Nov. 25: HAPPY THANKSGIVING! At 9 p.m. Eastern tonight, CMT offers its annual video countdown and awards show, and Trio is nominated for Vocal Event of The Year against Lorrie and Sammy's "Maybe Not Tonight" and Garth and Trisha's "Where Your Road Leads." Let's wish them luck!
* A recent Launch.com article on Dolly quoted her as saying CBS has definitely purchased Heaven's to Betsy and will cast the telefilm sometime next year for filming. Thanks, Justin!
* Did ya see Reba's Biography on A&E last night? Well, she talked of her adoration for Dolly, and Dolly said all kinds of nice things about Reba. In fact, Dolly was just about the most-interviewed person on the show! Afterward, A&E featured Reba in its Live by Request concert series, and yours truly had the opportunity to talk with her and request "You Lie!"
* Update on Just the Way I Am: LA's Delta Entertainment Corp. has been named the exclusive distributor to re-issue selections from the RCA/Camden catalog, and the Dec. 14 release of Just the Way I Am will be the company's first one! The CD has been remastered with 24-bit mastering for crystal clarity and repackaged with new art, according to the label. While it will not likely be available in retail stores until after the new year, it may be ordered for its Dec. 14 release from online outlets only. Thanks to Eric at Delta for the info! Originally released in 1972, Just the Way I Am was one of Dolly's first appearances on RCA's Camden repackaging label (they eventually issued seven Dolly compilations). The album, being released on CD for what is to my knowledge the first time, features the songs "Just the Way I Am," "Little Bird," "Mama Say a Prayer," "My Blue Ridge Mountain Boy," "In the Good Old Days," "In the Ghetto," "Daddy Come and Get Me," "Carroll County Accident" and "Gypsy, Joe and Me." To order your copy, click here.
* And Martina McBride this week ties Dolly and two other artists for the second-longest time at No. 1 for a female country artist when "I Love You" marked its fifth week atop the chart in the Nov. 27 issue of Billboard. She ties with Shania ("Love Gets Me Every Time," 1997), Dolly ("Here You Come Again," 1977) and Lynn Anderson ("Rose Garden," 1970). The record holder: Connie Smith with "One a Day," which spent eight weeks at No. 1 in 1964.
* * * * *
Nov. 22: Interview magazine's December issue has what I believe is the most poetic review yet of The Grass is Blue. Dudley Saunders writes: "Ever since Parton went Dollywood on us, covering the Bee Gees and turning out dance remixes, it's been easy to forget that she started off as country music's Billy Holiday: On her ancient-sounding mountain songs, her small, pointed voice cut the heart like a razor and left it bleeding. Fortunately, Dolly has finally remembered, and gracefully turned her back on mainstream country radio with a full-on bluegrass record of almost unbearable beauty. Surrounded by classic banjo and Appalachian fiddles so keening they sound almost Middle Eastern, Dolly's unearthly soprano sounds like a mournful phantom, crying down the mountains."
* The New York Times' weekend magazine had a great interview with Dolly Sunday. To read it, click here.
* * * * *
Nov. 20: More press on Dolly's water park and 2000 Dollywood expansions! The Knoxville News-Sentinel had a great article Friday here. The Nashville Tennessean looked at what impact, if any, the development could have on Nashville tourism here Friday.
* Camden/RCA/BMG is set to re-issue a digitally remastered edition of Just The Way I Am, although I haven't obtained a track listing yet, it will apparently be a reissue of her 1972 compilation album of the same name. It will come out Dec. 14 and can be advanced ordered here.
* The holiday 1999 issue of Country Music magazine has named Kenny & Dolly's Once Upon a Christmas as one of the 10 "essential" country Christmas albums of all time! They note that Dolly's voice sounds just like Christmas bells, and Kenny looks just like Santa, so the duo is an unstoppable holiday favorite. To order your copy of their double-platinum 1984 hit CD for the holidays, click here!
* Crook & Chase's "1999 Rewind" show this week noted at its top Shania winning Entertainer of the Year and Dolly's reaction to Shania in her acceptance speech calling Dolly her idol and saying she had to meet her. "We went ahead and left the CMA Awards 'cause we wanted to not get caught in traffic," Dolly said. "And I sent Shania a telegram and I will make a point to visit with her!" She added that she had no idea Shania thought so much of her and, " I hope we can work together and write some songs." Thanks Robert!
* * * * *
Nov. 19: While at Dollywood today for its annual Christmasfest, Dolly announced several items about the park and its projects. As previously reported, the park will add an interactive treehouse next season. Also, Dolly will open a new, $20 million waterpark in Pigeon Forge in May. Also, she is taking the Dollywood Foundation's literacy programs nationwide! Busy, isn't she! For the full press release from Dollywood, click here.
* The Nashville Scene's Michael McCall gave The Grass is Blue a rave review Thursday, noting, "Dolly Parton recently released her best album in 20 years . . . captures the soaring glory and dark mysteries of Appalachian music . . . gives her a chance to show how truly brilliant she can be as a conceptualist and an arranger . . . reveals the innate musical strengths she initially flashed as a young woman." To read the full review, click here.
* * * * *
Nov. 17: CountryCool.com gave its lead feature spot Tuesday to Dolly and The Grass is Blue here!
* * * * *
Nov. 15: The Los Angeles Times Syndicate gave a great review this weekend of The Grass is Blue, noting: "The Grass Is Blue is not just a good bluegrass CD. It's one of the best albums done in that style in recent years - and one of the most pleasurable CDs of any kind released during 1999." To read the full review, click here.
* CNN on Friday even gave Dolly a note on a story about the resurgence of bluegrass, "From Bill Monroe to Dolly Parton, bluegrass holds its own," saying: "Alison Krauss mixes it with folk; Dolly Parton used it to return to her roots with her latest album, The Grass Is Blue. But attendees of the recent International Bluegrass Music Awards in Louisville's Palace Theater don't need these high-profile country singers to tell them that bluegrass, a country-music offshoot that traces its origins to before World War II, is cooler than ever." To read the full story, click here.
* There was a funny story about Dolly in an article Friday on Seattle theatre here.
* * * * *
Nov. 12: Dolly's bluegrass CD The Grass is Blue debuts on the Billboard country album charts Nov. 13 edition at No. 28.
* Dollywood on Thursday opened its annual Christmasfest, which runs through Dec. 30 with several new holiday shows and more than 2 million Christmas lights! And Dolly will be there Nov. 18! For the press release on the season, click here. For information, visit the Dollywood website here.
* * * * *
Nov. 10: Country.com on Tuesday issued its list of the 50 best albums in the history of country music to recognize the 50th anniversary of the genre's first million-seller. Dolly's entry? Coat of Many Colors, recently reissued on Buddha Records (order here). Surprises? Several rock albums are included such as ones by REM and Bob Dylan. Dolly also has a quote in an album notation of Connie Smith, "There's really only three female singers in the world: Streisand, Ronstadt and Connie Smith. The rest of us are just pretending." What they said about Coat of Many Colors: " In addition to being country music's most conspicuous star, Parton is one of country's most prolific tunesmiths. Inspiration from her songs often comes from childhood experiences, her signature song being a prime example. 'Mama sewed the rags together, sewed every piece with love, she made my coat of many colors that I was so proud of...' You know the autobiographical hit, but you ought to also know the rest of the excellent 1971 album." To see all 50, in alphabetical order, click here.
* Buddha's long-awaited re-issues of Jolene and Heartbreaker came yesterday. 1974's Jolene was Dolly's country breakthrough album, spawning the No. 1 title cut and her original (and in my opinion, best) version of the twice-No. 1 "I Will Always Love You" 18 years before Whitney Houston recorded it. It also includes the best song Porter Wagoner ever wrote, the haunting "Lonely Coming Down;" as well as the beautiful "Early Morning Breeze" and sad "When Someone Wants to Leave," both Dolly originals. Dolly's most successful pre-pop album with about 100,000 copies sold, it reached No. 6 on the country album charts. Heartbreaker, released in 1978, spawned the country No. 1 title song (No. 37 pop) and No. 1 "I Really Got the Feeling" as well as pop No. 25 disco tune "Baby I'm Burnin'." It became her third gold album and topped the country album charts for nine weeks (No. 27 pop). It is really the only Dolly album which meshes country with easy listening, pop and disco. Biographer Alanna Nash said it was the closest Dolly came to sounding like Barbara Streisand. To order Heartbreaker click here, for Jolene click here.
* * * * *
Nov. 8: Dolly was reportedly spectacular Thursday with her CD signing at Wal-Mart outside of Nashville! One fan who attended, Debbie "Pink Butterfly" Poole, submitted the following report: Fans started lining up around 5:30 a.m., and the line keep growing til the end of signing. The Wal-Mart personnel was just so very nice to all of them, and everything went so great. We received word from a manager at Wal-Mart that they had sold more than 2,000 copies of the CD and 100 cassettes. Also that they had counted people in line to have things signed, and it came out to be 1,128 people. Dolly started at 5:35 p.m. that day and did not give up til the last one in line got a sign CD. She also didn't leave from the table until 7:45p.m. (She was scheduled to appear only until 7 p.m.) She was just a doll. She was smiling all the way thru the signing and she looked very nice in her red dress and gold short coat, with matching shoes. She was just so great to everyone that went through the line. All the people that went through the line got their picture made with Dolly at the table too with the CD sign and at they gave out Dolly badges too. It was a trip that was so much fun, and I enjoyed every minute of it. Love that Dolly Parton!
* Country.com posted its own recap of the event Saturday in which she also talked about her duet with Boy George, which she said may be released as a single in the U.S. next spring. You can read it here.
* The London Evening Standard also weighed in with its review of The Grass is Blue Friday, noting: "The lady from Locust Ridge can sometimes seem like a caricature of a self-parody, but when Dolly drops the production-line schmaltz she reminds us of the beauty of her take on authentic bluegrass. Utilising Alison Krauss' band rather than a bunch of hired hats, Parton cuts to the chase on a set that echoes 'My Tennessee Mountain Home' and her part in the Trio recordings. If Appalachian fever with a large slug of Jack Daniels grabs your goat then DP has the necessary cure."

* And People Weekly named the CD its Album of the Week with this review: "Parton is 53 now, but on her last two albums she has sounded a lot like her old girlish self: chipper, emotionally engaging and unfailingly melodious. This new one is full of splendid bluegrass music, with Parton's backup band including Jerry Douglas on dobro, Sam Bush on mandolin, Jim Mills on banjo and Stuart Duncan on fiddle. (Alison Krauss is present, too, though only as a harmony singer.) Parton wrote three of the songs herself, and if they don't have the exuberant na´vetÚ of her more youthful compositions, their imagery does still reflect her Appalachian roots. She also rounded up a lively set of songs by others: Billy Joel's 'Travelin' Prayer,' Lester Flatt's tribute to suspicion 'I'm Gonna Sleep With One Eye Open,' the Louvin Brothers' 'Cash On The Barrelhead' and, most affectingly, Johnny Cash's poignant 'I Still Miss Someone.' Bottom Line: A unique singer shows why she's a Hall of Famer."
* I don't have a quote from the review, but Entertainment Weekly gave it the lowest rating I've seen so far on the new CD with a B+.
* The end of last month, the Atlanta Constitution-Journal released its reader-voted list of the most influential Southerners of the century, and Dolly made it at No. 49. Just above her: Willie Nelson at No. 47 and President Bill Clinton at No. 48. Martin Luther King Jr. was named No. 1.
* As reported here several months ago, Dolly is included on the recently-released Rhino Records millennium compilation R-E-S-P-E-C-T: A Centry of Women in Music. The song they chose to include, why "I Will Always Love You," of course. The five-CD set also features female legends from many genres including Trio pals Linda and Emmylou. To order it, click here.
* * * * *
Nov. 5: Dolly shot up last night to the No. 1 sales spot of all genres at Amazon.com! Way to go for The Grass is Blue! (And if you haven't read the Dollymania review and the Sugar Hill interview transcript or want to order this amazing CD, click here.)
* From The Boston Phoenix's Grant Alden review this week: "...an astounding performance, rippling with risk and sheer, soaring exuberance...The performance is louder and more emotionally direct than anything rock and roll has offered since the early part of this decade...The Grass Is Blue conveys all the hunger and yearning missing from the well-fed suburbs that country radio now caters to. Read it here.
* Valley Media Co., whose Independent Distribution Group distributed the CD for Sugar Hill Records, is expecting awesome sales, too. In its second fiscal quarter report released this week, CEO Rob Cain said the division, which posted record sales figures for the last quarter, should do even better in the third quarter due to the release of Dolly's The Grass is Blue and a new Cowboy Junkies CD.
* * * * *
Nov. 3: Dolly's Blue Valley Songbird, was spectacular! This was some of her best acting ever, and it featured lots of great music. She played LeAnn Taylor, a struggling singer who has never made it big and constantly reads a magazine called Peoples' Digest. Her manager/boyfriend Hank (John Terry) is holding her back, pushing her into the arms of her guitarist, Bobby (Billy Dean). Meanwhile, her father, who used to mentally abuse her as a child and physically abuse her mother prompting her mother to send her away as a teen-ager, dies, dragging back up the painful memories of her childhood. She must deal with that and break free from her destructive relationships to find success both personally and professionally. Dolly original songs included the title cut (Hungry Again), "I Hope You're Never Happy" (Rhinestone and Real Love), "Wildflowers" (Trio), "We Might Be in Love" (new duet with Dean), "My Blue Tears" (Coat of Many Colors, Heartsongs and Trio on Linda Ronstadt's Get Closer) and "Runaway Feeling" (Eagle When She Flies). Dolly also hummed "Amazing Grace" and performed the traditional "Angel Band."
* The New York Times Syndicate on Monday published a story on the film. Read it here.
* Sugar Hill Records passed this link along of radio stations' request lines here. Call all in your area to ask they play "A Few Old Memories" from The Grass is Blue!
* * * * *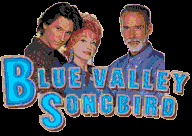 Nov. 1: MSNBC posted a great article over the weekend about Blue Valley Songbird here.
* CNN's Worldbeat noted the release of The Grass is Blue with the following on Saturday: "With so many artists returning to their roots, it is perhaps especially gratifying that Parton has decided to join their number via this brilliant bluegrass album."
* * * * *