---
www.dollymania.net News November 2003
---

Nov. 29:
Crossroads Was Spectacular
Dolly and Melissa were stunning performing together on CMT's Crossroads Friday night, with their voices and personalities blending perfectly throughout the evening. Dolly opened with an awesome bluegrass version of "Come To My Window," followed by Melissa giving an amazing rock-meets-bluegrass version of "Jolene," which, with how well she sang it, should have been her contribution to the Dolly tribute project! Melissa offered an emotional cover of "Coat Of Many Colors," and Dolly's take on "I Want To Be In Love" was simply gorgeous. She belted out Melissa's "Bring Me Some Water," and the two were wonderful on "I Will Always Love You," which was much more delicate than Melissa's version on the tribute disc. The show closed with a rollickin' "9 To 5," which was so good Melissa should record it herself. Between concert footage, the pair were interviewed by host Radney Foster at Melissa's home, covering subjects from their childhoods, drag queens and the slight differences between country and rock to Porter Wagoner and the openness each has regarding her private life, plus they offered an acoustic version of Elvis Presley's "All Shook Up." The show even boasted a question-and-answer period where audience members asked Melissa about her version of "I Will Always Love You" from Just Because I'm A Woman: Songs Of Dolly Parton (she said she wanted it to sound a bit "psycho"), what song she and her new wife danced to at their wedding ("My Girl") and what cover by another artist of one of her songs Dolly found the most surprising (Whitney Houston's "I Will Always Love You"). Unfortunately, three songs recorded at the concert in Hollywood in October were cut from the broadcasted version: Melissa's cover of "It's All Wrong, But It's All Right," Dolly's take on "You Can Sleep While I Drive" and a duet of Johnny Cash's "I Walk The Line" (which had Dolly joking as they sang face-to-face "I'm not Madonna -- I'm MaDolly! Don't make me kiss you!" Also in introducing the song, Dolly said her first crush was on Johnny, and Melissa said her first crush was on "a certain young lady on The Porter Wagoner Show!"). A clip from that final song, including Dolly's joshing line, was shown during commercials promoting the special, but its performance was cut from the final version. Hopefully, CMT will see fit to release the full-length concert as a DVD including the deleted songs. We can only hope! The show will repeat on CMT throughout the month. See TV listings on the right-hand side of this page for dates and times.
---
Nov. 28:
'God' Takes A Tumble


For God And Country, Dolly patriotic and spiritual collection, plummets 26 notches in its second chart week to come in at No. 49 country in the Dec. 6 Billboard charts, down from its debut peak at No. 23, it was announced Thursday. The album falls off the 200-position pop chart and comprehensive chart after just one week on each at No. 167 pop and No. 186 comprehensive. The CD drops only seven places on the independent labels albums chart in its second week, coming in at No. 13. The tribute album Just Because I'm A Woman: Songs Of Dolly Parton falls 14 spots to No. 25 country for its sixth chart week, dropping 64 spaces on the pop albums chart to No. 172, two points to No. 5 on the indie albums side and 87 places to No. 198 for its second week on the new comprehensive albums chart. Ultimate Dolly Parton drops off the 75-position country albums chart, down from No. 68 last week in its 24th chart week, but the tribute album Livin', Lovin', Losin': Songs Of The Louvin Brothers, for which Dolly and Sonya Isaacs contributed "The Angels Rejoiced," debuts on the country chart two months after its release, coming in at No. 61. Toby Keith's Shock'n Y'all, remains at No. 1 country for its third week but falls four spots to No. 9 pop, while Alan Jackson's Greatest Hits Volume 2 remains at No. 2 country in its 15th chart week but gains four notches on the pop chart to come in at No. 16.
Canadian Update
The Dolly tribute collection falls 16 spots to No. 23 country in its sixth chart week in Canada and drops off the pop side, down from No. 98 in its second week on that chart last week, it was announced Thursday. And Dolly's holiday CD with Kenny Rogers, Once Upon A Christmas, inches up another place to No. 9 country in its fourth chart week this year.
CMT Poll: Most Thankful For Dolly
CMT.com's Thanksgiving Day online poll was which legendary artist were readers most thankful for. As of Thursday evening, Dolly and Loretta Lynn were tied with a quarter of the votes each, followed closely by Willie Nelson with 22 percent. Trailing just behind him were George Jones with 15 percent and Merle Haggard with 12 percent. Vote here.
Set The VCR!
Don't forget that CMT premieres Dolly's duet concert with Melissa Etheridge in its Crossroads series Friday night at 10 p.m. Eastern with repeats throughout the next several weeks! Late Thursday night, CMT.com made a preview of the special its lead news story, although most of the text was the same as the article available for the past several days on the portion of the site dedicated to the series. Read the new version here.
---
Nov. 27:
HAPPY THANKSGIVING!
TV Briefing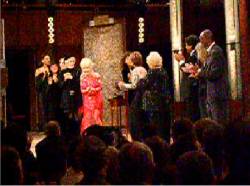 Dolly was the second-biggest star on the stage at the Kennedy Center's Mark Twain Prize For American Comedy (after all, it was Lily Tomlin's night), aired on PBS Wednesday night. A parade of admirers offered pieces of their own comedy and tributes to the genius of Tomlin's performances as various television, film and stage clips from her career were shown. Jane Fonda, the second-to-last speaker, took the stage to tell of her admiration for the comedienne and how she originally set out to make 9 To 5 a drama until she saw Tomlin perform in Los Angeles and decided to cast her in the film. Leaving the theatre, she heard Dolly on the radio and decided to cast her as well. Immediately, the film had to be a comedy, she said. Clips were then shown of Tomlin's fantasy sequence poisoning Dabney Coleman's character and of the trio of actresses in the hospital after they believed he had actually been poisoned. A few seconds after the applause for the film began after the clips, the band played the first beats of "9 To 5," and the applause greatly increased. Fonda shouted over the crowd: "Oh! I am so happy to introduce my friend, Dolly Parton! Woo!" Dolly came on stage to perform the film's title track, during which the crowd clapped to the rhythm and after which she received the longest stretch of applause of all the stars for the evening except for Tomlin herself. Dolly then offered her own tribute:
"I, of course, was so proud to get to be here tonight because I love Lily. I've loved her before we got to do 9 To 5. I think she's just brilliant, and Jane Wagner, her friend and partner's worked with me, too, with some of the shows that I've done, and I think she's brilliant as well. But I think Lily has spent her entire life in search for intelligent life in the universe. (Laughs from the crowd.) I do. So what in the world is she doing in Washington? (Laughs and applause.) Lily is not the kind of comedian that tells jokes. She, like Mark Twain, tells us the truth about ourselves, and we laugh to keep from crying. So, Lily, you keep tellin', and we'll keep laughin'. Anyhow. (Applause.) Thank you, Lily. (Applause.) And right now, to present Lily with the Mark Twain Prize is the chairman of the Kennedy Center, Jim Johnson!"
Johnson presented Tomlin with the sculpture of Twain, and she came on stage to a standing ovation to offer a humorous acceptance speech detailing why she did and didn't deserve the award, praising her life partner Wagner for her writing of the material she's performed over the years and offering a few lines in the voices of some of her favorite characters. As the show ended, the entire group came back on stage. Lily walked through them, kissing each one on the cheek, then stood center stage between Dolly and Fonda, interacting with each of them as the band played and the audience showed its appreciation.Image courtesy Hans Kline.
Dolly also made another television appearance on Wednesday, this time on VH1's All Access in an episode dedicated to "Awesomely Bad Fashion." However, she wasn't chided for her choice of clothes. In a segment criticizing stars who wear outfits fashioned out of the American flag, Dolly's design for this year's Fourth of July concert and For God And Country album cover was shown, but she was complimented on the outfit, with the announcer saying the look met with public approval and one critic adding that if she wants to wear a flag it was fine with him, so long as she kept "the girls" up and out front.
Dolly PETA
CMT.com reported on Wednesday that Dolly's commercial for the People for the Ethical Treatment of Animals (PETA) is now airing nationwide. As you may recall it was reported here several months ago, Dolly contributed her song "Will He Be Waiting For Me" to play in the background as Kathy Najimy rushes home to the love of her life. At the end of the spot, the viewer discovers that her love is for her dog, reminding people not to neglect their pets. The site also says a spot featuring Emmylou Harris at the Grand Ole Opry is now airing and one using Loretta Lynn's song "I Wanna Be Free" will soon be broadcasted as well. Read their story here.
Hair Today
Dolly's 'do got a mention in USA Today this week in a story discussing big hair. Accompanying a photo of the diva, the article notes: "If there were a Big Hair Hall of Fame, Dolly Parton would be a shoo-in for admission." Read the story here.
Concert News
The Smoky Mountain News reports that the Voices In The Laurel choir will perform at Dolly's benefit concerts next month at Dollywood. Read the story here.
---
Nov. 26:
Poll: Dolly A 'Sex Goddess'
British magazine Erotic Review recently asked readers and contributors to pick the 50 sexiest people in the world, and Dolly made the cut. In the issue hitting newsstands across the pond this week, she was named one of the publication's 25 "Sex Goddesses" alongside Cate Blanchett, Debbie Harry, Liv Tyler, Jerry Hall, Kristin Scott Thomas, Pam Grier and others. On the "Sex Gods" side, men in the top 25 included Keith Richards, Colin Firth, Johnny Depp, Jude Law, George Clooney, David Bowie, Sir Ian McKellen and, surprisingly, the Dalai Lama. View the full list on The Scotsman here.
Thanks For The Honor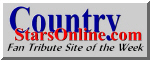 Dollymania this week was chosen as the Fan Tribute Site-o-the-Week by Country Stars Online. This marked the first time a Dolly-related site has taken the honor, which has been given out weekly for the past two-and-a-half years. Thanks!
---
Nov. 25:
RS: Dolly In Top 500
Rolling Stone this week unveiled its 500 Greatest Albums Of All Time, and Dolly's 1971 masterpiece Coat Of Many Colors comes in at No. 299, ranking eighth of the scant dozen country albums included on the tally. Read the full list here.
Up On Americana
The tribute CD Just Because I'm A Woman: Songs Of Dolly Parton inches up another notch to No. 3 on the weekly Americana Music Association countdown with 724 spins at radio during the previous week, it was announced Monday, up from 703 spins the week before. Livin', Lovin', Losin': Songs Of The Louvin Brothers, on which Dolly and Sonya Isaacs perform "The Angels Rejoiced," remains steady at No. 13 with 453 spins.
TV Watch!
It's Dolly TV time! She gets a spot of costuming criticism on VH1's All Access "Awesomely Bad Fashion" episode premiering at noon Eastern on Wednesday, followed by her appearance on the PBS airing of Lily Tomlin's Mark Twain Prize for American Comedy ceremony, airing at 9 p.m. Wednesday in most markets. Then on Friday it's the first repeat of her duet on "The Grass Is Blue" with Norah Jones when CMT re-broadcasts this year's CMA Awards at 7 p.m., followed by the premiere of the network's Crossroads concert of Dolly with Melissa Etheridge at 10 p.m. Eastern (see CMT.com's page for the special here).
Have A Holly, Dolly Christmas
But that's not all! As the holidays approach, it's time for some good Dolly cheer! After a few years off the airwaves, Dolly's classic 1986 yuletide film A Smoky Mountain Christmas gets another broadcast on CMT throughout the second half of the month, it was announced this week. In addition, 1996's Unlikely Angel once again airs on Lifetime during the holiday, and The Magic School Bus Holiday Special featuring an animated Dolly from 1994 airs on The Learning Channel. For complete schedules, view the TV Listings section on the right-hand side of this page. And what holiday would be complete without some Dolly tunes! Check out these holiday offerings below: