And thanks to my pal Andrew over at Rare Dolly for setting me straight on ticket sales in the U.K. Contrary to the U.S. system, where one outlet has exclusive ticket sales for an event (other than the ticket brokers who buy up tickets and then sell them for two or three times their original value), they spread things out a little there. So while Ticketmaster may be sold out for her two Wembley Arena shows, some other authorized retailers still have a few seats remaining for sale. These include See Tickets, Ticketline and Stargreen.

Helping Out Another Worthwile Effort
You'll have the chance Tuesday to place a bid on another one of Dolly's limited edition autographed dulcimers to benefit a worthy cause. She's donated one to support WHY, an organization which works to wipe out hunger and poverty around the world. The item will be featured in the annual Hungerthon auction to be held live on New York radio stations WCBS and WINS from 11 a.m. Eastern until 1 p.m. The stations will be streaming the auction live on their websites, and bids may be placed at the appropriate time by calling 1-800-5HUNGRY. Click here for more information.

Dolly in Print
I'm told there's a Dolly photo in the new issue of People magazine (the one saluting George Clooney as the Sexiest Man Alive). She is shown backstage with several other leading ladies from CMT's Giants: Reba concert taping with honoree Reba McEntire. The issue is on newsstands now.

Park Production Honored
Dollywood's "Dreamland Drive-In" show was honored last week as one of the best shows of the year at amusement parks worldwide. The musical tribute to the '50s and '60s took the Heartbeat Award at the International Association of Amusement Parks and Attractions (IAAPA) Attractions Expo 2006 in Atlanta and its Big E Awards. The honor recognizes the show which demonstrates superior overall ability to reach the hearts of its audience based on cast commitment, production content and quality and the effectiveness of the producers in attempting to create a special connection with the audience. More than 130 shows were considered for the award. It also received an honorable mention for Best Overall Production in its budget category ($500,001-$1 million). The show, which opened in May, plays in the park's Pines Theatre.
---
Nov. 20:
N.Y. Set Changes, Few Tickets Left Overseas
I'm told Dolly changed her show up a little for the upstate New York crowd at Verona's Turning Stone Casino. Added to the set was the song that a teen-aged Dolly recorded as her first single, "Puppy Love" and switched was Richard Dennison as her duet partner for "Islands In The Stream" instead of using an impersonator and Kenny Rogers's recorded voice for that song and "Love Is Strange." A few other tunes she had performed at Thursday's concert down the road in Connecticut were also dropped, including "Marry Me," "Applejack" and "Crimson and Clover." A reader who attended tells me the crowd was a bit older and more subdued that a typical Dolly concert, but she still put on her usual spellbinding performance. Thanks, Anthony! Nearby, The Post Standard in Syracuse, N.Y., gave another rave review, recapping her Southern fried humor, spectacular voice and amazing showmanship. Take a read here.
Meanwhile, two more dates on Dolly's 2007 European tour sold out over the weekend: her March 15 engagement in Oslo, Norway, and the March 19 concert at Wembley Arena in London, the latter of which is that venue's second sell-out for her on the tour. Tickets remain available for just five of the tour's 21 concerts.
And some reviews started to show up over the weekend from her Thursday night show in Connecticut. Read a glowing one from Saturday's The Republican in Springfield, Mass., here. Fan site Dolly On-Line on Saturday posted a great selection of beautiful photos from last week's show here, and fan site Dolly Parton Central here offered not only photos but also a recap of the trip to see the concert.
She heads next to Canada for three sold out nights at the Toronto-area Casino Rama Monday through Wednesday. Thursday and Saturday's shows were her only scheduled U.S. concerts this year, although she is expected to launch a full U.S. tour next year to coincide with her next CD release sometime after the European leg is completed.
Christmas Classic Coming To TV This Year
Although I believe it's been off the air for about three years now, Dolly's holiday favorite, A Smoky Mountain Christmas, is slated to return to CMT this season. The network is scheduled to show Dolly's 1986 made-for-television movie throughout the holidays starting Dec. 3. See the schedule through Dec. 10 at left (that's the last date for which CMT has released its upcoming schedule, although I'd expect it to continue showing through Christmas and will update the Dollymania TV listings to reflect those dates once they're available from CMT).
'Giants' Recap
For those who missed Dolly's appearance on CMT Giants: Reba which premiered Saturday night, be sure to catch the repeats throughout the month on the cable network. Dolly shows up about an hour into the program, introduced by Kelly Clarkson as Reba's personal idol. She enters to a standing ovation and performs "How Blue." At the song's conclusion, she jokes that Reba shouldn't sit on her country butt throughout the entire tribute and calls her on stage to join in on a repeat of the song's chorus, instructing Reba to sing lead so she may provide harmony. Dolly even got some laughter by flubbing one of the song's lines while Reba was with her. At the song's conclusion, she told her to go sit her ass back down :) She was also shown in the audience several additional times throughout the program.
Mandrells Heading To DVD
Thanks to Scott for alerting me to the upcoming Time/Life release of The Best of Barbara Mandrell and the Mandrell Sisters Show. The DVD, which will be shipped exclusively from Time-Life starting Tuesday, is slated to feature at least part of Dolly's appearance on the series premiere back in 1980. Running just four hours -- and featuring at least 14 guests -- it doesn't appear the collection will have any full episodes, but rather will include segments from several shows during its two-season run. You may order it here from Time-Life, and I understand it is expected to be released to the general public for sale in all DVD stores in the near future, likely in January.
Warhol Controversy Erupts
An artist claims he painted the Dolly portrait attributed to Andy Warhol which failed to sell for its expected $1 million-plus price tag at Sotheby's auction house last week, according to the "Page Six" column of The New York Post over the weekend. The main says he was one of several artists who created works for Warhol's studio which were then represented to customers as being by Warhol himself. Sotheby's, however, disputes the assertion, saying the work had been authenticated as painted by Warhol and had even once been owned by the Warhol Foundation. Read more here.
Ferguson's Book Publicized
Larry Ferguson, Dottie Rambo's manager, has his new book, Driving Ms. Dottie, which features several Dolly stories, profiled in the San Antonio religious website SA Worship this week. Take a read here, and you may order the book from Rambo's official website here.
Another Library Note
Dolly's Imagination Library literacy program is coming to Niles, Ohio, the nearby Youngstown Vindicator reported over the weekend. Read the piece here.
---
Nov. 18:
Literacy Program Heads North On Tuesday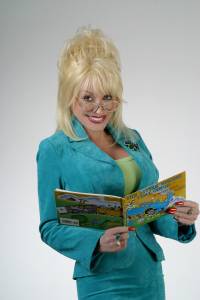 The Imagination Library, Dolly's nationwide literacy program, evolves into an international program next week with the official launch of its book-giving services in Canada, it was revealed. Although plans for it to soon take hold north of the border have been known for some time, the official kick-off information was just released on Friday. While in the Toronto area for three sold-out concerts next week, Dolly will take time for a media appearance to publicize the effort there. On Tuesday afternoon she will be at St. Lawrence Hall in Toronto, where she is expected to read a book to a kindergarten class, present the first Canadian Imagination Library book to a local infant and mother, take questions from the press and entertain with a few songs, including "9 To 5" and a rare performance of "I Will Always Love You" accompanied just by her own guitar. In recognition of the program's expansion, a Canadian representative will be added to the blue ribbon panel which selects the books for children to receive, with the aim of increasing the number of Canadian authors represented in the program. The program there is being offered by Dolly's charitable Dollywood Foundation in partnership with a Canadian nonprofit, Invest In Kids, and thanks to corporate sponsors Capital One, Rotary International, Healthy Beginnings and Bent Arrow Traditional Healing Society. The program will first be offered to communities in Atlantic Canada, Alberta, British Columbia and northern Ontario. Conceived as a gift for the children in her home county of Sevier County, Tenn., in 1996, Dolly's program provides one free, hardcover, age-appropriate book each month to every child from birth to age 5 whose parents sign up in a participating community. Her foundation oversees its administration and covers the overhead costs, while local sponsors pay for the actual book purchase price and shipping costs for the children in their community. It expanded nationwide in 1999 thanks to a $7 million contribution from Dolly and one of her companies. It distributed its 1 millionth book in December 2003, and by the end of 2006, it anticipates mailing its 10 millionth volume to a child. There are currently more than 250,000 children in nearly 600 communities enrolled as participants. Learn more about the Canadian partnership here, and view the official Canadian poster for the effort here.
Calif. Seats On Sale, N.Y. Show Saturday Night
Tickets went on sale Friday morning for Dolly's Feb. 16 casino show in Indo, Calif., but they were moving a bit slow, it seemed. The first floor section appeared Friday evening to be about half sold out, with a few rows taken already in the back floor and sides, but most of those seats were still readily available for purchase from Tickets.com. There are also still a few rows left open in the very back raised section of the venue for Saturday night's Verona, N.Y., concert via Ticketmaster as well. (Again, as your webmaster will not be in attendance, readers are encouraged to please send recaps and photos here. Thanks!)
Barbara And Dolly Duet
If you're reading this update early enough Friday evening, be sure to check out The Barbara Walters Special: 30 Mistakes In 30 Years at 10 p.m. Eastern on ABC. The second half of a two-part show, Walters is counting down what she feels are her worst errors in her three decades of interview specials, and there's a Dolly moment. No. 13 is "Never ask me to sing, because I will." The segment is slated to feature her misguided attempts to carry a tune during an interview, including footage of her joining in with Dolly during their early-1980s interview and another sing-a-long with Billy Crystal. Read more about the show here.
'Angel' Airing Earlier
You'll be able not only to enjoy Christmas with Dolly -- via her Unlikely Angel airing on The Hallmark Channel -- but Thanksgiving weekend as well, schedule updates released Friday showed. The cable network will now broadcast the 1996 movie for the first time this year at 7 p.m. Eastern next Friday, Nov. 24, with a repeat on Nov. 25. Additional airings, listed in the TV schedule on the left-hand column of this page, continue through Christmas Eve and early, early Christmas Day.
'CMT Giants' Reminder
Don't forget to catch Dolly honoring close pal Reba McEntire in the first CMT Giants concert special Saturday night on the cable channel. The show premieres at 8 p.m. Eastern with repeats several times in coming weeks. The Tennessean previewed the program Friday with a fairly lengthy piece here, and there are a couple of Dolly mentions in an article about it in The Northwest Indiana Times available here.
---
Nov. 17:
Dolly Rocks Connecticut
I'm told Dolly's 90-minute Mohegan Sun concert Thursday night in Connecticut got off to a bit of a rocky start with a timing glitch. Apparently, the enthusiastic crowd was a bit rowdy, and someone backstage told Dolly they were going to give them an extra 10 minutes to calm down before she took to the stage. But that's not what happened, because the band started her opening number, "Baby I'm Burning," and she had to sprint to get on stage, telling fans after the song that she was supposed to have been on stage a little earlier than she ended up making it. The first reader to send in a recap Thursday says the only songs added to the set which were not performed at any dates on her two previous tours were "God's Coloring Book" and the finale, "Travelin' Thru." Instead of the puppet she had used to stand in for Kenny Rogers on handful of dates on her 2004 tour, she used a live impersonator for Kenny on their duets of "Love Is Strange" and "Islands In The Stream." Her usual jokes and stage banter returned, although a spontaneous occurrence at this show was when a fan threw a feathered boa on stage before "I Dreamed About Elvis," which she quickly put on to vamp up the act. When she tried to return it, the fan told her it was a gift, so she kept it and used it again later. Thanks, Al! Although the newspaper reviews weren't available yet as of the time of this posting Thursday night, Connecticut's The Day on Thursday had previewed the show with a little article here, and in advance of Saturday night's show at the Turning Stone Resort & Casino Event Center in Verona, N.Y., (a few seats for which remain available via Ticketmaster), Utica's The Observer-Dispatch previewed her concert there with a story here. And don't forget that tickets for her Feb. 16 engagement at Fantasy Springs Resort Casino in Indo, Calif., go on sale at 10 a.m. Pacific time Friday via Tickets.com.
Chart Updates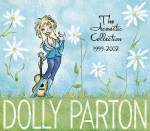 It may soon be ending its chart run, as Dolly's roots music boxed set, Dolly Parton: The Acoustic Collection, 1999-2002, takes a dive this week five spots to No. 15 on the 15-position bluegrass albums chart in the Nov. 25 numbers, Billboard magazine announced Thursday. In Canada, 1984's Once Upon A Christmas by Dolly and Kenny Rogers gains eight to No. 26 in its second week on the country chart this year, while Dolly's 1990 collection Home for Christmas falls out of the country top 50 there after reaching No. 39 in its sole week in the top 50 this year. Elsewhere on the charts, her duet with Brad Paisley, "When I Get Where I'm Going," falls back off the 20-position recurrent country singles charts, which tracks radio airplay of songs that have been removed from the main singles list due to longevity rules. It had previously been at No. 18 for a 28th week on the chart and an audience of about 6.0 million listeners. The album which features the track, Paisley's Time Well Wasted, benefits from its CMA win for Album of the Year to gain six spots to No. 8 country and shoot up 35 places to No. 34 pop and 27 digits to No. 34 comprehensive in its 65th chart week. Up north, it rises 14 to No. 21 Canadian country. Martina McBride's Timeless, with Dolly on "I Still Miss Someone," inches up one to No. 57 country in its 56th chart week, losing four to No. 19 Canadian country. Kenny Rogers's 21 Number Ones, featuring "Islands In The Stream," falls four to No. 51 country in its 42nd week. Rhonda Vincent's All American Bluegrass Girl, including Dolly on "Heartbreaker's Alibi," rises one to No. 6 bluegrass in its 25th chart week. Clay Aiken's A Thousand Different Ways, with his version of "Here You Come Again," tumbles 47 spots to No. 136 pop in its eighth week. Miley Cyrus, the daughter of Billy Ray Cyrus and star Hannah Montana, the show on which Dolly recently appeared as her godmother, relinquishes the pop chart's top position after two weeks with her show's soundtrack dipping four to No. 5 in its third week. Keith Urban, a Dolly duet partner on her most recent CD, scores the No. 1 country album with the debut of his Love, Pain & the Whole Crazy Thing moving 270,000 copies to also come in at No. 3 pop, while duo Sugarland debuts at No. 2 country, No. 4 pop with 211,000 units sold of their sophomore set, Enjoy the Ride.
More Pics Posted
A few more Dolly shots by Dollymania correspondents Harrell and Patric from the Smoky Mountain Christmas Fest kick-off at Dollywood have been added to that section of the site here. I suspect this will be the last group of images from the weekend to be posted. Thanks!
Reese To Toast Dolly At Kennedy Center
E! Online reported Thursday that this year's Best Actress, Reese Witherspoon, will participate in next month's Kennedy Center Honors ceremony to present the honor to her personal idol, Dolly. The item was newsworthy in the celebrity press because it will reportedly be her first public appearance since filing for divorce from husband Ryan Phillippe. A native Nashvillian and lifelong Dolly fan, Witherspoon finally met Dolly a little over a year ago at a magazine photo shoot to promote Walk The Line, and Dolly has said the two since then have forged a close friendship. Witherspoon is well-known in Hollywood for singing Dolly karaoke on the sets of her films and she is one of a handful of actresses who have expressed interest in playing Dolly whenever she brings her life story to the Broadway stage in a musical she has been writing for some time. Read E!'s story here.
---
Nov. 16:
Dolly Hits Conn., N.Y.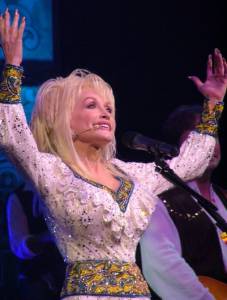 The night has finally arrived for Connecticut Dolly fans, as she will take to the stage at 7:30 p.m. Thursday at the Mohegan Sun Arena in Uncasville for her first concert in nearly a year. The venue had appeared to be about 80 or 85 percent sold out, but a few mid-level seats were released to the public on Wednesday and are available via Ticketmaster. (Since I cannot attend, readers are encouraged to please send recaps and photos here. Thanks!) In advance of the engagement there, The Hartford Courant in Thursday's paper offers a cute interview with her on which she touches on her upcoming Kennedy Center Honors, her recent bluegrass recordings, the joy of harmony singing (which she compares to an orgasm), her upcoming CD, her recent cookbook, her lack of political affiliation and more. She repeats that she plans a U.S. tour when her next CD comes out in 2007 (which she has said will hopefully be late spring or early summer). And when asked if we'll see her in heaven some day, she answers in typical Dolly joking fashion: "If there's a heaven, I hope to hell I go!" Read the full interview here.
Her next show, Saturday night at Turning Stone Resort & Casino Event Center in Verona, N.Y., has a few seats left in the back of the arena, which appears to be about 95 percent sold out. Those are also available from Ticketmaster. Her only other scheduled concerts this year are three sold out nights next Monday through Wednesday at Casino Rama near Toronto. Although she is expected to add more 2007 U.S. dates, currently her only announced one goes on sale at 10 a.m. Pacific time Friday via Tickets.com for her Feb. 16 date at Fantasy Springs Resort Casino in Indo, Calif.
And a few more dates in her March and April 2007 European tour are getting closer to selling out. Tickets remain available for only seven of her 21 concerts there next year, and two of them, March 19 at London's Wembley Arena (itself a second date at the venue added after her March 25 show there sold out) and March 31 in County Cork, Ireland, are down to just a handful of single-seat tickets remaining, meaning all tickets for two or more adjoining seats are sold out. Those single seats are available at Ticketmaster U.K. Image of Dolly from last year's tour is © copyright 2005 T. Duane Gordon/Dollymania.net. May not be reproduced without prior written consent.
More From Dollywood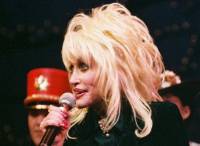 View even more images of Dolly from her recent appearance to kick off Dollywood's Smoky Mountain Christmas Festival from Dollymania correspondents Harrell and Patric in that section of the site here, including a larger version of the image at left. Thanks, guys! Photo courtesy Harrell Gabehart and Patric Parkey. Used with permission.
Reba: Dolly Should Have Been Honored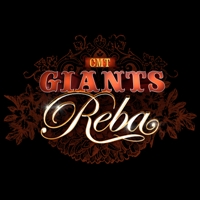 Who does Reba McEntire think deserved to be honored with CMT's first-ever Giants tribute more than her? Her idol, Dolly, of course! The singer-actress told the Associated Press had she chosen the honor's first recipient, she would have selected Dolly, who performs on the program. Taped in Hollywood last month, the concert special premieres on the cable network at 8 p.m. Eastern Saturday night. Dolly performed McEntire's early hit "How Blue," with McEntire herself joining in for part of the song. Check out an AP photo of the two of them together at the special here, and read the story promoting it which concludes with Reba's comment about Dolly here.
They Didn't Want Dolly?
Although the overall auction was a record-breaker for Sotheby's auction house Tuesday night, a Dolly work of art didn't attract a buyer. Two pieces by legendary pop artist Andy Warhol failed to sell at the auction house this week, including one of his Dolly portraits. (He created a series of several Dolly portraits in 1984 on commission for her then-manager Sandy Gallin, but Gallin didn't like the finished product and Dolly had to ask Warhol if he'd take them back. He did and they eventually sold for several times what Gallin had first paid.) The piece had been estimated in value at between $1 million and $1.5 million in the auction catalogue, but it didn't even get a bid at its opening price of $700,000. Another Warhol, "Avanti Cars," valued at between $1.8 million and $2.5 million, also didn't sell, and other works which didn't move included a $4 million piece by Brice Marden and a $10 million Roy Lichtenstein. According to published reports, art experts believe the pieces may have been overpriced by their owners. Read an article from The New York Sun here and one from Art Net (which includes a photo of the Dolly print) here.
Dolly Had Hand In Osborne Disc
Joan Osborne fans have Dolly to thank for the "One Of Us" singer's new country outing, Pretty Little Stranger. Osborne told The Nashville Scene this week that the album came about because longtime Dolly producer Steve Buckingham asked her to perform "Do I Ever Cross Your Mind" on the Just Because I'm A Woman: Songs Of Dolly Parton tribute album, and that spurred them to plan a full CD together, the result of which is her Buckingham-produced collection on Sugar Hill sister label Vanguard. Read her full interview here.
Library Update
Dolly's nationwide Imagination Library literacy program is moving into another town, The Manning Times in Manning, S.C., revealed this week. The project will soon expand into Clarendon County there. Read more here. Dolly's project, active in about 600 communities across 42 states and in the process of getting started in Canada and the U.K., provides one free, age-appropriate, hardcover book each month for every child birth to age 5 in a participating community whose parents sign up. Dolly's charitable foundation pays the overhead and administers the program from its Tennessee offices, and local sponsors cover the actual cost of book purchase and mailing, about $27 per child annually.
---
Nov. 15:
'Coat' Makes 'Time' Top 100


Dolly's 1971 masterpiece Coat Of Many Colors has been selected one of the 100 best albums of all time by Time magazine, the publication announced Tuesday. Dolly's album is just one of five country selections on the list (the others being by Johnny Cash, Willie Nelson, Garth Brooks and Ray Charles with his first country LP). The top 100 are organized by decade of release rather than in order from best to worst, and Dolly's is one of 29 taken from the 1970s, the decade with the most entries on the countdown. About her disc, the reviewer noted: "Anyone skeptical of a music career that's been gradually obscured by Parton's exuberance on talk show couches needs to pay attention to this archetypal album . . . Parton's not above sentimentality, but it's in constant battle with her feminist/realist leanings, and the whole package is tied together with a voice so crystaline it can't help but crack a little when the going gets rough." Read the full note about the record here and look at the complete list here.
More From Dollywood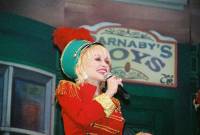 The latest photos from Dollymania correspondents Harrell and Patric from Dolly's recent Smoky Mountain Christmas appearance at Dollywood have been added to that section of the site here, including a larger version of the image at left. Thanks, guys! Photo courtesy Harrell Gabehart and Patric Parkey. Used with permission.
Holiday Tunes Enjoyed


San Francisco-area newspaper group Inside Bay Area reviews this season's new holiday albums this week, including its reviewers' lists of their top personal favorite Christmas recordings, and one of them chose Dolly's collection with Kenny Rogers, Once Upon A Christmas, as his third-best, noting: "Surprisingly low on the cheese factor, this pairing of the 'Islands in the Stream' partners yields fantastic Parton originals 'Once Upon a Christmas' and 'With Bells On.'" Read the full article here.
Early Birthday Prep
Although Dolly's birthday is still more than two months away, one fan is already collecting well wishes to send her in a giant card next year. You may send a photo of yourself with your name and birthday message for Dolly to Dolly_Parton_Rocks@yahoo.com to be included in the final project. (Please be sure to include your photo if you're participating.) The deadline for submission is Jan. 12. Thanks, Jennifer!
---
Nov. 14:
Dolly Reveals More CD, Tour Details For '07
Confirming fan speculation, Dolly told The Republican in Springfield, Mass., this week that she expects to tour the U.S. for about three months later in 2007 to coincide with the release of her upcoming album, Country Is As Country Does. She hopes to have the disc out "in the spring or early summer," although she is still currently working on it. She also revealed that the CD's title track is a new tune she composed with Mac Davis out in California about being equally comfortable in a country setting or a more refined atmosphere and explained that at least half of the project's songs will be her original compositions. In addition, she reiterated that she hopes to soon put out her I Am A Rainbow children's book with a corresponding CD to include tracks such as "Big Rock Candy Mountain," and noted her lack of political affiliation. "I'm not a political person. I'm very patriotic, but not the least bit political," she explained. "I'm not a Democrat or a Republican. I guess that'd make me a 'hipocrat.'" The quite lengthy interview, which was to promote her nearby Connecticut casino concert on Thursday (the show appears to be about 80 percent sold out, with seats in the back of the venue remaining available from Ticketmaster), also touched on her upcoming Broadway show, her upbringing in mountain poverty, Dollywood, her charity work, her desire to have radio success, films, plastic surgery and more. Read the full piece here.
Holiday Music Is Out Again
For this holiday season, Madacy Records has repackaged Kenny Rogers's 1981 solo Christmas album on Liberty Records, Christmas, and his 1984 duet album with Dolly, Once Upon A Christmas, into a new double-CD titled Kenny Rogers: Christmas Collection. The set features the standard U.S. nine-song re-issue of his Dolly collaboration (with Kenny's two solos removed and Dolly's non-holiday "Hard Candy Christmas" added in). Get your copy here!
An 'Idol' Almost Meets An Idol
American Idol finalist Kellie Pickler thought she might be meeting one of her own idols recently at the Nashville airport bathroom, reports the celebrities column in The Tennessean on Monday, but when she stopped the woman who looked like Dolly, it turns out she was a Dolly impersonator from Las Vegas. She says if she ever does meet the real Dolly, though, she hopes it isn't in a public place or she'll "lose it." Read the story here.
---
Nov. 13:
Calif. Cinema Offers Dolly Triple Play
The organizer of a series of film marathons at a San Francisco cinema tells me they've selected Dolly for December's celluloid subject. Midnites for Maniacs will host its "Dolly Parton Triple Feature" Friday, Dec. 8, at The Castro Movie Place with The Best Little Whorehouse In Texas, 9 To 5 and Rhinestone. Tickets will be available for advance purchase from Ticketweb. Jesse Hawthorne Ficks, who puts the mini-film festivals together roughly once a month, tells the site: "I have wanted to do this for a long time and finally the time has come!"
Dolly In Print
Dolly is showing up in a couple of magazines this week, I'm told. Stateside, there's a shot of her with actress Dakota Fanning on the red carpet entering the taping of CMT Giants: Reba in the U.S. version of OK! magazine. (Thanks, Nick!) And she also shows up with a three-page article and cover photo on the Nov. 13-19 edition of the U.K. magazine Big Issue. (Thanks, Steve!)
Holiday Film On Hallmark Channel
Its full holiday schedule isn't out yet, so I'd expect the movie to repeat a few more times before Christmas gets here, but The Hallmark Channel announced over the weekend that Dolly's 1996 seasonal film Unlikely Angel will once again hit the airwaves on the cable network this winter. It is currently slated to air Dec. 3 and 9.
European Compilation Correction
Thanks to U.K. fan Joe Skelly for setting me straight on the upcoming Dolly CD compilation, a newspaper report on which was referenced here in Friday night's update. He tells me he doesn't know how the newspaper got the story so wrong, but all he was asked to do was make some suggestions of tracks which might be included on the disc and doesn't know yet if any of them will appear on the final project. He added that the story contained several other inaccuracies as well.Thanks.
---
Nov. 11:
Extra Belfast Concert Sells Out Fast
I don't know how many hours -- or possibly how many minutes -- it took this time, but Dolly's second Belfast concert sold out Friday shortly after 8,000 tickets were made available for April 3 at The Odyssey. The fact that a second Northern Ireland concert would be added was announced about a week ago shortly after the first 8,000 seats for her March 30 show sold out in 20 minutes and left 5,000 fans in line without seats. The actual date of the new concert and its ticket sale date were just revealed three days ago, but fans snapped up those tickets well before the day was over Friday. Also sold out once again is her March 25 engagement at London's Wembley Arena (it had previously been sold out, but a few tickets were released for sale Thursday). And after Ticketmaster showed it as having no seats available Thursday, tickets are once again being sold for her March 15 night in Oslo, Norway, so it is no longer sold out.
Paper: New Compilation Coming
A British fan is overseeing a new Sony BMG Dolly compilation of material previously unavailable on CD, according to West Cumbria's Times And Star. The newspaper reported Friday that Joe Skelly, who heads the unofficial Dolly Part'ners fan club in the U.K., was asked by the label to select the 18 tracks for a new compilation which will be released in observance of her European tour next spring. "I picked the tracks off vinyl so fans get to hear songs that have never been on CD before, rather than just the usual 'Nine to Five,' 'Here You Come Again' and 'Islands in the Stream,'" he explained. Read more here.
New Dollywood Images Available
The next set of shots from Dollymania correspondents Harrell and Patric of Dolly's appearance at Dollywood last weekend are now available. Click here to visit the galleries in that section of the site! Thanks, guys!
New Disc With Old, Rare Track


Thanks to Solomon for alerting me to a new CD released exclusively at Cracker Barrel restaurants featuring a rare Dolly track. Great Ladies of the Opry: Grand Ole Opry Live Classics offers several recordings made live from the Opry stage, including one that sounds to be several years old of Dolly performing her 1974 No. 1 "Jolene." It is available in stores at the restaurants nationwide and from its online store here.
'Going' Loses To 'Believe' Again
Well, Brooks & Dunn have beaten out Dolly and Brad Paisley once again. After their "Believe" won over "When I Get Where I'm Going" for Single and Video of the Year at the CMAs this week, it also overtook that song for the 12th annual Inspirational Country Music Awards, held in Nashville Thursday night, where both tracks had been up for Song of the Year and Video of the Year.
Don't Forget To Vote!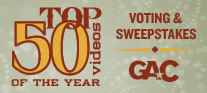 Don't forget to visit Great American Country (GAC) to vote for your favorite videos of the year, including Dolly's "Imagine," her duet of "When I Get Where I'm Going" with Brad Paisley and her duet of "Heartbreaker's Alibi" with Rhonda Vincent. The top 50 vote-getters will be counted down on the cable network starting 8 p.m. Eastern Dec. 25, and votes are accepted once daily per person through Dec. 4 here or on the logo at left, where you also have the opportunity to enter for several great prizes!
---
Nov. 10:
'Acoustic' Rises, 'Going' Returns To Charts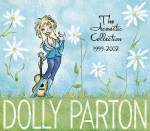 It's been three weeks since your Dolly-related charts were updated here, and I think that's about the final part of the site on which I'm running behind, so here they are! Billboard revealed Thursday that Dolly's Sugar Hill boxed set, Dolly Parton: The Acoustic Collection, 1999-2002, is nearing its original peak on the bluegrass albums chart. It rises two spots to No. 10 in its fourth chart week on the magazine's Nov. 18 charts, just one digit shy of its debut position at No. 9. Also, thanks to attention garnered by the CMA Awards this week, Dolly's award-winning duet with Brad Paisley re-enters the 20-position county recurrent singles chart at No. 18 for a 28th week after a two-week absence. The former No. 1 song gained about half a million listeners for the week to log in an audience of nearly 6.0 million as gauged on the list of radio popularity of songs which have been removed from the main singles tally due to chart longevity rules. The CD which includes the song, Paisley's Time Well Wasted, which itself took home Album of the Year this week, inches up one to No. 14 country in its 64th week, rising eight to No. 69 pop and 10 to No. 62 comprehensive. On the Canadian country list, it gains nine to No. 35. Martina McBride's Timeless, featuring Dolly on "I Still Miss Someone," spends its 55th chart week by dipping 17 spots to No. 58 country. Up north, it loses four to No. 15 Canadian country. Kenny Rogers's 21 Number Ones, with "Islands In The Stream," drops two to No. 47 country in its 41st week. Rhonda Vincent's All American Bluegrass Girl, featuring Dolly on "Heartbreaker's Alibi," remains steady at No. 7 bluegrass in its 24th chart week. Clay Aiken's A Thousand Different Ways, including his cover of "Here You Come Again," loses seven to No. 89 pop in its seventh week. Miley Cyrus, Billy Ray's daughter and star of the Disney series Hannah Montana on which Dolly recently guest-starred, enjoys her show's soundtrack as the No. 1 pop album in the nation for a second consecutive week. It has sold nearly 485,000 copies in just two weeks. Atop the country charts, it's an American Idol week, with finalist Kellie Pickler, who has been compared (favorably by critics and unfavorably by Simon Crowell) to Dolly, debuting at No. 1 country, No. 9 pop with her collection Small Town Girl selling 79,000 units, while Idol winner and 2006's Female Vocalist of the Year Carrie Underwood gains two to No. 2 country and three to No. 19 pop with Some Hearts.
It's Beginning To Look A Lot Like Christmas


It's that time of year again for that annual appearance north of the border. Yes, the holidays are approaching! Dolly's 1984 platinum collection with Kenny Rogers, Once Upon A Christmas, on Thursday made its yearly debut on the chart, coming in at No. 34 Canadian country. Each year it usually makes it very close to or even into the top 10 there. Surprisingly, though, Dolly's solo holiday collection, Home for Christmas from 1990, shoots up 48 spots to No. 39 in its second week on the chart this year. That CD hasn't been on the charts there in several years.
Three More European Sell Outs
Dolly's concerts overseas just continue to attract fans, as three additional dates sold out on Thursday: the recently-added second show in Denmark and her engagements in Oslo, Norway, and Helsinki, Finland. On the other hand, a few seats became available Thursday for her previously sold-out show March 25 at Wembley Arena in the London area, although I suspect rather than releasing some seats that had been held back or something like that, some ticket holders may have asked to switch their tickets for ones being sold for the second concert she has added at the venue on March 19 after that show was moved from April 3. Tickets for both are available from Ticketmaster U.K.. And don't forget that seats for her second Belfast show, April 3, will go on sale at Ticketmaster Ireland at 9 a.m. local time Friday.
Broadway Is So Slow, Dolly Tells Paper
In preparation for her Verona, N.Y., casino show a week from Saturday, Dolly had a telephone interview with The Post Standard in Syracuse which was published on Thursday. Dolly discusses her biggest tunes, her desire to write at least one more mega-hit song, her unusual sleep habits and more, although the only real new news is that she reveals the Broadway adaptation of 9 To 5 which she is writing now could open in fall or winter 2007 or even early spring 2008 in a worst case scenario. "I've never seen such a slow process in my life," she told the paper. It was originally reported that the show should open by fall 2007. She also said she is writing songs about love and life for her next CD, although she believes composing so much comedy for the upcoming musical has sharpened her songwriting wit. Read the full story here.
Dolly To Appear In Rambo Tribute Show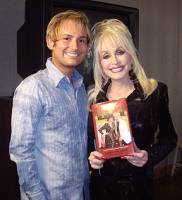 Dolly this week filmed a segment talking about her longtime friend Dottie Rambo, with who she recorded the award-winning gospel duet "Stand By The River" three years ago, for an upcoming documentary about the gospel legend's life. Rambo's manager, Larry Ferguson, said he and Rambo very much appreciated her taking the time to participate in the project, which is expected to air on the INSP network sometime next year. While visiting with Dolly, Ferguson said she complimented him on his recent book, Driving Miss Dottie, which focuses on his experiences managing the singer's career and includes a chapter on Dolly. After the interview was over, she even posed with Larry and a copy of the book. The book is available for sale from Rambo's official website here. Image provided by Woodland Press.
Store Reminders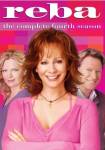 My apologies for forgetting to remind folks that Charlie Pride's new CD, Pride & Joy (A Gospel Selection), which features Dolly on a cover of her classic "God's Coloring Book," came out on Tuesday of this week. Get your copy here! And don't forget that Tuesday of next week brings to store shelves the fourth season of Reba, including the episode which focuses on Dolly as guest character Dolly Majors, a Realtor interested in hiring Reba. Reserve your copy here!
---
Nov. 9:
'Dolly' Show DVD Release Date Known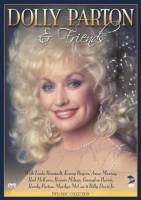 Although the distributor still has yet to formally announce it, Amazon.com is reporting a release date has been set for the upcoming Dolly DVD collection, Dolly Parton and Friends. According to the retailer, MPI Home Video is slated to now release the two-disc set on Feb. 27 at a suggested retail price of $30 -- although pre-ordering at Amazon here allows a discounted price of $20.99. As you may recall it being reported here a couple of months ago, the set will feature six episodes of her 1976-77 half-hour music variety series Dolly: 1. with guests Linda Ronstadt and Emmylou Harris, 2. Kenny Rogers, 3. Anne Murray and Randy Parton, 4. Rod McKuen, 5. Ronnie Millsap and 6. Marilyn McCoo and Bill Davis Jr. In addition, it is reportedly slated to feature two bonus items: footage of her performing a couple of songs from The Porter Wagoner Show. You may also recall that MPI had originally planned to release the series on three discs five years ago, but those plans were placed on indefinite hold until the new two-disc plans were leaked.
Kennedy Honors Air Date Revealed
CBS has announced the air date and time for Dolly's presentation of the Kennedy Center Honors. The program, which will be taped in Washington before an invitation-only crowd on Dec. 3, will be shown on the network at 9 p.m. Eastern Dec. 26. Dolly is being honored with the prize this year alongside one-time duet partner Smokey Robinson, musical theatre composer Andrew Lloyd Webber, film director Steven Spielberg and conductor Zubin Mehta. She is just the fifth country music performer in the history of the awards to be recognized.
---
Nov. 8:
Belfast, London Switch Concert Dates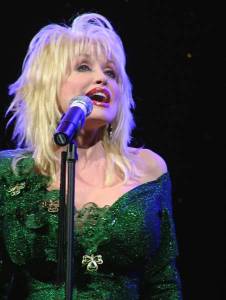 There were a couple of re-arrangements on Dolly's 2007 European tour on Tuesday. Her previously-promised second date in Belfast, Northern Ireland, scheduled in response to 5,000 fans remaining in line for tickets after the 8,000 seats for March 30 there sold out last month in 20 minutes, was announced for April 3, according to The Belfast Telegraph here. Tickets will go on sale via Ticketmaster at 9 a.m. local time Friday. As April 3 was the date which had been set for her second Wembley Arena show in the London area (itself planned after her first concert in the stadium sold out in a couple of days), the extra Wembley concert has been moved to March 19. Tickets for it are also available on Ticketmaster. Image of Dolly in her Irish outfit for the 2004 season opening of Dollywood in celebration of its Festival of Nations is © copyright 2004 T. Duane Gordon/Dollymania.net. May not be reproduced without prior written consent.
CMA Updates: Dolly Holds New Record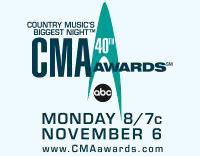 Although a post-awards statement from her hasn't been released yet, Dolly spoke to The Tennessean prior to Monday's Country Music Association Awards about her collaboration with Brad Paisley, "When I Get Where I'm Going," which would go on to win Musical Event of the Year at the ceremony. "What a great song of hope," she told the newspaper. "The people you love so much are gone, and you want to believe you're going to see them again. I was singing it and just started crying, slinging snot and tears. And when I looked in the control room, it had touched everybody. They felt what I was feeling, and I was singing for Momma and Daddy and my grandpa and all the people I loved. I think 'When I Get Where I'm Going' is one of the best things I've ever done." Read the paper's full story here.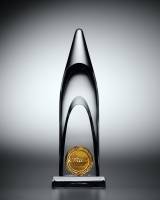 In other news, I looked through the records and saw that Dolly is now the only artist to win an award in each of the five decades in which the CMA has existed: the 1960s, 1970s, 1980s, 1990s and 2000s. (Previously, she had been the only one to win awards in four decades, but this marked her first regular CMA victory in the '00s -- although she had won the CMAs' International Achievement Award in 2004, the Association does not count special awards such as that toward an artist's official total.) Also, Hannah Montana star Miley Cyrus, who presented an award Monday night with her dad and TV co-star, Billy Ray Cyrus, told reporters that her multi-colored outfit was meant to serve as a tribute to her show's recent guest star, Dolly. "I thought of my aunt Dolly," she said. "That totally looks like the coat of many colors." Read notes about that from The Tennessean here and Knoxville News-Sentinel here. CMA logo and 2006 award image are provided by Country Music Association. Used with permission.
More Pics From Dollywood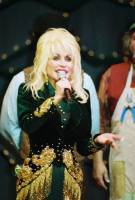 Special thanks go out to my pals Jason Worley and Debbie Poole for sending in some great shots from this weekend's festivities at Dollywood. Not only do you get to see photos from Dolly's appearance to kick off the Smoky Mountain Christmas Fest and shots of the new Babes In Toyland show, but Jason also provided pics of the construction progress on next year's $17.5 million Mystery Mine roller coaster. Check out the galleries in that section of the site here. Thanks! Image at left courtesy Jason Worley. Used with permission.
'Going' Gets Book, Another Nomination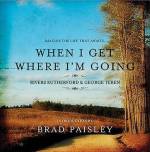 The new issue of Country Weekly profiles a new book released about three weeks back based on Dolly's hit "When I Get Where I'm Going" with Brad Paisley. The song's composers, Rivers Rutherford and George Teren, collected inspirational stories that add to the song's message. It also features an introduction by Paisley and a CD single of the duet with Dolly. Get your copy here. (In related news, the magazine is also accepting votes for its annual Reader's Choice Awards, and the duet is up for Favorite Inspirational Song, the only nomination Dolly has -- although you may write-in her name for any category! Vote here!)
Vote For Dolly Videos On GAC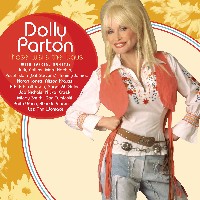 Thanks to Bridget for alerting me that Great American Country (GAC) is currently taking votes for its year-end countdown of the 50 best videos of 2006. Any country video released to the cable outlet during the past 12 months is listed on their site and eligible for selection. Each visitor may choose his or her 10 favorites once daily (plus enter for the chance at great prizes). The videos include Dolly's cover of John Lennon's "Imagine" and her duets with Brad Paisley on "When I Get Where I'm Going" and with Rhonda Vincent on "Heartbreaker's Alibi." Vote here!
Catch 'Reba' Repeat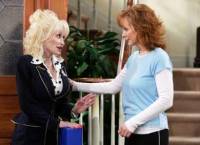 If you missed Dolly's appearance last year on the former WB sitcom Reba, you can catch another repeat of her guest spot episode on the Lifetime cable network Nov. 21, which happens to fall just three days after CMT premieres its big CMT Giants: Reba tribute concert featuring Dolly (and two days after Reba's almost-cancelled television show returns to the airwaves as a mid-season replacement for the WB/UPN merged CW television network). Image of Dolly and Reba on the show courtesy The WB.
---
Nov. 7:
Dolly 1-For-3 At CMA Awards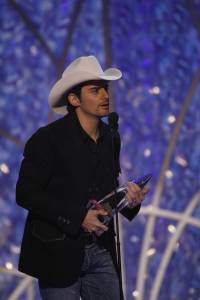 Dolly and Brad Paisley were named this year's Country Music Association Musical Event of the Year for their collaboration, "When I Get Where I'm Going." Unfortunately, the award was presented prior to the telecast on ABC Monday night, so while it announced on the air that they had won, Paisley's acceptance speech for the honor was not shown. Dolly was not in attendance (although she made a brief appearance, as they showed clips before commercial breaks of various performances over the awards' 40-year history, including her and Kenny Rogers singing "Islands In The Stream"). CMT.com reported here that Paisley dedicated the award to Dolly when he accepted it. The site said he stated in part: "I want to thank her so much for raising the bar on a song. Any time Dolly Parton sings a song, it's infinitely better in every way. Thank you, Dolly, wherever you are, for being a part of this and giving us another award together."The duo lost their other nominations to Brooks & Dunn and their inspirational hit "Believe," which took the Single of the Year and Video of the Year honors. The song's composers, Rivers Rutherford and George Teren, also got bested by "Believe," with its writers, Craig Wiseman and Ronnie Dunn, taking home the Song of the Year trophy for songwriters. Dolly's duet partner also lost out for two of his other nominations, Male Vocalist of the Year and Entertainer of the Year, to Keith Urban and Kenny Chesney, respectively. However, his full-length album containing the hit Dolly track, Time Well Wasted, was named Album of the Year. Dolly's sole win for the evening brings her total of regular CMA Awards to nine (or a total of 11 if the two special awards she has received from the Association are included). If you go with the CMA's "official" total of nine, she is tied with Chet Atkins, Johnny Cash, Tim McGraw, Willie Nelson, Alabama, The Judds and The Statler Brothers for the sixth most CMA wins. Brooks & Dunn are first now with 19, followed by Vince Gill with 18, Alan Jackson and George Strait with 16 each, Garth Brooks with 11 and the Dixie Chicks with 10. If her complete total of 11 were used instead, she'd be tied with Brooks at fourth place. As usual, the critics were mixed prior to the show. The Louisville Courier-Journal had said "Believe" would win Single of the Year but that "Going" was more deserving of the prize. Cox News Service had thought "Jesus Take The Wheel" by Carrie Underwood would take the prize but agreed "Going" should be the rightful winner. They also got it wrong thinking "Going" would win for Song of the Year and Video of the Year but picked it right when they said Dolly and Paisley would win and should win the Musical Event trophy. USA Today thought "Jesus" would find victory in the Single category but agreed Dolly and Paisley would be a better choice. The newspaper missed saying the song would win the Song of the Year contest and that Bon Jovi and Jennifer Nettles would take home the statue for Musical Event. Image of Paisley accepting the Musical Event of the Year trophy for his Dolly duet is by John Russell/CMA. Provided by Country Music Association. Used with permission.
Pics From Dollywood Posted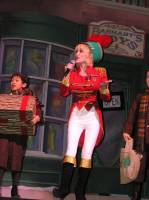 Special thanks go out to reader Beth Cale and Dollymania correspondents Harrell Gabehart and Patric Parkey for sending in photos from Dolly's weekend appearances at Dollywood to kick off the park's Smoky Mountain Christmas Festival. Check out some images from her making her way to her afternoon private event from Beth. And Harrell and Patric offer shots of both outfits she wore at the Babes appearance (including the cute toy soldier nutcracker-style suit shown here). I'm told she sang a song from the show, left the stage, then came back for a second appearance at the end of the performance, during which she introduced all of the backstage staff for the production and thanked the audience for coming. As was previously reported here, her scheduled parade through the park Saturday afternoon was cancelled. The site's reporter at the event said he was told the reason for the cancellation was Dolly was suffering from an earache and didn't want to aggravate it (her parade is held on a fairly long route in an open-car, which would have exposed her to the day's unusually cold air). Those galleries are available here, and I expect more in coming days! Thanks again! Image at left courtesy Harrell Gabehart and Patric Parkey.
Dolly In Photographer's Book
I'm told David LaChapelle's amazing shots of Dolly are finally available in book form. The third installment of the "LaChappelle's Trilogy" of the photographer's books was released last week in the U.K., and Heaven To Hell contains his Dolly magazine shots "Prize Doll" and "Dollywood." Amazon shows it being released in the U.S. here at month's end. Thanks, Gerard!
---
Nov. 6:
Second Denmark Concert On Sale Monday
Thanks to some of the site's European readers for alerting me that it was announced over the weekend that due to ticket demand, Dolly has added a second concert in Denmark next year. The development came after tickets for her 2007 European tour opener on March 7 in the nation reportedly sold out last week in just seven minutes. The new show will be held the night before, March 6, and tickets for it will go on sale Monday via Billetlugen. Also selling out over the weekend were her 8 p.m. March 23 engagement in Glasgow, Scotland, and March 28 in Birmingham, England. The March 31 performance in County Cork, Ireland, is down to just a handful of single-seat tickets and should sell out in the next few days. Also, a few more tickets appear to have been released for her March 9 Bergen, Norway, show, meaning it is no longer sold out.
Dolly At Dollywood
Unfortunately, most fans didn't get a chance to see Dolly during a short stop at Dollywood on Saturday to kick off the park's Smoky Mountain Christmas festival, which continues through Dec. 30. She made a brief appearance at a special media and VIP performance of the new "Dollywood's Babes In Toyland" show in the morning as well as at least one private appearance for some other special guests in the early afternoon. Her previously-planned appearance in a dusk parade through the park grounds was cancelled. I'm told it was quite cold there on Saturday, and since her parade appearances there are always weather-permitting (and have been cancelled in the past due to weather), that may be why she left early. Thanks to those who sent in their reports, and look for some photos in coming days!
Cookbooks On The Way
Several readers e-mailed over the weekend to let me know their copies of the Dolly's Dixie Fixin's cookbook arrived on Saturday. Given the number of days it usually takes the postal service to deliver mail, it appears the books were likely shipped at the end of October, as was promised by the postcards that went out several weeks ago to those who advance ordered Dolly's fund-raising book benefiting her Dollywood Foundation Imagination Library (customers were informed at the time that printing delays had pushed its mailing date back from mid-September to the end of October). So if yours isn't in your mailbox yet, expect it soon! And if you haven't ordered one yet, get it here!
CMA Reminder
Don't forget to watch the 2006 Country Music Association Awards on ABC starting at 8 p.m. Eastern Monday, with Dolly and Brad Paisley up for Single of the Year, Music Video of the Year and Musical Event of the Year for their duet "When I Get Where I'm Going." As of the CMA's most recent announcements, Dolly is not scheduled to appear on the show as a performer or presenter. (Some print ads for the show and some media reports have mentioned her in association with the show, but if you read them carefully, they are listing her as a nominee only and not as appearing on the program.)
I Have Returned!
Thank you all for your patience while your webmaster was overseas taking a vacation, and those who e-mailed their well-wishes for a safe and enjoyable journey are also most appreciated. I had intended to keep the news page updated a little more than I managed to while in Japan, but unfortunately a block of time in the middle of the trip found me without Internet access, so I was unable to do so for several days. (Once I regained access, though, time limitations kept the updating to a minimum, and I ended up not having any more time to add to the blog and photo page I had intended to maintain on the trip – however, for those who are interested, I do intend to post some more photos on that page here later this week.) As I just returned back to the States Sunday evening, it will likely take a few more days to get back into the old regular routines, so please bear with me if the updates are a little sporadic for a few days as I re-adjust to "normal" life. Thanks!
---
Nov. 3:
Second Wembley Date Added
With amazing sales last week of her concerts for 2007 overseas – nearly all of them are either sold out or on the verge of selling out – additional shows are being added. This includes a second date at London's Wembley Arena on April 3, tour promoters confirm to Dollymania. Tickets will go on sale to the public for that show at 9 a.m. British time Saturday, although a pre-sale started at noon Friday for fans here. Also, she told The Belfast Telegraph here that she will be adding a second show there either in April or August after her engagement there sold out in 20 minutes. I'm told the tour opener in Denmark sold out in seven minutes, and her show in The Netherlands was sold out in less than an hour. Thanks! Check out an interview in London'sThe Guardian here. Her original Wembley date also appears to be virtually sold out with just a handful of single-seat tickets remaining available. Other shows which appear to also be sold out include Cardiff, Wales; her afternoon show in Glasgow, Scotland (tickets are available for an evening performance that night); Karlstad and Stockholm, Sweden; Dublin, Erie; and Bergen, Norway. In addition, she has added a U.S. show next year, Feb. 16 at the Fantasy Springs Resort Casino in Indo, Calif. Tickets for that date go on sale Nov. 17 via Tickets.com. Finally, British program GMTV, which was used to formally announce her U.K. dates a couple of weeks back, is giving away backstage passes to the show. Enter the contest, which is open only to residents of the U.K., Channel Islands and Isle of Man through Nov. 26, here.
Report: Dolly And Simpson To Sing
OK, I don't know how accurate this is since its source was a British news syndicate which sometimes bases its reports on false stories from the tabloid press, but Launch.com forwarded a report that Dolly has gained a promise from pop sensation Jessica Simpson to perform together at some point in the near future at Dollywood. Read more here. (And don't forget Dolly's scheduled appearance at the park Saturday for its Smoky Mountain Christmas kick-off. I've been out of the loop for a while overseas, but hopefully everything there is still a go this weekend. Since I cannot attend, please send photos here. Thanks!)
Urban Comment Published
Dolly has weighed in on the Keith Urban rehab story, telling the press prior to last week's taping of the CMT Giants concert honoring Reba McEntire that "I love Keith. He's going to be just fine," according to People magazine's online edition here.
In Memoriam
In sad news, Buddy Killen, who helped a teen-age Dolly with her first major label recording for Mercury Records, passed away Wednesday at his home, according to published reports. He was 73. In a statement which the press carried from Dolly, she remembered him fondly, saying: "He will live in my heart and memory like a classic song. He was one of the very first people to see my dream and not only did he see it, he tried to help make it come true." Read an obituary from Reuters news service here.
---