---
www.dollymania.net News November 2010
---
Nov. 30:
Latest From 'Joyful Noise'
A fourth cast member for Dolly's gospel choir film with Queen Latifah, Joyful Noise, has been revealed. Access North Georgia reports here that local singer Karen Peck of the gospel group Karen Peck and New River has joined the picture with a small speaking role and a song that she'll record for the movie. In addition to the two main stars, the only other actress identified thus far for the project is Nickelodeon's Keke Palmer.
---
Nov. 29:
Have A Dolly Holiday
For those wanting to have a "Holly, Dolly Christmas," CMT has added several more airings of Dolly's classic 1986 holiday film A Smoky Mountain Christmas. As was previously reported here, the network will broadcast it at 3:30 p.m. Saturday afternoon for the first time this season. Repeats have been announced for 12:30 a.m. Sunday morning, 4 p.m. and 10 p.m. Dec. 9, 4 p.m. and 8 p.m. Dec. 15, 9 p.m. Christmas Eve and 3 p.m. Christmas Day.
'9 To 5' Songbook Delayed Once More
The release date for the sheet music from Dolly's 9 To 5: The Musical has been pushed back once again. The songbook is now expected to be out Dec. 30. Get yours here!
Dolly Inspires Dallas Runners
Runners taking part in the White Rock Marathon through Dallas, Texas, next weekend will be in for a Dolly treat. The route has a double set of steep hills toward its end, which because they are a pair have become known as the "Dolly Parton hills" in tribute to Dolly's famous bust. To help make the run more fun, that part of the path is lined with folks dressed up as Dolly, according to The Dallas News here.
---
Nov. 26:
'Once Upon A Christmas' Returns To Pop Charts


For the first time since its original release 26 years ago, Kenny & Dolly's Once Upon A Christmas is back on the pop charts. The re-entry is due to a change in chart rules several months ago that changed the Billboard Top 200 albums to reflect the 200 best-selling albums in the U.S. instead of the 200 best-selling recent releases in the U.S. Add to that what appear to be the biggest sales of the album in more than 15 years last week, and it returns to the Top 200 at No. 174 to log a ninth week on the chart where it first peaked at No. 31 back in 1984. Great sales also bring it back onto the pop catalog albums list, where older album sales are tracked, logging its first appearance on that list since 1994. It comes in there at No. 47 to mark its sixth chart week, where it previously peaked at No. 15. In its second chart week of the season on some other charts, the collection rises a dozen digits to No. 7 country catalog albums, its 62nd week on the tally it normally re-enters annually, and gains seven spots to No. 41 on the all-genre holiday albums chart, its 31st week on that chart. Up north, the album inches up two to No. 6 Canadian country in its fourth week there this season, holding steady at No. 46 Canadian pop albums in its third week on that list this season. Elsewhere on the Dec. 4 U.S. Billboard charts, Rhonda Vincent's Taken, featuring a Dolly duet, falls two places to No. 10 bluegrass in its ninth chart week, while Steve Martin's The Crow - New Songs for the 5-String Banjo, with its own Dolly collaboration, falls off the bluegrass albums chart, down from No. 4 the previous week, its 90th on the 15-position chart. On the overall charts, Rascal Flatts' Nothing Like This debuts at No. 1 country and No. 6 pop with 165,000 copies sold in its first week, while Keith Urban's Get Closer debuts at No. 2 country and No. 7 pop with 162,000 units moved in its first week.
---
Nov. 25:
Dolly: Happy Thanksgiving, Y'all!



Dolly on Wednesday released a Thanksgiving video message to her fans, wishing them a good holiday and saying she is thankful for the progress she's making on a musical of her life story, a movie of her life story and a new book she's writing. Watch it in the media player above or by clicking here.

Park Sees Numbers Rise For 2010
The Knoxville News Sentinel reports that Dollywood has had a good year, rebounding from last year's recession-influenced small dip in attendance figures. Check out the news here.
---
Nov. 24:
Dolly Tells Larry King Goodbye
Dolly made her 10th and final appearance on CNN's Larry King Live Tuesday night, telling the interview icon he will be very much missed from his hour-long nightly television show when he retires early next month. He began with a group of clips from her previous appearances through the years, moving into discussions of her upbringing, Dollywood, her upcoming film Joyful Noise and her career. He asked for her opinion on President Barack Obama, given that she said on her most recent appearance shortly after his election that she was excited and wished him well. She said she was praying for him and still hopes he does well, adding regardless of which party in the White House, it's a difficult job and the press "crucifies" whoever is in the position. She was also asked again about the behavior of goddaughter Miley Cyrus and for her opinion on country's current sweetheart, Taylor Swift. Watch what she had to say in a clip of those comments here. She was asked about her large gay fan base, which led her to a discussion of tolerance and a call for acceptance of all minorities and more love, noting her duet with Queen Latifah from Joyful Noise is a song she wrote called "Not Enough" about there being not enough love in the world today.
'Dolly' Fruit Grown In Malaysia
Even across the Pacific Ocean, they know of Dolly and her famous chest. A buxom hybrid of the Malaysian oil palm fruit that was created in the 1960s to grow shorter plants that produce larger bunches of fruit was originally called DXP but has since become known by the nickname of those initials: "the Dolly Parton type" oil palm fruit. Check out a story from Malaysia's Business Times here. Thanks, Jason!
---
Nov. 23:
Report: Dolly Has 'Secret' Sevier County Plans



Thanks to Chuck for sending along a recent Dolly interview with East Tennessee's WATE in which the anchor notes she is working on a "secret" Sevier County project. Most of the interview focuses on Dollywood's Applause Award win, and she also mentions her recent repeating the announcement from last month that she'll release a new CD and tour in 2011. Check it out here or in the media player above.

'Travelin' Dolly' Video Released



Dolly's official record label website, DollyPartonMusic.net, on Monday released a video compiling dozens of photos from its "Travelin' Dolly" contest over the summer, where fans took pictures of a Dolly cut-out at locations around the world (including one of her on the Imagination Library train at your webmaster's office). Watch the video here or in the media player above.

'Larry King Live' Reminder For Tuesday
Don't forget, as was reported here last week, Dolly is the guest Tuesday night on CNN's Larry King Live. The cable network is promoting the show as "the country music legend in a rare, in-depth personal interview." She will be on for the episode's full hour starting at 9 p.m. Eastern -- and don't worry fellow "Gleeks;" there are several repeats into the night (Glee is scheduled to run until 9:01 p.m.), so if you miss the start of Larry King Live, you can catch it again later.

CMT To Air 'Smoky Mountain Christmas'
Those wishing to watch Dolly's 1986 ABC holiday classic film A Smoky Mountain Christmas this season are in luck! CMT has announced plans to air it on Dec. 4. No word on whether they will also show it later in the month, but that's likely.

Park Opens Online Store
Fans who love Dollywood and Dolly but just can't make it to the park to pick up their souvenirs rejoice! After years of requests, the park has finally opened an online store featuring many pieces of its merchandise, including mugs, shirts, hats and Dolly CDs and DVDs. Check it out here! Thanks, Chris!

Dolly Sells 'Buffy The Vampire Slayer' Rights
It's been 18 years since Dolly's Sandollar Productions made the film Buffy The Vampire Slayer, which was spun off by original screenwriter Joss Whedon into a cult classic television show co-produced by Sandollar that ran from 1997 through 2003, but the movie continues to make her money. Warner Brothers Pictures announced via a press release Monday that it had optioned the rights to the movie from Sandollar and creator/director/producer Kaz Kuzui and his wife/co-producer, Fran, to do a series "re-load" with a new film expected for late 2011 or early 2012. Many media outlets noted the conspicuous absence of Whedon from the new version. Check out a story from Variety here.
---
Nov. 22:
Dolly Still On The Chart Overseas
Although the British country compilation charts weren't updated online by the Official Chart Company for the past three weeks, Dolly's still around on the list, it was revealed in the latest update Sunday. Dolly: Live From London rises one for the week to No. 6 in its 46th week on the tally, while The Essential Dolly Parton, a 2005 compilation, re-enters the 20-position list at No. 20 for its 207th chart week.
German DVD With Dolly Hits Store Shelves There
While it does not appear to be available online yet or in any U.S. stores, three boxed sets containing all episodes of the West German music series Musikladen digitally remastered were released in Germany last week. Set two contains the 1977 show in which Dolly played a mix of new and old material for the full hour. (If someone finds a copy, this would be a Region 2 DVD, so you would need a regionless DVD player to watch it outside of Europe.) Thanks, Niko!
Girl's Dolly Meeting Makes Local Paper
You may recall a story posted here several weeks ago of a young girl named Amanda who met Dolly recently thanks to the Kids Wish Network. The Observer and Eccentric papers in Detroit over the weekend also covered the trip with a piece here.
---
Nov. 20:
Dollywood Gets Big Brass Rings
After taking home the industry's top award, the Applause Award, earlier this week at the International Association of Amusement Parks and Attractions (IAAPA) convention in Orlando, Dollywood left the conference with its 16th and 17th Brass Ring Awards for Excellence in Live Entertainment from the IAAPA. Imaginé took Best Overall Production, while The Gemtones won Best Atmosphere/Street Performer. In addition, Sha-Kon-O-Hey! Land Of Blue Smoke received an honorable mention. In a press release, Dolly commented: "Our live entertainment at Dollywood absolutely sets us apart from any other park in the world. I know our shows played a big role in helping Dollywood win the Applause Award, and now getting two Brass Ring Awards for our live entertainment just makes this year, our 25th anniversary, even more special for me and our entire Dollywood family!" The park now has collected more Brass Ring Awards than any other park in the world.
'Joyful Noise' Cast Added
According to gossip blog Just Jared Jr., Nickelodeon's True JacksonL VP star Keke Palmer has been cast alongside Dolly and Queen Latifah in the upcoming gospel choir film Joyful Noise. Read more here.
Good Marks For '9 To 5: The Musical'
Variety magazine gives Dolly's 9 To 5: The Musical touring company a very positive review, looking at the stop in Houston that concludes on Sunday. The reviewer recognizes Dolly's "cheeky and charming narration" and calls the script a "broadly humorous" tale. Check out the full review here.
---
Nov. 19:
'Once Upon A Christmas' On U.S. Charts


After two weeks since returning to the charts in Canada, Dolly's Once Upon A Christmas with Kenny Rogers has re-entered the American tallies. The 1984 collection debuts for the first time this season on the country recurrent albums chart for "non-new" CDs at No. 19, marking its 61st week on the chart on which it had previously peaked at No. 1. It also debuts for the first time this year on the all-genre holiday albums chart at No. 48, its 30th week on that list on which it previously peaked at No. 4. Up north, the disc slips one to No. 8 Canadian country in its third week there this season, while it gains 18 spots to No. 46 Canadian pop albums in its second week on that tally this season. Elsewhere on the Nov. 27 U.S. Billboard charts, Rhonda Vincent's Taken, with its Dolly duet, loses two places to No. 8 bluegrass in its eighth chart week. Steve Martin's The Crow - New Songs for the 5-String Banjo, featuring a Dolly collaboration, rises three to No. 4 in its 90th week on the bluegrass chart. On the overall charts, Taylor Swift's Speak Now holds steady at No. 1 country and dips one to No. 2 pop in its third week, while Jason Aldean's My Kinda Party holds steady at No. 2 country and falls four to No. 6 pop in its second week.

Applause Award Coverage Continues


Dollywood's winning of the Applause Award, the theme park industry's top honor, continued to rack up headlines on Thursday. East Tennessee's Tricities Channel 11 interviewed Dolly via satellite, viewable in the media player above or by clicking here. Thanks to Jason for alerting me that the park's name "trended" on the Yahoo search engine, appearing as the No. 9 search on Wednesday and No. 5 on Thursday (yes, moving from 9 to 5!). The International Association of Amusement Parks and Attractions posted a story on the award here. Thanks, Tony! And she also did a satellite interview on FOX News here. Thanks, Greg!

Dolly Gives Library Interview
Tennessee literacy publication Chapter 16 this week offers a fairly lengthy interview with Dolly about her Imagination Library literacy program. Check it out here. Thanks, Tony!
---
Nov. 18:
Continuing Coverage Of Dollywood Award



Coverage continued Wednesday of Dolly's appearance in Orlando, Fla., to accept the prestigious Applause Award for Dollywood, during which she also repeated last month's announcement of her 2011 album and world tour (although this was the first time that the news got picked up by the media other than The Huntsville Times and Dollymania.net). In addition to numerous newspapers and blogs that cited the Reuters or Associated Press stories, CNN marked the award here, while AOL's country music blog The Boot here and celebrity gossip blogger Perez Hilton here both noted the CD and tour, although AOL referred to it as just her 43rd studio album (it's in reality her 45th SOLO studio album – they must not be counting her gospel albums or something – and if soundtracks on which she performed the majority of songs as well as her trio and duet albums – she recorded 13 with Porter Wagoner alone – are added, this will be her 67th studio album). You may also watch her complete 13-minute press conference after the award was given. The footage, viewable in the media player above or by visiting YouTube here, is courtesy Coaster Crew. Thanks, Jason!

Veep Bumps Dolly To Next Week On 'LKL'
An interview Thursday with Vice President Joe Biden on Larry King Live has pushed Dolly's appearance on the program, originally scheduled for that night, to next week, CNN has announced. Her interview is now planned for 9 p.m. Eastern Tuesday night with repeats several times Wednesday morning.
---
Nov. 17:
Dollywood Takes Home Top Park Prize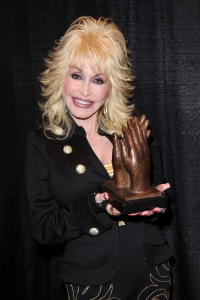 Leave it to Dolly to work in a boob joke as she accepted the amusement and theme park industry's highest honor Tuesday in Orlando, Fla. Dollywood won the Liseberg Applause Award in the 16th time the award has been given over the past 30 years. Most in the audience had no idea Dolly was seated in the first row in case her park won over the other two nominees this year, Britain's Alton Towers and Germany's Phantasialand, so when she took to the stage to accept, it was a surprise. "Walt Disney became successful because he had Mickey Mouse who has two big ears. So I figured I could be successful with Dollywood with my two big partners," she joked, pausing before listing the park's business partners, Pete and Jack Herschend of Herschend Family Entertainment. According to Reuters, the chair of the selection committee said Dollywood is "probably the friendliest park in the world." The most prestigious award in the industry, it recognizes parks whose management, operations and creative accomplishments have inspired the industry with their foresight, originality and sound business development. In a press release afterward, Dolly said: "We are so honored to win this award.   Our success over the last 25 years is because of the great team at Dollywood that I lovingly call my other family!   All those folks back home cooking, cleaning, entertaining and landscaping – I am proud of every one of them." Previous winners have included Disneyland, Disney's Magic Kingdom and Epcot (two of the four theme parks that make up Disney World in Orlando), Opryland, Hershey Park, Universal Studios Florida, Busch Gardens, Europa-Park and Silver Dollar City. Dollywood had been a previous nominee for the honor in 2006 against Legoland and winner Universal's Islands of Adventure. The most comprehensive story on the award came from Reuters news wire and is available here. Orlando television station 13 News offered a story here and video here. Additional coverage is available from The Knoxville News Sentinel here, the Associated Press via The Orlando Sentinel here and Orlando's Channel 2 here. I'm also told she's expected to be on the air back in East Tennessee with an interview about the honor on local radio station 98.7 FM at approximately 8:40 a.m. Eastern time. Thanks, Maryellen! Listen to the broadcast online here! Photo of Dolly with the award is by Curtis Hilbun/Dollywood. Used with permission. Click on it for a larger view. Thanks!
Slightly More Detail On New CD, Tour
Dolly on Tuesday repeated her plans for an upcoming album and tour that she had first revealed a month ago in an interview with The Huntsville Times and which had been reported here at that time. As was previously noted, she will release a new CD (which she explained last month would have a country and gospel flavor with new tunes she's been writing) between late spring and early summer, to be followed by a summer U.S. tour and then Europe and Australia in the fall and winter 2011. The only new developments this week are that the European leg of the tour is now expected for mid-to-late summer instead of fall with Australia in the fall instead of winter and that the entire album will consist of songs she's written. She discussed the album and tour with the Reuters wire service and Orlando's Channel 13 in their coverage of her park's award on Tuesday, which led to the first mention of either project on her official record label website, DollyPartonMusic.net, and CMT.com here
And A Bit More On Her Upcoming Film, Too
Dolly has written four songs for use in her upcoming film Joyful Noise and has recorded one already as a duet with co-star Queen Latifah and the choir from the movie, she told Knoxville News Sentinel writer Terry Morrow in a piece posted Tuesday. Learn what she had to say about their work together here.
Musical Gets A Rave From Houston Critic
The Houston Press on Tuesday gave a very favorable review to Dolly's 9 To 5: The Musical, which is in the city through Sunday before its national tour takes a break for Thanksgiving. The critic confessed apprehension at the show, given its lackluster Broadway reviews, but the revised version on the road was found to be so good he hopes Dolly stays involved in musical theatre for years to come. "After you see this revised show, you almost want to go to work -- now that's an inspiring musical," the reviewer noted. Read the full review here.
Norah Jones And Dolly Interviews Posted
With this week's release of Norah Jones' . . . Featuring, which includes her 2004 duet with Dolly on "Creepin' In," She Knows posted an interview with each singer about their role in the song. Watch it here.
---
Nov. 15:
Trinkets Marketing Wares To Other Stores
Although I understand Dolly's people are still hoping to re-open her Trinkets & Treasures retail store at a new location, a decision that still appears to have yet to be finalized, you may soon see her merchandise pop up in East Tennessee souvenir shops as well. The store has opened a booth at the Gatlinburg Convention Center's Norton trade show to market the store's items to other retailers, Dollymania has confirmed. The market is open to store owners and their representatives to purchase merchandise to stock their places of business – although I understand members of the public may purchase "day passes" for $20 each to shop there as well. The Trinkets & Treasures booth is selling items from the closed Nashville store at a wholesale price of approximately 75 percent off the cost charged to customers at the store (so, for example, anything that would have cost about $20 at Trinkets & Treasures is being sold at the Norton's market for about $5 each). Each purchaser also receives a flyer from the establishment with instructions on obtaining the full product print catalog or PDF file to order additional items for sale in others' stores. Thanks!
Michigan Library Promoted
The Battle Creek Enquirer in Michigan featured a great commentary on Sunday promoting its local chapter of Dolly's Imagination Library early childhood literacy program. Check it out here.
---
Nov. 13:
Reba Praises 'Blue Ridge Mountain Boy'
Following the CMA Awards, ABC's Nightline aired a special country music playlist of the stars' all-time favorite songs, and Reba McEntire chose an entire album of Dolly's: 1969's My Blue Ridge Mountain Boy, which came out when the redhead was 14 years old. Reba noted she used to entertain her fellow basketball campers by singing the title track, "Gypsy, Joe, And Me" and other songs from the album. Watch the video clip here. (Back about 18 or 19 years ago, Reba told me backstage that she frequently sang "My Blue Ridge Mountain Boy" as a lullaby for son Shelby – an odd choice to sing to a child, I thought, since it's a song about prostitution – and was considering possibly recording it herself, but that never materialized.)
---
Nov. 12:
Kenny & Dolly Advance On Canadian Charts


True to form, Dolly's 26-year old duet album with Kenny Rogers, Once Upon A Christmas, has made its annual trek into the top 10 across the border. The collection shoots up 17 spots in its second week on the top 50 Canadian country albums chart this season to break the top 10 at No. 7 in the Nov. 11 numbers released Thursday. The CD also debuts on the top 100 Canadian pop albums chart at No. 64. Back home, Rhonda Vincent's Taken, featuring a Dolly duet, falls off the 75-position American country albums chart, down from No. 75 in its sixth chart week, although it drops just two places to No. 6 bluegrass in its seventh week on that tally, according to the No. 20 Billboard reports. Steve Martin's The Crow - New Songs for the 5-String Banjo, with its own Dolly collaboration, gains four to No. 7 in its 89th week on the bluegrass chart, On the overall charts, Taylor Swift's Speak Now holds steady at No. 1 country and pop with 320,000 units moved in its second week, while Jason Aldean's My Kinda Party debuts at No. 2 country and pop with 193,000 copies sold in its first week.
Site: Movie Release Coming January 2012
Movie database Box Office Mojo has revealed the tentative release date for Dolly's upcoming choir film with Queen Latifah, Joyful Noise, which will begin shooting in January in Atlanta. It confirms previous reports from when the picture was first announced in August that an early 2012 release was expected. According to the site, the release is tentatively penciled in for Jan. 13, 2012. Thanks, Scott!
'Love Is Strange' Available Once Again
After years of being out of print, Kenny Rogers' 1990 CD Love Is Strange, featuring a cover of the 1960s Mickey and Sylvia classic as a duet with Dolly, is once again available. Warner Brothers this week re-issued the CD as an on-demand title via Amazon.com, meaning the CD is pressed individually each time someone orders it. Get yours here!
'9 To 5: The Musical' Gets Good Review
The Houston engagement of Dolly's 9 To 5: The Musical got a very positive review from the city's affiliate of Broadway World.com on Thursday. Read it here.
Fan Site Returns
The Dolly fan website Rare Dolly.com has returned after a year-long absence, which its creators attributed to a virus attack which wiped out the entire website. It has now been re-built with new features. Visit it here!
---
Nov. 11:
King To Have Dolly Guest Before Show Ends
Dolly has been announced as one of the guests for the final month of CNN's Larry King Live program. The Wrap this week revealed here a partial list of upcoming guests, noting Dolly will appear on the program Nov. 18. Others making the cut for the last few weeks of shows include Conan O'Brien, Stevie Wonder, Jack Hannah and Mike Tyson. King retires from his nightly program on Dec. 16. Thanks, Chuck and Aaron! That's not the only upcoming Dolly spot on TV, as Live With Regis and Kelly has announced its Thanksgiving Day show will feature a repeat with Dolly and Nicholas Cage.
'9 To 5: The Musical' Adds Dallas Show
Dolly's 9 To 5: The Musical has added another stop on its national tour: Dallas, Texas, May 18-29, filling the hole between its Costa Mesa, Calif., engagement and Pittsburgh, Penn. The show will kick off next year's Dallas Summer Musicals, it was reported by The Dallas Voice. The tour schedule only has a couple more non-holiday breaks that could mean additional dates before its current ending of July 31, although it is possible that other cities could be added after the present end of the tour. In related news, the show – currently playing Houston through Nov. 21 – earned a mixed review from the city's 29-95.com, which notes that given Dolly's status as an "institution" everyone wants the show to be "a great musical," but given how beloved she is, perhaps it's fine that the show is "just pleasant in patches, rather than great." Read the entire review here.
Billboard Talks Norah, Dolly
Billboard magazine has Norah Jones' track-by-track commentary on her upcoming compilation CD of collaborations, . . . Featuring, which hits stores next Tuesday and includes her 2004 duet with Dolly, "Creepin' In." She talks here about recording the song with Dolly. The publication also noted here Wednesday that Alan Jackson when the charts come out Thursday will have broken his tie with Dolly for the artist with the eighth-most No. 1 country songs thanks to "As She's Walking Away" by the Zac Brown Band featuring Jackson hitting the pole position. Giving him 26 chart-toppers, he takes the eighth-place spot by himself, dropping Dolly to No. 9 with 25. George Strait is tops with 44. The magazine lists Sonny James and Tim McGraw in a tie for 10th place with 23 No. 1s, missing that Reba McEntire is also tied with them.
Another Library Expansion
Cumberland, Md., is getting Dolly's Imagination Library literacy program, The Cumberland Times-News reported here Wednesday.
---
Nov. 10:
Naomi Loves Dolly
Naomi Judd values her special relationship with Dolly, telling reporters that she loves that she can call Dolly to come over without makeup, wig or costume and that Dolly is someone she looks up to, respecting the way she works with her family and manages her career. The comments came in a story in The Sacramento Press here on Tuesday.
---
Nov. 9:
Trinkets & Treasures Update
Trinkets & Treasures, Dolly's Nashville retail store, might re-open in another location, a report on her official record label website, DollyPartonMusic.net, suggests. The website posted an item on Monday night – one week after the store ceased operations and more than 24 hours after Dollymania.net first reported the closing – confirming that the location had shut down. The closing was attributed to a change in ownership of the building in which the store was located, the report stated, adding that Dolly's management is evaluating "the next steps for the retail locations," which insinuates that re-opening in another building is a possibility although it sounds like from the wording that the decision has yet to be finalized.
Dolly On New Grascals CD
Dolly will have a cameo on the upcoming next album by her former backing band, The Grascals, music blog The 9513 reported here Monday. The new CD will focus mostly on covers of country classics, including a star-studded version of "Folsom Prison Blues" featuring Dolly, Dierks Bentley. The Oak Ridge Boys, Joe Nichols, Tom T. Hall and Terri Clark, among others. It will mark their first recording since leaving Rounder Records a few weeks ago.
---
Nov. 8:
'Trinkets & Treasures' Shuts Down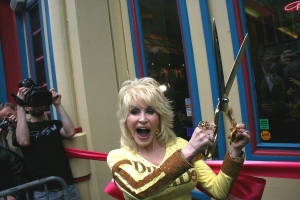 Less than a year after opening, Dolly's Trinkets & Treasures retail store on Second Avenue in downtown Nashville has closed, Dollymania has confirmed. Thanks to reader Scott for alerting us that the store closed early last week, following a large half-off sale the previous week. Calls from the site to neighboring businesses confirmed that it had closed and all Dolly merchandise had been removed from the premises. No word on whether there are any plans to re-open it elsewhere or not, as the closing had not been publicly announced by Dolly's management.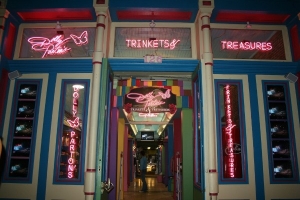 The store saw a "soft" opening without fanfare on Thanksgiving weekend last year, although the official "grand opening" with Dolly cutting the ribbon didn't take place until nearly four months later in March. It was themed in colors inspired by Dolly's "Coat Of Many Colors" and featured a selection of her official merchandise as well as displays of a handful of her stage costumes. The store was sparred direct damage from Nashville's devastating floods in May, although it was closed temporarily as the basement of the building in which it was located took on some water, as did virtually all surrounding structures including the Wildhorse Saloon next door. The items sold from the store remain available online via her official record label website, DollyPartonMusic.net. Images from at the ribbon cutting from March are by Dollymania.net correspondent Jason Worley. Used with permission.
'9 To 5' Heads To Texas
Dolly's 9 To 5: The Musical, which wrapped up its Memphis run on Sunday, earned a mixed review from the city's Commercial Appeal newspaper, available here as a re-print in The California Chronicle. The national tour next moves to Houston, Texas, for a longer two-week run Tuesday through Nov. 21 before taking off for Thanksgiving and moving to San Antonio in early December. The Houston Chronicle took note of the show Sunday by publishing interviews with Dolly here (in a sidebar to which she notes she still plans to eventually release her dance CD but doesn't know when yet) and director/choreographer Jeff Calhoun here.
CD Re-Issue Reminder
Don't forget that Tuesday sees the re-release of five classic Dolly studio albums and one compilation, all of which have been out of print for a few years now and somewhat difficult to find in stores at present. Super Hits/Heartbreaker features the 1999 10-song compilation of her greatest hits from her 1987-1995 period at Columbia Records and her 1978 disco-infused RCA album, while Dolly Parton Triple Feature, Vol. 2 sees a repackaging of the 2007 "American Milestone" series versions of 1971's Coat Of Many Colors, 1973's My Tennessee Mountain Home and 1974's Jolene with the nine bonus tracks that had been included in that earlier re-issue.
---
Nov. 6:
Spelling For Books
What's a way for adults to have some fun with words and raise money for Dolly's Imagination Library? If you live in the Jackson, Mississippi, area, you have a grown-up spelling bee! Check out coverage of their "SpellBOUND SPELLdown Challenge" event from TV station WLBT here.
---
Nov. 5:
It's Christmas Time Again Up North


It's that time of year again, when Kenny and Dolly's 1984 holiday classic Once Upon A Christmas returns to the Canadian country albums charts. It re-enters the tally this week at No. 24, its first week this season. It usually breaks the top 10 each year for several weeks around the holidays. In the States, Rhonda Vincent's Taken, with its Dolly duet, loses six to land at No. 75 on the 75-position U.S. country albums chart in the Nov. 13 Billboard numbers, also falling two to No. 4 bluegrass in its sixth chart week. Steve Martin's The Crow - New Songs for the 5-String Banjo, featuring a Dolly collaboration, inches down one to No. 11 in its 88th week on the bluegrass chart, The magazine also noted here that Reba McEntire's "Turn On The Radio" hitting No. 10 on country singles extends her lead over Dolly for the most top 10 songs by a female artist, with 59 versus 55. This is Reba's third top 10 after taking the lead last year, which broke Dolly's 21-year hold on the record. On the overall charts, as predicted, Taylor Swift's Speak Now lands at No. 1 country and pop with a whopping 1.047 million copies sold in its first week, while Sugarland's The Incredible Machine slips one to No. 2 country and pop with 89,000 units in the second week.
'I'm Dreaming Of A Smoky Mountain Christmas'
Dollywood's Smoky Mountain Christmas festival opens Saturday with 4 million lights, holiday music and the final performances of the parks' Babes In Toyland extravaganza. "It tickles me that so many people have enjoyed Dollywood's Babes in Toyland, and it's become a holiday tradition for so many families," Dolly said in a press release. "But you know me; I want to keep offering folks bigger and better shows!" The festival runs through the park's season closing on Jan. 1. In the press release, Dolly added: "I'm thrilled that my Smoky Mountain Christmas festival won its third Golden Ticket Award for Best Christmas Event, and it means the world to me that families get to enjoy the smiles and squeals of the little kids—and the big kids, too!—as they spend the holidays together at Dollywood."
---
Nov. 4:
Imagination Library Touted



Dolly's Imagination Library literacy project, which recently passed 30 million books delivered since inception, is in the news a good bit this week. First, Paul Mitchell Studios released a video she recorded thanking them for including the program in their fund-raising campaign for various charities this year. Check it out in the media player above or by visiting YouTube here. Thanks, Jason! In New Hampshire, Foster's Daily Journal noted that the state's first chapter was opening in Barrington. Read that story here. And in her home state of Tennessee, the Memphis-area affiliate was profiled in The Commercial Appeal here, while the fifth anniversary of the Houston County program made The Stewart Houston Times here.

'9 To 5' Tour Rolling Along
Dolly's 9 To 5: The Musical opened in Memphis, Tenn., on Tuesday and runs there through Sunday. At Dolly's request, $5 from each ticket sold for that engagement on the national tour will be donated to breast cancer research, according to The Memphis Business Journal here. The show next moves to Houston Nov. 9-21, where Culture Map Houston interviewed Diana DeGarmo about her role. Read that here.

Furtado Covers Dolly
Singer Nelly Furtado let it slip in a new interview with The National in the United Arab Emirates that she has recorded a cover of Dolly's "The Seeker" for the Canadian indie picture The Year Dolly Parton Was My Mom. Dolly has granted the filmmakers the rights to use nine of her songs, and the soundtrack will include Dolly herself in addition to Furtado, Martha Wainwright, the Wailin' Jennys, Coral Egan and Genevieve Toupin. Egan has covered "The Grass Is Blue," and other songs identified as approved include "I Will Always Love You," "Jolene" and "Love Is Like A Butterfly," although who will sing which has not been announced.
---
Nov. 1:
'9 To 5' Director Talks London
If successful on the road, Dolly's 9 To 5: The Musical will likely move to London to play the West End, England's version of Broadway, the show's road director told Playbill in an interview available here over the weekend. The show wrapped up in Tampa, Fla., Sunday and moves to Memphis on Tuesday.
U.K. Chart Updates
Dolly: Live From London shoots up 11 places this week on the top 20 British country compilation albums chart to come in at No. 8 in it 43rd week on the tally, it was announced Sunday. The Essential Dolly Parton, a 2005 collection, re-enters the 20-position list at No. 20 for its 206th week on the chart.
Food Network Show Airs This Week
The Dolly-themed meal taken from her fund-raiser cookbook, Dolly's Dixie Fixin's, airs this week on The Food Network's Private Chefs of Beverly Hills program. Described as having one-half of the episode devoted to "a demanding client hires the chefs to cater her 7-year-old's princess-themed party" and half to "a menu inspired by Dolly Parton is created for filmmakers who are looking to impress potential investors for a Dolly Parton documentary," the "Thrilla for Foodzilla" episode premieres at 9 p.m. Eastern Tuesday with repeats at midnight Wednesday morning and 5 p.m. next Sunday. The dinner centers around twin actors Gary and Larry Lane and their documentary From Hollywood To Dollywood about traveling cross country to meet Dolly earlier this year. They hope the picture will make it to film festivals next year.
---