---
www.dollymania.net News December 1999
---

Dec. 31: HAPPY NEW YEAR!
* CountryCool's lead article on Thursday was about Dolly's New Year's concert at the Opryland Hotel. To read it, click here.
* Trio II has made another country best of year list, this time coming from Patrick Langston of The Ottawa Citizen, who on Thursday put the CD at No. 7, writing: "From A.P. Carter's 'Lover's Return' to Randy Newman's 'Feels Like Home,' the trio's country/folk presentations are impeccable, showcasing the qualities of each voice and featuring some of the best harmonies this side of the McGarrigle Sisters." For his full list, click here
* * * * *
Dec. 30: The Ottawa Citizen on Wednesday released more information on Dolly's upcoming movie, for which she will reportedly be in Canada in March to film. According to the newspaper, the film's title is A Christmas Rap. As previously reported, Dolly plays the woman who runs an orphanage. The plot is described by filmmaker Bryan Stoller as a combination of Touched by an Angel and Trading Places, focusing on a harmless street con who is sentenced to perform community service at the orphanage Dolly's character runs. She may also write some original songs for the $3 million-$5 million picture, tentatively expected for a Christmas 2000 feature release, Stoller added. For the full article, click here.
* Tom Roland of The Tennessean on Wednesday reported that Allison Krauss is expected to perform with Dolly at the New Year's Opryland show and also discusses her duet with Boy George, "Your Kisses Are Charity." Read the full article here. Roland also offers a preview of the concert here and notes that the Christ Church Choir, which backed her on "He's Alive," will join her on stage as well.
* Another great The Grass is Blue review, this one coming from The Washington Post's Mike Joyce on Wednesday. He writes, in part: "...every track radiates a spirit of fierce independence...easily ranks with the best recordings of her career...perfectly suited to Parton's defiant, live-wire voice...Even so, it's the ballads -- tender, poignant and tragic, by turns -- that prove most memorable." For his full review, click here.
* * * * *
Dec. 29: The raves keep coming in. USA Today on Tuesday released its list of the best country CDs of the year, and both The Grass is Blue and Trio II made the cut, coming in at No. 6 and No. 7, respectively. The newspaper noted about The Grass is Blue: "Parton continues the musical renaissance begun last year with Hungry Again on her first bluegrass album. In typical Parton fashion, she covers songs by artists ranging from Lester Flatt ('I'm Gonna Sleep With One Eye Open') to Billy Joel ('Travelin' Prayer') and contributes a handful of gorgeous originals." As for Trio II: "Harris, Ronstadt and Parton reprise their Grammy-winning collaboration from 1987 with a beautiful, tender collection that covers both the simple folk of A.P. Carter's 'Feels Like Home' and an ethereal rendition of Neil Young's 'After the Goldrush.'" For the full article, click here.
* The staff members of the Country Music Hall of Fame each chose their five favorite country albums of the century this week, and only one included Dolly, but he did make her two (really three) of his choices. Frankie Tallent, Hall of Fame Registrar, chose 1975's Best of Dolly Parton as No. 3, saying: "If you've ever wondered why she belongs in the Hall of Fame, you need to listen to this. She proves that not only can she sing, but she is a master songwriter. No one can touch her." He also chose 1987's Trio and this year's Trio II with Linda and Emmylou as tied for No. 4, writing: "I know, I listed two albums. But they are so good and so well-crafted, who cares? Three of the great ones showing us how it should be done."
* Trio II was also sort-of included in The Calgary Sun's list of the best country CDs of the year, with critic Anika Van Wyk giving it the runner-up slot to her Top 10 selections Tuesday.
* Launch.com posted an article Monday about Dolly's New Year's performance at the Opryland Hotel. To read it, click here.
* Two friends of mine wrote Buddha Records asking about their upcoming Dolly re-issues, and both got the same response: "Glad you've been enjoying our Dolly Parton reissues. We don't have any more on the agenda for the next couple of months. We may release more in the future, though. We want everyone to discover the four that we have out before we release any more. Thanks for your interest. Buddha Records." Let's all tell them we want more!
* * * * *
Dec. 27: Another Top 10 of the year includes The Grass is Blue. L.A. Times writer Terry Atkinson noted Sunday when he listed the album at No. 7 of the year: "Are two bluegrass albums too many for one list? Not when they're this good. Parton's best album in many a moon finds her retracing her roots and regaining her strengths. A few new songs are so-so, but the arrangements of genre chestnuts and, especially, the reworkings of Billy Joel and Blackfoot rock tunes into bluegrass are knockouts." For his full list, click here.
* Amazon.com customers named Trio II their 10th favorite CD this year in a poll the company released recently. Although the original Trio was released in 1987, many people bought it for the first time this year, too, and it came in as the site's customers' 90th top pick of 1999.
* * * * *
Dec. 25: MERRY CHRISTMAS!
* New tonight: Read Dollymania's first-ever Dolly Year in Review here!
* According to the Ottawa Sun, Dolly is to star in a new Christmas movie by Ottawa filmmaker Bryan Stoller. Some scenes are currently being filmed in Canada, and Dolly is scheduled arrive there in March to begin shooting her scenes. She plays the woman in charge of an orphanage, according to the article in Friday's paper. Stoller is currently searching the Ottawa area for a farm to convert to the orphanage. It didn't identify if this is a feature film or a television movie or when it will be released, but since it's a holiday film, I would assume it will come out around next Christmas.
* One of The Washington Post's critics again named The Grass is Blue one of the best CDs of the year, placing it at No. 3. Mike Joyce notes: "Back to where she once belonged, amid bluegrass's high spirits and harmonies, not to mention a stellar string band." For the full article, click here.
* Launch.com has another Christmas article about Dolly and the Parton family. To read it, click here.
* Dollymania welcomed its 30,000th visitor in the wee hours of Friday morning! Thanks to everyone!
* * * * *
Dec. 23: The year-end lists are beginning to come out, and Dolly is making most of them! The Nashville Scene's two music critics both named The Grass is Blue the second-best country album of the year. Michael McCall writes: "A collection of rave-ups and folk ballads that captures the soaring glory and violent underpinnings of mountain music, Parton's best album in 20 years fully exploits the willful expressiveness of her sweet, pinched mountain chirp. It also gives her a chance to show how truly brilliant she can be as a conceptualist and an arranger: Transforming songs by Billy Joel, Johnny Cash and '70s redneck rockers Blackfoot into potent acoustic tunes, she demonstrates that the innate musical strengths she flashed as a young woman remain intact." (Full article here.) Bill Friskics-Warren was more concise, noting: "Who'd have thought that at this late date Parton's mountain roots would run so deep? More than just her best album in 30 years, this return of the 'lady muleskinner' proves that Dolly is the ultimate Dixie chick." (Full article here.)
* * * * *
Dec. 22: People Magazine just released its lists of the century, and when Americans were asked their favorite country music performer of all time, Dolly came in fourth! Garth Brooks was first, followed by Patsy Cline, Johnny Cash, Dolly and Hank Williams Sr.
* The Grass is Blue is this week's pick CD at Women.com. They write: "Newly elected to the Country Music Hall of Fame, Dolly Parton celebrates by going back to her roots -- and I don't mean the ones she's been hiding under all those fabulous wigs. Backed by world-class musicians on banjo and fiddle, Dolly revitalizes classics like 'I Still Miss Someone' and barrels through Billy Joel's 'Travelin' Prayer' with infectious glee. Her own songs don't always ring so true, but any lyrical lapses are forgiven when she lets loose that high-lonesome soprano. Bottom line: a rollicking tribute to Tennessee mountain music."
* According to Billboard, Trio II was the year's 29th biggest country seller, the 10th biggest by any female artists. No. 1 was Come on Over by Shania Twain. Thanks Justin!
* * * * *
Dec. 20: Dolly has submitted five songs for consideration on the soundtrack of a new animated version of Tom Sawyer which MGM is releasing on home video around Easter. The songs she submitted were "Country Boys," "Wow Meow," "Makin' Me Crazy," "Adventure" and from Blue Valley Songbird, "We Might Be In Love." Preliminary announcements of songs on the soundtrack have not included Dolly, but let's keep our fingers crossed!
* The New York Times has given The Grass is Blue a wonderful review. Writer Peter Applebome notes Dolly "takes traditional bluegrass and makes it her own in an utterly luminous way . . . one of the most riveting bluegrass albums in recent years, with truly inspired playing and vocals that seem to come right from Parton's East Tennessee roots without the adorable Nashville chirp. Dolly's singing hasn't sounded as vital in years. She doesn't just pay her respects to the ancient spirits, she summons them up. Dolly has taken a lot of calculated detours into pop-land, but when she finally hangs it up, she'll look back on this and think it's one she really got right." To read the full review, printed Sunday in the St. Paul Pioneer Press, click here.
* * * * *
Dec. 18: The Knoxville News-Sentinel on Friday named The Grass is Blue the sixth best album of the year, noting, "Parton may be on a commercial ebb, but creatively it's high tide." For the full article, click here.
* According to statistics released by Billboard Friday, Whitney Houston's 1992 cover of Dolly's "I Will Always Love You" is the No. 7 single of the decade based on chart performance, and The Bodyguard soundtrack which includes the song is the No. 2 album of the decade.
* Bluegrass chanteuse Rhonda Vincent, who has appeared on several Dolly albums and for whom Dolly sang harmony on her last album, reportedly will include her own version of Dolly's oft-covered "Jolene" on her Jan. 11 Rounder Records release Back Home Again. To order, click here.
* * * * *
Dec. 15: In a list released by BMI Tuesday, Dolly's "I Will Always Love You" was named the 13th most-played song of the century with more than 5 million airplays! It's the highest-ranked song by a country composer! Other songs Dolly had recorded which made the Top 100 (and their positions) are: "You've Lost That Loving Feeling" (1), "Higher and Higher" (39), "Save The Last Dance For Me" (49, No. 3 country and No. 45 pop hit for Dolly), "For The Good Times" (50), "Put a Little Love in Your Heart" (75) and "Release Me" (87).

* Well, it's finally here and it sounds great! I got my copy of the digitally remastered re-issue of Dolly's 1972 Camden compilation Just the Way I Am yesterday, and the sound is awesome! This one is close to my heart because I had it on lp as a kid, and it has some of the best Dolly songs including her cover of Elvis' "In the Ghetto," "Gypsy, Joe and Me," "My Blue Ridge Mountain Boy" and "Carroll County Accident." Get yours here today!
* From E! Online's review of The Grass is Blue: ". . . Parton not only returns to her roots (well, her musical ones, anyway), she shows she's kept her connection to them. And despite being one of the most recognizable personas in country music, she never overwhelms the material, giving it just the right high, lonesome feel needed to put it across. A landmark in a career full of fantastic records. Despite Dolly Parton's status as a bona fide country legend, its surprising to see a singer who's journeyed to the heights of crossover mainstream pop putting out a hardcore bluegrass album on an independent label. But that's just the kind of left hook that attests to Parton's continuing artistic viability . . . just pure bluegrass matched by the purity of the marvel that is Dolly's crystalline voice. Hot picking naturally abounds, all in support of Parton's highly effective, no-frills delivery." For the full review, click here. Thanks Manuel!
* * * * *
Dec. 13: The Denver Post on Sunday in its list of great music gifts for Christmas included the Buddha reissue of Dolly's Coat of Many Colors!
* In an article Saturday in the Ft. Worth Star Telegram, Austin City Limits producer Terry Lickona again made the statement that Dolly is "a probable" guest on the series' during its 25th season in 2000!
* The St. Paul (Minn.) Pioneer Press on Sunday weighed in with its review of The Grass is Blue, noting "Parton is one of country music's most sublime vocalists, as this return to her bluegrass roots proves . . . in the middle of all that classic material, and the expert fiddles, dobros and mandolins (and cameos from Alison Krauss and Patty Loveless) is Parton's robust-as-a-Kentucky-morning voice. Which seems to be singing, to itself, 'Welcome home.'" To read the full review, click here.
* * * * *
Dec. 11: CountryNow.com reported Friday when they asked Dolly what she hopes to do in the new year that she responded: "I'm working on a children's series. I'd like to do a show kinda like Pee Wee like the Playhouse. I want to do something really fun and exciting, 'cause I love kids and they relate to me. I'd love to do some children's albums, children's songs and videos. I have a lot of children's stories I'd love to publish. I still just want to keep doing what I'm doing. I have a production company called Southern Light, so we're developing some feature films for myself, as well as other people, and some more TV series. I'm busy, but I need to be busy, otherwise I drive everybody else crazy." And she'll be ringing in the New Year right on Jan. 1 with her concert at the Opryland Hotel! Remember, if you can't be there check Dollymania for a first-hand account!
* Due almost entirely to the rocket success of her cover of Dolly's classic "I Will Always Love You," Whitney Houston had the decade's biggest-selling album, the soundtrack to The Bodyguard, at 17 million copies, it was announced this week. In second place with 16 million each were Garth Brooks' No Fences, Alanis Morissette's Jagged Little Pill and Hootie and the Blowfish's Cracked Rear View. (I must admit I have all four.)
* * * * *
Dec. 9: Dolly gets a couple of mentions in the current issue of Rolling Stone. Looking back over the magazine's history, the editors selected the best pictures it has published, and photographer Richard E. Aaron's 1977 shot of Dolly hugging John Belushi made the cut. "When she walks into a room she has a presence," Aaron noted. "She just reeks of beauty. She's Dolly." In the same year-end edition, the magazine notes the best re-issues of classic recordings over the year and includes Buddha's re-release of Dolly's 1971 Coat of Many Colors on CD. (To order the CD, click here.)
* And since Christmas is almost upon us, Kenny & Dolly's Once Upon a Christmas has made its annual re-appearance on the charts. In the Dec. 11 edition of Billboard, the 15-year-old album debuts at No. 25 on the Catalog Country chart, which lists the best-selling records of the genre which are not new releases. (To order the CD, click here.)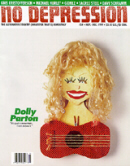 * How's that for a Dolly image? This is the art No Depression used for its current issue, which features a cover story on The Grass is Blue.
* * * * *
Dec. 8: It's been four months since the news was first reported in Variety and relayed on Dollymania, but The Tennessean's celebrities columnist, Brad Schmitt, on Tuesday noted Dolly's purchase of the novel "The Jew Store" for her feature film production debut (and to have a supporting role). To read his story, click here.
* In an article Mr. Showbiz posted on his site on the Go Network this week detailing Jennifer Lopez's insuring her body, he noted that Dolly reportedly has her "assets" insured for $600,000.
* * * * *
Dec. 6: Ever wonder who Walter Henry Hagan, the name of Dolly's 1994 song from Heartsongs, is? Well, the Dallas-Ft. Worth Star-Telegram on Saturday ran a story on him. He's an American Airlines executive there who helped create the VIP treatment for celebrities, and the airport's new multi-million-dollar Admirals Club facility is being named after him, the newspaper announced. Dolly is quoted in the article as saying he was caught off guard when she first performed the song at Dollywood in a concert at which he was in the audience. "I thought he was going to have a heart attack," she said. "I wanted to take him down in history with me, so I wrote what I refer to as `our song.' " For the full article, click here.
* * * * *
Dec. 3: Dolly got a few of mentions in the Dec. 4 issue of Billboard. Of course, she and Linda Ronstadt are mentioned a couple of times in an interview with Emmylou Harris honoring her as Billboard's 1999 Century Award recipient. Read Emmylou's interview here. Also, she is mentioned in an article detailing the history of Readers Digest Music Service on its 40th anniversary.
* * * * *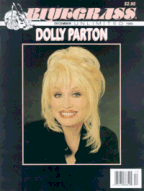 Dec. 1: Dolly is December's cover girl for Bluegrass Unlimited magazine with an article about The Grass is Blue. Pick up your copy today.
* Trio won CMT's Vocal Event of the Year award for the video "After the Goldrush" on its Thanksgiving annual countdown. Sorry for the delay in reporting this; my cable company switched from CMT, so I couldn't watch it.
* Not only was Trio II Amazon.com's 10th biggest-selling CD of 1999, but the store's country listings named it its top-selling country CD of the year. The original Trio came in 12th and The Grass is Blue 22nd.
* One slight correction: I just found out that Just The Way I Am was in fact previously released once on CD several years back, but its run was apparently low since I have never seen a copy, and it is now out of print. As reported previously, a new digitally-remastered version of the 1972 RCA/Camden compilation will be released by BMG/Delta Dec. 14. To advance order yours, click here. (My friend Sean tells me it was released on CD in 1996 by BMG Special Products/ESX but was not remastered at that time. Thanks!)
* * * * *