---
www.dollymania.net News December 2000
---

Dec. 27: According to the Atlanta Journal Constitution, Dolly has purchased film rights to another novel. The newspaper reports that Dolly and Tri-Star Pictures have optioned The Wedding Dress, a novel by Harlequin author Virginia Ellis, a former Atlanta Falcons team photographer. The novel, to be published in late 2001 by Ballantine Books, centers on three sisters struggling to survive on a post-Civil War Southern farm, according to the paper. As the older two sisters mourn their husbands' deaths in battle, they decide to create a wedding dress for the younger sister in the hope she will soon wed. The paper reported that Dolly is expected to star in the film and write songs to be used in it as well! (You may remember she also recently purchased the rights for The Jew Store, which she plans to produce and play a supporting role in. Other film projects include a yet-to-be-released Christmas film she shot in Canada earlier this year and several yet-to-be filmed projects: Solid Gold Cadillac for TNT, Heavens to Betsy for CBS and Trouble in Jerusalem for Lifetime.) Thanks, Greg!
* Another Dolly fan and Dollymania friend has provided a few more shots of Dolly's holiday concerts. To view them, click here. Thanks, Ken!
* Finally, while searching through albums at my favorite local collectors' shop, The Little Big Store in Raymond, Miss., I came across a Merle Haggard album with a Dolly song I had never heard of before. She wrote the title cut for his 1976 album My Love Affair With Trains, and the song is available on a compilation CD of train songs here.
---
Dec. 25: Country.com on Friday released its lists of the Top Country Moments of 2000, and about half of their critics included Dolly in their Top 10s! Michelle Nikolai put Dolly's performance and winning Album of the Year at the International Bluegrass Music Association Awards at No. 8.Lisa Young said Dolly's spectacular job hosting the Academy of Country Music Awards was worthy of No. 6 and chose the Grand Ole Opry 75th anniversary (which she co-hosted) for No. 7. Shannon Turner put the Opry anniversary at No. 3.
* Salon.com also chose Dolly for a year-end honor, selecting her profile as one of the online magazine's 12 best Brilliant Careers stories of 2000. To re-read Stephanie Zacharek's excellent Oct. 31 overview, click here.
* MERRY CHRISTMAS FROM DOLLYMANIA!
---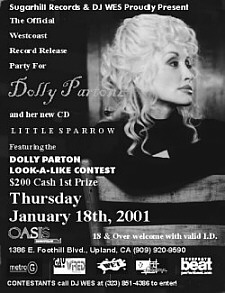 Dec. 22: Sugar Hill Records and DJ Wes will treat California Dolly fans with the official West Coast CD release party at Oasis Nightclub for Little Sparrow in Upland, Calif., on Thursday, Jan. 18. The party will feature a $200 first prize in a Dolly-Look-A-Like contest. Cover is $5 for 21 and up, $10 for 18-20. It is recommended that partiers show up before 10:30 to beat the rush! Thanks, Wes!
* Got an e-mail that informed me Chet Flippo had posted the Top 25 country albums of all time on Sonicnet, so I took a look at it and saw that Dolly has a connection to several of the Top 25! First of all, My Tennessee Mountain Home is ranked at No. 15 (read about it here). At No. 20 is Emmylou Harris' Ballad of Sally Rose, which features Dolly and Linda Ronstadt singing harmony on most of its tracks (here). At No. 13 is a Merle Haggard anthology (here), which includes his hit "Kentucky Gambler," which Dolly wrote for him. And one slot down is Tammy Wynette's Your Good Girl's Gonna Go Bad (here), which has her version of "I Wound Easy," a song written by Dolly's Uncle Bill Owens and first recorded by Dolly on Monument Records. Thanks, Manuel!
* CountryCool featured an article Thursday on Dolly's upcoming Dixie Stampede in Orlando, Fla. To read it, click here.
* Shania Twain's Come On Over has sold 18 million copies, it was announced Thursday, becoming the top-selling country album and top-selling album by any female artist. The CD which held the earlier record by a woman, Whitney Houston's The Bodyguard soundtrack, fueled by her cover of Dolly's classic "I Will Always Love You."
* My friend Sean tells me Napster has several Dolly rarities available for downloading, including the long version of "Potential New Boyfriend," her and Chet Atkins' version of "Do I Ever Cross Your Mind," and several Porter & Dolly songs. Thanks, Sean! (While I normally would not advocate such song piracy sites, I think it serves the music executives right for some of Dolly's material to be downloaded since they refuse to release so much of it on CD.)
---

Dec. 20: Dollymania friend Debbie Poole was kind enough to prepare a couple of great photo layouts from Dolly's holiday concerts last weekend at Dollywood. To view them, click here. Thanks, Debbie!
* I'm told that Dolly announced at her concert that from now on she will be performing her annual Dollywood benefit shows in December instead of at the park's opening in April, meaning a new holiday tradition for many of her fans! Thanks, Solomon!
* And on Jan. 19, Dolly's 55th birthday, a new Dolly fan site will launch, Dolly.com. Kayla, its Webmistress, tells me it will be "very interactive" with more than 40 sections at opening. Best of luck, Kayla!
---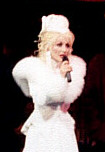 Dec. 18: I'm told Dolly was great at her benefit concerts over the weekend for the Dollywood Foundation. Thanks to Chris at Dolly Parton Central for this recap and photos from the show: It began with Dolly wearing a red Christmas dress with a long red coat which she later took off. She performed "With Bells On," "I'll Be Home For Christmas," "Smoky Mountain Christmas," "Down Home Country Christmas," "A Christmas To Remember" (with Randy Parton), "O Little Town Of Bethlehem" and "Let's Make a Memory This Christmas." Then she changed into her Home for Christmas album cover dress and performed "Winter Wonderland/Sleigh Ride" and "White Christmas." Then, wearing a Rudolph outfit, she sang "Rudolph The Red-Nosed Reindeer," "Jingle Bells" and "Deck The Halls." In a "beautiful, poofy" Christmas dress, she performed two more duets with Randy, "I Believe In Santa Claus" and "Christmas Without You," and then "My Favorite Things." She closed the show in her short white gospel dress with "Go Tell It On The Mountain." To look at a few of his shots from the concert, click here. Thanks, Chris!
* The Miami Herald on Friday reported that Dolly's purchase of 12 acres between Disney World and Universal Studios Theme Park will in fact be for the construction of the fourth Dixie Stampede dinner theater. To read their article, click here.
* And I've posted my Dolly Year in Review. Read it here!
---
Dec. 15: Little Sparrow got some press yesterday, with Billboard Online choosing Dolly as their Artist of The Day feature with a review of the upcoming CD. (And if you haven't yet, check out Dollymania's review by clicking on the icon at the top of this page!) The reviewer lauded last year's The Grass is Blue, noting: "Parton is at her best when she returns to her Appalachian roots. She does so again on Little Sparrow." The CD is called "authentic, heartfelt," and the reviwer noted Dolly's cover of The Eagles' "Seven Bridges Road" is "stunning." For the full review, click here. (The review was also published Thursday in The Boston Globe and noted that Dolly's plans to appear on David Letterman, Rosie O'Donnell and Prarie Home Companion to promote the CD and will release a video, although the single has yet to be determined.)
* Dollywood also announced Thursday the purchase of a dozen acres of land from an Oklahoma City Christian foundation for a "future development" in Orlando, Fla., between Disney World and Universal Studios. Although local zoning officials halted her plans for a Dixie Stampede there earlier this year, the land was sold to Dixie Stampede, according to a press release. Stampede Chairman Fred Hardwick said plans for the land will be announced shortly. For the press release, click here, and for an article on the sale in Thursday's Oklahoma City Business Network, click here. Although a sales price was not announced, the Oklahoma newspaper reported it was "several million" dollars and that Dolly's bid was much higher than anyone else interested in the property.
* Radio personality Al Winter announced recently on his Music News From Nashville program that Dolly and her husband of 34 years, Carl Dean, plan to renew their wedding vows over the holidays. Thanks, Sheena!
* And, of course, Dolly's holiday concerts to benefit The Dollywood Foundation are this weekend at Dollywood. Look for photos sometime next week on Dollymania courtesy of our good friend Debbie.
---
Dec. 11: Ever wonder where Dolly's original recordings are? Well, according to an article last week in The Bergen Record, they're among the "national treasures" housed at Iron Mountain National Underground Storage in an abandoned mine in Boyers, Penn. To read the article, and learn what else is held there, click here.
* In an interview in the current issue of Genre, Lily Tomlin is asked what she thinks of when she hears the words "9 to 5." Her response: "Another high point, hanging out with Dolly and Jane. Biggest grosser I was ever in -- and I still get residuals from it." (Note: The film, at $103 million, was also Dolly's biggest grossing picture and Jane Fonda's second-highest -- her On Golden Pond beat it by $5 million.)
* My friend Justin came across a page the other day promoting Irish artist Margo O'Donnell and her 1999 album of Dolly covers. It features photos of the two together and a quote from Dolly about the singer. To view it, click here. Thanks, Justin!
* And Dollymania passed 90,000 visitors over the weekend! Thanks to all who've stopped by and to all who visit daily!
---
Dec. 7: Sugar Hill issued its press release yesterday formally announcing the Jan. 23 release of Little Sparrow. To read the release, click here, and to reserve your copy of this awesome CD, click here! (And if you haven't checked out Dollymania's review, click on the graphic at the top of this page.)
---
Dec. 6: A Detroit brother/sister duo called The White Stripes has released a cover of Dolly's classic "Jolene" with a twist: It's sung by the male counterpart of the duo. Wednesday's Village Voice features a review of the song, which is the flip-side to the group's single "Hello Operator." "Jolene" (which has previously been covered by such luminaries as Reba McEntire, Olivia Newton-John, Patti Smith, Matraca Berg, Sisters of Mercy and most recently bluegrass queen Rhonda Vincent as well as being routinely performed live by Natalie Merchant and Paula Cole in concert) is not available on their current CD, but a 7" picture disk is for sale by mail order from their label, Sympathy For The Record Industry. To read Chuck Eddy's review, which notes "The drum gets knocked every 20 seconds or so, then enters a half-minute Zep thump-and-thud midway through; the voice is a high lonesome squeal, the guitar an intense Tom Verlaine/Richard Thompson tapestry," click here.
---
Dec. 4: After months of reviewing more than 16,000 entries, Dollywood has announced the winner of the Name Dolly's Water Park contest. John Torres of Ronkonkoma, N.Y., submitted the winning name of Dolly's Splash Country, the park announced in a press release Friday. The $20 million park is expected to open in Pigeon Forge, Tenn., on May 19.
---
Dec. 1: Sad news for Dolly fans in Australia, as the Australian Financial Review reports in today's paper that her plans for bringing the Dixie Stampede restaurant Down Under, complete with a tour to celebrate its opening, have been scrapped following a rather complicated business dispute with her Australian partners. The newspaper's Dec. 1 copywrited article reports that Dolly and her stateside business partner Fred Hardwick pulled from the project earlier this fall when they saw questionable financial reports on the $18 million development. After securing initial investments of $635,000 from Dolly and Hardwick and $254,000 from Aussie horse trainer Ric Birch and putting up $325,000 of his own money, developer Lloyd Bond paid his own companies more than $800,000 for services he claimed were rendered in preparing the project, which had soared in cost estimates to $30 million, according to the story. Upon learning of this, Hardwick and Dolly immediately removed themselves from the partnership, it continued, and now creditors are claiming $1 million is owed to them for work on the Stampede, as the four partners differ on who is responsible for the bills. Bond denies he received any of the money, saying instead it went to pay salaries of people working on the project, the story said. The newspaper further quoted Hardwick as saying Dolly was extremely disappointed, having enjoyed great support from Australian fans, but that they had not ruled out the possibility of future business ventures in Australia. To read the full report, click here.
* According to a press release from The Grand Ole Opry, 13 million viewers tuned in on Thanksgiving to watch Dolly and Vince Gill host the 75th birthday special for the famed radio show and country music institution. Although the ratings are considered by media experts as rather mediocre, they were the best ones which CBS saw in the Thursday evening time slot in nearly seven months.
* Lifetime's Web site reports that Michael Filerman, who acted as executive producer on the network's recent television movie When Andrew Came Home, has signed on to work on Dolly's remake of Solid Gold Cadillac for TNT. No word yet on when the film will air.
* And Dolly is popping up all over the television this month and next. For a complete listing, view the television section to the left on this page!
---