---
www.dollymania.net News December 2005
---

Dec. 31:
HAPPY NEW YEAR!
'Year In Review' Now Available
For the seventh year in a row, Dollymania is pleased to offer you its Dolly Year In Review, the only published recap of Dolly's career and happenings over the year. Relive some of the greatest moments of 2005 here!
'Days' On Another Critics' List
Thanks to Christopher for alerting me to one critic who thinks Dolly's Those Were The Days is the best, literally. Jeff Rossen of Gay Chicago Magazine chose Dolly's CD as the year's best vocal release, noting she "delivers a performance that is so honest, so musically attuned, so wonderfully imaginative that one can't help but be swept up in it."
Dollywood 2006 Events Confirmed
It was goodbye to Dollywood Friday for another three months, as it closed its 2005 season. Season passholders will get their annual sneak peak of the park's new additions next year March 30 and 31, and the park will open to the public starting April 1, officials confirm. Dolly is scheduled to head to town for her parade through Pigeon Forge on Friday, April 7, and usually makes a few appearances in the park that weekend as well. Next year's Festival of Nations (featuring the return of the Moscow Circus, Dragon Legend Acrobats from China, Stix on Steel and more) will run April 1-May 7, and the new season will bring the premiere of its new $6.5 million Timber Tower ride. Thanks!
Bluegrass Update
The new Bluegrass Unlimited charts for January see The Grascals' self-titled debut CD with Dolly on "Viva Las Vegas" inch down one to No. 5 for the month. It had previously peaked at No. 2.
TV Reminder
Don't forget to catch CMT's Insider 2005 recap, premiering at 1:30 p.m. Eastern Saturday with repeats throughout the weekend. Host Katie Cook will review her best moments of the year, including her interviews (and at least one blooper) with Dolly.
---
Dec. 30:
Duet Nearing The Top 10


Continuing its march toward the top of the charts, Dolly's single with Brad Paisley, "When I Get Where I'm Going" from his Time Well Wasted, moves up two digits to No. 11 on the Jan. 7 Billboard country singles charts in its 14th chart week, it was announced Thursday. The tune slips three to No. 65 on the all-genre Hot 100 pop singles tally, remains steady at No. 59 on the Hot 100 airplay-only list and gains a dozen spots to No. 88 on the Pop 100 (for pop-only genre radio stations). In Canada, the song slips nine places to No. 56 pop. On the minor Roughstock country chart, it gains one to No. 16. Power Source didn't update its list for the week, apparently due to the holidays, and Radio & Records also didn't release a new chart this week because it's year-in-review chart came out earlier in the week.
'Days' Gains And Loses Some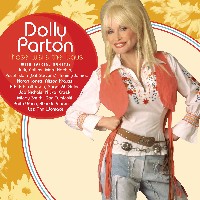 Dolly's Those Were The Days sees mixed returns on the Jan. 7 Billboard charts, it was revealed Thursday. The CD slips two to No. 46 on the country albums tally but gains two to No. 13 for the independent labels albums chart. Up north, Once Upon A Christmas with Kenny Rogers begins its post-holiday annual tumble, falling 10 spots to No. 26 in its eighth week this year on the Canadian country albums. Martina McBride's Timeless, featuring Dolly harmonies on "I Still Miss Someone," falls four to No. 9 country and No. 23 pop and comprehensive in its 10th chart week. The disc also inches down one to No. 4 country in Canada, where it falls a dozen digits on the pop side to No. 41. Brad Paisley's Time Well Wasted, with its Dolly collaborations, slips one notch to No. 17 country and No. 67 pop while gaining three to No. 68 comprehensive in its 19th week. The CD rises one to No. 29 Canadian country. George Jones's Hits I Missed . . . And One I Didn't, featuring Dolly on "The Blues Man," loses one to No. 54 country in its 15th week and is down three to No. 21 independent. Bettye LaVette's I've Got My Own Hell To Raise, with a cover of "Little Sparrow," remains steady at No. 7 in its 13th week on the blues albums chart. Rhonda Vincent's Ragin' Live, featuring her cover of "Jolene," gains one to No. 11 in its 42nd week on the bluegrass albums chart, while Ralph Stanley's Shine On, with its Dolly cover title song, moves up one to No. 14 for a 15th chart week. Selah's Rose Of Bethlehem, with Dolly on her own "Once Upon A Christmas," drops 11 to No. 25 in its eighth week on this year's holiday music albums chart. Thomas Kinkade's Country Christmas, featuring "Hard Candy Christmas," falls out of the 50-position independent labels albums chart, down from No. 38 in its fourth week the previous week, and out of the 70-position country albums chart, down from No. 68 in its fifth week there the previous week. American Idol winner Carrie Underwood's Some Hearts remains at No. 1 country but slips three to No. 5 pop with sixth-week sales of 401,000, while Kenny Chesney's The Road and the Radio remains steady at No. 2 country and falls three to No. 8 pop with seventh-week sales of 269,000. The American Idol finalists' cover of the former Dolly and Julio Iglesias duet "When You Tell Me That You Love Me" rises two to No. 17 on the pop singles sales chart in its 37th week.
Making A List, Checking It Twice
Dolly's Those Were The Days has finally made a critic's best-of-the-year list! John Hayes of the Pittsburg Post-Gazette named it here as the fifth-best country album of 2005, saying Dolly took the collection of non-country songs "and reinvented them in her unique style . . . It's what they call 'art,' and Dolly is as much of an artist today as she ever was." Hayes also chose another Dolly-related project for his No. 1 pick, Brad Paisley's Time Well Wasted, which features Dolly on two tracks.