Hello I'm Dolly Tour
Biloxi, Miss.
Images on this page are copyright © 2004 Duane Gordon/Dollymania and may not be reproduced without prior written consent.

By Duane Gordon
Dollymania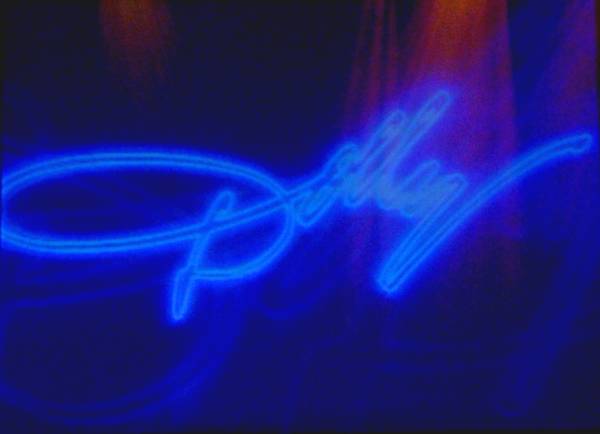 Sometimes, her name flashed on the screen above the stage. Sometimes there were other images. See more photos from Biloxi here!
Dolly thrilled the audience in Biloxi, Miss., on Saturday night, taking fans on a musical journey through her career. The show opened with a melancholy fiddle melody line of "Hello Dolly" as images from Dolly's childhood in the Smoky Mountains flashed on the screen above the stage. The tune picked up, with the rest of the band joining in for a couple of verses as the photos changed to album covers, followed by Dolly posing in new pictures before she emerged on stage to sing the song with the boys, adding in toward the end a few lines of "Hurray For Dollywood!"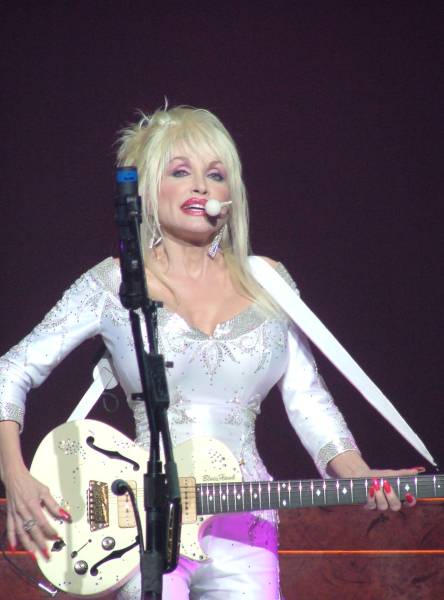 The hits began with Dolly pickin' on the guitar for "Two Doors Down" and playing her fingernails for "9 To 5." Possibly addressing recent fan chatter over possible lip-synching, she reviewed the high-tech set-up, including the multiple microphones (even joking of one hidden between her boobs), the pre-recorded choir and more, adding that if the audience heard something but didn't see what's on stage matching up to it that "it's not an effort to try and trick you. It's just to try to entertain you. They call it 'production value.'" It did appear that at least a few of the numbers, but not all, were lip-synched to pre-recorded vocals.
She then launched into a medley which brought abbreviated versions of "Jolene," "Why'd You Come In Here Lookin' Like That" and "Here You Come Again," much to the audience's enjoyment.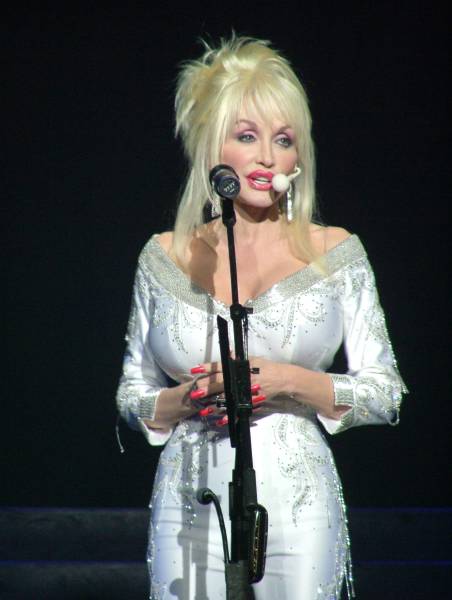 Her on-stage banter appeared a little more spontaneous than usual. For example, Dolly shelved her usual "I told you to wait in the truck" when a male fan yelled out "I love you Dolly!" Instead, she replied: "Them boys is actin' up! I told you this wouldn't work between us. I told you I'm a married woman! But you said we shouldn't let a little thing like that get in the way." The old "it costs a lot to look this cheap" line was missing, but plenty of her more recent boob jokes were in force, including that most people want to ask her about two things: "the right one and the left one," and that she's named them "shock and awe: my weapons of mass distraction."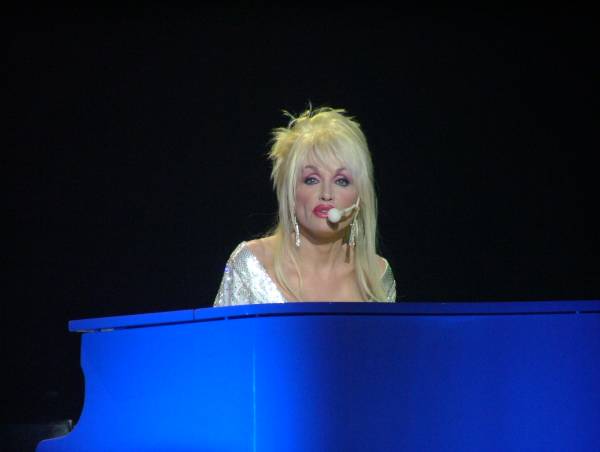 She appeared to be having a grand ole time up there, periodically adding and subtracting small accessories with her costume. She sat behind the piano, frequently looking down on the keys as she played, during a slow, almost jazzy "The Grass Is Blue." She hopped up on top of the piano as Richard Dennison played it and sang a duet with her on "Baby It's Cold Outside," which she recently recorded with Rod Stewart. For that number, she donned a white feather boa and held onto a long cigarette holder and oversized martini glass. "I feel like Joan Crawford," she joked. "You can call me 'Dolly Dearest!'"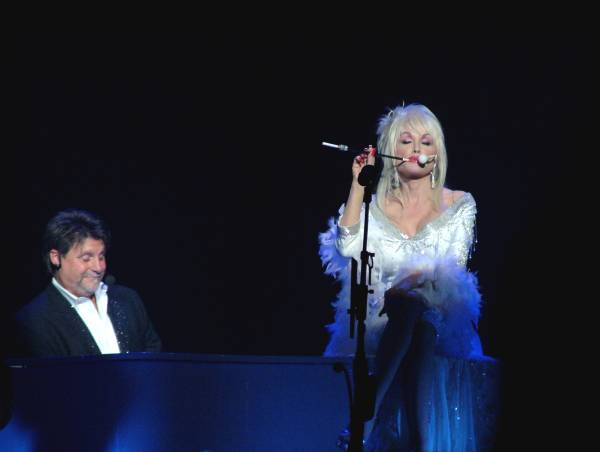 She took up a blue guitar (saying it might be "Biloxi Blue," a reference to the Neil Simon play and film) for "PMS Blues," belting out the words as they flashed on the screen behind her and the audience cheered and laughed. Jamie Johnson came on stage dressed in full Elvis costume to join her on her new song "I Dreamed About Elvis," featuring an up-tempo King version of "I Will Always Love You" in it, a song she next performed in its entirety on her own, a strange twist, as she usually performs the song as the final number or next-to-last tune in her concerts.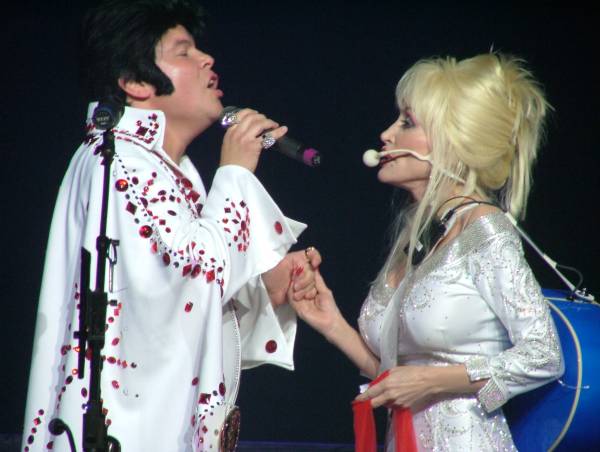 The band got all riled up for her wonderful new song "Blue Smoke," from next year's CD of the same name, which she followed with a very country/almost bluegrass interpretation of "Me And Bobby McGee" and a beautiful cover of John Lennon's "Imagine," which for the most part followed closely to the original arrangement until the addition of a gospel-sounding choir toward the end. She said both songs had been recorded for the new album.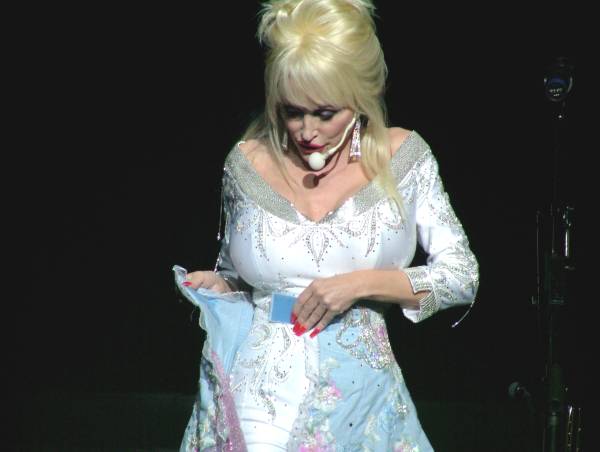 Afterward, she said she couldn't imagine a world with no religion, as the song asks you to. Instead, she said, she believes there is one God, which brought great applause from the Southern crowd, but she added that she thought all of the world's religions are just different avenues for reaching the same God, which garnered some applause but not as much as before. But the crowd sure got into the Pentecostal Holy Roller number "Go To Hell," which followed.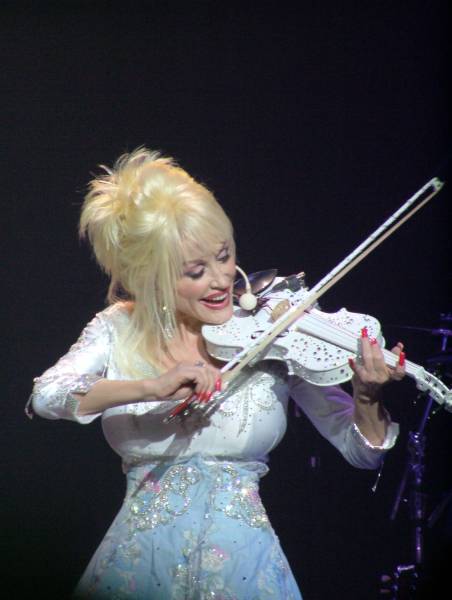 Dolly and the boys had a grand time playing around on "Thank God I'm A Country Girl," before Dolly brought things down a bit with "My Tennessee Mountain Home" (accompanied on the dulcimer) and "Coat Of Many Colors" (accompanied on the autoharp). She recalled her mother's singing to her father with no instrumentation before offering an amazing a capella version of "Little Sparrow," followed by her tribute to her father, "Smoky Mountain Memories." She left the stage for a moment, bringing the crowd to its feet for a standing ovation, only to return for her rousing "Hello God" encore, earning another standing O.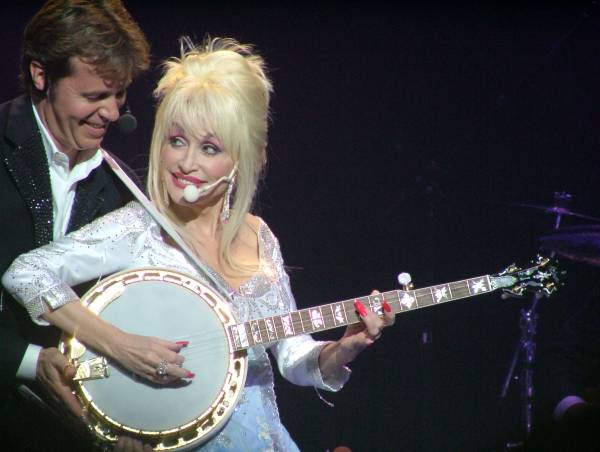 The show was awesome, with spectacular lighting and perfect sound quality. Dolly was as effervescent and glowing as ever. It was well worth the price of admission (which was higher than at most non-casino venues on the tour), regardless of how many numbers may have been lip-synched, but I did have one major complaint: The casino forced her show to be cut to 90 minutes, several people confirmed. The apparent reason is to keep people from tiring out before the show is over in the hope that afterward they will gamble in the casino or eat in one of its restaurants to spend more money. This limitation required not allowing the Grascals to play their opening set, cutting the intermission between their performance and Dolly's, and deleting the two parts I was most looking forward to seeing: the Grascals' version of "Viva Las Vegas" with Dolly and her routine with a Kenny Rogers ventriloquist's dummy on "Islands In The Stream." This rule applies to all shows there, I'm told. (One local went so far as to say that if you go to the casino to see a national touring production of a Broadway musical, you'd better know the complete plot beforehand, because they usually have to cut an entire act to fit within The Grand's 90-minute time limit.) It's just wrong for the venue to cut so much from a show and not disclose it to the audience in advance of purchasing their tickets. Also, I haven't confirmed this, but there are rumors that performances at other casinos on the tour (almost all of which are owned by The Grand's parent company, Caesar's) will fall under the same 90-minute restriction. So be warned!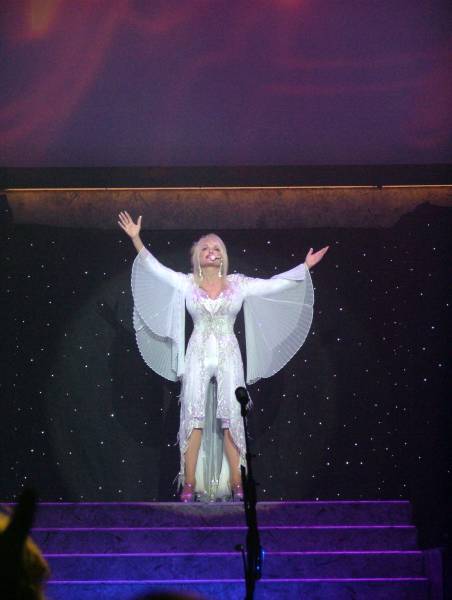 SET LIST

Hello Dolly/Hurray For Dollywood

Two Doors Down

9 To 5

Medley: Jolene/Why'd You Come In Here Lookin' Like That/Here You Come Again

The Grass Is Blue

Baby It's Cold Outside (with Richard Dennison)

PMS Blues

I Dreamed About Elvis/I Will Always Love You (with Jamie Johnson)

I Will Always Love You

Blue Smoke

Me And Bobby McGee

Imagine

Go To Hell

Hambone/Thank God I'm A Country Girl

My Tennessee Mountain Home

Coat Of Many Colors

Little Sparrow

Smoky Mountain Memories