The Grass is Blue
To read the first review published anywhere on the CD, which happened to be Duane Gordon's Dollymania review on Sept. 27, click here. For the Dollymania transcripts of the Sugar Hill interview, click here.

Buy the CD!
Best of Year Lists
Scroll down for reviews and news.
Feb. 21: The Village Voice's annual critics poll of the best CDs of the year puts it at No. 78.
Feb. 2: Sonicnet/Addicted To Noise poll of music critics: No. 93 overall. Two named it in their Top 10s: David Cantwell of Amazon.com placed it at No. 3, and Bill Friskis-Warren of The Washington Post named it his No. 10 pick.
Jan. 7: The New York Times' Neil Strauss, No. 7: "Like Steve Earle, Jim Lauderdale and many others last year, Ms. Parton went bluegrass and turned in an amazing album. With an expert team of side musicians, she radiates, whether racing at breakneck speed through a Louvin Brothers song or wailing high and lonesome on an original tear-jerker."
Jan. 5: The Columbus (Ohio) Dispatch's Mark Wyatt, No. 2. Here.
Jan. 3: Jeff Sharpe of the Pittsburgh Post-Gazette, No. 4: "Bluegrass at its best..." Here.
Dec. 29: USA Today, best country, The Grass is Blue No. 6 and Trio II No. 7, writing about The Grass is Blue: "Parton continues the musical renaissance begun last year with Hungry Again on her first bluegrass album. In typical Parton fashion, she covers songs by artists ranging from Lester Flatt ('I'm Gonna Sleep With One Eye Open') to Billy Joel ('Travelin' Prayer') and contributes a handful of gorgeous originals." Here.
Dec. 27: L.A. Times writer Terry Atkinson, No. 7: "Are two bluegrass albums too many for one list? Not when they're this good. Parton's best album in many a moon finds her retracing her roots and regaining her strengths. A few new songs are so-so, but the arrangements of genre chestnuts and, especially, the reworkings of Billy Joel and Blackfoot rock tunes into bluegrass are knockouts."Here.
Dec. 25: The Washington Post's Mike Joyce, No. 3: "Back to where she once belonged, amid bluegrass's high spirits and harmonies, not to mention a stellar string band." Here.
Dec. 23: The Nashville Scene, two critics, both No. 2 country. Michael McCall: "A collection of rave-ups and folk ballads that captures the soaring glory and violent underpinnings of mountain music, Parton's best album in 20 years fully exploits the willful expressiveness of her sweet, pinched mountain chirp. It also gives her a chance to show how truly brilliant she can be as a conceptualist and an arranger: Transforming songs by Billy Joel, Johnny Cash and '70s redneck rockers Blackfoot into potent acoustic tunes, she demonstrates that the innate musical strengths she flashed as a young woman remain intact." Here. Bill Friskics-Warren: "Who'd have thought that at this late date Parton's mountain roots would run so deep? More than just her best album in 30 years, this return of the 'lady muleskinner' proves that Dolly is the ultimate Dixie chick." Here.
Dec. 18: The Knoxville News-Sentinel, No. 6: "Parton may be on a commercial ebb, but creatively it's high tide." For the full article, click here.
Nov. 29: Amazon.com, country, No. 8. (Also No. 1 bluegrass and No. 22 country seller of the year.)
Nov. 15: The Los Angeles Times Syndicate: "The Grass Is Blue is not just a good bluegrass CD. It's one of the best albums done in that style in recent years - and one of the most pleasurable CDs of any kind released during 1999." Here.


Reviews
May 19: Bluegrass Unlimited finally posted its review of The Grass is Blue from its May issue online. The review notes: "From the exceptionally creative reworking of rock star Billy Joel's 'Travelin' Prayer' into a bluegrass rave-up that opens the album to her mountain dew-eyed vocal delivery on such standards as 'Cash On The Barrelhead' and 'I'm Gonna Sleep With One Eye Open,' Dolly and producer Steve Buckingham successfully hew close to bluegrass music's rough and rocky road while showcasing her remarkable voice. . . Having a musician with the stature and popular appeal of Dolly Parton record a bluegrass album not only should bring many new fans to the music, it also gives loyal fans a wonderful album with a fresh voice to enjoy. Welcome to our world, Miss Parton, and we sure hope you'll stay around." To read the full review, click here.
April 15: The Detroit News on Friday published a review of The Grass Is Blue by A.J. Flick of The Tucson Citizen, which read: "Good golly, Miss Dolly, how could this be the first bluegrass album you've ever recorded? If anyone ever had a right to perform bluegrass, it surely would be Parton, whose hardscrabble early life has been documented in her songs. For this project, Parton is surrounded by pals and bluegrass virtuosos, including producer Steve Buckingham, Jerry Douglas on dobro, Sam Bush on mandolin and backing vocals by Alison Krauss, Patty Loveless and Rhonda Vincent, among others. Parton mixes five original tunes along with well-loved standards including Shorty Medlocke's 'Train, Train' and a version of 'Travelin' Prayer' that would make its composer, Billy Joel, proud." He gave it three stars, or the "worthwhile" category, only one less than the newspaper's top rating of four stars.
Jan. 24: Country Music Magazine: "... one of the best bluegrass albums of the 1990s, a beacon for younger artists and fans and a keepsake for anyone who loves American music... It would have been enough of a treat for Parton to record a standard bluegrass throw-back album. By pushing the form so sympathetically, she further solidifies her greatness." Here.
Jan. 17: Rolling Stone, James Hunter: "...On recent recordings like Trio II, with Emmylou Harris and Linda Ronstadt, Parton has gone home, but not with the curled-tongue abandon she brings to The Grass Is Blue, where she re-tackles bluegrass, country and traditional songs with brio...it leaves the earth often...Without that almost punk-style independence, you can't have new legends, country or otherwise." Here.
Jan. 7: Columbus (Ohio) Dispatch (No weeds in Parton's bluegrass): "...a brilliant idea. This is the music she was raised with and has revisited throughout her career. It fits her like well-worn bluejeans... delightful little surprises... fueled by Parton's spirit and fire..." Here.
Dec. 30: The Washington Post's Mike Joyce: "...every track radiates a spirit of fierce independence...easily ranks with the best recordings of her career...perfectly suited to Parton's defiant, live-wire voice...Even so, it's the ballads -- tender, poignant and tragic, by turns -- that prove most memorable." Here.
Dec. 22: Women.com: "Newly elected to the Country Music Hall of Fame, Dolly Parton celebrates by going back to her roots -- and I don't mean the ones she's been hiding under all those fabulous wigs. Backed by world-class musicians on banjo and fiddle, Dolly revitalizes classics like 'I Still Miss Someone' and barrels through Billy Joel's 'Travelin' Prayer' with infectious glee. Her own songs don't always ring so true, but any lyrical lapses are forgiven when she lets loose that high-lonesome soprano. Bottom line: a rollicking tribute to Tennessee mountain music."
Dec. 20: The New York Times' Peter Applebome: Dolly "takes traditional bluegrass and makes it her own in an utterly luminous way . . . one of the most riveting bluegrass albums in recent years, with truly inspired playing and vocals that seem to come right from Parton's East Tennessee roots without the adorable Nashville chirp. Dolly's singing hasn't sounded as vital in years. She doesn't just pay her respects to the ancient spirits, she summons them up. Dolly has taken a lot of calculated detours into pop-land, but when she finally hangs it up, she'll look back on this and think it's one she really got right."Here.
Dec. 15: E! Online's: ". . . Parton not only returns to her roots (well, her musical ones, anyway), she shows she's kept her connection to them. And despite being one of the most recognizable personas in country music, she never overwhelms the material, giving it just the right high, lonesome feel needed to put it across. A landmark in a career full of fantastic records. Despite Dolly Parton's status as a bona fide country legend, its surprising to see a singer who's journeyed to the heights of crossover mainstream pop putting out a hardcore bluegrass album on an independent label. But that's just the kind of left hook that attests to Parton's continuing artistic viability . . . just pure bluegrass matched by the purity of the marvel that is Dolly's crystalline voice. Hot picking naturally abounds, all in support of Parton's highly effective, no-frills delivery." Here.
Dec. 13 : The St. Paul (Minn.) Pioneer Press: "Parton is one of country music's most sublime vocalists, as this return to her bluegrass roots proves . . . in the middle of all that classic material, and the expert fiddles, dobros and mandolins (and cameos from Alison Krauss and Patty Loveless) is Parton's robust-as-a-Kentucky-morning voice. Which seems to be singing, to itself, 'Welcome home.'" Here.
Nov. 22: Interview magazine, Dudley Saunders: "Ever since Parton went Dollywood on us, covering the Bee Gees and turning out dance remixes, it's been easy to forget that she started off as country music's Billy Holiday: On her ancient-sounding mountain songs, her small, pointed voice cut the heart like a razor and left it bleeding. Fortunately, Dolly has finally remembered, and gracefully turned her back on mainstream country radio with a full-on bluegrass record of almost unbearable beauty. Surrounded by classic banjo and Appalachian fiddles so keening they sound almost Middle Eastern, Dolly's unearthly soprano sounds like a mournful phantom, crying down the mountains."
Nov. 8: The London Evening Standard: "The lady from Locust Ridge can sometimes seem like a caricature of a self-parody, but when Dolly drops the production-line schmaltz she reminds us of the beauty of her take on authentic bluegrass. Utilising Alison Krauss' band rather than a bunch of hired hats, Parton cuts to the chase on a set that echoes 'My Tennessee Mountain Home' and her part in the Trio recordings. If Appalachian fever with a large slug of Jack Daniels grabs your goat then DP has the necessary cure." * People Weekly, Album of the Week: "Parton is 53 now, but on her last two albums she has sounded a lot like her old girlish self: chipper, emotionally engaging and unfailingly melodious. This new one is full of splendid bluegrass music, with Parton's backup band including Jerry Douglas on dobro, Sam Bush on mandolin, Jim Mills on banjo and Stuart Duncan on fiddle. (Alison Krauss is present, too, though only as a harmony singer.) Parton wrote three of the songs herself, and if they don't have the exuberant naïveté of her more youthful compositions, their imagery does still reflect her Appalachian roots. She also rounded up a lively set of songs by others: Billy Joel's 'Travelin' Prayer,' Lester Flatt's tribute to suspicion 'I'm Gonna Sleep With One Eye Open,' the Louvin Brothers' 'Cash On The Barrelhead' and, most affectingly, Johnny Cash's poignant 'I Still Miss Someone.' Bottom Line: A unique singer shows why she's a Hall of Famer."
* Entertainment Weekly, B+.
Nov. 5: The Boston Phoenix's Grant Alden: "...an astounding performance, rippling with risk and sheer, soaring exuberance...The performance is louder and more emotionally direct than anything rock and roll has offered since the early part of this decade...The Grass Is Blue conveys all the hunger and yearning missing from the well-fed suburbs that country radio now caters to.Here.
Nov. 3: CNN's Worldbeat: "With so many artists returning to their roots, it is perhaps especially gratifying that Parton has decided to join their number via this brilliant bluegrass album."
Oct. 28: Country.com: "Overall, The Grass is Blue should appeal to a wide variety of music fans. Longtime Parton fans will enjoy hearing her in an all-acoustic setting, while fans of contemporary female bluegrass singers will find much here to enjoy." Here.
Oct. 27: San Jose Mercury News: "The best thing about Dolly Parton's new CD, The Grass Is Blue, is that it's no watered-down new-country piece of crud in the mold of most everything else coming out of Nashville these days." Here.
* New York Post: "Parton knows the limited commercial appeal of the style, but The Grass is Blue seems to be a declaration of freedom for her. Parton, hardly a staple of radio these days, has finally made an album aimed at pleasing no one but herself. Perhaps because of that approach, this is among her most pleasing efforts . . . [an] often stark, intensely beautiful album." Here.
* USA Today: "Dolly Parton's voice sounds so natural amid the banjo, dobro and fiddle here, it's astounding to realize that The Grass Is Blue is her first true bluegrass album . . . [featuring] the most lonesome harmonies on the eerie "Silver Dagger," a Gothic folk tune in which a young girl warns away a suitor because of her violently overprotective mother. (Rating: 3 ½ out of four stars)"
* Music.com: "Dolly has immersed herself in the music that means the most to her and the results sparkle." HERE.
* From Wall of Sound: "[H}er foray into the land of the high lonesome sound, a set that has the sparkle and heart of Dollywood without the theme park hype. Here.
* French Canadian online magazine Sympatico: "Her interpretation provides a natural vehicle for her to record a bluegrass album, a genre which she has always held in high regard " (rough translation).
Oct. 26: The Grass is Blue is released in stores nationwide.
* CDNow: "It's also no surprise that The Grass is Blue is a superior piece of work...Parton's distinctive vocal style is not typical of bluegrass singers, so the listener should expect a country-meets-bluegrass experience. Her voice is almost too beautiful for bluegrass, but let's try to live with that tension."
* The Knoxville News-Sentinel's Wayne Bledsoe: "Some may conclude that Parton is only jumping on the bluegrass bandwagon because she's been shut of country and pop. If so, so much the better for bluegrass, Parton and us. 'A.'" Here.
* Amazon.com: "It's a testament to the force of Parton's voice and personality that while surrounded by top-tier players like Stuart Duncan (fiddle) and Bryan Sutton (guitar) she's still the undeniable leader. Her singing is masterful, absolutely vibrating with energy and soulfulness. Along with Steve Earle's The Mountain, this is the finest bluegrass release of 1999, and one of the most fully realized albums of Dolly Parton's career."
Oct. 25: Philadelphia Daily News: "Dolly Parton fronts a zesty bluegrass session, The Grass Is Blue (Sugar Hill), supported by the likes of Alison Krauss, Sam Bush and Jerry Douglas. Highlights include a cover of Flatt & Scruggs' 'I'm Gonna Sleep with One Eye Open' and hot countrification of Billy Joel's 'Traveling Prayer.'"
Oct. 18: Raleigh News-Observer, Jack Bernhardt: "As she has done throughout the album, Parton erases the barriers between country and bluegrass, replacing them with songs and performances as timeless and true as the mountains that gave her the gift of music," four out of four stars, here.
Oct. 9: Justin's review, special to Dollymania: "...a slice of heaven...truly a heavenly masterpiece from the Dolly Parton the world has grown to love." Here.
Sept. 27: Read the first review on the CD published anywhere – Duane's Dollymania review – here.
News
Feb. 22, 2001: Dolly took home the Best Bluegrass Album Grammy Award Wednesday night for The Grass is Blue, her sixth time to win one of the gramophone trophies. Faith Hill's "Breathe," however, beat her out for Best Female Country Vocal Performance for "Travelin' Prayer" from the CD. Both awards were presented prior to the prime time airing of the awards, although, sadly, I don't believe VH1 broadcast either award in the pre-show coverage.
Jan. 4, 2001: The Grass is Blue is nominated for the Best Bluegrass Album Grammy, and "Travelin' Prayer" from the CD is nominated for Best Female Country Vocal Performance
Oct. 20: Dolly was honored with one of the evening's top awards at Thursday's International Bluegrass Music Association Awards, picking up Album of The Year for The Grass is Blue. According to the Associated Press, Dolly accepted her award with humility. ``I feel like I'm on sacred ground,'' she said. ``I'm very, very honored, but I'm very, very surprised.'' Blue beat out the self-titled Blue Highway, Larry Cordle and Lonesome Standard Time's Murder on Music Row, IIIrd Time Out's John and Mary and Rhonda Vincent's Back Home Again, which happens to feature Vincent's own bluegrass cover of Dolly's classic "Jolene." Vincent took home the Best Female Vocalist trophy, for which Dolly was also nominated. The Grass is Blue has also won the British County Music Association's Top International Independent Label Artist Award and was named Best Bluegrass Album at the Association for Independent Music Awards. Dolly performed at the awards show, doing a medley of "Train, Train" from The Grass Is Blue, and "Bluer Pastures," a new Dolly original which will appear on her upcoming CD The Little Sparrow, which Sugar Hill officials have confirmed is scheduled for a Jan. 23 release.
Sept. 28: Dolly's The Grass is Blue is up for Bluegrass/Old Time Music Album at the Nashville Music Awards, according to a story in The Tennessean on Wednesday. It faces Larry Cordle and Lonesome Standard Time's Murder on Music Row (Shell Point); Steve Earle and the Del McCoury Band's The Mountain (E Squared); John Hartford and the Hartford Stringband's Good Old Boys (Rounder Select) and Ricky Skaggs' Ancient Tones (Skaggs Family). Although lack of volunteers has forced the Nashville Music Awards to abandon plans to present an actual awards show, winners should be announced in November, according to the article.
Aug. 10: The Grass is Blue has been nominated for Album of The Year at the International Bluegrass Music Association Awards, it was announced this week. The CD is up against the self-titled Blue Highway, Larry Cordle and Lonesome Standard Time's Murder on Music Row, IIIrd Time Out's John and Mary and Rhonda Vincent's Back Home Again, which happens to feature Vincent's own bluegrass cover of Dolly's classic "Jolene." In addition, Dolly is up for Female Vocalist of The Year at the awards, which will be presented Oct. 19 at the Kentucky Center for The Arts in Louisville. In that category she faces frequent Dolly back-up singers Claire Lynch and Vincent, Lynn Morris (who covered "Coat of Many Colors" a few years back) and Laurie Lewis.May 10: Congratulations to Dolly on her second award for the colossal The Grass Is Blue! Over the weekend, the CD took home Best Bluegrass Album at the Association for Independent Music (AFIM) Awards annual conference in Cleveland, Ohio. The CD was up against Dudley Connell and Dan Rigsby's Meet Me By the Moonlight (Sugar Hill), Lynn Morris' You'll Never Be the Sun (Rounder), Mountain Heart's Mountain Heart (Doobie Shea) and Steve Earle and The Del McCoury Band's The Mountain (E-Squared).
April 14: Dolly has been named the Top International Independent Label Artist at the annual British Country Music Awards this week, Countrycool.com announced Thursday. Her critically-acclaimed bluegrass CD The Grass is Blue, released through the independent label Sugar Hill Records and Dolly's own Blue Eye Records and currently in its 23rd week on the U.S. country chart and No. 1 on the U.S. bluegrass chart, spent 18 weeks in the U.K. Top 20 country album charts, peaking at No. 8. Other winners in the international categories were the Dixie Chicks for Best Group/Duo and Best Album, Reba for Best Female Vocalist, George Jones for Best Male Vocalist, Brad Paisley for Rising Star of The Year, Alison Krauss & Union Station for Best Bluegrass Group and Patsy Cline for the Country Legend Award.
Jan. 19: In a Seattle Times story, The Tonight Show bandleader Kevin Eubanks: "When Dolly Parton came on the show for her record, When the Grass is Blue, she brought her bluegrass group, and they were just slammin'! It's obvious that jazz and bluegrass have something in common. But you don't see too many records where it's all together."
Jan. 8: Steve at Sugar Hill Records tells me The Grass is Blue recently passed the 60,000-sales mark at SoundScan (although their figures are known to be less than actual sales) and is expected by year's end to be the label's biggest-selling CD on which they have figures. He said Robert Earl Keen's No. 2 Live Dinner over the past four years has sold in excess of 100,000, and the only other CD close to it on the label is a late 1970s Ricky Scaggs release for which they don't have total figures. Way to go Dolly! (And in case you're wondering, the figures may sound low, but they outpace sales of her earlier albums. Prior to 1977, her biggest seller was reportedly Jolene at about 100,000.)
Oct. 2: Orange County (Calif.) Register: "Bassist Edgar Meyer cued up a special selection to blast through his tour bus recently as he made his way toward a date at the Irvine Barclay Theatre this weekend: lots of Dolly Parton. Not the listening preference you'd expect from a classically trained musician longing to record Bach, but Meyer has some unfinished business in the bluegrass vein to take care of first. His old friend Sam Bush played banjo on the not-yet-released Parton album. And Meyer is an unabashed Dolly fan. 'Her singing is totally unblemished by all those years in pop,' he fawned in his watered-down twang. 'This'll be my favorite bluegrass record of the decade.' It's Meyer's way of revving up for another performance of 'Short Trip Home,' the bluegrass-meets-classical album he wrote."
Sept. 23: Billboard feature. here.
Sept. 22: From Sugar Hill: For Dolly's biography in bluegrass and her stories behind each song on the album, click here. For the complete liner notes from the album, click here. And for quotes from the musicians about working with Dolly, click here.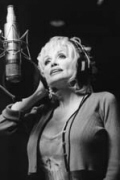 Aug. 29: Sugar Hill Records yesterday released several photos of Dolly in the studio recording The Grass is Blue, her bluegrass album due out in October. To see them, click here.
Aug. 25: Sugar Hill Records press release on the CD: here.
Aug. 11: Sugar Hill announcement: Although she has dabbled with a bluegrass song here and there throughout her career, The Grass is Blue is to be Dolly's first-ever full-bluegrass album when it hits stores, scheduled for an Oct. 26 release on Sugar Hill Records and Dolly's own Blue Eye label. According to the record company, the album was recorded last week with harmony vocals being added this week. They added that "Smilin'" Jimmy Mills, Ricky Scaggs' banjo player, called in and said the whole experience has been fabulous. Although catering was ordered, it was ditched when Dolly showed up with home-cooked chicken and dumplings, getting everyone in the mood for bluegrass. The band consists of Jerry Douglas, Sam Bush, Stuart Duncan, Bryan Sutton, Jim Milles, Barry Bales and producer Steve Buckingham. Providing harmony vocals are Alison Krauss, Dan Tyminski, Alan O'Bryant, Keith Little, Claire Lynch, Rhonda Vincent and Darrin Vincent. The tracks included, but not in order, are "A Few Old Memories" (Hazel Dickens), "Travelin' Prayer" (Billy Joel), "Cash on the Barrelhead" (Louvins), "Silver Dagger" (PD), "I Still Miss Someone" (J. Cash/R. Cash), "I'm Gonna Sleep With One Eye Open" (Flatt & Scruggs), "I Wonder Where You Are Tonight" (J. Bond), "Train, Train" (Shorty Medlocke), "The Grass is Blue" (D. Parton), "Steady as the Rain" (D. Parton), "Endless Stream of Tears" (D. Parton), "Will He Be Waiting For Me" (D. Parton), "I Am Ready" (D. Parton) - a capella gospel. Special thanks to Steve Gardner of Sugar Hill Records' radio promotion department for the info!