Just Because I'm A Woman: Songs Of Dolly Parton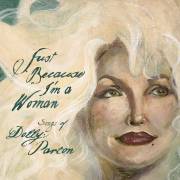 ORDER YOUR COPY HERE!
In the nearly four-minute track available exclusively from Rhapsody, Dolly sings a new recording of the chorus to "My Tennessee Mountain Home" with acoustic guitar accompaniment. As she speaks, additional instruments come in.
Now that's one of my favorite songs that I've written 'cause it talks about home, and it keeps me ever there. Back in my Tennessee mountain home when I's a kid growing up, I used to stand up on the hill above the barn and sing songs that I'd written to the cows, the pigs, the chickens, any livin' thing that'd listen! And even though I had 11 brothers and sisters, they got pretty sick of me pretty quick 'cause all I ever wanted to do was write and sing and plunck on an ole beat-up guitar. But I felt like God had given me a gift and that it was up to me to develop it. But Mama says that I's writing songs ,or making up stuff, before I was old enough to write. That's even before I remember it ,some of 'em. She used to even write 'em down because she said she was fascinated that I could rhyme all that stuff at that age. Well, the first song I ever remember writing, I guess I was just about 5. Mama had made me a little corn cob doll, and she'd left the tassel silk on it for hair, so I named her Little Tiny Tasseltop. Let's see if I can even remember how she went. I think it was something like this: (sings in child's voice) Little Tiny Tasseltop, I love you an awful lot, Hope you never go away, 'Cause I want you to stay. (laughs) 'Course, now, that never made it up the charts, but many of 'em have. I've always been touched when people say that I've written something that's touched or changed their life in some way or said something they needed or wanted to say but wasn't able do it. Now I know that there are many writers greater than me, but I can assure you that nobody enjoys it more than I do. And I've always thought of my songs as my children, and I expect 'em to support me when I'm old. (laughs) Well, this tribute album, by some of the greatest female artists in the business, is making some pretty good progress in that direction. And like I always say, Lord knows I do need the money 'cause it costs a lot to look this cheap! (laughs) But I do give God the credit, course now I am goin' to take the cash. Seriously, though, what a great and humbling compliment to think that all these great artists would think enough of my songs to do a tribute album. And I want to personally thank each and every one of 'em. And, by the way, Steve Buckingham, my friend, producer and the executive producer of this tribute album, well he asked if I might like to sing one of the songs on the album. Well, what could I say, I said I would providing' it was the title of the album (laughs). And I hope that you like this. And thank you so much. -- Dolly
It ends with her again singing a chorus of "My Tennessee Mountain Home".
Return to the Dollymania page for the album here.