CMA '99: The women take it all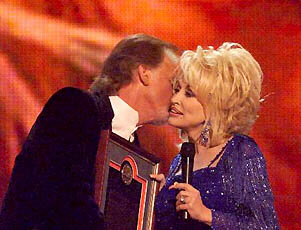 Dolly Parton accepts her County Music Hall of Fame trophy from longtime pal and duet partner Kenny Rogers.
By Duane Gordon
Dollymania
The 33rd annual Country Music Association Awards Sept. 22 in Nashville was a night for women in music to shine with the omnipresent The Dixie Chicks opening the show with an extravagant dance number and snatching up three trophies while diva Shania Twain took home both of the night's top awards, Entertainer of The Year and the International Artist Achievement Award.
By far, the evening's biggest highlight was living legend Dolly Parton, 53, becoming the second-youngest living artist to ever be inducted into the Country Music Hall of Fame (she is tied with Loretta Lynn, and Chet Atkins held the distinction of being the youngest at age 49 in 1973), the highest honor bestowed upon anyone in country music. Dolly even got the chance to sing twice during the live telecast on CBS, wowing the audience both times.
The awards show was not without controversy, though. In addition to barbs traded before the show on the inclusion of some pop performers, Faith Hill had threatened to walk if she was not allowed to sing "Breathe," a song from an upcoming album. The CMA board said no, but when she said she would not perform otherwise, higher-ups at CBS overrode that decision. Still, Hill appeared very nervous when she performed the lovely song.
Also, George Jones had declined to perform "Choices" because the CMA board would not allow him to sing the full song, only a shortened version instead. In protest, Alan Jackson concluded his performance by singing the chorus to "Choices" while on the verge of tears. As he stormed off the stage at its conclusion, his act of defiance earned him a standing ovation.
The Dixie Chicks took home the most awards, three, winning Vocal Group and both the Best Video and Single of The Year categories for "Wide Open Spaces." Next were Shania's two wins and Tim McGraw with two awards, Male Vocalist and Album of The Year (A Place in The Sun).
Martina McBride also received a standing ovation when she accepted her first Female Vocalist of The Year trophy.
A weeping Shania noted Dolly in her acceptance speech for Entertainer of The Year, saying it was moving to be in the audience when Dolly and Conway Twitty were honored for their work which has inspired everyone in the room.
"I have to meet Dolly Parton tonight after the show," she exclaimed after Reba McEntire handed her the trophy. "She's my absolute most huge, biggest influence of all time, and she can't leave the building until I meet her!"
Host Vince Gill took a jab at Shania's critics who claim she isn't country as he closed the show, saying, "Well, Shania, that ought to shut everybody up. You did it, baby!"
She became only the fifth woman to ever win the CMA's top annual prize, with the others being Reba, Barbara Mandrell, Loretta Lynn and, of course, Dolly.
Some impressive performances were given by Horizon Award winner Jo Dee Messina ("Lesson in Leaving"), Merle Haggard with special guest Jewel ("That's the Way Love Goes") and Alabama with N'Sync ("God Must Have Spent a Little More Time on You").
But the most rousing performance was that of "Train, Train" by Dolly as she was inducted into the Hall of Fame. Energetic and robust, she belted out the song, a cut from her upcoming bluegrass album The Grass is Blue, to the accompaniment of some of Music City's top bluegrass musicians. (Buy the CD here!)
She performed after Kenny Rogers introduced a clip montage of her career. It began with home videos and childhood photographs; showed her performing "Coat of Many Colors" from The Porter Wagoner Show; an audio clip of her first single, "Puppy Love," at age 11; video clips of "Something Fishy" and "Dumb Blonde" from her time at Monument Records before meeting Porter; "Touch Your Woman," "Jolene," "I Will Always Love You" and "The Right Combination" from The Porter Wagoner Show, "Here You Come Again;" a clip from her 1976-77 Dolly! show; clips from 9 to 5, The Best Little Whorehouse in Texas, Rhinestone, Steel Magnolias and Straight Talk; performing "I Will Always Love You" with Porter and Vince at the Grand Old Opry; and several interview clips talking about her childhood, career, Porter and her life.
Kenny then introduced her to a standing ovation. After singing "Train, Train," Kenny presented her with her Hall of Fame plaque (to another standing ovation), and visibly moved to the verge of tears, in her acceptance speech she thanked everyone who has ever touched her career. (For the complete text of her speech, click here.)
The final performance of the evening also included Dolly, as she substituted an absent Patty Loveless to sing "My Kind of Woman, My Kind of Man" with Vince Gill.
After the song, she joshed Vince, "I'm no Patty Loveless, but you're no Porter Wagoner!"
(Their duet was supposed to be a surprise, but Tennessean columnist Brad Schmidt broke the story that morning in his daily entertainment report.)
The evening's posthumous Hall of Fame inductees were Johnny Bond (a singing cowboy actor most famous for "Greased Lighting") and the legendary king of all music, Conway Twitty.
Other winners were songwriters Robin Lerner, Annie Roboff and Beth Neilsen Chapman for Best Song (Faith Hill's "This Kiss"); Brooks and Dunn for Best Duo; Vince Gill and Patty Loveless for Vocal Event of The Year ("My Kind of Woman, My Kind of Man"); and Randy Scruggs for Musician of The Year. Radio stations of the year in their respective market sizes were WUSY of Chattanooga, WIVX of Knoxville, WSIX of Nashville and KNIX of Phoenix. On-air personalities in their respective market sizes came from WUSY, WIVK, KVET (Austin) and KNIX.