Dallas Falls For Dolly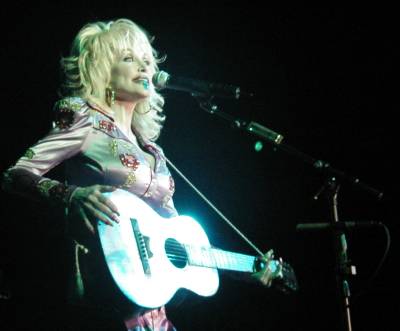 By Duane Gordon
All images are copyright © 2002 Duane Gordon/Dollymania and may not be reproduced without prior written consent.
DALLAS -- Dolly wowed the audience once again when she arrived in Dallas to an adoring sold-out, standing-room-only crowd of more than 1,000.
The show itself was amazing, with Dolly's voice as sweet yet powerful as ever. Unfortunately, few nice things can be said about the performance hall; more on that later.
Dolly's set list was relatively the same as at earlier concerts, the only real exception being the return of the "silly songs" medley of "I Don't Want To Throw Rice," "He's A Go-Getter" and "I'll Oilwells Love You."
As per usual practice on the tour, the Blueniques opened with two numbers before Dolly came on stage to deafening screams of adoration for her first number, "Orange Blossom Special."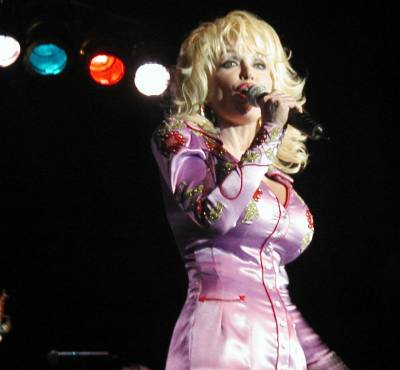 The crowd also went wild for the mountain angel as she belted out an energizing performance of "Shine" and when, in introducing "My Tennessee Mountain Home," she said, "Ain't no place sweeter than Texas other than Tennessee."
The audience sang along with several numbers, heard the most clearly during the first verse of "Coat Of Many Colors" and the chorus of "9 to 5." Dolly was so pleased with the reaction to "9 to 5" that after the song she asked the audience to sing the chorus once more with her a capella. She liked that so much that she had them do it again.
The crowd went crazy for her dexterous harmonica playing on "I'm Gone" and for the a capella medley which always surprises those who haven't seen her on this tour (and which I again found to be the highlight of her performance). Several could be heard taking note of her picking as once again she successfully handled the acoustic guitar, her rhinestone-studded banjo, a dulcimer and an electric wah-wah guitar.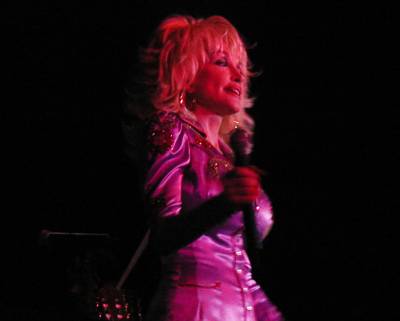 However, a large portion of the audience didn't seem very interested in "After The Goldrush" or "Calm On The Water," with many talking among themselves during those numbers instead of listening to her sing.
As usual, he humor delighted attendees. Several of her standard jokes were told (including the drag queen insertion into "Jolene" and saying that when people inquire of whether her large family is Catholic she replies, "No, just horny hillbillies!"). When she experienced difficulty with her guitar strap before one number, she joked: "I just can't get my stuff around it. I've got too much hair, and my breasts are just too big!" Before "I Will Always Love You," a fan shouted, "I love you more than Whitney Houston!" to which Dolly retorted, "Thank you, but I bet at her show you say, 'I love you more than Dolly Parton!'" And when talking about home she exclaimed, "I grew up on a farm. I'm the farmer's daughter. I'm the one you hear all them jokes about!"
As with all shows on this tour, she closed with "I Will Always Love You" without exiting the stage, therefore declining an encore.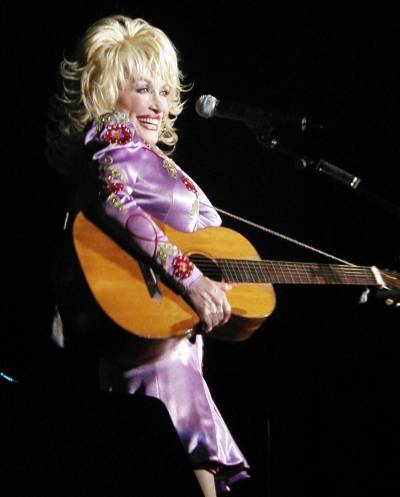 A couple hundred fans were lined up outside the hall in 100-degree heat a few hours before doors opened, with the line steadily growing as time for the concert drew nearer. By concert time, the line stretched down a narrow alleyway beside the theater, around the building and through its parking lot in back. Those lined up early enough in the alley got the chance to clearly hear Dolly's soundcheck through a thin door which led to the stage.
Some of the halo-and-horn-wearing "horny fans" were also present, a few of whom reportedly camped out beginning at 4 a.m. that morning to be the first in line. Once again, the vast majority of those in attendance were rather young (30 and under). Also, as at all of her previous engagements on this tour, there was a large contingent of gay fans present, although the group appeared to make up a significantly smaller percentage of the audience than in other cities.
As they exited the hall, most fans could be heard telling each other some variation of "Damn! That was a great show!" And it truly was!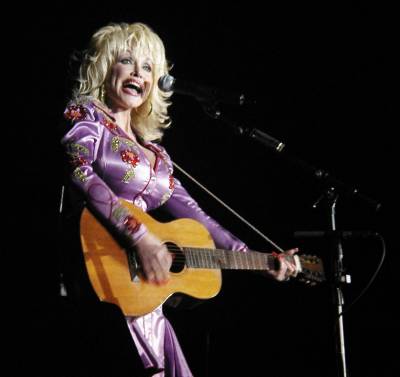 Set List:

Orange Blossom Special/Train, Train

The Grass Is Blue

Mountain Angel

Shine

Little Sparrow

Rocky Top

My Tennessee Mountain Home

Coat Of Many Colors

Smoky Mountain Memories

Applejack

Marry Me

Halos And Horns

I'm Gone

Dagger Through The Heart

If

9 to 5

Jolene

After The Goldrush

A capella medley (Islands In The Stream/Here You Come Again/Why'd You Come In Here Looking Like That?/Two Doors Down)

Calm On The Water

Silly song medley (I Don't Want To Throw Rice/He's A Go-Getter/I'll Oilwells Love You)

I Will Always Love You

However, the venue -- Dallas' Granada Theater -- was not worthy of Dolly that night, tainting the experience for many fans. Several in line loudly complained to each other of rude security. (For example, security appeared to do nothing to stop several dozen latecomers who cut near the front of the line instead of going to the end. Also, these cutters caused the crowd to bunch up at the front, and instead of moving those in the rear so that those in the front could back up, security just demanded that those in the front back up -- an impossible task as the crowd had also bunched in the narrow alleyway, giving those in front nowhere to go. At one point, security threatened that if the crowd at the front didn't back up, they'd start admiting the rear of the line first, but luckily the threat was not followed through.)
The show was originally scheduled to begin at 8 p.m., with will-call open by 7 p.m. and doors open by 7:30 (even though most venues have the will-call box office open several hours earlier and let the audience in about an hour before showtime). However, the times kept being pushed back. Eventually, the will-call booth didn't open until about 7:45 p.m., and the doors remained closed until about 8. The concert didn't begin until after 9 p.m.
Several fans who were there to pick up tickets at the will-call booth found none waiting for them. After they called Ticketmaster to no avail and argued with the ticket agent, the agent finally gave up and just handed them tickets. Others complained that Ticketmaster had confused them by printing assigned seat numbers on their tickets when the event was a general admission standing-only show. One security person even commented that he didn't want to work that night because he knew audience members would be upset by that.
The venue lost the press passes for those photographing the show. After waiting half an hour (during which time the entire audience except a few dozen latecomers had already been admitted to the concert hall), some photographers simply returned their cameras to their cars and went inside. Finally, the ticket agent once again gave up, this time hand-writing photo passes for those still waiting. But he apparently didn't alert interior security, who at first didn't know anyone was going to shoot the concert and didn't know what to do with photographers, then were going to honor the improvised passes on the word of the photographers, then not, then only relented after calling a tour representative over to okay it. One reporter there said she had been covering local music for eight years and had never seen a venue staff so disorganized. (However, I must commend the staff for alerting patrons that photography was prohibited, something which audience members at previous shows had complained they were not told until their cameras or film was confiscated.)
A piece of ceiling fell onto some in the crowd, who were taken outside by paramedics for treatment. There were apparently no serious injuries. Finally, and the problem which affected the largest number of people, the interior of the concert hall was just a few degrees cooler than I hear Hell is. Either the air conditioning system wasn't working or had been turned off, because it was easily 90 degrees inside (and noticeably cooler outside the building). Even Dolly commented on the heat, but taking it in stride. "It's hot, ain't it?" she told the crowd. "You people are sweating! They don't call it sweat on me. They call it mountain dew!"
Overall, while fans bared the night's hassles because seeing Dolly live is worth it all, I'm sure that most there would not have put up with it for any other performer. While other venues on the tour have had a handful of small problems noted, nothing has compared with the size and scope of those experienced at the Granada.

Look at more photographs here!