Mile-High Dolly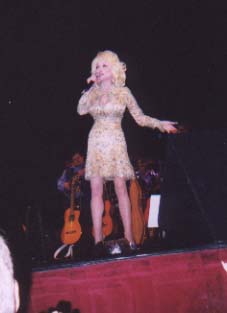 All images are copyright © 2002 Adam Markle. Used with permission.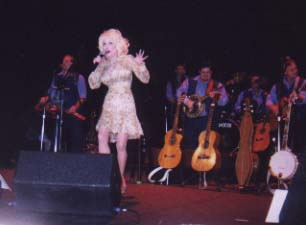 Adam Markle says: Dolly was amazing! The Bluniques started warming up the audience with a song. Then they sung a song called "Little by Little" that was on an album by one of the band members. They then started the same set they have done at most other concerts. She only did one verse of "My Tennessee Mountain Home" and "Halos & Horns". After "Calm on the Water" she did "I Will Always Love You". So we didn't get the silly song medley or "Color Me America". Dolly said she broke a nail playing a song towards the beginning of the concert. Her sleeve on her dress also came undone and she couldn't get it fixed the rest of the show, so she kept making comments about both of those "mishaps". Dolly sounded great and seemed to be in great spirits. The audience was probably about 50 percent of the over 50 crowd. I would say their was only about 20 percent gay and lesbian, and 30 percent young people. There was one drag queen in the audience that Dolly sang "Jolene" to. She at first didn't see any and seemed disappointed, but then a quite large drag queen started jumping up and down and Dolly then noticed her. The concert started a little after 8:00 pm and ended just before 10:00 pm. I got busted from some security guy for taking pictures. He threatened to take my camera away if he saw me take any more pictures. That happened about half way through the concert, so it was hard to enjoy because people around me were taking pictures and I thought I was going to lose my camera. Some camera nazi in the front row kept turning around when anyone was taking pictures and giving nasty looks. All my friends who went with me who weren't big Dolly fans said she was absolutely incredible.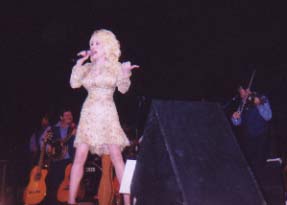 Dusty writes: I caught dinner in the Paramount Cafe, adjacent to the theater where Dolly was playing, where the waitress mentioned they would be hosting a special Happy Hour after Dolly's performance. I wonder how it went.
The crowd was predominantly Caucasian and straight. Such is the Midwest. Yet there were still representatives from all corners of society. Dolly asked the crowd if any drag queens were present before performing "Jolene" and there was but one. Dolly dedicated the song to her, changing the line: I can't compete with you, drag queen
My two disappointments/annoyances were with the limited selection of Dolly's merchandise (maybe because supplies are winding down?) and the people in the middle of my row who couldn't go without a beer in their hands for more than 20 minutes.
But Dolly was fantastic. Perhaps a flubbed line here and there, but nothing someone who wasn't intimately familiar with her music would catch. The line-up was very similar to the lists I've seen for previous shows. No medley of silly songs, no "Color Me America." But she did include the 78 speed "Two Doors Down."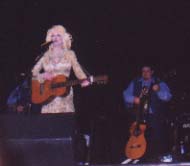 The two songs that amazed me most were:

"Shine." The lighting and vocals were absolutely amazing. At the risk of sounding blasphemic, I'll admit that I sometimes skip Shine when I listen to the Little Sparrow CD. But when she was playing the song on stage tonight, I didn't want her to stop. It was perfect.

"Smokey Mountain Memories." This one is my personal favorite and I've been looking forward to hearing it in person for weeks. She didn't let me down.

As expected, Dolly was full of wit and great one-liners that I'm forgetting because I wasn't thoughtful enough to bring a notebook with me. Yet, there are some that stick with me:

"I give all the credit to God, but I'll certainly take the money."

Referencing her pale yellow dress after catching her guitar on it and tearing the sleeve: "You'd think by now I'd afford better clothes. I bought this one at Wal-Mart."

"Well Momma and Daddy loved each other. You'd think so with 12 kidsI grew up in a family of horny hillbillies."

The stories Dolly tells about her childhood and early Nashville years are as timely and thoughtful as her music. I can't imagine a performance without them although I've listened to the same stories time and time again on the Heartsongs album, in her autobiography, on TV, in interviews and dozens of other places. They're as captivating and poignant as her singing "I Will Always Love You" or "Coat of Many Colors."

Dolly is the most charismatic singer I've ever watched. In a world where most audiences don't sit still through long ballads like "Mountain Angel" and boo when someone refuses an encore, there's only Dolly who mesmerizes the crowd into complete submission. But what the concert most showed me was how much of a person there was on stage. When the lights came up and I waded through the crowd for my car, I felt I'd known her for years.

On a side note, I think Dolly's doing a great job building buzz for "Stairway to Heaven." She mentioned the song when introducing "If," saying it was too intricate for them to work up but that they would perform it soon. And what came over the speakers ten seconds after the Blueniques left the stage? "Stairway to Heaven." With all the positive reviews, mentions in the media and such public buzz, I wonder if "Stairway to Heaven" will be the song she knocks country music on the head with at the Grammies year. Just a thought.