'9 To 5' Cast Helps Out Worthy Cause
Images on this page are copyright © 2003 Duane Gordon/Dollymania and may not be reproduced without prior written consent.

By Duane Gordon
Dollymania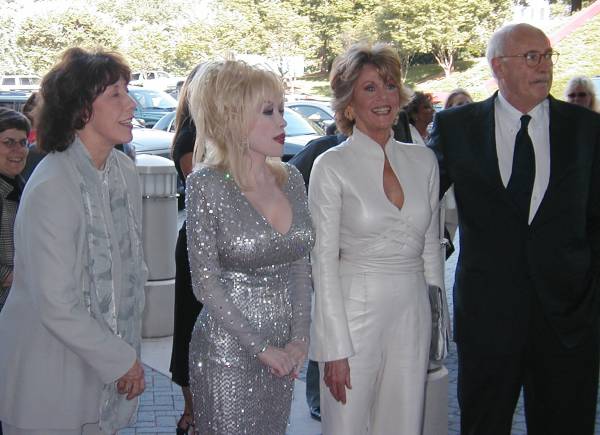 Lily, Dolly, Jane and Dabney in Atlanta. Access additional pictures here!
The stars arrived just before 6:30 p.m. Monday for the 9 To 5 Retro Premiere to benefit the Georgia Campaign for Adolescent Pregnancy Prevention (G-CAPP). Instead of getting out of limousines at the red carpet, the entourage of celebrities got out at the street and walked up the sidewalk to the Woodruff Arts Center in Atlanta. Jane Fonda (with Ted Turner), Dolly (with Judy Ogle), Lily Tomlin, Dabney Coleman and a few others reached the red carpet and stopped for the cameras. As they arrived to the applause of the crowd, Dolly was the first to speak, exclaiming: "Hey! Here we are! Together again!" That set the tone for a friendly and frisky exchange among the actors as they posed .
When Jane was asked if she had any success in obtaining the film's blooper reel, which reportedly contains some "raunchy" Dolly outtakes, she replied: "No. I couldn't get it. No." Dolly chimed in with, "Plus I threatened her with her life!"
Reporters asked how often the stars got together, and Jane said while she had seen Lily and Dabney occasionally, she hadn't been with Dolly in 20 years. Everyone else said they had seen Dolly several times over the years, to which she joshed, "I get around!"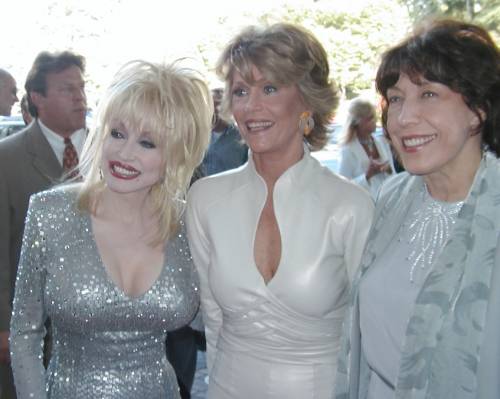 The ladies are all smiles.
When asked what their favorite scene from the film 23 years later was, everyone agreed it was Dolly tying Dabney up as Mr. Hart. When asked if he had flashbacks of that scene, Dabney answered, "Nightmares." Dolly chimed in, "But he was asking us to tie him up again earlier." Jane chided her, "You're not supposed to tell that!"
The stars, who had been standing together for a couple of minutes, then mingled with the press, answering individual questions, and signing autographs for a few fans who had lined up along the red carpet outside.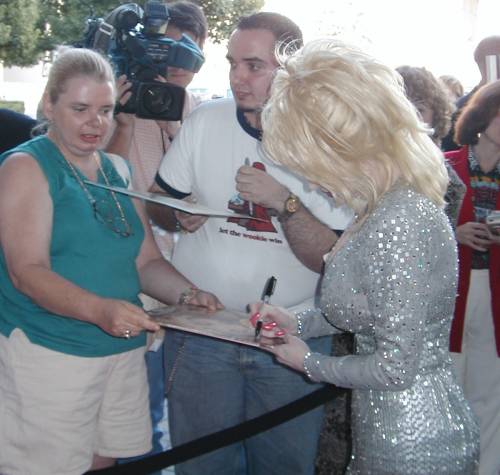 Dolly signs an autograph.
When asked why she chose the film for this year's Retro Premiere, Jane answered: "Well, I was sitting on the toilet about six months ago, and I realized there was no movie coming out of Hollywood that was as fun as 9 To 5 this particular year." She was also asked whether she felt the movie's theme of mistreatment of women in the workplace was outdated. "You think it's outdated in terms of women in the workplace?" she asked those around her. "I don't think so either. I wish!"
When Dolly was asked to provide her thoughts on the charity the night was supporting, which works to prevent teen pregnancy throughout Georgia, she told Dollymania: "I was glad to be part of it. I was just glad it worked out where all four of us could come, but it's a very worthy cause, and Jane's been working very hard on this for about eight years, and (I support) anything we can do to help the kids and the young girls and the care of them. It's just a wonderful thing, and I'm just glad to help out."
When asked if she would still have a job on The West Wing as the president's secretary now that John Goodman has taken over the role of Commander In Chief on the show, Lily said: "I'm wondering! I really don't know." (As a side note, TV Guide reports this week that Martin "President Bartlett" Sheen will return next season and that creators confirm Goodman is contracted for just one episode as president this fall.)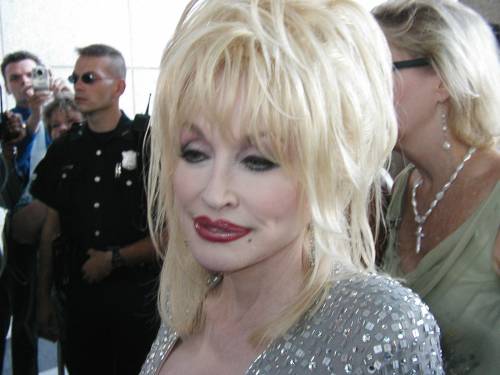 Dolly talks to the press.
They then proceeded inside, where they met with attendees for a few minutes before going behind closed doors. A little while later, Jane, escorted by Ted Turner (whom she called "my favorite ex-husband) walked down the stairs to the front hall of the arts center to the house band's rendition of the film's title song. The other actors followed, and Dolly walked over to the band's singer and joined in for a chorus of the song. Jane explained that at first she had planned to make a dramatic film but saw Lily in her one-woman show in Los Angeles, which made her decide to make it a comedy, and on the way home she heard Dolly singing on the radio, which she took as a sign. "I thought, 'Whoa! What a threesome!"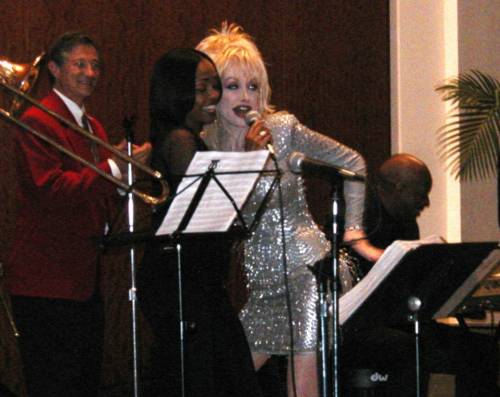 Dolly joins in on "9 To 5."
Jane invited everyone to say something, adding that she knew Dolly would want to speak. "Dolly Parton introduced me to the Southeast," Jane told the crowd to thunderous applause and cheers. "But I never expected her to stay!" Dolly noted.
Lily, who was very hoarse, was always the comedienne, noting: "I'll say something, but I have a bad throat. I mean, I have a lovely throat, but it's just making bad sounds." She said what a great group the four of them were and that it was a wonderful experience making the film.
Dolly asked Dabney if he "wanted to make a speech." He said, "Yeah. About 35 years ago," the crowd laughed. "Born of Polish immigrants. I think that's about it. I'm up."
Dolly then offered her comments. "Well, I just want to say, being a representative of the South, that we are very proud to have you livin' here, Jane, especially since you're working so hard for all these Southern people! No, sincerely, we really are proud that this worked out to where all of us from 9 To 5 could be part of this, 'cause we know that the charity is very near and dear to your heart, G-CAPP, and you've been doing this for about eight years, and I think it's wonderful, the work that you do. So we're just proud to be part of it, and I just wanted to say hey 'cause I'm just used to talking on a microphone!" After the laughter died down, Dolly told the crowd, "God bless you, and thank you for coming out and helping this wonderful cause."
Jane introduced recent Atlanta transplant Kenny Rogers and his wife, Wanda. As he made his way down the stairs, Dolly announced to the crowd: "I'm doing a song with Kenny Rogers in a couple of weeks called 'Undercover,' and his beautiful wife, she gave me permission but she said there was no way that I'm gonna get to be in the video with him! So, as pretty as she is, Kenny, no way I'm going to be! You need to have her."
Jane then gave a plug for Dolly's latest album, saying: "And, by the way, if any of you haven't heard Halos & Horns." She paused as the crowd cheered. "It's Dolly's album that has got all the joys and complexities of life and is what she is as a human being, and I just think it's wonderful, and I urge you all to listen to it."
Kenny explained to the crowd that Jane invited him to dinner about three months ago and explained what G-CAPP was all about. "And when she told me what she's doing," he said. "I was so touched by this because it takes a very special person to give of their time. The wonderful thing is, the bigger you are as a star, the more you can do in the least amount of time, and she has done such an incredible thing with this organization, and it really shows what her heart's all about and what she's about as a person."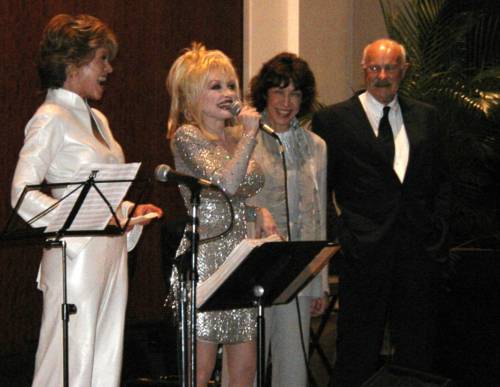 On stage.
Georgia Lt. Gov. Mark Taylor then addressed the crowd, lauding Jane's work with the organization and her lobbying state legislators for funding for children and families. "G-CAPP is changing the face of Georgia," he said. "Jane Fonda knows that we have to have community development and family development before we can have economic development." Atlanta City Council President Cathy Woolard noted, "Since Jane moved here, we've got a lot classier." Several state officials were recognized for their support and presence, including Georgia Secretary of State Cathy Cox and former U.S Ambassador to the United Nations Andrew Young.
Jane (who occasionally slipped into a slight Southern accent throughout the evening) encouraged everyone to view items in the silent auction, joking that Dolly earlier had asked her, "What is a silent auction? Is that when you buy something and don't tell anybody?"
The stars then left again, to reappear during the evening's live auction. Jane thanked the night's sponsors and those involved with G-CAPP, introducing the organization's executive director, Michele Ozumba, who noted that when Jane founded the charity Georgia had the highest teen pregnancy rate in the nation, and eight years later their efforts have lowered it to eighth.
Jane in Versace.
Jane made the most appearances during the auction, dressing in pajamas to auction a sleep-over for 20 women at her house (which went for $28,000), a fishing outfit for a fly fishing trip at her New Mexico ranch, and a chef's ensemble for a cooking lesson with her and one of Atlanta's top culinary experts. And she was stunning in the Versace evening gown she wore to the 1996 Academy Awards. Lily donned a golf hat and shot a ping-pong ball into the audience with a golf club to auction a golfing trip to Scotland (she kept trying to get the auctioneer to say "foreplay" in describing the trip, and finally he relented and said it several times), Dabney came out in a racing jacket for a garage visit with Winston Cup winner Tony Stewart, and Dolly covered her dress with a white robe for a trip to a Dallas spa.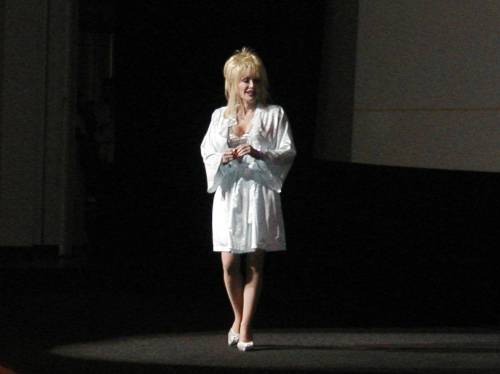 Dolly in her robe.
Dolly teased the audience during her time on stage, encouraging them to bid by saying, "I don't want mine to go for less than everyone else's!" She even asked Kenny to put in a bid, telling him, "Don't make me have to buy this trip!" Kenny shouted back that he had already bought something (a Versace halter top designed for Jane, which he picked up for his wife at $5,000 -- kindly offering to pay $2,000 more than his initial winning bid). Dolly even opened up the robe in a stripping motion to try to increase bidding. One woman jumped up and said she'd like to buy it because Dolly "is the most fabulous person in the world," but she admitted she couldn't afford to actually bid. The trip eventually sold for $9,000, a few thousand above the night's two or three lowest items.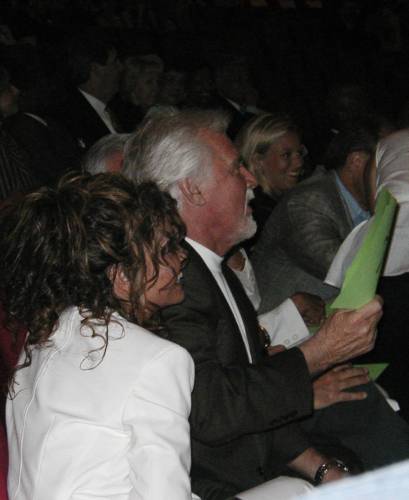 Kenny and Wanda make a bid.
Jane announced that after a 15-year retirement, "I'm going to start making movies again this fall." While she couldn't give many details, she said she would be filming supporting roles for two comedies starring "hot young actors and actresses," including a scene where she tap dances at her husband's funeral. A walk-on role in one of the pictures went for $16,000.
The final auction item was an autographed poster of the film from Jane's personal collection, one-of-a-kind dolls of all four cast members created by Marilyn Griffin and a photograph with the stars. Dolly joked that someone needed to give a few extra dollars to give her doll "a boob job," and Lily told the crowd that once they got the dolls home, "You can do anything you can with them." That package sold for $19,000.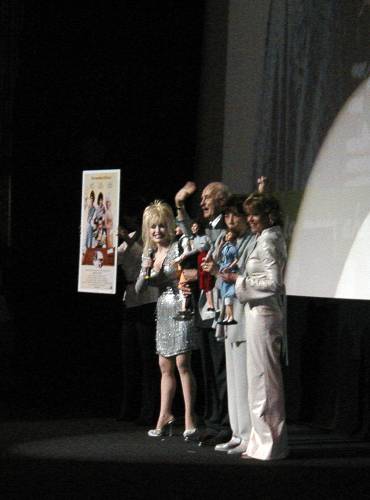 The stars and their dolls.
All total, the live auction items brought in more than $250,000 for the charity, and that doesn't include the silent auction or proceeds from ticket sales.
The night concluded with a big-screen showing of the film at 9:30 p.m.
I'd like to offer special notes of appreciation to Dolly, Jane, Lily and Dabney for standing up for such a good cause; Linda Kirkland with G-CAAP; my "media handlers" for the night, David Pulliam and Vanessa Olmstead, who were a true delight to hang around with; and fellow Jacksonian Amanda Brown-Olmstead and Paul Snyder with A. Brown-Olmstead Associates. Thank you!
Look for more photographs in coming days as I sort through the digital ones and get my film shots developed! They will be posted in galleries accessible here.