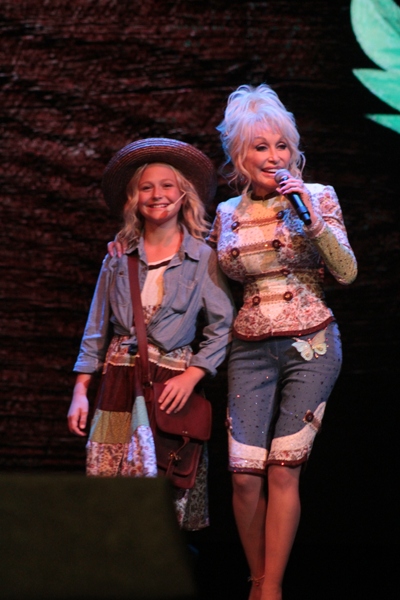 Wildwood Grove Announcement
By Jason and Daniel Worley
Special to Dollymania.net
Photographs are copyright 2018 Jason and Daniel Worley, taken exclusively for Dollymania.net, and used with permission.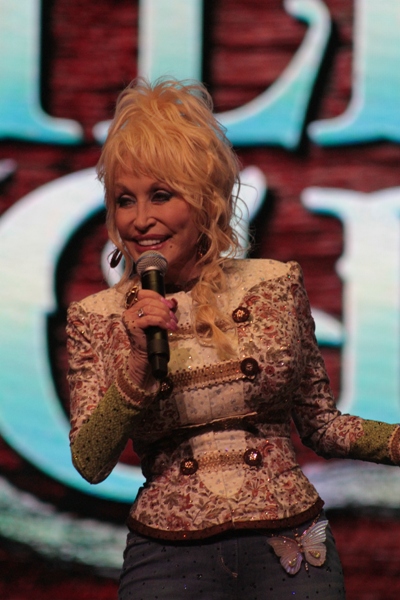 Friday, August 3rd, started out as a dreary morning. As we walked down Dollywood's Showstreet with our media representative, the clouds looked as if they might release a torrent of rain at any moment. Even the dark clouds couldn't dampen the excitement which pervaded the entire park that morning, as everyone was eagerly awaiting the appearance of Dolly Parton herself. As we settled into our seats within the Celebrity Theater, a new logo spread across the stage, announcing the reason for her visit. Wildwood Grove would be the newest land to come to Dollywood, the first park expansion since Wilderness Pass opened a decade ago.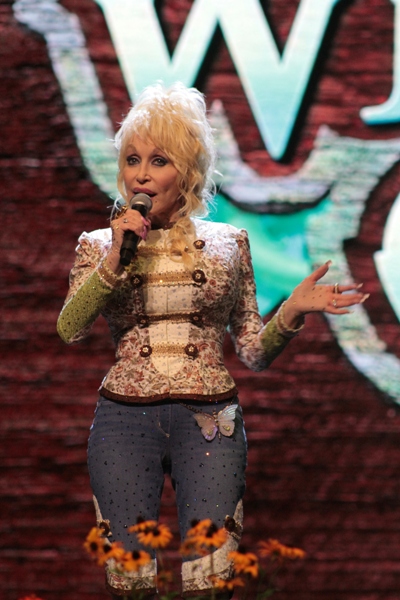 Soon, the lights were dimmed, and everyone held there breath as the Queen of Country Music could appear any moment. Instead, two large butterflies flew across the stage, powered by employees in black costumes. Then came the first of many surprises throughout that exciting day. A familiar voice floated across the theater, not Dolly herself, but that of Alyvia Alyn Lind, the actress who's portrayed her in Coat of Many Colors and its sequel. Suddenly, there she was on stage, her excitement unconfined as she introduced us to Flit and Flutter, the two butterfly mascots of Wildwood Grove.
Dolly arrived in style moments later, and the duo sang a new song dedicated to the magic and animals of the forest. Dolly's new spin on her classic song, Love is Like a Butterfly, included lyrics about the bears and dragonflies, mockingbirds and butterflies which will call the grove home. Craig Ross appeared alongside Dolly as they made the official announcement for Wildwood Grove.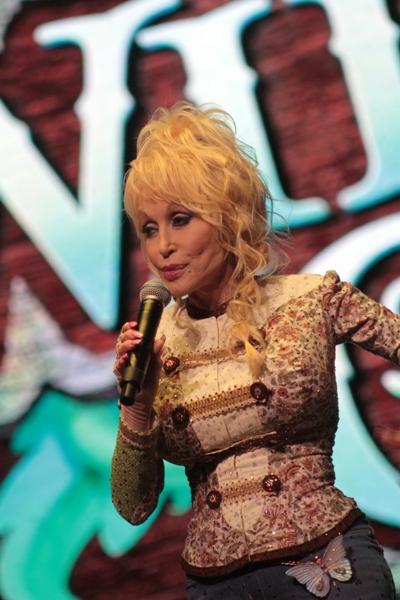 This is the largest expansion in park history, at a whopping price tag of $37 million dollars. According to Ross, this is one of the final pieces of the $300 million investment plan Dolly announced in 2013, as the park is almost four years ahead of schedule.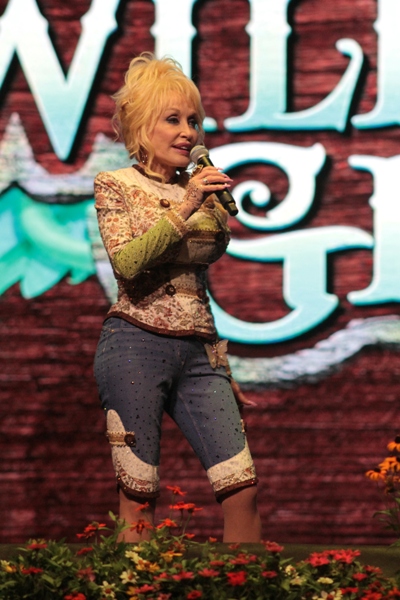 Guests will enter Wildwood Grove through a giant hollow log that leads from Timber Canyon. Immediately to the right will be a new table service restaurant, Till and Harvest. While the details aren't set in stone yet, it is said to feature southern dishes with a southwestern flair. The centerpiece of the new land will be the Wildwood Tree, standing over fifty-five feet in height. Covered with butterflies, each night will see it come alive with a spectacular light show, while live performances will be a staple at its base.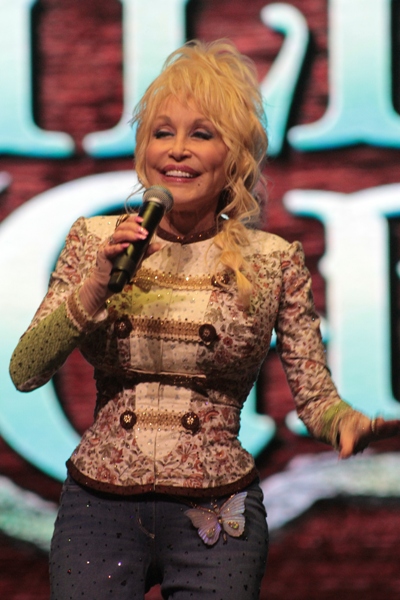 Family rides abound throughout Wildwood Grove. Frogs and Fireflies allows younger visitors to chase each other on the backs of happy frogs. The nearby Hidden Hollow will be an indoor play area for kids of all ages to enjoy. Wildwood Creek flows through the area and features a splash pad to cool off in during those hot Tennessee summers. Sycamore Swing is your classic carnival pirate ship, with a unique twist. Visitors will board a giant leaf and ride it as it rocks back and forth in the wind. Treetop Tower takes its acorn-themed cars to the top of a tree for a spin before gently returning to earth. Mad Mockingbirds allows the adventurous to control their ride experience as they swing in circles round and round. Black Bear Trail will no doubt be one of the most popular rides, as you can ride on the back of a friendly, rollicking bear through the woods! Lastly, the largest addition adds to Dollywood's world-class collection of coasters. Dragonflier is a suspended family coaster which offers more thrills than one would expect as it soars through the forest.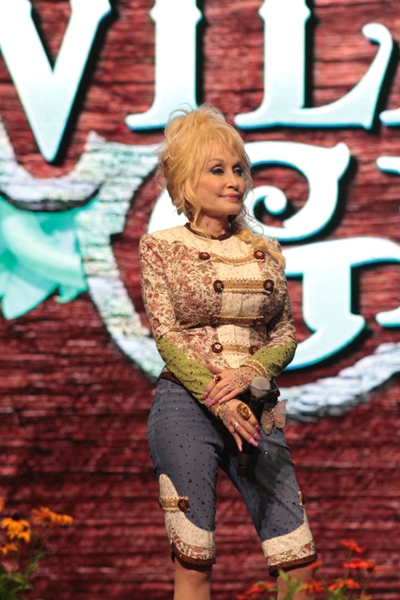 Before ending the event, Dolly teamed up with her younger self for one more song, the always popular My Tennessee Mountain Home. Afterwards, we were escorted to the top of the park where construction was actively taking place. Footers were being poured for Dragonflier, and the building for Hidden Hollow is already taking shape. While it may be completely bare at the moment, Dollywood has pledged to spend over $1 million on landscaping for Wildwood Grove. Over four hundred trees and a thousand shrubs will transform the area into a magical forest on opening day.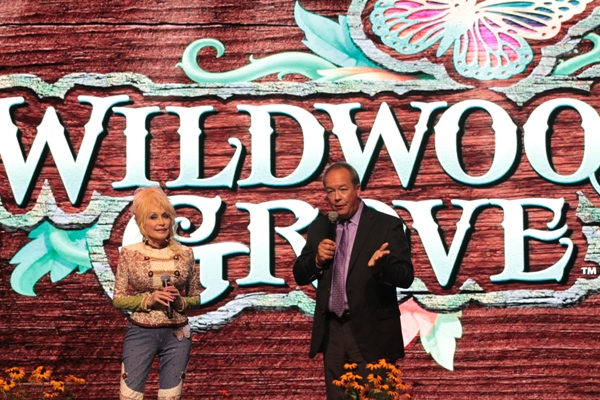 We were soon whisked away on a DreamMore Trolley to Song and Hearth at Dollywood's DreamMore Resort. Here we were treated to an amazing lunch. We got to sample a few of the new items that will be available for visitors to try once next season starts, and trust us, you won't be disappointed.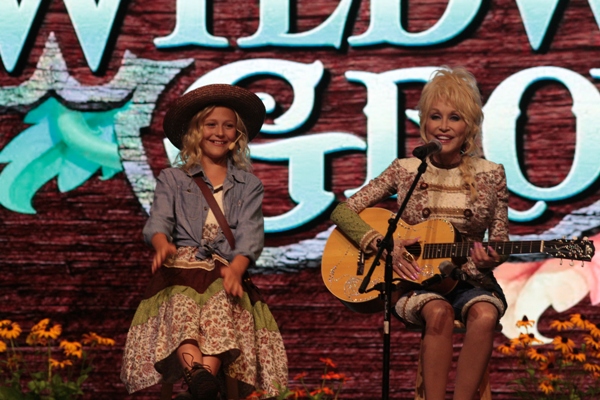 Other news the park gave us included updates on two of this year's festivals. Great Pumpkin Illuminights will have a huge expansion this year. Last year's event filled Timber Canyon with hundreds of carved pumpkins and saw record crowds. This year, the event will more than double in size, expanding to include all of Wilderness Pass as well as the upper half of Craftman's Valley. The new Wilderness Pass Plaza will also feature a forty-foot tall pumpkin tree. Smoky Mountain Christmas will transform the plaza into Glacier Ridge. Here guests will find the park's signature Christmas Tree as well as a plethora of lights and activities for all ages.