'Halos & Horns'
By Bob Oermann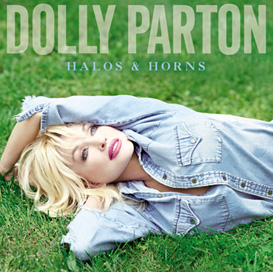 The legendary Dolly Parton has been on another one of her songwriting "binges," and this time the tunes practically went directly from her head to finished CD.
In one of her regular bursts of creativity, the Country Music Hall of Famer was working at the home she maintains in the mountains of East Tennessee last summer. Songs were pouring out of her fertile mind by the dozens. Eager to get them on tape, she booked sessions at a Knoxville studio, called a few of her Nashville band members and recruited pickers who worked at her Dollywood theme park or were otherwise "local."
"I didn't intend to produce a record," says Dolly. "I was just producing these song demos. But it started sounding so good that I was getting really excited. I thought, 'I don't need to clutter this up or add any other people.' I told Steve Buckingham [her regular producer and a Sugar Hill Records executive], 'This stuff I'm doing is turning out really good.' He said, 'Just go with it.' I decided I wanted to use everybody from 'up home,' or at least fresh people.
"There was nothing heavy or hard about it. I just went in with the pickers and we all kicked ideas around. That's how you produce great records anyway - let talented people do what they do. It's fairly 'live,' because I'm not the kind of singer who can start and stop and go back and get the same feeling. I just had a big time doing this."
The result, Halos & Horns, is eloquent proof that one of the greatest songwriters in the history of country music continues to be an inspiration. The collection is an emotional rainbow, from the light-hearted ripples of "Sugar Hill" to the wistfully sad "If Only." The title tune is a hillbilly waltz about human frailty, while "I'm Gone" is a sassy, humorous "kiss-off" bopper. "Hello God" is a soaring meditation on violence in a world gone wrong, and "Raven Dove" has an apocalyptic lyric. Both sprang from the powerful emotions Dolly had in the wake of the September 11th tragedies last year.
For more than 35 years, this prolific songwriter has kept notebooks, tapes and bits of paper containing lines, phrases, titles and songs set aside. Two of the songs on Halos & Horns are ones Dolly had nearly forgotten about, but rediscovered when listening to old tapes recently. "Not for Me" sprang from the loneliness, heartache and pain she felt when she first arrived in Music City as a teenager in 1964. She remembered her vintage gospel hand-clapper "John Daniel" when she thought of songs that might fit the voices of Dollywood's resident quartet The Kingdom Heirs.
"Shattered Image," originally recorded by her in 1976, and "What a Heartache," which first appeared on the Rhinestone movie soundtrack in 1984, have been "dusted off" and given new acoustic-music settings.
"The reason I keep re-doing some of these songs is that I have very strong feelings about them. They've never really had a chance to be all that they can be. I have hundreds of new songs, but there are some that 'want to be done' until I find the right way. They call out to me because they're like my children. It's like some of them go out and piddle in the yard and cause trouble, and some don't. Some you think are special -- You just kind of pick them back up, the good children."
Still, two of the most striking songs on Halos & Horns are new. The gorgeous, heart-tugging mountain masterpiece "Dagger Through the Heart" sounds like an instant bluegrass classic. And "These Old Bones" is an epic saga where Dolly portrays both a crazed, aged Appalachian soothsayer and the daughter who was taken from her. At its finale, the two characters sing a "duet."
The 14-song Sugar Hill collection is already raising eyebrows in the press because of Dolly's potentially controversial "covers" of Bread's ballad "If" and Led Zeppelin's classic "Stairway to Heaven." Both are recast in acoustic arrangements.
"I have no idea how people are going to take it," she comments. "I don't know if I'll get criticized. But you know what? It came straight from the heart. I love the freedom to do exactly what I feel right about. Even songs like 'Stairway to Heaven.'"
These tunes follow a tradition she has followed for many years. Dolly has never shied away from putting her personal stamp on any kind of song. In the 1980s, she made singles of "Save the Last Dance for Me," "The House of the Rising Sun" and "To Know Him Is to Love Him" (the last with Linda Ronstadt and Emmylou Harris). In the 1990s, it was "Love Is Strange" (with Kenny Rogers), a disco hit with "Peace Train" and the 1999 Grammy Award winning "After the Gold Rush" (with Linda and Emmylou).
Dolly made her Sugar Hill Records debut with her bluegrass homage The Grass Is Blue. This 2000 Grammy Award winner found her countrifying Billy Joel's "Travelin' Prayer" and Blackfoot's "Train, Train." The folkie, Celtic-tinged Little Sparrow the following year earned her a third consecutive Grammy via her reinterpretation of Collective Soul's "Shine." The project also contained the Cole Porter chestnut "I Get a Kick Out of You" and The Eagles oldie "Seven Bridges Road."
Whether performing her original tunes or pop oldies, Dolly Parton has been on a new musical journey for the past four years. Some critics are hailing her recent work as the finest of her career. After more than 25 years as a chart-topping, Gold and Platinum selling superstar, Dolly "went home" to mountain music. The process began with her rootsy 1998 collection Hungry Again and has continued with her three Sugar Hill albums.
"Well, how that started was nobody was playing me on country radio anymore," she says forthrightly. "I ain't got no other choice. I have to sing. I have to write. Of course, I love this music and always have. But I don't need to make a living at it. I worked hard to have a career. I don't regret a thing. I wouldn't change a thing, because I wouldn't be in a position to do this 'soul' music if I hadn't done the other. I had to get rich so I can be now what I always wanted to be as an artist.
"I say it's just 'heart' music. It's 'soul' music. Halos & Horns definitely has its bluegrass elements. But there's inspirational music on it, too, with big choruses, piano and even drums. It sounds like it does because of my roots, what I call my 'Smoky Mountain DNA.' The fact that we lived without electricity or a television, that I learned all those old mountain songs from the Old World. That's all still embedded in my psyche, so when I open my mouth, that is what comes out."
Her vocal instrument remains as vibrant as her songwriting. Indeed, the performances on Halos & Horns are among the most perfectly pitched, beautifully phrased and subtly shaded of her life.
"One of the reviews of my last album said in the headline, 'Dolly Sings Her Guts Out.' I thought that was the funniest thing I'd ever seen. I just roared. I've heard 'Dolly sings her head off' and 'Dolly sings her butt off' and 'Dolly sings her face off." So now I've sung everything off and my guts out."
Providing harmony support to that remarkable voice on Halos & Horns in addition to The Kingdom Heirs are such session notables as Jennifer O'Brien and Vicki Hampton. Darrell Webb and the Rounder Records East Tennessee bluegrass act The Stevens Sisters are also on hand. Dolly has dubbed the core of the album's instrumental group her Blue-niques. These men - Steve Turner, Ken Wells, Jimmy Mattingly, Richard Dennison, Gary Davis, Brent Truitt, Terry Eldredge and Randy Kohr - will accompany her on the first concert tour she has undertaken in 10 years. She'll support Halos & Horns with concerts in the U.S. throughout July and August. In the fall she'll take her new music to England and Ireland.
"These songs came straight from my gut, from my soul, from my heart," says Dolly Parton. "And I do believe that people will always accept me, as long as I'm singing something real. Even when I don't have the time, I never think that I can't write. I 'write' every day, even if it's just in thoughts. Writing is like my therapy. All I have to do to free my mind is talk to God and write my songs."