Dollywood Christmas Fest 2003
Images on this page are copyright © 2003 Duane Gordon/Dollymania and may not be reproduced without prior written consent.

By Duane Gordon
Dollymania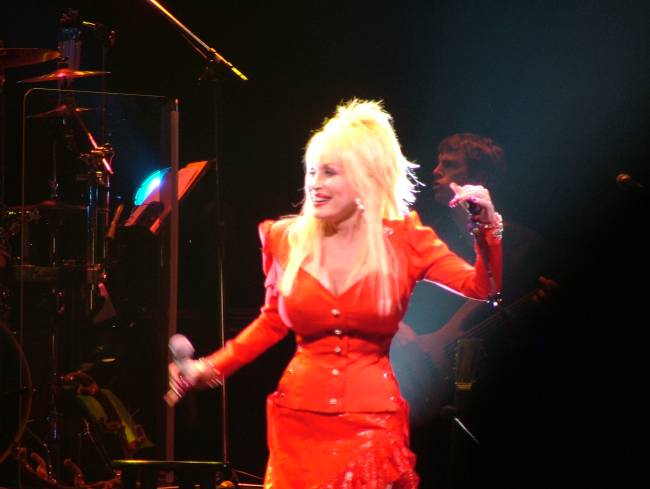 Dolly dances to an upbeat number during her annual benefit concerts at Dollywood. Look for additional pictures here!
DOLLYWOOD -- Dolly was even more excellent than usual in concert at Dollywood on Friday night. Her first public performance following her mother's burial three days before was brimming with life and spirit, but even more noticeable, her voice was more powerful and emotional than I have ever heard before.
The concert began with a set of about 10 songs by the Voices In The Laurel choir from North Carolina. Then Dolly took the stage in a red dress for her holiday tune "With Bells On," leading quickly thereafter into "9 To 5."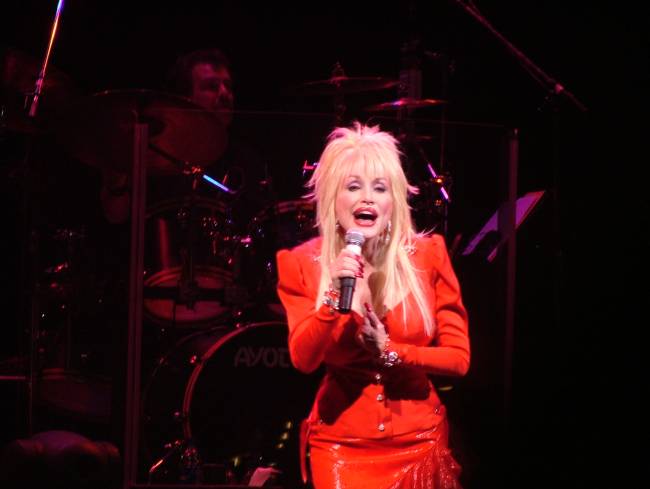 She used her songs and between-take banter to tell a story: a person gets off from work and goes to a party ("Two Doors Down"), has too much to drink and says something foolish to a person to whom he or she is attracted ("Why's You Come In Here Looking Like That?"), which leads to a fight ("Jolene"), then a reuniting ("Here You Come Again") and, finally, a separation ("I'm Gone"). She concluded this portion of the show with "I Will Always Love You."
Next she talked about Elvis Presley's desire to record "I Will Always Love You" and her refusal to allow him to do so because his manager required he take half of the publishing rights to all songs he recorded. This led to her saying she always wondered what if Elvis had been a woman, and had she been able to live as anyone else in history, she'd probably choose Elvis to see what it was like. She said she wanted to perform one of his songs which she had re-written from the perspective of a woman in Dolly's age bracket and proceeded into a rockin' version of the King's "Burnin' Love," with hilarious new lyrics so that the "hunka hunka burning" referred to middle-aged health issues including menopausal hot flashes and acid reflux disease.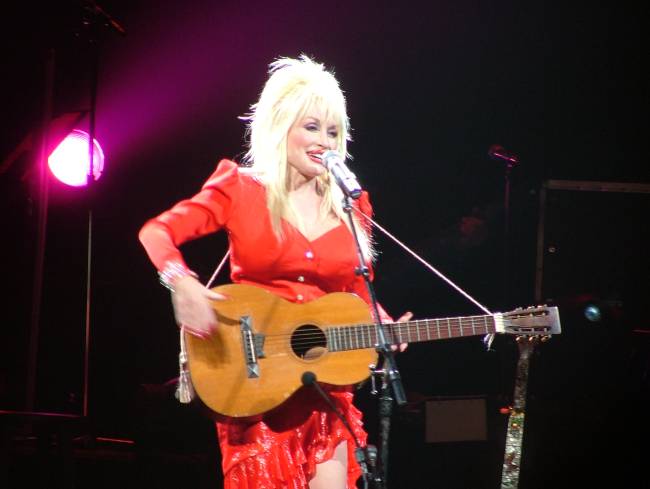 Remembering Mama with a smile.
Up to this point, her voice was in forceful and brazen, her playfulness with the audience endearing and slightly heavier than usual, but the mood soon became much more somber. With a quivering voice and tearing-up eyes, she said that this time of year always reminds her of family as she grabbed her guitar and began the first line and chorus of "My Tennessee Mountain Home," melting it into "Coat Of Many Colors." As she sang, the quivering ceased, but the emotion with which she performed the song about the actual coat her mother sewed for her as a child was so strong that many in the audience were moved to tears. At its conclusion, she received a standing ovation.
She thanked the crowd, saying that since her mother had died a week before and was buried three days before, she had strongly considered canceling the show since there had not been time to rehearse as much as she would have preferred, but she knew that her mother would tell her to go out there and sing "'cause that's what you do . . . And sing my song!" Holding back tears she recounted how her mother wanted her children to celebrate her life and not dwell on the sadness of losing her, instead focus on the joy of knowing she was in Heaven, reunited with their father, adding that she felt her mother's presence there that night. She confessed that sometimes she'd like to be in Heaven with them, but that she knew her place for now was on earth entertaining. She also said that she knew her father would get jealous looking down on the show and not get a song about him, so she sang about when he left the mountains to look for work up north.
The song, "Smoky Mountain Memories," was another powerful performance. She was singing to the Heavens, again with even more emotion than usual. And, once more, many in the audience were moved to tears. Also, she received another standing ovation at its end.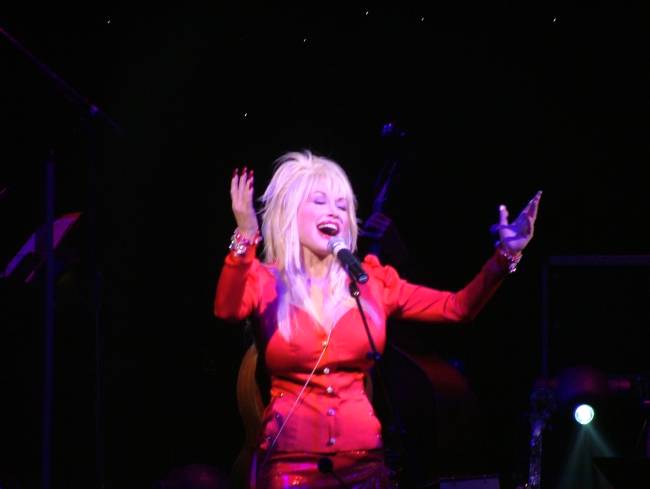 "Smoky Mountain Memories"
She lightened the mood by grabbing her banjo for a rendition of "Applejack," complete with audience hand-clapping to the rhythm. Then her brother Randy Parton joined her on stage for some holiday favorites: "A Christmas To Remember" and "Christmas Without You," before donning reindeer antlers to lead the audience in "Rudolph The Red Nosed Reindeer," followed by "Jingle Bells" and "Deck The Halls."
After Randy left, Dolly again put in an amazing vocal performance on "Shine," another spirituality-infused selection especially relevant on this night. She then chose two cuts from her new patriotic collection For God And Country: "When Johnny Comes Marching Home" and "Welcome Home" (which she had previously announced would be released as the collection's first single, but she said for the first time on Friday that there would be a video shot for it as well).
She thanked the audience for their support and left the stage to another standing ovation. Although the teleprompter indicated she was to return to sing "He's Alive" as an encore, she instead walked back out, waved at the fans, blew them a kiss and left the stage. Although I heard a handful of fans complain at the brevity of the show (her performance ran about an hour) and lack of an encore, it was apparent that the vast majority understood how difficult this night must have been for her and thoroughly enjoyed the high-quality show.
In short, it was the most powerful live performance I've ever seen her give.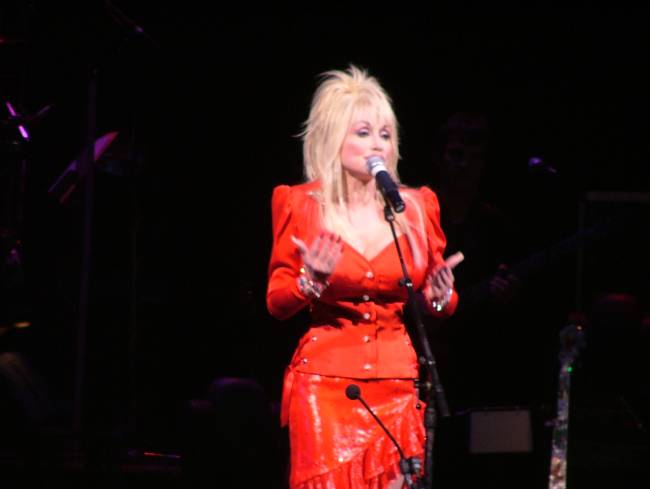 Set List:
With Bells On
9 To 5
Two Doors Down
Why'd You Come In Here Looking Like That?
Jolene
Here You Come Again
I'm Gone
I Will Always Love You
Burning Love
My Tennessee Mountain Home (partial)
Coat Of Many Colors
Smoky Mountain Memories
Applejack
Christmas To Remember (with Randy)
Christmas Without You (with Randy)
Rudolph The Red Nosed Reindeer (with Randy)
Jingle Bells (with Randy)
Deck The Halls (with Randy)
Shine
When Johnny Comes Marching Home
Welcome Home
---
Look for more photographs here.