Just Because I'm A Woman: Songs Of Dolly Parton
The Dollymania Review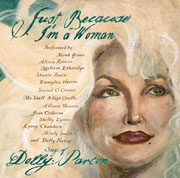 By Duane Gordon, www.dollymania.net
Just Because I'm A Woman: Songs Of Dolly Parton provides a wonderful trip through time, sampling some of Dolly's best songwriting gems from early in her career right through to her most recent album. Each chanteuse offers a new perspective on the songs which Dolly made famous, lending new blood to her enduring legacy of musical genius.
Alison Krauss kicks off the CD with her spectacular, laid-back, blues-meets-bluegrass rendition of "9 To 5," followed by Melissa Etheridge's stunningly soulful rendition of "I Will Always Love You." Her take on this classic infuses every possible drop of painful emotion from the lyrics, offering a far, far superior version when compared to the ostentatious vocal acrobatics of Whitney Houston's mega-hit cover.
Grammy darling Norah Jones comes next with a gorgeous rendition of "The Grass Is Blue," offering sultry, jazzy vocals which transform it into a different song. Joan Osborne gives a treat with "Do I Ever Cross Your Mind." This alt-rocker can certainly nail a country ballad! An acoustic accompaniment melts with her sweet voice, which reminded me very strongly of Patty Loveless.
Shelby Lynne, who for years I have believed to be one of Nashville's most under-rated vocalists, changes a couple of lyrics to "The Seeker" slightly (I thought for a minute I had been singing the wrong words all these years until I pulled out one of my Dolly songbooks to verify they had been altered!). Infused with R&B and black gospel influences, Lynne brings a strong bass line and some mean piano playing into the spiritual number, although I have to admit it would have been well-served if she had cut loose a little more and done some "hootin' an' hollerin'," as her voice seems a little too restrained.
Mindy Smith's "Jolene," which is to be the first single from the project, begins with an Old World sound and acoustic instruments before blending into modern electric guitars. Although her voice doesn't sound quite as desperate as Dolly's in the original, her interesting interpretation of phrasing on the chorus works well.
I was a bit worried that Emmylou Harris' "To Daddy," a No. 3 hit for her in 1978, wouldn't fit in with the others and would sound "old" because it's a recording from 25 years ago, but it stands the test of time and holds its own with the new versions of other songs.
Perhaps my favorite track is Shania Twain's lovely rendition of "Coat Of Many Colors" with Dolly, Alison Krauss (who produced the cut), Dan Tyminski and Union Station. Dolly's and Shania's voices blend beautifully in duet on the second verse and near the end of each chorus. Listening to the heart Shania puts into it, you know she had to have lived a similar tale during her own impoverished childhood in Canada and strongly identifies with the powerful lyrics.
On "Little Sparrow," Kasey Chamber's rough voice gives a real rootsy sound to the song, almost as if a girl who had lived all her life isolated on a mountain in the Smokies met up with a country-rock garage band. Sinéad O'Connor's take on "Dagger Through The Heart" offers an interesting contrast. Although her strong Irish accent in the recording may take a little getting used to for some listeners, I think the track will grow on them. Her voice sounds very fragile at the start of the song, but it moves into anger, changing the tone completely.
Allison Moorer gives "Light Of A Clear Blue Morning" a retro-meets-modern sound, with cosmic echoes that seem to emanate from a synthesizer coming in over the pops of a vinyl album. Her voice is strong in this very slow and soft number.
Now, Me'Shell N'degéOcello's version of "Two Doors Down" is definitely the oddest cut on the album, with her very deep voice part-singing, part-speaking this party song behind an almost new-age accompaniment. It's very difficult to explain, but I'd call them "discorded" chords and competing rhythms -- somewhat "artsy" and somewhat "street." I fear many fans will simply hate this one, but I enjoy all styles of music and found it fairly enjoyable myself.
The CD concludes with Dolly revisiting her 1968 single "Just Because I'm A Woman" in a treatment reminiscent of a Dusty Springfield Memphis tune meeting the countrypolitan sound of early-70s Nashville and providing a great Dolly cut.
My only criticisms are that I felt the album could have had a greater sense of symmetry and I would have liked to see more artists and more songs recorded, perhaps a 20-cut collection, especially with a few more of her older treasures. However, I think the variety will support success by appealing to several very different audiences who may get turned on to some new sounds they didn't think they were going to like.
In conclusion, to borrow a comment which Sinéad O'Connor made about Dolly after recording her contribution to the project, this CD is fucking genius! (Pardon my French.)