Dollywood Kids Fest 2004 Opening
Unless otherwise noted, images on this page are copyright © 2004 Duane Gordon/Dollymania and may not be reproduced without prior written consent.

By Duane Gordon
Dollymania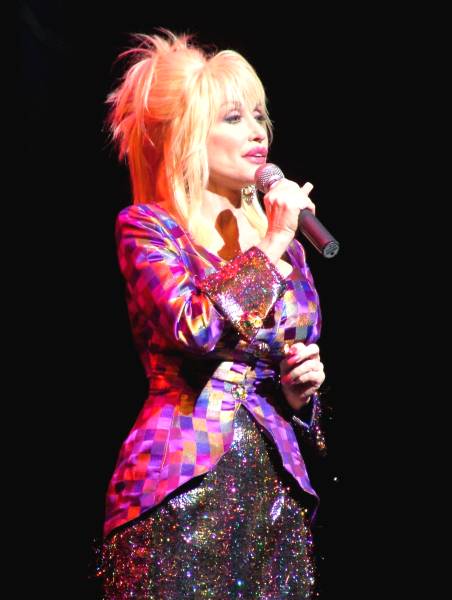 Dolly at KidsFest 2004. See more pictures here!
DOLLYWOOD -- "The Good Witch of Dollywood," "King Phil" and a giant purple dinosaur served up laughs, song and recognition at the kick-off of Kids Fest at Dollywood, the second year of the annual festival aimed at children.
Students received scholarships, a special teacher was honored, the governor announced final implementation of taking Dolly's childhood literacy program statewide, Dolly sang with Barney the Dinosaur, and she announced she might do a concert at the park later in the year.
Answering a question posed by the webmaster of Dollymania about touring, Dolly replied that while no tour or concerts are currently scheduled, she is considering a performance at the park's Harvest Celebration, which starts Sept. 24 and includes the annual Southern Gospel Jubilee.
"I don't know for sure when I'm actually going to be out in concert. I've got several things that I'm working on at this time," Dolly said. "I'm thinking about doing some things, maybe up here in the fall festival for our bluegrass and gospel things. I may try to do some concerts up here like our usual Dolly concerts. So if I don't get out on the road before that, you can come up here and see us in September!"
The statement elicited tremendous applause and cheers from the crowd.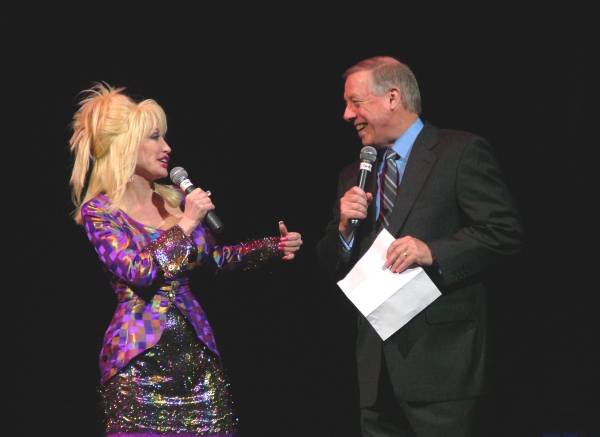 Dolly and the governor share a laugh.
But the focus of the event was not on Dolly and her career, but rather on children. Dolly welcomed the crowd at her special appearance Friday morning at the park's Celebrity Theatre by telling them how important it was to her that children have a place to enjoy the summer.
"Just imagine how empty Dollywood would be without the kids around," she said. "The sounds and the sights and the smells of kids. There'd be no laughin'. There'd be no squealin', no squawlin', no hollerin' and no energy. There also wouldn't be any cryin', any barfin', or any tattle-telling'! That wouldn't be good!"
Inline skater Shane Yost, a 2003 World Championships silver medalist and 2003 X Games bronze medalist, catches some air.
And kids have plenty to see through the summer. Performers who are on tap for Kids Fest through Aug. 8 include Perondi's Extreme Canine Show, which replaced last year's Purina Dog Chow Incredible Dog Team; returning favorites the ASA Extreme Sports Show and Veggie Tales live stage show; and a new addition, the Smoky Mountain Bear Jam, which features performers in large bear costumes entertaining the audience with song and dance. The festival also includes a kids' karaoke stage, clowns, stilt walkers and more throughout the park. Dolly also announced that, for bigger kids and adults who want to feel like kids, the park's new wooden roller coaster, Thunderhead, has been ranked by voters of Thrill Rides.com as the No. 1 wooden roller coaster in the world.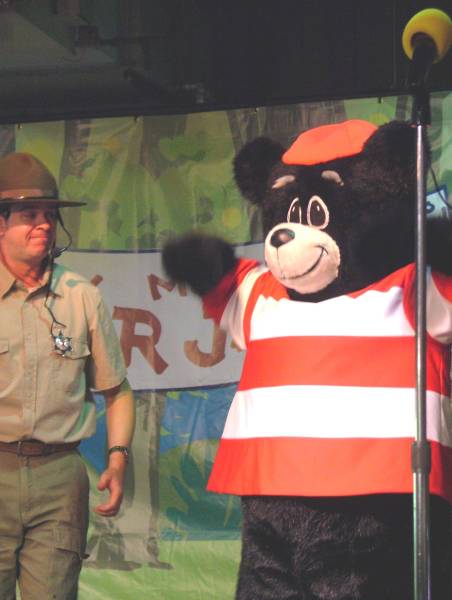 The Smoky Mountain ranger talks with Smoky Mountain Bear Jam member Clay.
Another major portion of Friday's festivities was the announcement with Gov. Phil Bredesen (D-Tenn.) of final implementation of his plan to bring Dolly's Imagination Library to all children in the state.
Seated on a bench next to the governor and surrounded by several dozen children at their feet, Dolly read aloud a fairy tale of a great king who ruled a wonderful kingdom and wanted to do something special for the children. He left his palace in Music City and visited the Dreamland Forest, where he asked The Good Witch At Dollywood for advice on what to do. She suggested to give books to the children, an idea which his subjects loved. She then revealed to the children that the king was the governor and asked them to thank him for his dedication to their future.
"King Phil, I call him," she said to the audience's laughter. "You don't reckon that'll be in the press do you!" she added, which brought further laughs from the crowd. "You'll be King Phil from this day forward!"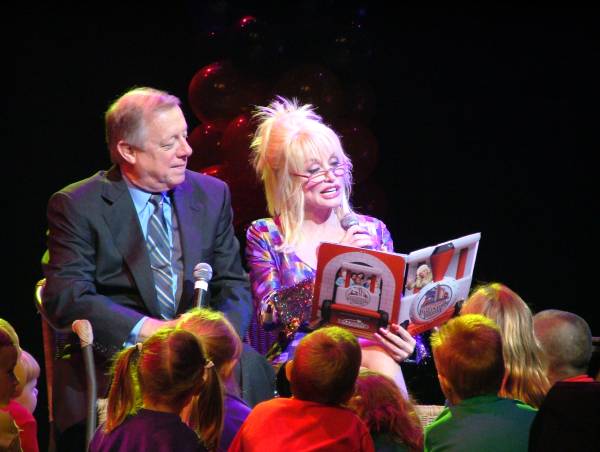 Dolly shares her story with the governor and the children.
Bredesen had made a campaign pledge when he ran for office to create a public-private partnership to take the literacy program statewide in Tennessee, and his delay in doing so resulted in frequent public ribbing by Dolly whenever the subject arose. She noted that history on Friday, saying: "For over a year, he's been puttin' up with my kiddin' and teasin'. He's a lot like my husband, Carl Dean. I just run on and on about stuff, and he just looks at me and smiles and I know he's thinkin', 'She's gonna have to take a breath sooner or later, and that's when I'm gonna leave!'"
Earlier this year the state's General Assembly approved the governor's request to set aside $2 million in public funding to provide matching grants for communities in the state that raise half of the $27-per-child annual cost for the project. The statewide program is set to launch in the fall, although a timetable for reaching all of the estimated 375,000 children under the age of 5 in the state has not been determined.
"My dad never had an opportunity to go to school," Dolly recounted as one of her great inspirations for creating the literacy program. "My dad never was able to read and write, and he was so proud of us when we started the Imagination Library. He thought that was the most wonderful thing. And his greatest joy was when they named me 'The Book Lady.' Daddy was so happy with that. That meant more to him than saying I was a big country star or whatever. I lost my dad a few years back, but I know he's watching us today and he's real proud."
She said her mother, too, provided inspiration for the library by reading to her and her siblings as children, usually stories from the Bible. "It led me to thinking that if somehow I could help even one child feel the love that I felt on those nights with my mother, well, then maybe I did have something special to offer the children. So we started the Imagination Library with that feeling in our minds and in our hearts."
The program, which Dolly's Dollywood Foundation started in Sevier County in 1996, provides one free book per month from birth to age 5 for every child whose parents sign up in a participating community. Dolly announced plans in late 1999 to take the project nationwide, and today 288 communities across 36 states are involved in distributing books to youngsters. Last year, the program celebrated the mailing of its 1 millionth book, and it is expected to exceed an additional 1.2 million volumes distributed in 2004 alone.
"I'm so proud to be associated with it," Bredesen said to Dolly about the program. "And let me just say thank you to you for everything that you've done to put this idea on the table, and we're going to pick it up and help make it work in Tennessee and, I hope someday, the whole United States will have this."
As for dealing with Dolly, he joked: "I can honestly say it is an experience working with Dolly." She interrupted to ask with laughter, "A good one or a bad one?"
"No, it's a very good, very good experience," he said. "What she said about, you know, you may have egged me on a little bit, it was actually somewhat stronger than that. But working with Dolly is great . . . The kind of people I really admire are people who have done very well but they understand that they're standing on shoulders and standing on foundations and when good things happen to you, you've got an obligation to turn around and feed some of those things back in it. It really has been an honor to work with Dolly on this, and I hope it's the first of many projects with Dolly."
He introduced representatives from the 11 counties and three communities which are already participating in the library across the state and announced the addition of nine new counties which are ready to join: Anderson, Knox, Haywood, Loudon, McMinn, Pickett, Roane, Sullivan and Warren.
Dolly thanked the governor and others for their support of the program, noting, "I just think to educate our children is going to make the difference in what our state will be in the future."
In recognition of his efforts, he was presented with an oversized copy of the library's first book, The Little Engine That Could, and a large-scale version of Dolly's proclamation which is given to each community which joins the library.
Dolly also led the children and the governor in singing an a cappella version of "Old McDonald," joshing after completing the first verse, "I can tell you, the good governor can't sing!" He replied, "Wouldn't want to upstage you!" Even so, she put her microphone in his face on the second verse so everyone could hear his cow "moos."
On the third verse, she sang "Old McDolly had a park" and that on the park she had a dinosaur! The kids squealed. "And what color might it have been?" she asked. "Purple!" they cried. "And would it have been little or big?" "Big!" "And what might his name have been?" "Barney!"
Out came Barney the Dinosaur. Dolly asked that he interact with the children while she ran off stage to have a button replaced on her blouse that had come loose earlier in the show. "I had to go get my clothes fixed!" she shouted as she returned to talk to Barney.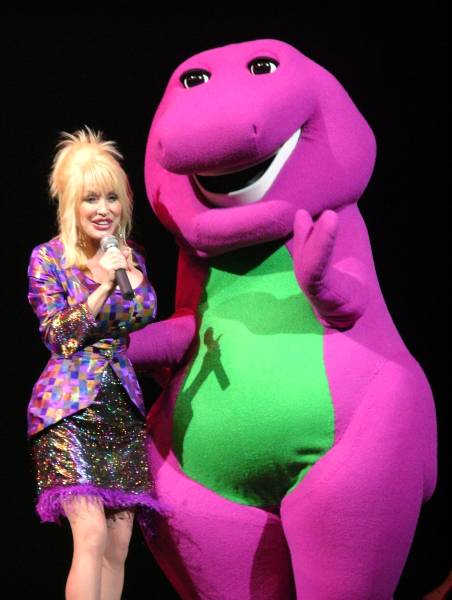 Dolly and Barney.
Following some chatter, the two sang a duet of his theme song, after which Dolly offered a chorus of "I Will Always Love You" and "Love Is Like A Butterfly" while Barney performed a verse of his imagination song. Upon completing the medley, they watched as balloons fell from the ceiling for the day's "big finale."
Also during the event, Dolly and Dollywood Foundation Executive Director David Dotson announced the recipients of this year's Dolly Parton Scholarship Awards. In partnership with Citizens National Bank, Tennessee State Bank, her Dixie Stampede chain of dinner theaters and the Sevier County High School Alumni Association, her foundation awards a scholarship of $15,000 to one graduating senior at each of the four high schools in the county where Dollywood is located. This was the second year that the scholarship has been given to four recipients, although it was awarded for two years prior at Dolly's alma mater, Sevier County High School.
"We're proud of every one of you!" Dolly told the students: Courtney Hyder, Blake Carr, Jamie Wilson and Stephanie Hankin.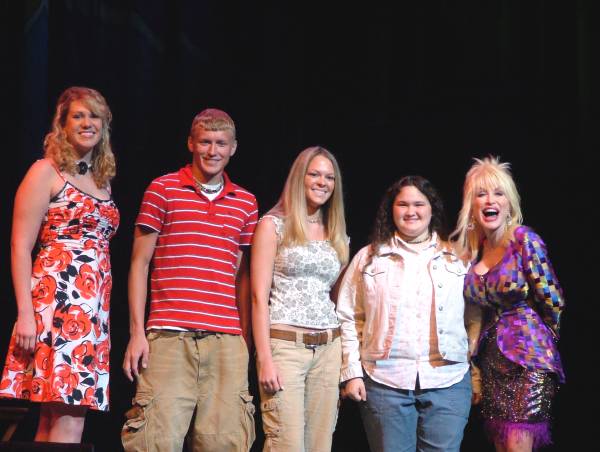 Dolly and the scholarship winners.
She and Dotson also presented the Dolly Parton Chasing Rainbows Award, which the Dollywood Foundation gives in association with the National State Teacher Of The Year Organization to an outstanding educator who has overcome hardship and inspired his or her students to achieve greatness. This year's recipient, Dr. Patricia Jordan, a math teacher from the Bronx in New York City, received some great compliments from Dolly on her wardrobe selection, which Dolly called "beautiful" and said made her "look special."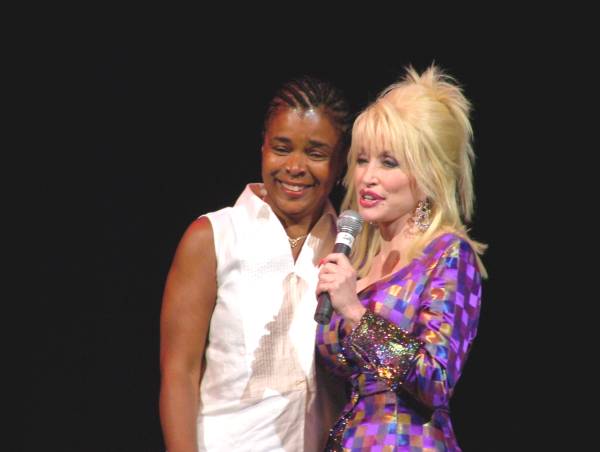 Dolly and Dr. Jordan.
The organization presented Dolly with the inaugural honor in 2002 for her commitment to education and her serving as an inspiration for children everywhere, and Friday's presentation marked the third annual recognition of a deserving teacher who has previously been selected as his or her state's Teacher Of The Year.
Jordan, who traveled to Dollywood with her husband and daughter to accept the award, said it was a dream come true, adding: "I want to say I'm extremely happy, I'm eternally grateful, and if I can quote my favorite singer in the world, 'I Will Always Love You.'"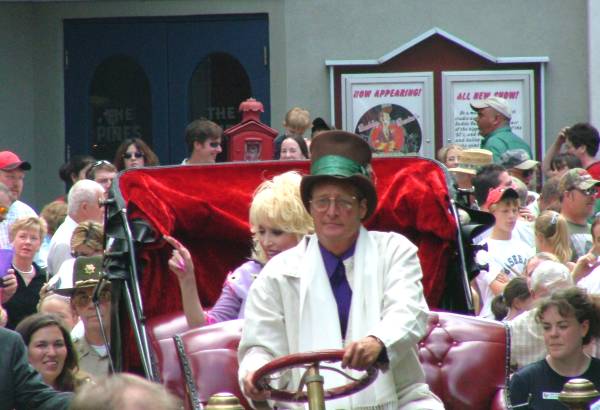 Dolly ended the day with a parade through the park.
Look for many more photos of Dolly and the KidsFest performers in coming days as well as a complete transcript from Friday's event!
I'd like to offer special notes of appreciation to Dolly, Pete Owens, Kelley Swann, Kay Poole and all of the personnel in the Dollywood media relations office. Thank you!
Look for additional photos here.