'Live' Hits The Right Chords 'Well'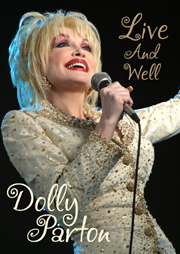 Cover Art Courtesy Sugar Hill Records

By Duane Gordon
Dollymania
July 29, 2004
"Over an hour and a half of Dolly bliss" is a fitting description of this collection, Live & Well, hitting stores Sept. 14 separately as both a DVD disc and double-CD package. The production quality is excellent, audio superb, and Dolly is in top voice and character.
Shot live at Dollywood's Celebrity Theatre in December 2002, Dolly was fresh off her sold-out 13-city U.S. tour (her first in a decade) and her sold-out five-city tour of the British Isles (her first there in two decades), so she had honed her stage show to near perfection by the end of the year. Her interaction with the audience is top-notch, and her performance simply exuberant. Even her well-rehearsed and oft-used jokes sparkle as if they were new.
Some of the best moments include her rousing rendition of Tennessee's unofficial national anthem, "Rocky Top," and a gorgeous performance of "Coat Of Many Colors" followed immediately by an emotional rendering of "Smoky Mountain Memories." "We Irish," written for the Irish stops on the European tour and never released before in the U.S., is Dolly-spun fun, and the a capella medley of "Islands In The Stream," "Here You Come Again," "Why'd You Come In Here Lookin' Like That?" and "Two Doors Down," personally just about my favorite part of her shows during the tour, stands out as stellar.
The DVD, which contains the same performance as the CDs, features several great close-up shots of audience members, so if you attended the shows you'd better get it to see if you're on the screen :) And Dolly is as effervescent and charming as ever -- even when she jokingly taunts an audience member leaving his seat, apparently to visit the restroom, saying "I think you gotta go pee, ain't ya!" After picking on him a little bit more she offers, "Now, he's gonna be mad at me forever for embarrassing him like that!"
The only criticism of the disc is that it could have been edited a little better so one doesn't notice so obviously Dolly's frequent looking at the video monitors at her feet during her songs to check the lyrics (although many other great performers such as Barbara Streisand do this, their editors try to hide it when they're filmed). But, then again, most of the audience members notice her doing this live, so not deleting that aspect of her performance style helps keep the show from looking too different from how it really happened.
Dedicated fans, many of whom have for the past two years traded and sold illegal bootlegs of her concerts from the tour, will be pleased to have a professional product of far superior quality. And having the only-released Dolly version of "Rocky Top" and the first U.S. release of her recent composition "We Irish" is certainly an important addition to anyone's collection. In short, longtime fans who didn't get the chance to see Dolly live will love the DVD or CD, those who did attend the concerts can relive that experience, and newfound "Dollymaniacs" will be able to enjoy an excellent overview of Dolly's long career and glimpse her amazing stage presence. The collection is certainly worth the money!