Those Were The Days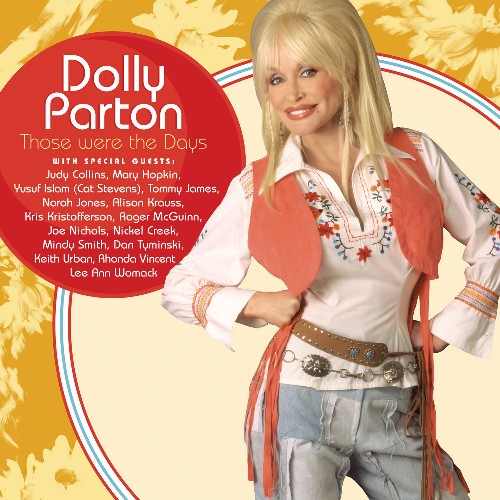 Reserve your copy here!
"I am really very proud of this album. I love all of these songs and all of the artists who performed, it just felt special from the moment the concept came to my mind. I knew I had to produce it myself in order to get all of my ideas across exactly as I wanted them to be presented. I really hope people enjoy it. I know I enjoyed making it."
-- Dolly
The Basics
Release Date: Oct. 11, 2005
Label: Sugar Hill Records/Blue Eye Records
Producer: Dolly Parton
Read the press release here.
See the publicity photos here.
Read a publicity article about the album here.
Read the Dollymania review here.
First Single: "Imagine" (to be released to radio around November)
CD Signing: Best Buy Midtown, New York City, 11 a.m. Oct. 20
Track Listing
1. Those Were The Days (Mary Hopkin, guest vocals; there is also a "gang sing" with veteran members of the Grand Ole Opry and Country Music Hall of Fame and an appearance by members of the Moscow Circus)
2. Blowin' In The Wind (background vocals by Nickel Creek plus mandolin by band member Chris Thile)
3. Where Have All The Flowers Gone (harmony vocals by Norah Jones and Lee Ann Womack)
4. Twelfth Of Never (duet with Keith Urban)
5. Where Do The Children Play (with acoustic guitar by songwriter Yusuf Islam/formerly known as Cat Stevens)
6. Me And Bobby McGee (guest vocals by songwriter Kris Kristofferson)
7. Crimson And Clover (background vocals and guitar by songwriter Tommy James)
8. The Cruel War (harmony vocals by Alison Krauss, Mindy Smith and Dan Tyminski)
9. Turn, Turn, Turn (harmony vocal and electric 12-string guitar by Roger McGuinn of The Byrds)
10. If I Were A Carpenter (duet with Joe Nichols)
11. Both Sides Now (harmony vocals by Judy Collins and Rhonda Vincent)
12. Imagine (with piano by David Foster)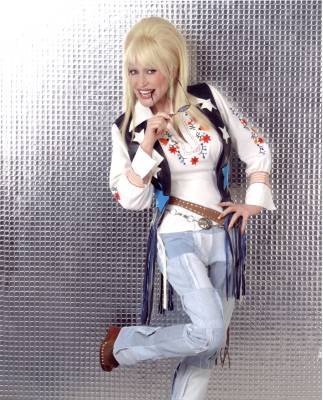 Photo by Dennis Carney. Courtesy Sugar Hill Records.
Of Note

The title track is an old Russian folk tune to which composer Gene Raskin added English lyrics in 1962. Originally popularized in American by the folk group The Limeliters, the song became an international hit when a version was recorded by Mary Hopkin in 1968, produced by Paul McCartney. Dolly first sang her own version (with a line changed to say: "The times are always good, right here at Dollywood") with members of the Moscow Circus at the 20th season opening of her theme park in April 2005. Hopkin joins in with guest vocals on the track, which also features a "gang sing" with what seems to be half of the living members of the Country Music Hall of Fame (including Porter Wagoner, George Jones, Pam Tillis, Brenda Lee, Jeannie Seely, Jack Greene, George Hamilton IV, Jan Howard, Mel McDaniel, Jimmy C. Newman and Billy Walker).

Some of the key musicians who performed on the album are Sam Bush (mandolin), Stuart Duncan (fiddle), Viktor Krauss (bass), Tony Rice (guitar), Bryan Sutton (guitar) and Chris Thile (mandolin).

She began recording the CD with The Grascals in August 2004 before embarking with the band on her "Hello I'm Dolly" Tour. At that time it was being called Blue Smoke and was expected to include a mix of covers from the folk-rock era as well as new Dolly original compositions. Among these were to be the title track, which she had unveiled at her benefit shows at Dollywood in September 2004, and a novelty song called "I Dreamed About Elvis" featuring Ronnie McDowell impersonating the King. Those tracks were removed when Dolly re-envisioned the project to consist solely of her interpretations of hits from the folk-rock era of the late 1960s through early 1970s. While the original project was slated to be released in the first half of 2005, its completion was delayed while Dolly completed composing the scores for two upcoming Broadway shows.

Dolly performed a handful of songs on the "Hello I'm Dolly" Tour which were anticipated to be included on the CD, including the two above-mentioned original numbers as well as "Imagine" and "Me And Bobby McGee." More songs from the CD will premiere in her "Those Were The Days" Tour, kicking off in August 2005.

The disc will be her sixth release (and fifth studio album) for indie company Welk Music Group, parent of Sugar Hill Records.