About your webmaster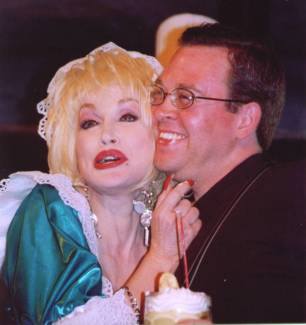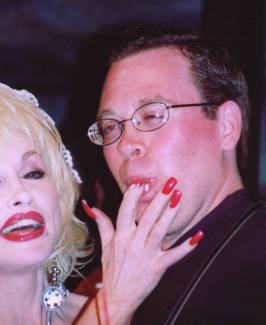 Dolly and Duane, April 2003
Dollymania.net Editor and Publisher T. Duane Gordon (dgordon@dollymania.net), 41, is an award-winning investigative journalist who has for the past 20 years operated the world's only regularly-updated publication dedicated to reporting on the life and career of entertainer Dolly Parton, Dollymania.net: The Online Dolly Parton Newsmagazine.
With a journalism degree from Mississippi State University, he served as Features Editor of The Reflector and News Editor of The Madison County Journal in the Jackson, Mississippi, media market, earning more than two dozen individual awards from the Mississippi Press Association, primarily in the field of investigative reporting. After leaving the newspaper industry, he has spent the past decade and a half as an administrator in philanthropy, serving the past nine years as CEO of the Middletown Community Foundation in Ohio, overseeing distribution of more than $2 million in grant and scholarship dollars each year to the local community while also administering one of the largest affiliates of Dolly Parton's Imagination Library in the state. Previously, he worked at the Community Foundation of Greater Jackson in Mississippi.
In his civic life, Duane volunteered for many years at former local nonprofit television station TV Middletown as host of the half-hour interview program Foundation Matters, which focused on the local nonprofit sector, for seven seasons from 2008 through 2015. He currently serves on the tristate Success by 6 Regional Oversight Council for the United Way of Greater Cincinnati, the board of directors for the Community Building Institute, and the Middletown Advisory Committee for Cincinnati State Technical and Community College. He is former president of the Middletown Kiwanis Club, earning a Distinguished Club Award and Distinguished President Award for his term, and is also a member of the Middletown Rotary Club. He is former secretary of the South Main Historic District Neighborhood Association, former treasurer of the Mississippi Chorus, former vice president of the Mississippi Chapter of the Association of Fundraising Professionals and former vice president of the Mississippi State Chapter of the Society of Professional Journalists. A classically-trained singer, he is a member of the Temple Choir at First United Methodist Church in Middletown and performer with the Middletown Civic Chorus, Middletown Mass Choir, and Middletown Symphony Chorale. He is a frequent performer at Middletown Lyric Theatre and often sings solos at various fundraisers. He was one of two guest conductors for the Middletown Symphony Orchestra's annual "local celebrity" Conductor Auction fundraiser in 2011. In 2003, he was named a Hull Leadership Fellow by the Southeastern Council of Foundations.
He created this media outlet as "Duane's Dolly Pages" in 1996, changing the name to Dollymania.net: The Online Dolly Parton Newsmagazine in 1998. Currently, it is the oldest continually-operating Dolly Parton resource on the Internet. Using his skills as a professional journalist and upholding the highest professional ethical standards, he quickly made the site the most trusted source of information for Dolly's worldwide fans. For most of Dollymania.net's early years, Dolly did not have her own website. Consequently, her management and record label often used Dollymania.net in lieu of an official site. During this period, the site partnered with the public relations department at Dolly's then-record label, Sugar Hill Records, to officially announce several of her CDs for the label and a couple of her tours. Dolly also used it exclusively several times to release official statements to her fans. In late 2007, an official website launched for her new record label, Dolly Records, making that site her first "official website."
Dolly has publicly thanked Duane multiple times for his efforts, often calling the site "my website" and joking that he knows what she's doing before she does. For example, at a 2006 appearance at Dollywood, she expressed her appreciation: "I want to thank you right in public for being so good to me. I'm sure anybody wants to know anything about me you can ask Duane. I have to call him to see what I'm gonna do next!"
Over the years, Dollymania.net has been used as source material for newspapers and magazines around the world in addition to many programs on CMT, several shows on CNN, the U.S. Library of Congress and even several of Dolly's official tour books. The site averages about 100,000 page views each month from more than 15,000 unique visitors. Duane has been granted full media credentials to cover Dolly for the site by Dollywood, the State of Tennessee Department of Tourism, Gaylord Entertainment, House of Blues, and many others over the years.
Duane became a Dolly Parton fan when he first saw her syndicated television show around the age of six months and was transfixed by her performance. Singing along with her albums and following the lyrics printed on the inside cover of Best of Dolly Parton, he taught himself to read at the age of 3. His first concert was the most recent time Dolly played Jackson, Miss., in 1978, when the 4-year-old Duane was carried up to the foot of the stage to hand his idol a rose.
Sharing his historic 1902 Bertch-Jacoby Home are his husband, attorney Matthew Dixon, and their son, Tommy, along with two dogs and several cats.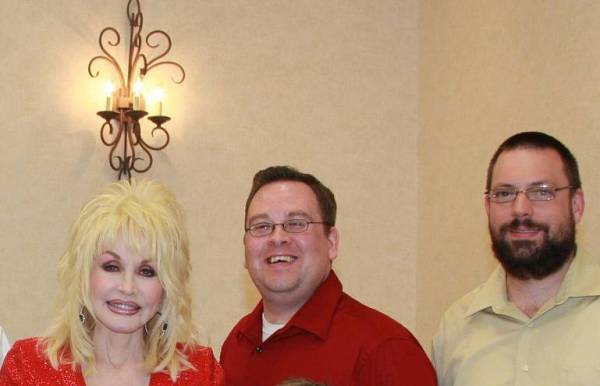 Duane and Matthew with Dolly, June 2009