Dolly

ood Opening

eekend 2003
Unless otherwise noted, images on this page are copyright © 2003 Duane Gordon/Dollymania and may not be reproduced without prior written consent.

By Duane Gordon
Dollymania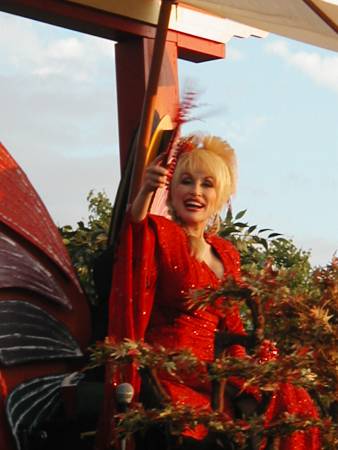 Dolly on her float in Friday's parade. See more pictures here!
Tens of thousands of Dolly fans made their annual pilgrimage to Pigeon Forge, Tenn., this weekend as Dollywood officially opened for the 2003 season.
Dolly's promotional events began Friday morning with media day at the park. Members of the media were escorted to Celebration Hall, where Dolly entered wearing a patriotic white dress with red stripes across the top and blue strips featuring white stars on the arms. She welcomed everyone to the park and its third annual Festival of Nations, featuring more than 300 performers from 15 different countries.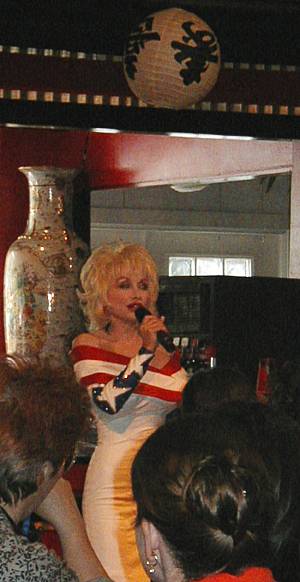 "We're just really thrilled to have all these wonderful things going on.. I love the way they've got all this decorated.," Dolly told the crowd.
About the significance of the Festival of Nations, she explained: "Of course I think that the universal language is the language of music and dance . . . It's a real trip around the world without having to leave the Smoky Mountains."
As she read her cues from a teleprompter in the back of the hall, she joked about it directing her to move from place to place to pose for photographers. Then she called up Terry Morrow of the Knoxville News-Sentinel for a sample of food from the new International Food Faire which is housed in Celebration Hall featuring dishes by "Aunt Grannies" from around the world. Dolly fed Terry a garlic fried potato, instructing him beforehand, "You better act like you like it if it's the worst thing you ever tasted!"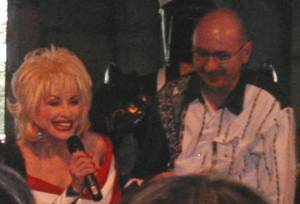 Dolly and Terry
After he took a bite, she asked in a teasing sing-song manner, "Is it good, Terry?" To which he replied as instructed with his mouth full, "It's great." The crowd laughed, and she asked, "Is it so, really? Give me a bite. It is good," before telling him that the teleprompter "says 'Pose. Pose. Pose' So, Terry, pose!" As he did, the audience roared with laughter. "Now get your ass back down there. Enough of you already," she joked to more laughs.
She then introduced the Dragon Legend Acrobats from China and stood by the doorway to watch them perform (and they are an amazing sight to see!).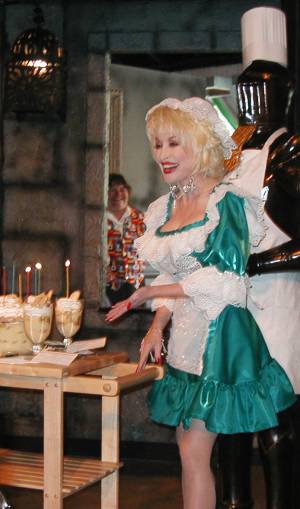 After lunch, Dolly returned in blue server's dress with white ruffles and matching white hat and apron pushing a cart of banana pudding -- her favorite treat. (Of course, Dolly's dress was a good bit shorter at both the bottom and top when compared to those of the other servers.) "If my husband sees me in this, he'll want me to wear it all the time," she joshed.
She called Terry back up to offer him some pudding, putting her finger in the whipped cream on top and applying a dab on his nose before giving him a kiss to the cheers of the audience. She handed out desserts to several other members of the media (myself included). She reminded everyone of that afternoon's parade before excusing herself from the room saying, "I've got at go get in my other cute outfit!"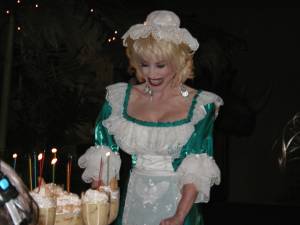 Dolly's annual Springfest In The Smokies Parade began at 6 p.m. on the Parkway in Pigeon Forge. Just before the parade's start, a downpour came, sending fans running for cover. But just before she was to arrive, the rain ended. Perched upon her butterfly seat with an umbrella posted above, Dolly wore a bright red Oriental outfit complete with two red wands she waved at the crowd while riding a float also bearing an Oriental theme.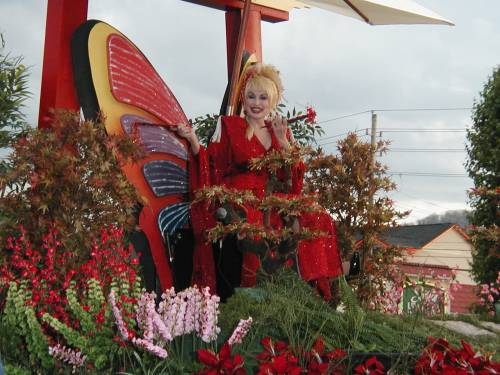 Following the parade, fans headed over to the Blonde Butterfly Bash, some lining up outside an hour before the doors opened. Last minute additions to the Bash included Jamie Howard, a cousin of Dolly's who brought some photographs of him with her, and the entire Larkin family, who met with fans for photos and signed autographs. Barbara and Lowell Larkin and their daughters, Tina and Shaunna, are regular performers at Dollywood. Tina and Shaunna have their debut album as a duo coming out in July featuring Dolly harmonies on a cover of her "Steady As The Rain." With the Larkins was Shaunna's fiancé, Randy Kohrs, who led Dolly's Blueniques touring band last summer. He is currently recording an album expected for release later this year on which Dolly will also provide guest vocals, and he is featured playing dobro on the recently-released O Mickey, Where Art Thou? bluegrass album from Disney.
Everyone seemed to enjoy the two hours together talking about Dolly, meeting with other fans and snatching up Dolly collectibles vendors had on hand. The event raised $500 for the Dollywood Foundation, comprised of admission fees and the donation of sales proceeds by the Bash's organizers. However, organizers say that due to the amount of time involved in planning the Bash and resulting stress, this was likely the final year they will host it.
On Saturday, the park officially opened at 9 a.m. Dolly didn't make any public appearances that morning because several members of her family were visiting the park, and she wanted to spend time with them, officials explained.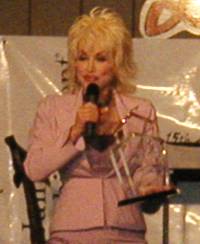 Dolly and her award.
At a sold-out luncheon in the Blue Ribbon Pavilion, Dolly was inducted into the Junior Achievement Business Hall of Fame as a 2003 Laureate. A video tribute produced by WBIR offered an overview of Dolly's lengthy career, the economic impact of Dollywood and her philanthropic efforts in East Tennessee and nationwide. As one interviewee on the video explained, Tennessee has only three real legends: Dolly, Jack Daniels and Elvis. She entered wearing a pink business top and skirt to a standing ovation.
"It is a great honor to receive any kind of award, especially a Junior Achievement award. This is a wonderful organization," she told the capacity crowd of 350 attendees, which included Gov. Phil Bredesen.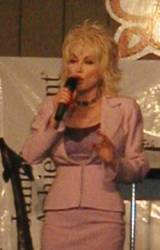 She joked with the crowd, saying at one point: "It makes me feel a little old 'cause I've been getting a lot of lifetime achievement awards lately. Now, are people thinking that my career is behind me? Everybody always tried to convince me it was in front of me."
Turning more serious, she told the crowd: "I don't ever count my money. I count my blessings. I'm sure many of you folks are the same. It's a wonderful feeling to be in a position to be able to help and to give back. And with the crazy problems of how the world is these days, it's just nice to have the feeling of love and companionship. So anyhow, thank you for allowing me to be part of this whole thing. You know, we're all here to try and help one another, or we should be, in this world. And, of course, we all love our children, too, don't we. I know you love the children. I do, too, and that's why the Imagination Library is so important."
She reminded the governor of his campaign promise to fund the Imagination Library statewide and said she had talked to him about it at the recent Governor's Awards In The Arts and that she was going to keep after him to take see the promise through as soon as the state's current budget crisis is over.
Commenting on the weather (there had been storms the night before which were so strong that they knocked over the wooden sign at the entrance to the park's driveway), she said the rumbles in the dark had frightened her: "I went to sleep watching CNN and all the bombing and everything, and I heard that thunder, and I jumped straight up in bed thinking 'Thank you, Lord! I'm at Dollywood!'"
She finished her remarks, but instead of leaving, she said that the audience probably wanted to hear her sing, but she didn't have a band with her, so she offered to recite the lyrics to the song, "Try," which she wrote to the tune of "God Won't Get You"/"A Cowboy's Ways" when she started the Imagination Library.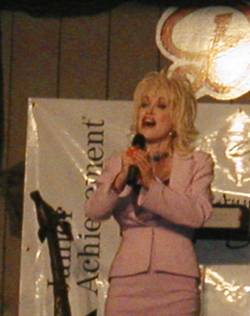 Singing "Try."


"'Cause I've chased after rainbows, and I've captured one or two.
And I've reached for the stars, and I've even held a few.
I've walked that lonesome valley. Topped the mountains. Soared the sky.
I've laughed, and I have cried, but I've always tried.
You see, I've always been a dreamer, and dreams are special things.
But dreams are of no value if they're not equipped with wings.
So secure yourself for climbing. Make ready for the sky.
Don't let your chance go by. You'll make it if you try.
So try to be the first one up the mountain. And the highest flying eagle in the sky.
Try your best to be an inspiration, to others that are still afraid and shy.
Try to make the most of every moment. If you fail, get up and try again.
Try each day to try a little harder. 'Cause if you never try, you never win.
You know, nothing is impossible if you can just believe.
Don't live your life in shackles, when faith can be your key.
The winner's one who keeps determination in his eyes.
He's not afraid to fly, and not afraid to try.
(Singing) So try to be the first one up the mountain. Try to be the first to touch the sky.
Don't let somebody tell you you can't do it. And if they say that, show 'em it's a lie.
And if you fail at first, just keep on trying. For you are not a failure in God's eyes.
The path is one that always makes a difference. And it all depends on just how hard you try.
The first step is the one that's always hardest.
But nothing's gonna change if you don't try."

Completing the song, she joked before leaving, "I feel like I'm auditioning for American Idol. I hope I win!"

Her Parade of Nations marched through the grounds at 1:30 p.m. Again with an Oriental theme, Dolly was seated in a Chinese ricksha (the little taxis pulled by a man). She made another appearance around the park in a car at 4:30 p.m.

Throughout the weekend, the crew of For The Love Of Dolly interviewed fans and filmed their activities. The documentary, which has been filmed over the past year, focuses on Dolly fans, examining why Dolly is so popular, why her fans are so dedicated to her and how they exhibit their devotion. Although no definite date has been scheduled for the film's release yet, post production could be completed by this time next year. Most documentaries of this nature make the film festival circuit when they are first released, so that's what I'd expect will be the most likely route for this one.

Also interviewing fans during and after the Springfest Parade was a crew from Rock 'N' Roll Parking Lot, a new show on Trio, a cable channel owned by USA Networks. The program will featuring interviews with fans outside events held by different entertainers, and they were at the park for a segment on Dolly fans. Producers say the episode should air on the network in the fall.

Personally, it was a most enjoyable weekend in the Smokies. I had the opportunity to spend some time with Randy and Shaunna, and I can tell you they are not only very gifted singers and instrumentalists, but they are also two of the friendliest, funniest and nicest people you'll ever meet. I also got to hear an early mix of "Steady As The Rain," and it sounds amazing. It's much slower than Dolly's version, which works well with the song, and her voice blends perfectly with the Larkins'. Shaunna said there is talk of possibly shooting a video for the song with Dolly participating. And Randy confirmed that Dolly is planning to sing at their wedding this fall and that he asked if she'd write a special song for the occasion. (You may remember that Dolly arranged for Randy to propose to Shaunna on stage during her concert at the Ryman Auditorium in Nashville last summer at the end of "Marry Me.")

I also got to meet several of the site's readers with whom I have corresponded via e-mail for years. It was a pleasure to meet you, David, Harrell, Patric, Phil, Ryan, Greg, and everyone else whose names escape me as I'm writing this. And it was so much fun to hang out with the ladies working on For The Love Of Dolly. They were hilarious and fun, and I even loved my lengthy interview at 2 a.m. Thanks for giving me the honor of being the final full-length interviewee of the project.

But by far the highlight of the weekend for me was when Dolly handed me the banana pudding. She had called out for people to come up and get dessert but noted that everybody's hands were full with cameras. I was seated almost right in front of her, so I put my cameras down and walked up. When she handed it to me, I told her I was Duane from Dollymania, to which she exclaimed: "Duane! Are you Duane? Well, here, you've definitely gotta get one. I know we'll be on the air!" She gave me a hug and fed me a little whipped cream from the pudding using her finger. Although I have seen her in person many, many times, often standing just a few feet away in the press area taking photographs, I had never had the opportunity to actually meet her, so it was a very special treat. I was seated with the crew of For The Love Of Dolly, and they filmed the encounter and afterward asked me what it was like to meet Dolly. Still excited from the experience, with my hands shaking as I lifted a scoop of pudding to my mouth, I told the cameras that Dolly's touch had made the pudding all the sweeter. (Although, what's up with my eyes in that shot!?)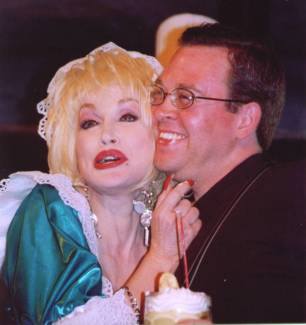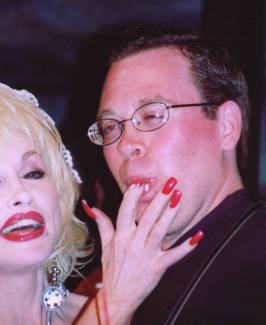 Dolly and Duane. Photos courtesy Harrell Gabehart. Used with permission.
I'd like to offer special notes of appreciation to Dolly; all of the Dollymania readers who stopped by to say hi at the Blonde Butterfly Bash; Pete Owens, Kelley Brown and all of the personnel in the Dollywood media relations office; Junior Achievement of East Tennessee President Donna L. Bieger; For The Love Of Dolly director Tai Uhlmann, her producers and crew; Bash organizers Harrell Gabehart and Patric Parkey (a special thanks to Harrell, who was kind enough to serve as my assistant during the media events); Randy Kohrs and Shaunna Larkin; Jamie Howard; Marcella Steingart and the crew of Rock 'N' Roll Parking Lot; the Gatlingburg police for not arresting the fans driving through town in a Jeep blasting Dolly music with the windows rolled down and singing along; "Bubba Breeze;" and, above all, Dolly's fans who came out for opening weekend -- you are the ones for whom Dolly does this each year, and you are the ones for whom I maintain this site. Thank you!
See additional photos here.