Dolly

ood Opening

eekend 2004
Unless otherwise noted, images on this page are copyright © 2004 Duane Gordon/Dollymania and may not be reproduced without prior written consent.

By Duane Gordon
Dollymania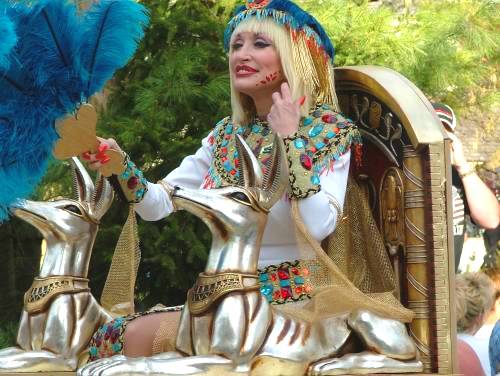 Dolly as Cleopatra in her parade through the grounds of Dollywood on Saturday. See more pictures here!
Dolly kicked off her appearances for the 2004 season opening of her Pigeon Forge, Tenn., theme park Dollywood in her trademark whimsical style, riding a few feet Friday morning on the new Thunderhead wooden roller coaster decked out for members of the press in a lumberjack outfit to her own tastes: glitter-covered "Dolly" cap, flannel shirt, jeans and denim jacket complete with a rhinestone-studded purse on a handle for her "axe," a rhinestone "saw blade" for her belt and gold pine cone earrings.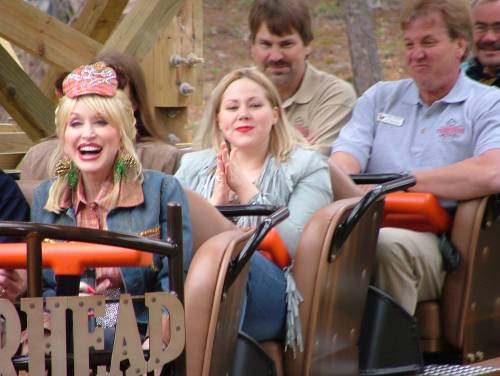 "We're very excited about our roller coaster," she said. "'Course I had so much fun getting dressed, I was far more excited about my outfit than I am this $7 million roller coaster!"
When asked if she planned to take a full ride on Thunderhead herself, she joshed: "I kinda fall apart on these rides. First my wig, then my nails, then God only knows what else! . . . You see, I don't ride these rides. They told me not to say that, but you know me -- I never listen. But I don't ride 'cause it does scare me."
The coaster is, in a word, awesome. It offers a very smooth yet thrilling ride which feels much longer than its two-and-a-half minutes and much faster than its 55 miles per hour top speed. The track includes a 100-foot drop and so many twists and turns that it crosses over and under itself a whopping 32 times, including a "fly-through" the boarding station at about 40 miles per hour just a few feet overhead of those waiting to ride it next. At least one group of roller coaster enthusiasts present later in the weekend who spend their entire summers each year riding coasters across the world was overheard predicting that Thunderhead will soon be on the list of America's best coasters.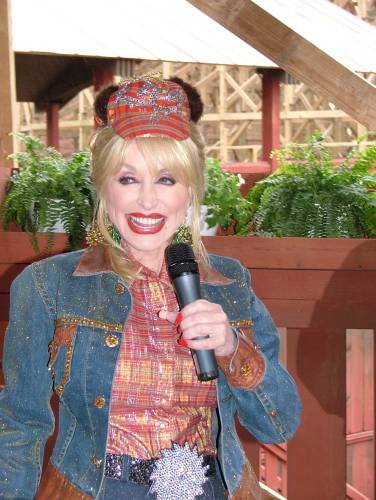 When Dolly watched several of the park's employees, representatives from the ride's designers and even a couple of her nieces take a spin on Thunderhead, she exclaimed: "Woo-eee! $7 million worth of fun!" But after seeing them whip through the "fly-through" above her head, she cried: "Good lord! My nieces are on there! I hate it when my kinfolk do that. I better keep 'em in a cradle." She watched it take another sharp curve, adding: "Oh my lord! I'm serious. That'd scare me to death," as she recounted the time one of her nieces got her to ride Space Mountain at Disneyland and she was so scared she almost pushed one of them out of the car from holding onto her so hard.
After members of the press took their turn on the coaster, Dolly, donning a green dress with decorative shamrocks in honor of the morning's special guest performers, put on a brief show at the Celebrity Theatre, singing "We Irish" and "Barbara Allen" before introducing the Irish act Ragus. During their lively performance, which includes very energetic instrumentation and even more energetic Irish dancing (think "Riverdance" with better music and fewer dancers), Dolly sat toward the back of the stage obviously enjoying the show and getting quite tickled at times. After their set, she explained that for the Festival of Nations, which brings numerous international groups to the park each spring, she wanted a "welcome song," so she took the liberty of changing some words to one of her own. She then premiered a very up-tempo "I Will Always Love You" with the first verse of "Hello word. Welcome/My brothers and sisters from all lands/We greet you all with open arms/With open hearts and minds and open hands," traditional chorus, and second verse of "So come along and sing with me/My song of brotherhood and unity/Take my hand. I'm here for you/And sing my song and know my words are true."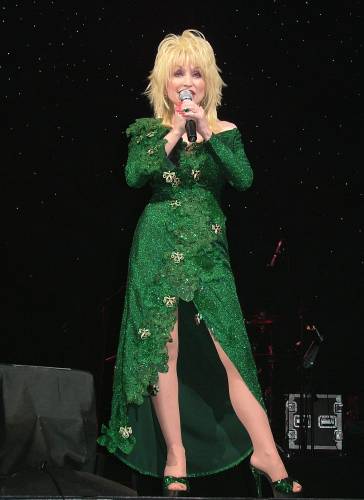 Ragus played an instrumental third verse before an instrumental chorus by a steel drum troupe from Trinidad and Tobago and another instrumental verse from pan flutists from Ecuador. As Dolly and her band took over the choruses again, a procession of performers from the other nations marched in with their national flags.
After the performance, Dolly's thoughts again turned to her wardrobe, specifically the outfit from earlier in the morning. "I was so proud of my little outfit, though," she said. "It took me all morning to get in that, bit I thought, 'Buddy, this is perfect for me to have my own theme park. In fact, I am a theme park! I just love getting in all these clothes. In fact, I love it when we started having the Festival of Nations 'cause that means I can dress in a different outfit each time we do something for one of the different countries."
Taking questions from the audience, Dolly took a stab at what a muleskinner is, explained that she has a hand in the religious themes which can be found in some areas of the park and said she is ready to move on filming a children's television show from the park grounds beginning in one or two years, "as soon as we get it together, in other words."
She was asked about her thoughts on hosting the CMT Flame Worthy Video Music Awards later in the month, explaining that the network had asked her in the past to do it but her schedule had not permitted it. "Who knows what's liable to happen," she said. "It is live and I'm kinda dangerous under those conditions!"
She was also asked about a recent TV Guide note that said the television show American Idol had unsuccessfully attempted to secure the rights from her to have contestants sing her hit "I Will Always Love You" on the program, saying it wasn't true because if they asked, she'd be happy to sell them a license to use the song. "I'll do anything for money," she joked, adding that the song is performed all over the world, even being used by Saddam Hussein -- without her permission --- as his theme song before being overthrown.
Finally, when asked what she plans to do for her 60th birthday in two years, she joked: "Lord, there's no telling. I'll probably just have another facelift, boob job, or something. More Botox and collagen. I'll never graduate from collagen. But I don't know what I'll do. We'll just have to see. That's 20 years from now!" (Look for a full transcript of the press Q&A here soon!)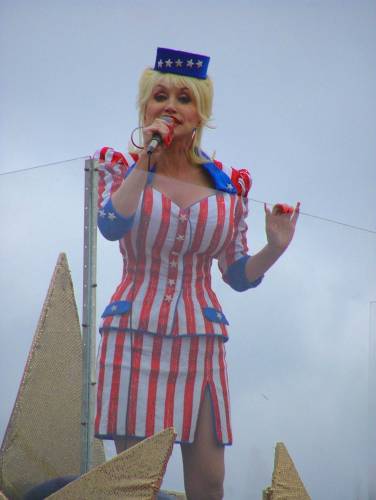 Friday evening brought Dolly out on the Parkway for her "For God And Country" parade through Pigeon Forge, where she wore the costume from the album cover of the same name and sat in the frigid weather by a heater in a clear plastic enclosure.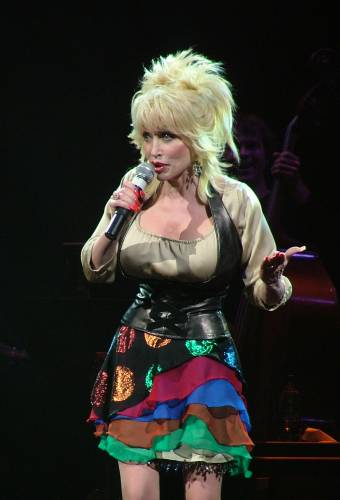 At the park's official opening on Saturday, Dolly made an appearance in her version of an Irish peasant girl outfit to perform the welcome song version of "I Will Always Love You," "Little Sparrow," "Pretty Fair Miss," "Barbara Allen" and "We Irish" for the crowd before introducing Ragus. Although it was a "surprise" appearance, word got around that she would be there, so at least half of the audience knew what to expect.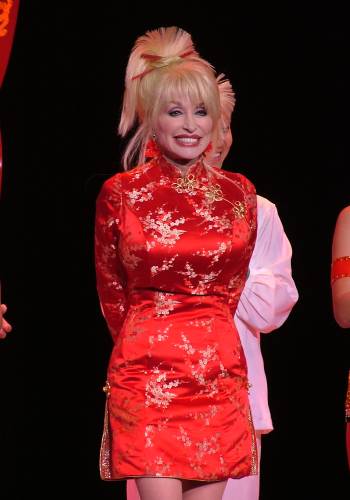 Later in the day, she came on stage following the Chinese acrobats performance to thank them for returning this year, and her parade through the park on Saturday featured her in full Cleopatra regalia complete with a bevy of muscle-bound hunks surrounding her float.
Look for many more photos of Dolly and the Festival of Nations performers, additional comments Dolly made throughout the weekend and some thoughts on the various guest performers in coming days!
I'd like to offer special notes of appreciation to Dolly, Pete Owens, Kelley Swann, Jack Mauldin and all of the personnel in the Dollywood media relations office. Thank you!
See additional photos here.