Track Listing, Cover Art For Latest Comp.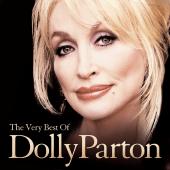 Thanks to Stephen Munns for passing along some more information on the upcoming new Dolly compilation to be released in Europe in conjunction with her tour there this spring. Coming out on March 5, the same day as the three "2on1" re-issues which Munns organized, the 21-song SonyBMG product will be one of the rare career retrospectives to cross multiple labels. Although the "same old songs" already on a multitude of compilations will comprise the majority of the disc's tracks, there will be a few "newer" ones. In addition to songs from Sony BMG's RCA, Columbia and Monument imprints, there will be tracks from Sugar Hill, Warner Brothers and even Dolly's own Blue Eye Records for her most recent Academy Award-nominated cut. The full track listing for The Very Best Of Dolly Parton is as follows:

Travelin' Thru

'CW': 'IWALY' No. 12
Dolly at least made the top 15 in Country Weekly's fan-voted countdown of the genre's 50 greatest love songs of all time in the issue on newsstands this week. Her signature tune, "I Will Always Love You," took the No. 12 position in the magazine's public poll (compared to No. 1 on both CMT and VH1's lists of the greatest love songs as judged by music experts). "Islands In The Stream" with Kenny Rogers (CMT's No. 1 duet of all time) ranked at No. 39. Trace Adkins was No. 1 with "The Rest Of Mine." Dolly also made an appearance in a story about former rocker Joan Osborne's recent country CD. She noted that when she came to Nashville to record it, Dolly sent over a batch of greens she had cooked herself. Being the best she had ever tasted, Osborne made sure to get the recipe from her, but she says she can't make them taste anywhere as good as Dolly's. (She had previously covered Dolly's "Do I Ever Cross Your Mind" on 2003's tribute CD Just Because I'm A Woman: Songs Of Dolly Parton.)
---
Jan. 29:
Release Date, Cover Art For U.K. CDs




Thanks to project coordinator Stephen Munns for passing along some additional information on his SonyBMG UK re-issues of six classic Dolly albums. He says the re-mastering from the original master tapes has been completed, and the final release date has been set for March 5 in Europe. (They should be available from several major U.S. music retailers as imports very soon thereafter.) Also, the cover art has been finalized; click on each cover at left for a slightly larger version. As has been previously reported here, in conjunction with her European tour in March, the label has decided to re-issue six of her albums from the 1970s and 1980s in three "2-on-1" CDs, putting five of the albums on CD for the very first time. The collections will feature 1983's Burlap & Satin with 1985's Real Love, 1979's Great Balls Of Fire with 1980's Dolly, Dolly, Dolly and 1976's All I Can Do with 1977's New Harvest . . . First Gathering. Check out a little background on the project from Munns' website here.
CMT Sets Dolly Night
For some reason, CMT appears to have dedicated its Feb. 10 nighttime programming all to Dolly. The evening begins with her 1984 film Rhinestone at 8 p.m. Eastern, followed by Crossroads: Melissa Etheridge and Dolly Parton at 10:30 p.m., Stacked: Dolly Parton at 11:30 p.m. and Greatest Moments: Dolly Parton at midnight.
Biography Reviewed Overseas
Stephen Miller's new Dolly biography, Smart Blonde: The Life of Dolly Parton, which was released in Europe in November and is expected to come out in the U.S. in March, got a mostly positive review over the weekend in The Irish Independent. The reviewer here pulled a few various quotes and notes from the book, adding: "Miller clearly admires his subject and is a good enough writer to avoid sounding like a C&W anorak. His book should serve her wide constituency well."
---
Jan. 27:
Charity Show On Sale Feb. 1
The Ft. Sanders Sevier Medical Center in Sevierville, Tenn., on Friday announced the ticket sale date for seats to Dolly's May 20 charity concert at nearby Smokies Stadium. The show will help with construction of the hospital's new facility through the Dr. Robert F. Thomas Foundation. Tickets, priced at $33 and $75, will go on sale to the public on Thursday via Tickets Unlimited online here or by phone at 877-995-9961. Dolly has committed $500,000 from her Dollywood Foundation and Dixie Stampede and has said she hopes to raise an additional $500,000 from the concert. The new hospital will cost its owners $90 million to build, and the Thomas Foundation is raising an additional $10 million for "extras" not covered in the primary construction. Ed. Note: See Jan. 30 news update for revised ticket information.
Better Late Than Never
With family and work issues leaving me with much less free time than usual over the past couple of months to devote to the site, I am getting this finished and posted about four weeks later than I have done it in the past, but your eighth annual Dollymania Dolly Year In Review is now available here! Check out Dolly's very busy 2006 in the world's only published recap of the past year in her life and career!
Rhonda And Dolly Together Again
Rhonda Vincent, who frequently serves as a harmony singer for Dolly on her albums, was back in the studio with her good friend this week, The Spartanburg Herald Journal in Spartanburg, S.C., reported Friday. It didn't note whether the collaboration was for Dolly's upcoming CD or Vincent's, both of which are expected later this year. The two most recently worked together on "Both Sides Now" for Dolly's Those Were The Days as well as "Heartbreaker's Alibi" for Vincent's All American Bluegrass Girl. Read the Vincent interview and profile here.
Dolly On 'Worst Film' List
The Monroe Times in Monroe, Wis., on Friday posted what it claimed was a list of the 10 worst films of the 1980s, and guess what, Dolly's 1984 comedy with Sylvester Stallone, Rhinestone, was ranked at No. 4. Stallone himself showed up on the list even more, with a total of three of his films categorized as the decade's most awful. The paper's bottom three were the much-maligned Ishtar, Stallone's Over The Top and Gymkata. Read the full list here.
Dolly On 'Idol'?
The Ft. Worth Star Telegram wants Dolly to serve as a guest judge on the wildly popular FOX series American Idol. She tops their list of dream guest judges, which also includes folks such as Justin Timberlake and "Jolene" cover singer Jack White. Read more here.
'I Didn't Do It'
Preparing for the onslaught of press in advance of this year's Oscars, The Tyee newspaper in Vancouver on Friday discussed the Academy Awards here, recalling a Dolly story which Norman Jewison recently told at a local film festival. The show's producer, Jewison recalled during rehearsals the day before the 1981 telecast, President Ronald Reagan was shot. He got the news backstage while Dolly was rehearsing her performance of her nominated tune "9 To 5." When she came backstage and was told the president had been shot, the quick-witted Dolly replied: "Well, don't look at me, I didn't do it." (Reagan, a former actor, had been scheduled to open the Oscars the next night and went ahead and taped his speech from the hospital.)
Helping 'Billboard'
In a related matter, your webmaster gets a letter in the Billboard "Chart Beat Chat" column this week explaining why Dolly was one of just three Oscar nominees for Best Song last year. Read it here.
---
Jan. 26:
Sold Out Tickets, Backstage Pass For Auction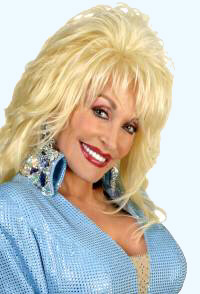 Kudos to fan site Dolly On-Line on Thursday for catching the first Dolly meet-and-greet charity auction in more than a year. Dolly has signed herself up to help Sweet Relief, a nonprofit organization which assists ill, injured or elderly musicians with medical costs. The charity on Wednesday afternoon posted two Dolly auctions on eBay. The first, available here, offers two tickets to her sold out Feb. 15 Santa Ynez, Calif., concert, while the second, available here, has two seats and two backstage meet-and-greet passes for her sold out show Feb. 16 in Indio, Calif. Both auctions end just after 5 p.m. Eastern next Wednesday. Courtesy image.
Paisley Disc Staying Steady


Still selling strong, Brad Paisley's Time Well Wasted, featuring "When I Get Where I'm Going" with Dolly, remains steady for another week at No. 5 in the Feb. 3 Billboard country albums chart, the magazine revealed Thursday. In its 75th chart week, the CD inches down one to No. 40 pop and comprehensive, while it gains one to No. 21 Canadian country. Martina McBride's Timeless, with her own Dolly collaboration, "I Still Miss Someone," rises two to No. 67 country in its 66th chart week, losing two to No. 46 Canadian country. Kenny Rogers's 21 Number Ones, with "Islands In The Stream," rises four to No. 38 country in its 53rd week. Rhonda Vincent's All American Bluegrass Girl, including her Dolly duet, "Heartbreaker's Alibi," slides one to No. 6 bluegrass in its 35th chart week, and her Ragin' Live, with a cover of "Jolene," also falls one to No. 11 in its 80th week on the same chart. Carrie Underwood's Some Hearts rebounds one to No. 1 country, rising six to No. 9 pop in its 62nd chart week, while Rascal Flatts' Me & My Gang loses one to No. 2 country and No. 13 pop in its 42nd week.
'IWALY' On Romance Countdown
What is probably Dolly's most well-known composition has made it onto yet another countdown. The music critics at New York Daily News on Thursday revealed their list of the 100 most romantic songs of all time, placing "I Will Always Love You" (which they noted was a hit both for Dolly and Whitney Houston) at No. 33 on the countdown. "My Girl" by The Temptations was No. 1. Read the full list here.
Canadian Library Promoted
Canadian families are being encouraged to read to their babies to help improve learning skills as part of a campaign promoting Family Literacy Day with the charity Invest In Kids and its partnership with Dolly's Imagination Library literacy program, which allowed it to expand across the border. Read more here.
---
Jan. 25:
Re-Issue Bonus Tracks Revealed


You may recall it first revealed here about a week and a half ago that the upcoming April 3 re-issues of Coat Of Many Colors, My Tennessee Mountain Home and Jolene under the "American Milestone" series would feature several previously unreleased bonus tracks from the time each album was recorded, but we didn't know at the time which tracks those would be. Well, Billboard on Wednesday reported on what some of those are. According to the article here, Coat will have an acoustic demo recording of "My Blue Tears," the Porter Wagoner-penned "The Tender Touch Of Love," Dolly's "Just As Good As Gone" (which had previously only been released as a B-side to the 1972 single "Washday Blues") and "My Heart Started Breaking" (which was re-recorded for Dolly in 1975). Mountain has "Sacred Memories," which appeared on her 1975 disc Love Is Like A Butterfly. And Jolene gets four Dolly originals: fan favorite "Cracker Jack" (which she performed on a guest spot for Captain Kangaroo and once on her own 1976-77 variety series), "Another Man's Woman," "Last Night's Lovin'" and "Barbara On Your Mind" (which she re-recorded for 1982's Heartbreak Express).
'Going' Makes Critics' List


The Nashville Scene in Thursday's issue unveils its annual country critics' picks for the year's best, and they chose Brad Paisley and Dolly with "When I Get Where I'm Going" as the 10th best single of 2006. See the full list here.
Mystery Mine Getting Attention
The New York Post this week chose Dollywood's upcoming Mystery Mine roller coaster in a tie with Cedar Point's upcoming Maverick coaster as the best place to take kids for a summer vacation. Read the full article here. Thanks, Matt!
Just Don't Worship Her As A God
Matt also pointed me to a company that makes parody prayer candles using celebrity images, and they have added one to their line featuring Dolly as the patron saint of dumb blondes. See it here. Thanks again!
'9 To 5' Sequel Still Discussed
Lily Tomlin this week addressed the possibility of a 9 To 5 re-make or follow-up again in an interview with The Free Times in Columbia, S.C. She said she, Dolly and Jane Fonda want to make the film, but Fonda had let the movie rights lapse, and they are now held by Jada Pinkett Smith. If Smith's plans for a re-make don't work out, though, she says, the three ladies "would love to do it." Read the full interview here.
Latest Library Happenings
The Bradley News Weekly in Cleveland, Tenn., on Wednesday profiled here the program to use Dolly's Imagination Library to place a 60-book library in each of the state's Head Start classrooms and pre-K classrooms this year.
---
Jan. 24:
Park Schedule For New Season
Dollywood is gearing up for the 2007 season with lots of fun on tap throughout the year. The park opens to the public on March 31 with the return of its Festival of Nations, with more than 250 performers from around the globe. The featured show focuses on Ireland, but there will also be presentations from Austria, Peru, Switzerland, the Ukraine, Ecuador, Russia, Trinidad and Zambia through May 7. In the middle of the festival, Dolly will have her annual homecoming for the "grand opening" festivities April 13 with the premiere of the new Mystery Mine roller coaster. (Traditionally, Dolly has a media appearance on the park grounds that Friday, her public parade through the city Friday evening, various public appearances at Dollywood on Saturday and a parade through the park grounds on Saturday afternoon.) Irish newspaper The Mayo News here on Tuesday noted local singer John McNicholl's planned performances at the park this spring as part of the festival. KidsFest returns June 15 through Aug. 5, headlined by last year favorites magicians and animal tamers the Fercos Brothers. Also coming back will be the VeggieTales Live! Show and Dolly's Imagination Playhouse, but replacing the Spongebob ride will be a space adventure ride featuring Yogi Bear and The Jetsons. The BBQ & Bluegrass Festival makes its way again Sept. 14-30 with Ricky Skaggs and Kentucky Thunder, Rhonda Vincent and The Rage, Doyle Lawson and Quicksilver, Riders in the Sky and more. That is followed by the National Gospel & Harvest Celebration Oct. 5 through Nov. 3 with The McKameys, Gold City, Brian Free & Assurance and the farewell performances of the Crabb Family Oct. 5-6 (the group had originally announced they would disband Aug. 1 but will perform at the park in October). And the year ends with a return of the new "Babes In Toyland" show as part of the Smoky Mountain Christmas Festival Nov. 10-Dec. 30.
Candy Dolly
Thanks to Phil for pointing out a very creative -- and literally very sweet -- rendering of Dolly by artist Jason Mecler. Take a look at the lady made of candy here!
---
Jan. 23:
CMT Names Karaoke Air Date
Although the network's weekly online columnist and Dolly pal Hazel Smith had said it wouldn't air until March, the new CMT series Karaoke Dokey, which premieres with a Dolly-themed episode featuring Smith herself as one of the judges, will first air at 6:30 p.m. Feb. 13, the cable channel revealed Monday. The show will feature contestants belting out their favorite Dolly tunes, and they were encouraged to dress as or "in the spirit of" Dolly for the taping.
Don't Come To This Library 'Event'
Latching onto the recent trend of "No Show Galas," where invitations are sent by a charity for a non-existent fund-raising event asking people to contribute to the cause and stay home on the "date" of the party, the Gibson County, Tenn., chapter of Dolly's Imagination Library literacy program is having its own "No Show Gala" for Valentine's Day. Invitees were advised that Gov. Phil Bredesen (D-Tenn.) will NOT serve as the guest speaker and that Dolly herself will NOT provide the entertainment. Read more about the benefit from The Jackson Sun here.
Dolly's Carriages Get Some Ink
Wanna learn all about the carriage-makers exhibiting their craft at Dollywood? Well, The Knoxville News-Sentinel on Monday offered a great little profile of the shop on the park grounds here.
A Family Update
A very special and heart-felt thank you goes out to everyone who sent in their e-mails of encouragement and prayers for your webmaster's grandmother over the past week. She had a surgical procedure on Monday and is doing quite well, actually much better than was expected last week. Your continued prayers would still be very much appreciated as she recovers, and if she continues to improve we hope she will be able to leave the hospital by the end of the week.
---
Jan. 22:
Dolly In Daniels' New Book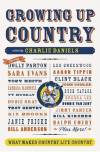 Dolly gets top billing in an upcoming collection of rural upbringing compiled by country singer Charlie Daniels. Her name appears first in the list of contributors on the book's cover -- in contrast, President Jimmy Carter is all the way down past No. 15 on the front of Growing Up Country: What Makes Country Life Country. The book's selections are introduced by and edited by Daniels and aim to explain what it means to grow up "country." It will hit bookstores April 3 from Doubleday imprint Flying Dolphin Press. (Although some stores are showing a March release, the publisher says April.) In materials promoting the book, Dolly is quoted from her entry saying: "I can't imagine what my life would have been without peaceful days, mountain streams, homegrown and home-cooked food, country church, and all-day singing with dinner on the grounds with family and friends." Reserve your copy here!
'EW' Plus Dolly's Day
Entertainment Weekly's daily blog focusing on the world of pop culture, "Popwatch," on Friday devoted its celebrity birthday section to Dolly with a page about why everyone on the planet loves her, and if anyone doesn't, something is wrong with them. The writer then counts off several reasons why she's one of the magazine's favorite people and recounts and interview she did with Dolly back in 2005. Read the piece here. Thanks Jeff!
Austin Gets 'Dollyized'
You may recall it reported here a while back about an Austin, Texas, performing arts troupe auditioning for a Dolly-inspired piece they had hoped to put on in November. Well, the debut was pushed back a bit, and Dolly Would will premiere this week, Zenobia Taylor, co-artistic director of The Getalong Gang Performance Group and choreographer/director for the show, tells Dollymania. The show attempts to answer life's questions with the reply: "What would Dolly do?" In the dance/theatre work set entirely to Dolly's music, seven characters make their way through life under the guidance of her wisdom. If you're in the area, catch the first performance at The Blue Theatre at 8:45 p.m. Tuesday (encore engagements are planned for Jan. 27 and 29 and Feb. 4). Tickets are $10 each. Call 512-479-7529 for reservations.
---
Jan. 20:
'OUT' Notes Dolly Moment
GLBT publication OUT has identified what it considers the 25 "gayest" moments in what some observers call the "gay Super Bowl," the annual Academy Awards, and one features Dolly. Presented in chronological order, the magazine includes Dolly's performance on last year's telecast with her nominated tune about a transgendered friend from the film TransAmerica. Start reading the entire list here, or skip to the last few years and Dolly's entry here.
---
Jan. 19:
HAPPY 'SEXTY-FIRST' BIRTHDAY, DOLLY!
May you have a wonderful 61st birthday on Friday and many, many more to come!
--Your webmaster
Boxed Set Falls Off The Chart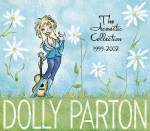 Following a 13-week run, the 14th was not a charm, as the Sugar Hill boxed set Dolly Parton: The Acoustic Collection, 1999-2002 falls off the 15-position Billboard bluegrass albums chart in the Jan. 27 numbers, the magazine reported Thursday. After peaking a few weeks ago at No. 6, the collection fell from its previous-week position of No. 14. Brad Paisley's Time Well Wasted, including his chart-topping duet with Dolly, "When I Get Where I'm Going," remains steady at No. 5 country and jumps 13 to No. 39 pop and comprehensive in its 74th chart week. In Canada, it slips two to No. 22 country. Martina McBride's Timeless, with Dolly joining her for "I Still Miss Someone," falls four to No. 69 country in its 65th chart week, losing 15 to No. 44 Canadian country. Kenny Rogers's 21 Number Ones, featuring "Islands In The Stream," dips four to No. 42 country in its 52nd week. Rhonda Vincent's All American Bluegrass Girl, featuring Dolly on their collaboration "Heartbreaker's Alibi," regains two to No. 5 bluegrass in its 34th chart week, while her Ragin' Live CD, with her version of "Jolene," dips one to No. 10 in its 79th week on the same chart. Rascal Flatts' Me & My Gang remains at No. 1 country and rises one to No. 12 pop in its 41st week, while Carrie Underwood's Some Hearts remains steady at No. 2 country and gains four to No. 15 pop in its 61st week.
Sheffield Sells Out
Yet another date apparently can be added to the sold-out list for Dolly's European tour this year: March 24 in Sheffield, England. While that show has been sold out on Ticketmaster for some time, there had still been seats available from some of the minor ticket companies in the U.K. authorized to sell seats for the concert, but those were gone as of Thursday, meaning it is currently sold out and will remain so unless some blocks of tickets currently reserved for other purposes are released for sale to the general public at a later date, which happens sometimes at concerts. Also very close to selling out is her March 21 engagement in Newcastle, England. It is likewise sold out on Ticketmaster but still has a few seats left from the minor ticket companies.
Latest Library Coverage
Dolly's international Imagination Library literacy program got a good bit of press on Thursday, showing up in several papers. The Indianapolis Star here covered the program's one-year anniversary in a several-county region of central Indiana, including Indianapolis. The Columbus Telegram in Columbus, Neb., profiled its recent United Way annual report luncheon here, which noted that the project in their community saw an increase in enrollment to more than 1,000 children there. And The Jackson Citizen Patriot in Jackson, Mich., reported here that community leaders have raised enough money in just three months to cover the local share of the program's cost there for nearly two full years. They plan to begin delivering books to children there in March. Dolly's program, active in more than 600 communities across the United States and Canada, provides one free, age-appropriate, hardcover book each month to every child from birth to age 5 whose parents sign up in a participating community. Her charitable foundation covers the administration of the program and its overhead costs, while local sponsors pay about $27 per child annually to fund the actual book purchases and postage to send them to each child's home.
Dolly Not On 'Forbes' List
Thanks to several readers for alerting me that Forbes magazine on Thursday released its list of the 20 wealthiest women in entertainment who will be profiled on an E! television special this weekend. Even though Dolly continues to tour, release CDs that earn Grammy nominations and make promotional appearances, the magazine apparently didn't think she was active enough in entertainment to warrant inclusion on the list. The list ranges from Oprah Winfrey at $1.5 billion to Renee Zellwegger at $45 million. With an unconfirmed net worth generally estimated by financial experts over the past decade at between $300 million and $500 million, had Dolly been included on the list she likely would have stood between No. 5 Celine Dion at $250 million and No. 3 Martha Stewart at $638 million. Tthe magazine stated that it limited its list to "those female celebrities active in their professional lives," so presumably they did not see Dolly's career as "active" enough to meet their standards. See the full list on Forbes.com here.
Gift Shop Opens Off-Season
Dollywood has announced that its gift shop, the Emporium, is now operating for five days a week during the three months which the park is closed. Visitors to Pigeon Forge, Tenn., will be able to visit the shop on the park grounds from 10 a.m. until 6 p.m. Wednesdays through Sundays from now through March. The park itself opens to the public at the end of March (although the seasonal "grand opening" festivities with Dolly won't take place until the weekend of April 13).
Rosie Tried To Get Dolly For Kellie
Guest hosting on The View, Kellie Pickler was presented with a gold album for her debut recording Thursday. Co-host Rosie O'Donnell did the honors, adding that the only thing that would have made the occasion more special was if she had been able to get Pickler's idol, Dolly, to give her the award. Unfortunately, although Dolly was asked, she was unable to be there Thursday, which may have been a good thing, because Pickler said she would have had a heart attack if Dolly had done it.
---
Jan. 18:
Rappers Want To Hang With Dolly
Three 6 Mafia, the Memphis rap group which bested Dolly at last year's Academy Awards with their number "It's Hard Out Here For A Pimp," has nothing but praise for the legendary singer. In an interview with Terry Morrow of the Knoxville News-Sentinel posted on the paper's website Wednesday, they fondly recall Dolly's sending them a signed fax after the awards congratulating them on their win and which one of the group's members says he had framed. They also say they want to visit Dollywood and would love fellow Tennessean Dolly to record a song with them. See the video of the interview here.
Splash Country Addition Construction Starts
Construction has begun on the new $2.8 million Cascades leisure pool addition for next year at Dollywood's Splash Country, the park has announced. The landscaped 8,000-square-foot, beach-entry pool with four slides and a waterfall from a rock grotto will be available when the water park adjacent to Dollywood in Pigeon Forge, Tenn., opens for its 2007 season in May. Check out some cool Sims-style animation of the pool from the park's website here.
Helping A Reader
I don't often post such requests on the site, but this one seemed special, so I wanted to help out. One of the site's readers, Candy, is seeking a Dolly impersonator for her husband's surprise 50th birthday party and wants to hear from impersonators (either male or female) in the Chicago area who may be willing to perform. E-mail her here.
Will They Include Dolly?
It will be interesting to see if they correctly include Dolly, as E! has announced that this weekend it will premiere a new countdown with the editors of Forbes magazine listing what are believed to be the 20 wealthiest women in entertainment. Currently, the only person whom the network has publicly identified as being on the list is Janet Jackson, although banners for the show on the channel's Website show images of 10 women, each of whom is presumably on the countdown: Jackson, Oprah Winfrey, Madonna, Gisele Bundchen (mistakenly identified here earlier as singer Fergie), Britney Spears, Jennifer Aniston, Nicole Kidman, Jennifer Lopez, Martha Stewart and Julia Roberts. As most of Dolly's wealth has come from private business dealings and she has never publicly revealed how much she is worth, a firm figure has never been known. Financial experts back about 15 years ago estimated her personal net worth to be around $100 million, which at that time made her the fifth-wealthiest woman in entertainment (behind Oprah, Mary Tyler Moore, Barbara Streisand and Madonna), but Nashville Business magazine just less than 10 years ago categorized her as the wealthiest entertainer in country music with a personal fortune estimated at around $500 million. The E! special premieres at 6 p.m. Eastern Saturday with repeats Sunday, Monday and next Thursday.
A Prayer Request
Your webmaster's grandmother, Dorothy Simpson, has been in the hospital for two weeks now with a serious heart ailment. The outlook currently isn't optimistic, so if you feel moved to do so, all prayers in her name would be most appreciated. If the usual nightly updates of the site are interrupted in coming days, it would be due to this family emergency.
---
Jan. 17:
'Country Weekly' Touts Dolly Donation
The new issue of Country Weekly is on newsstands now, and it gives nice recognition to Dolly's recent announcement of aid for her hometown hospital, which is even promoted along the top of the front cover proclaiming that Dolly is giving her hometown folks "hope." The one-column brief inside features a photo of her from her recent Kennedy Center Honors and notes the details of her contribution. It appears, however, to contain a few errors. It says her $500,000 gift will come from her Dollywood Foundation, Dixie Stampede and May 20 benefit concert, but earlier reports have stated that the Foundation and her restaurant will donate $500,000 and an additional $500,000 is expected to be raised by the concert, making her total contribution $1 million. Also, it states that the new hospital is to be named after Dr. Robert F. Thomas, the country doctor who delivered her, but the hospital in Sevierville, Tenn., is still to be called the Fort Sanders Sevier Medical Center, the same name held by the building the new complex will replace. Dolly's gift, however, is being paid to the Dr. Robert F. Thomas Foundation, a non-profit organization named for him which assists the hospital in fund-raising. The Thomas Foundation has pledged to raise $10 million for "extras" at the new facility in excess of the $90 million price tag which the hospital's owners are already committed to paying. Dolly's contribution will cover 10 percent of the money which the Foundation hopes to raise. On a related note, while ticket information for the concert at the Smokies Stadium in Sevier County has yet to be finalized, it has been revealed that ticket sales will be handled by Tickets Unlimited.
Win Tickets To See Dolly
The Newsquest newspaper group in England has teamed up with Wembley Arena to give away a pair of tickets to Dolly's March 19 concert. Fans overseas may enter from contest pages on several of the company's papers, including The Barnet & Potters Bar Times here, through Feb. 2.
Library Having Big Impact In Indy
Community leaders in Indianapolis, Ind., on Wednesday will gather at the Brightwood branch of the local public library system to celebrate the one-year anniversary of Dolly's Imagination Library literacy program in their community. In its first year, the project there has sent out more than 100,000 books, making it one of the largest chapters in Dolly's international endeavor. "Getting children interested in books at an early age can have a dramatic effect on school readiness, and I'm thrilled that Imagination Library has created opportunities for literally thousands of Indianapolis-area children to get hooked on the joy of reading," said the city's mayor, Bart Peterson. Read more in a press release available here from Inside Indiana Business.
---
Jan. 16:
Smith: Karaoke Show Coming In March
You may recall it reported here a few days back that CMT was seeking contestants performing Dolly songs for a new series called Karaoke-Dokey. Well, CMT personality Hazel Smith noted in her weekly "Hot Dish" column Monday that she is one of the show's three judges and the premiere episode featuring Dolly music should air in March. Read more here.
---
Jan. 15:
Final CA Date Sells Out
It appears the third of Dolly's four February West Coast concerts has sold out. As of Friday night, only a few single-seat tickets remained available for her Feb. 16 engagement at the Fantasy Springs Resort Casino in Indio, Calif., meaning all groups of two or more seats adjacent to one another were gone, and on Sunday, Tickets.com began showing no tickets available, indicating it has sold out. Her two other California shows are already sold out, Feb. 14 in Santa Rosa and Feb. 15 in Santa Ynez. A good number of seats remain available, though, at Ticketmaster for her Feb. 17 performance outside of Las Vegas. After the four shows, she will embark on a month-long European tour (nearly all of which is also sold out) before returning to the States for an expected three-month U.S. tour this summer.
Re-Issue CDs Moved Back To April
There's some good news and some bad news for some Dolly re-issues which had been slated to come out this month. The bad news is it appears all three albums (Coat Of Many Colors, My Tennessee Mountain Home and Jolene) have been pushed back to an April 3 release date, and pretty much all major music retailers have updated their sales pages to reflect that. As had previously been reported here, the three Columbia Records/Legacy Recordings CDs had been scheduled to come out on Jan. 23. However, the good news is that Dollymania has learned from sources that each of the discs is slated to contain three bonus tracks for a total of nine, eight of which have never previously been released. It is expected that these will consist of alternate takes of songs on the albums as well as possibly additional songs that had been initially recorded for the projects but pulled from the original albums. These changes on the U.S. re-issues should not impact the separate U.K. re-issues that are expected sometime in March to coincide with her European tour. As has previously been reported here, in addition to a new "greatest hits" compilation (which I'm told, though, will again contain the same old songs instead of some never-before-on-CD tracks that had been expected), the six albums coming out on three two-on-one CDs overseas are All I Can Do/New Harvest, First Gathering, Great Balls Of Fire/Dolly, Dolly, Dolly and Burlap & Satin/Real Love. While there don't appear to be plans at this time to directly issue the American re-issues in Europe or the European re-issues in America, major retailers on each continent are expected to carry the sets as imports. You may advance order the American discs by clicking on their titles listed above. Order information for the U.K. re-issues, however, won't be available until their final release date is set, which should be known very soon. Thanks!
'Happy, Happy Birthday, Baby'
Although hundreds of newspapers worldwide will in coming days make note in their celebrities columns that Friday is Dolly's 61st birthday, one paper went much further. A this-week-in-history column by a retired teacher and librarian for The Daily Citizen in Searcy, Ark., chose Dolly's birth as one of a handful of newsworthy occurrences from this week and profiled her with several paragraphs here. And for those wishing to celebrate, fans in Detroit had such a great time with their Dolly birthday bash last year they're doing it again in '07! Thanks to Joe for alerting me to it. If you're reading this update early enough on Sunday, that's when the big party takes place at The Rainbow Room. At 8 p.m. "Jolene" will present a dinner of dishes taken from Dolly's recent cookbook, Dolly's Dixie Fixin's, followed by a Dolly tribute show at 9 p.m. The night will also feature a raffle, Dolly prizes, "Applejack shots," silent auction and more!
---
Jan. 13:
More Seats Available For Norwegian Show
Although Ticketmaster's Norwegian arm, Billetservice, has for a week now shown Dolly's March 9 show at The Vestlandshallen in Bergen, Norway, as sold out and reflected no tickets available, some additional seats must have been released this week, because tickets were once again available for the show starting on Friday. Get them here.
Upcoming CD Note
The Louisville Courier-Journal on Friday offered a brief profile on a local engineer working on mixing Dolly's upcoming CD, which she has said she hopes to have out this summer, tentatively under the title Country Is As Country Does. Read what he has to say about her here.
Giving Advice
Dolly made her way into a nationally-syndicated advice column on Friday. A reader wrote in to "Dear Amy" complaining about a friend who wears clothes that are too tight and gaudy. The columnist's response was to quote Dolly saying, "I'm tacky and sparkly, and I love it," adding that if her friend wants to dress that way and likes it, then let her be. Read the full question and answer here.
---
Jan. 12:
'Acoustic' Again Nearing Chart Bottom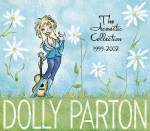 Dolly's recent boxed set Dolly Parton: The Acoustic Collection, 1999-2002, is once again flirting with falling off the bluegrass albums chart, losing four spots to No. 14 in its 13th week on the 15-position tally, the Jan. 20 numbers from Billboard showed Thursday. Elsewhere on the charts, it was noted that Brad Paisley's Time Well Wasted, which features his award-winning No. 1 with Dolly, "When I Get Where I'm Going," has now passed the 2 million mark to reach double-platinum status in the U.S. The CD regains two to No. 5 country and six to No. 52 pop and comprehensive in its 73rd chart week. Up north, it rises remains steady at No. 20 Canadian country. Martina McBride's Timeless, featuring Dolly on "I Still Miss Someone," inches up two to No. 65 country in its 64th chart week, tumbling 11 to No. 29 Canadian country. Kenny Rogers's 21 Number Ones, which includes "Islands In The Stream," gains four to No. 38 country in its 50th week. Rhonda Vincent's All American Bluegrass Girl, with the Dolly duet "Heartbreaker's Alibi," rises two to No. 7 bluegrass in its 33rd chart week, while her Ragin' Live collection, and its cover of the Dolly classic "Jolene," re-enters the bluegrass tally at No. 9 for a 78th week. Rascal Flatts' Me & My Gang and Carrie Underwood's Some Hearts switch places on the country charts, with the former moving up to No. 1 and the latter moving down to No. 2. On the pop side, Flatts shoots up nine to No. 13 in its 40th week, while Underwood dips four to No. 19 in her 60th week.
Loads Of Dolly On Porter Compilation


Special thanks to reader Al for alerting me to a recently-released Porter Wagoner compilation with many Dolly connections. Omni Records released Rubber Room: The Haunting Poetic Songs of Porter Wagoner 1966-1977 in Australia a little over four months ago. The 29-song re-mastered CD focuses mostly on Wagoner's darker recordings. It features one duet with Dolly, "The Party," one of their classic "dead children" numbers, as well as six other songs composed by her (in his career, he has recorded nearly 40 of her songs as a solo artist): "Out of the Silence (Came a Song)," "Cassie," "Fairchild," "My Many Hurried Southern Trips," "Simple As I Am," and "Wino." The set also includes his versions of some songs Dolly had recorded as well, such as Bob Ferguson's "Carroll County Accident" and perhaps the most moving song which Wagoner ever penned, "Lonely Coming Down." Get your copy here! (On a related note, although the article doesn't say which song it is, USA Today reported here Thursday night that Wagoner's upcoming Marty Stuart-produced CD, Wagonmaster, to be released in May, will feature his new cover of an old duet co-written with Dolly.)
Ha-Has For Dollywood
And thanks to Sheldon for alerting me to a recent Dolly "appearance" on Jay Leno's "Headlines" segment on The Tonight Show. A couple of weeks after he joked about a child's reaction in a photo for a Dollywood ad from its 2005 season, NBC has posted photos from the segment on its website here (visit the page and click on "next" to see the whole joke).
Latest Library News
The Daily Journal in Fergus Falls, Minn., on Thursday profiled the first week of Dolly's Imagination Library literacy program in their community here, saying it has been met with an enthusiastic reception.
---
Jan. 11:
Grammys 'Will Always Love' Dolly
Dolly's 1974 version of her farewell ballad to duet partner and mentor Porter Wagoner has earned her first spot in the GRAMMY Hall of Fame, the Recording Academy announced Wednesday. Her original recording of the song, which was her third country No. 1 single, is one of 44 selections added to the Hall for 2007. It is her first time to have a song chosen for the honor, which has been bestowed on 728 songs and albums. Established in 1973, the Hall of Fame honors "recordings of lasting qualitative or historical significance" recorded at least 25 years ago. Inductees may be either singles or full-length albums. "This year's GRAMMY Hall Of Fame inductees spotlight a diverse array of masterpiece recordings that have had a profound impact on our musical history," said Neil Portnow, President of The Recording Academy, in a press release. "They exemplify some of the best qualities that make the recording arts essential to our culture, and they all greatly deserve to be commemorated." A few of the others chosen for the honor this year include the 1948 novelty song "All I Want For Christmas (Is My Two Front Teeth)," Elvis Presley's "Are You Lonesome Tonight," Van Morrison's "Brown Eyed Girl," the 1965 soundtrack to the special A Charlie Brown Christmas, the George Jones classic "He Stopped Loving Her Today" from 1980, Patsy Montana's "I Want To Be A Cowboy's Sweetheart," "Lean On Me" by Bill Withers, The Clash's "London Calling," the Star Wars film soundtrack, the album Who's Next by The Who, Wanted! The Outlaws album by Waylon Jennings, Willie Nelson, Jessi Colter and Tompall Glaser and two Jimmie Rodgers tunes, among the other hits. Of course Dolly had two other hit versions of the song, in 1982 and 1995, while Whitney Houston's smash cover version came in 1992.
The Latest From Broadway
News of the selection of Megan Hilty as Dolly's character of Dorolee for the 9 To 5 Broadway musical continued to get noticed this week, with pieces in Broadway World here and Playbill here. Meanwhile, Playbill also reported Wednesday night that the show will get a private industry reading in New York on Dolly's 61st birthday next week, with Hilty joined by Tracey Ullman and Alice Ripley in the other female leads, although it has not been announced whether those actresses will appear in the stage version with Hilty or not. Read more here.
Sugar Hill Move Covered
The News Observer in Raleigh-Durham, N.C., on Wednesday profiled the loss of local record label Sugar Hill in its move to Nashville that was announced earlier this week. The article, available here, gives a good deal of focus to Dolly's success recording for the indie powerhouse since 1999.
---
Jan. 10:
'USA Today' Touts Dolly/Burke Collab.
In advance of the upcoming Feb. 11 Grammy Awards, which find Dolly up for two possible honors, USA Today is posting a new "play list" every week of its critics' picks for the "coolest" songs from among the nominees, and Dolly is in the first 10 released Tuesday. The newspaper chose her duet with Solomon Burke, "Tomorrow Is Forever," saying: "Another pair of old pros, in top form, demonstrate the indelible link between country music and R&B on this contender for country collaboration." Read the full list here. Dolly's other nomination for the awards is "Travelin' Thru," up for best song from a film.
Label Moving Cities
Sugar Hill Records, which has distributed Dolly's albums since 1999, is moving from its longtime home in Durham, N.C., across the mountains to Music City, it was announced Monday. The Tennessean reported on the move here Tuesday, adding that Gary Paczosa, who has served as engineer and mixer on the majority of Dolly's CDs for more than a decade and a half, has been named the label's new vice president of A&R.
---
Jan. 9:
Second CA Show Sells Out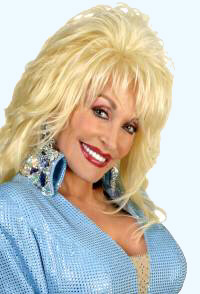 The second of Dolly's West Coast concerts next month sold out on Monday, the ticket seller reported. All seats for the Feb. 15 engagement at the Chumash Casino in Santa Ynez, Calif., are gone, according to the show's authorized ticket vendor, TicketsPlus. It joins her Valentine's Day performance the previous night in Santa Rosa, Calif., as the two sell-outs thus far of her four shows which will be her final American stops before heading across the pond for her European tour, although she does plan to return stateside for a three-month tour this summer, the dates for which have yet to be announced. Of the two other West Coast dates next month, her Feb. 16 show at the Fantasy Springs Casino in Indio, Calif., is very close to selling out as well, with tickets only on the sides of the back few rows remaining available via Tickets.com. Things are a bit slower at the Star of the Desert Arena outside of Las Vegas, where she plays Feb. 17. Although floor seats for that one finally sold out Monday, about a third of the first tier of raised seats remain for sale and about three-quarters of the tickets on the second level of raised seats appear to still be available. Those tickets are sold via Ticketmaster.
New Site Coming
Some folks contacted me to say they are working to put together a new online Dolly magazine to be called Extreme Dolly. They say it will be posted in PDF format four times a year and asked me to announce they are currently seeking fans to serve as writers and editors for the project. Contact their team here for more information. Thanks!
---
Jan. 8:
Broadway Development: '9 To 5' Role Cast
As a sign that the show is still on its way to "The Great White Way," word has come that "Dolly's" role has been cast in the Broadway adaptation of 9 To 5 for which Dolly has composed the score. Megan Hilty, who played Glinda in the Broadway musical Wicked, has been cast as Dorolee, the role which Dolly played in the 1980 film, according to a profile of Hilty's boyfriend, actor Steve Kazee, in his hometown newspaper, The Daily Independent in Ashland, Ky. In what may make some readers feel old, the 25-year-old actress wasn't born until several months after the original film was in theatres. Although the exact premiere date has yet to be revealed, Dolly has said in previous interviews that the show should debut in late 2007 or early 2008.
'American Dad' Gets Dolly Laughs
Dolly was featured heavily in Sunday's episode of the FOX animated series American Dad. In the comedy, Dollywood was up for sale for $50 million, and the family's son and the alien who lives with them teamed up to try to find Osama Bin Laden to collect the reward money to buy the park. Although there was one joke about her appearance that some fans may have found mean, all other references to her were respectful. The alien idolized her, making "Dollypockets" (Hot Pockets in which he removed the stuffing and replaced it with rhinestones) and saying he needed to hear her wisdom as he popped a tape into the stereo. Her original recordings of "9 To 5" and "Jolene" were both played during the show -- with the alien singing along.
---
Jan. 6:
Poll: Dolly A Top 'Gay Icon'
A new poll by a British-based global market research firm named Dolly the second-greatest gay icon of all time, past much more frequently cited gay icons such as Barbara Streisand, Judy Garland, and more. Australian singer Kylie Minogue came in first, and Swedish super group ABBA ranked third. The results came from a survey of more than 5,000 gays and lesbians by U.K. research company Onepoll. Rounding out the top five were Judy Garland and Marilyn Monroe, respectively. Others in the top 10 included Madonna, David Beckham and Liza Minnelli, while some lower-ranking stars were Streisand at No. 14, Cher at No. 18, Elton John at No. 20 and Absolutely Fabulous creators French & Saunders at No. 47. View the complete top 50 from the poll in a story from news site 24 Dash here.
Bluegrass Chart Updates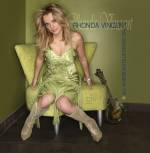 Although it ranked at the top spot for four months, Rhonda Vincent's CD All American Bluegrass Girl slips two to No. 3 in the January Bluegrass Unlimited albums chart released Friday. The disc was unseated by the sophomore effort by Dolly's former backing band The Grascals. On the singles side, the CD's Dolly duet, "Heartbreaker's Alibi," rises three to No. 22 in its fifth month on the magazine's chart.
Soundtrack Still Big Seller
Largely thanks to Dolly, the 1992 soundtrack to the film The Bodyguard is nearing 12 million copies sold and is the fifth-best-selling album of the SoundScan era, as is known the period since much more accurate sales figures for albums became available via computer tracking. The album rocketed to success due to Whitney Houston's mega-hit cover of the Dolly-penned classic "I Will Always Love You" and since release has sold 11,789,552 copies, according to a story in All Headline News here. The biggest-selling CD of the period through Dec. 31, which includes all albums sold after SoundScan began in 1991, is Dolly worshiper Shania Twain's Come On Over with 15.4 million units.
---
Jan. 5:
Mixed Movement On The Charts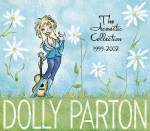 The Sugar Hill boxed set Dolly Parton: The Acoustic Collection, 1999-2002 remains steady at No. 10 in its 12th week on the bluegrass albums chart, Billboard revealed Thursday in the Jan. 13 numbers. And up north in Canada, the 1984 album Once Upon A Christmas with Kenny Rogers falls out of the top 50 country CDs, down from No. 21 the previous week, its eighth this season on the chart there. Brad Paisley's Time Well Wasted, with its chart-topping Dolly duet "When I Get Where I'm Going," inches back up one to No. 7 country but slides eight to No. 58 pop and comprehensive in its 72nd chart week. In Canada, it rises seven to No. 20 country. Martina McBride's Timeless, with her Dolly duet "I Still Miss Someone," falls 13 to No. 67 country in its 63rd chart week in the U.S., while in Canada it gains two to No. 18 country for the week. Rogers's 21 Number Ones, with the Dolly duet "Islands In The Stream," rises two to No. 42 country in its 49th week. Rhonda Vincent's All American Bluegrass Girl, featuring the Dolly collaboration "Heartbreaker's Alibi," slips four to No. 9 bluegrass in its 32nd chart week. Clay Aiken's A Thousand Different Ways, with his version of "Here You Come Again," falls out of the top 200 pop chart, down from No. 143 the previous week, its 14th week. Carrie Underwood's Some Hearts remains steady at No. 1 country but falls 11 to No. 15 pop in its 59th week, while Rascal Flatts' Me & My Gang remains steady at No. 2 country and is down 10 to No. 22 pop in its 39th week.
Another Overseas Sell Out
Yet another stop on Dolly's European tour later this spring appears to have sold out. Ticketmaster's Norwegian arm, Billetservice, on Thursday began showing no seats available for her March 9 show at The Vestlandshallen in Bergen, Norway. Her other Norwegian concert, March 15 in Oslo, has been sold out for some time now. This means all of the engagements on the tour except a handful of shows around the middle of the month in England are now sold out, and those final British nights are each getting very close to selling out as well.
The Sincerest Form Of Flattery
Do you imitate Dolly? Do you like to get up and karaoke your favorite Dolly tune? Are you 18 or older? Well, you could get your chance to sing her songs on national television if you try out this weekend. CMT has issued an open call for folks to audition for a new series, Karaoke-Dokey, where they will sing in the style of their favorite stars. First up: Dolly and Shania Twain. Contestants, both male and female, are encouraged to dress up in the "spirit" of their chosen artist. Those interested should line up Saturday from 11 a.m. to 5 p.m. at CMT's Nashville offices prepared to sing less than a minute of a Dolly or Shania song a capella (a list of approved songs is available here), with finalists selected to appear at a live taping for the show on Jan. 10 in Nashville.
---
Jan. 4:
Another Set Of Pics From Up North Added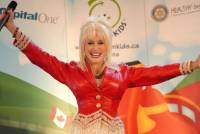 Special thanks to another reader who, when he saw some shots posted here Tuesday night from Dolly's November appearance in Toronto to launch the first Canadian chapters of her Imagination Library literacy program, was spurred to send in some additional images from the event, which have been added for your viewing pleasure in a gallery here. Thanks again! Image at left is copyright © 2006 Guntar Kravis and is used with permission.
More Library News
And speaking of the now-international literacy program, which provides one free, hardcover, age-appropriate book each month to every child birth to age 5 whose parents sign up in a participating community, its expansion into its 13th community in the state of Indiana, Logansport, is profiled in Anderson's The Herald Bulletin this week here.
---
Jan. 3:
Billboard Releases Year-End Charts


Billboard has revealed its annual end-of-the-year charts, noting that Dolly's No. 1 with Brad Paisley, "When I Get Where I'm Going," ranked as the No. 22 song of 2006 based on chart performance. It was the only Dolly-related tune on the list for the year.
Canadian Photos Posted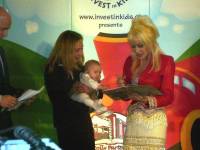 It's been a few weeks since Dolly was in Toronto to launch the first Canadian chapters of her now-international literacy program, the Imagination Library, but reader A. Todd Jenkins was kind enough this week to send in a few photos he snapped at the event. Take a look at them here. Thanks, Todd! Image at left copyright © 2006 A. Todd Jenkins and used with permission.
Dolly In Print
The new issue of Country Weekly magazines, dated Jan. 15 and on newsstands now, features a full page dedicated to Dolly's recent Kennedy Center Honors recognition. There's a half-page shot of Dolly with Alison Krauss, Shania Twain, Reba McEntire, Jessica Simpson and Reese Witherspoon from the ceremony as well as photos of tribute participants Kenny Rogers, Vince Gill and Carrie Underwood.
'When Someone Wants To Leave'
Dolly's leaving longtime duet partner Porter Wagoner three decades ago inspired Trick Pony lead singer Heidi Newfield to strike out on her own as a solo artist, she told The Tennessean this week. Newfield said although she had been considering leaving her band for a year, she didn't make the final decision until seeing a Dolly biography on television one night and how she described her need to break off her partnership with Wagoner. "That is exactly how I feel," she said, recounting Dolly's reasons for going off on her own. "I feel like if I didn't make this choice, I would live my life not having seen what all I can do." Read more here.
---
Jan. 2:
'Tennessean' Names Dolly For Honor
Nashville's The Tennessean over the weekend announced Dolly as its selection for the 2006 Tennessean of the Year award in recognition for her work on childhood literacy through her international Imagination Library program, which is active in every county in Tennessee. In an editorial here revealing the honor, the newspaper called her "the clear choice" for this year's prize. Dolly told the newspaper when notified of the award: "Are you serious? Wow. It never crossed my mind that I had won. I'm very excited ... a fantastic compliment." This is the 12th year the newspaper has given the award, the recipient for which is selected by its editorial board along with input from the newspaper's staff. The goal is to recognize an individual who has made exceptional contributions to the state during the year. This was the first time, though, that readers were asked to help the editorial board make its decision by casting their votes online, with Dolly taking a clear lead in that contest. The other nominees were Wynonna for her efforts to raise funds for children's causes, philanthropist Martha Ingram for spearheading efforts to build the Schermerhorn Symphony Center, retired state Supreme Court justice Adolpho A. Birch for serving as the court's first African American chief justice, state Transportation Commissioner Gerald Nicely for turning around an embattled Department of Safety and Highway Patrol and Meharry Medical College researcher Dr. James Hildreth for inventing a chemical condom as an AIDS prevention aid. Additional coverage is available in a story about the award here, a selection of comments from readers who voted for her here and a photo slideshow here.
Another Sell Out Overseas
One month after tickets went on sale, the last of the seats sold out over the weekend for Dolly's March 13 concert at The Scandinavium in Göteborg, Sweden, adding to the long list of sold-out dates for her 2007 European tour. The Göteborg show, which is the third in Sweden for the tour (all three are now sold out), replaced a cancelled concert which had been scheduled for that night in Helsinki, Finland.
GAC Reveals Top 50 Videos Of Year
"When I Get Where I'm Going," Dolly's No. 1 hit with Brad Paisley, was named the eighth-best video of 2006 by viewers of the cable network Great American Country (GAC), it was revealed last week. The collaboration was the only Dolly-related song to make the top 50 on the countdown, made up from online votes. Two other Dolly videos, her solo one for "Imagine" and her duet with Rhonda Vincent on "Heartbreaker's Alibi," had been available for viewers to choose on the ballot, but neither one made the top 50.
Library Notes
Dolly's Imagination Library literacy program got a couple of mentions over the weekend. It was profiled in the Evansville, Ind., Courier Press for its efforts in their community here, and The Indianapolis Star reported here on its coming to Cass County, Ind.
---