---
www.dollymania.net News April 2002
---

April 30:
Dollywood Concerts Sold Out
Dollywood on Sunday posted a note on their website that Dolly's December benefit concerts for the Dollywood Foundation are officially sold out. As Dollymania reported Wednesday night, both Saturday concerts were sold out a few hours after tickets went on sale to the public on Tuesday morning, but a few tickets remained at that time for the Friday evening show. That one, too, is sold out now.
Which To Watch?
CMT.com's question of the day on Monday was for which Today concert are you most likely to set the VCR: Dolly, the Dixie Chicks or Amy Grant and Vince Gill. As of the last count I saw, the Chicks led at 41 percent, followed closely by Dolly (who had been leading earlier in the day) at 35 percent, with Amy and Vince in last place with 24 percent. As Dollymania was the first to report Wednesday night, Dolly will appear on NBC's morning show on July 5 to promote her July 9 release Halos & Horns.
Reba's 'Annie' Gone For Now
According to Playbill.com, Reba has shelved plans for a television version of Annie Get Your Gun for CBS later this season, citing the network's delays in selecting a leading actor or director and pushing the production schedule so far back that it threatened to conflict with the filming for her WB sitcom. Could this put it back in Dolly's court? As you may recall, Dolly originally had the option for a TV version of the musical for the network, but they passed over her for Reba after her critcially-acclaimed performance of the show on Broadway. Playbill, however, noted that Reba still plans to pursue a television version of the show "down the road." Thanks, Mike!
---
April 29:
Dolly Fan: 'McKlusky' Hilarious
Another Dollymania reader in Florida offers his opinion on Dolly's film Frank McKlusky, C.I., giving it an enthusiastic thumbs up. Justin of Lake City, Fla., writes that the film is along the lines of the "silly" comedy style of Jim Carrey, Scary Movie or Saturday Night Live and will be thoroughly enjoyed by any fan of that style of humor. He explained: "I thought the movie was absolutely hilarious! I LOVED it! I found myself laughing out loud several times. Dolly was awesome as can be. And I must say that in her opening scene, she looked the best I've ever seen her!" He categorized the humor as late-teen/young-adult in its appeal, not slap-stick or corny. Regrettably, he reported that attendance was very light for the showing he attended on Friday. Thanks, Justin!
'Sparrow' Back In Top 10


Dolly's Little Sparrow jumps up nine places on the British country albums chart released Sunday, coming in at No. 10 for a 61st week. The Grammy-winning CD peaked at No. 1 for eight weeks last year and reached gold status overseas. Also across the pond, Rik Waller's cover of Dolly's "I Will Always Love You" returns to the UK 75-position pop singles chart, re-entering at No. 67 for a seventh week. It had peaked at No. 6.
Tribute To Dolly
State of The Nation, an annual festival of classical music in England, took place in London over the weekend. The event presents new compositions by invited artists, most of whom are young composers in their 20s. Of the 25 or so composers featured in eight concerts, one cited that his work was greatly influenced by Dolly! Highlights from the event will be broadcast on BBC Radio 3 in May.
Another Tribute To Dolly
The Chelsea Mountain Boys, who last year brought New York audiences "A Chest Full of Dolly: A Salute To The Fairy Godmother of Country Music," are planning "A Chest Full of Dolly II" for later this year, according to their website. No date or location has been announced for the second installment fo the concert of Dolly songs as performed by various New York artists.
Ever Wonder?
Have you ever wondered what Dolly's films would have made today? Well, I came across a list of film grosses adjusted by the American Film Institute for the inflation in ticket prices from the time of release to this year, and three Dolly films were included. 9 to 5, which in its original release grossed $103 million, in today's dollars would be $214 million. The Best Little Whorehouse in Texas, originally at $105 million, would be at $202 million. And Steel Magnolias, originally at $84 million, would be at $115 million in today's dollars. As Dolly's other films were below the $100 million mark adjusted for inflation, they were not listed.
Rare Dolly For Auction
Record collector Tom Crowther is putting some Dolly items up for sale this week, including an auction for the very rare Porter & Dolly single "Here Comes The Freedom Train." If you'd like to put in a bid, or receive a list of the other recordings he's offering, e-mail him at preston1977@hotmail.com.
---
April 27:
Dolly Fan: 'McKlusky' Not Funny
Dollymania reader Vince down in Florida took in the afternoon matinee of Frank McKlusky, C.I. on Friday and offered me his opinion on the film. "I hate giving this report about anything Dolly is in," he started out saying, explaining that he thought the movie was awful. He said that of the five friends who went to see it, only two sat through more than the first 20 minutes (he because he wanted to see all of Dolly's scenes, and another guy because he was a fan of star Dave Sheridan's MTV series). He summarized the film as "a lot of Chyna skin everywhere and no laughs." The film opened in several markets in Florida Friday as a test release to determine whether to release it nationally at a later date. If you're in Florida this weekend and get to see the film, share your thoughts with the readers of Dollymania by e-mailing me here. Thanks, Vince!
Wash. Post Loves Dollywood
The Washington Post will in Sunday's travel section feature a wonderful review of Dollywood and Pigeon Forge, Tenn. The report was posted on their website on Friday afternoon. Reviewer Cindy Loose says : "The town is one big, tacky, Ocean City boardwalk, with a little touch of Vegas, which is probably why we had so much fun there." She offers a brief interview with Dolly from this season's opening weekend festivities, noting: "Dolly's stage presence, like some of her body parts, is bigger than life. Yet in stature she's tiny. It's a heady combination. Seen up close and personal, the 56-year-old makes Barbie look potbellied and flat-chested." Along with Dolly's tips on the best places to visit while in the area, Loose raves about the park, saying that while it has fewer rides than an average amusement park, it more than makes up for it with "classy" landscaping and tons of "top-notch" musical performances. Read the full story here.
Dolly Salutes Bob Hope
Dolly will be included in a special airing at 8 p.m. Eastern Tuesday on NBC titled Bob Hope's Funniest Outtakes, according to a story on the 99-year-old comedian in Friday's Los Angeles Times. It doesn't mention whether Dolly appears in any of the outtakes, but it noted that she is included in footage of several celebrities (among them Lucille Ball, Sammy Davis Jr. and Garth Brooks) who discuss the impact of hope's long career. Read the full story here. As you may recall, Dolly was the lead guest on Hope's 1988 network Christmas special.
And This Note
A reader had written a few weeks back asking whether Ray Stevens had produced Dolly's third Monument single, 1965's "Busy Signal"/"I Took Him For Granted" and whether Dolly had written the songs. I didn't know the answer at that time because I only had the songs on a re-issued CD with no producer or songwriter credit. Since then, I've obtained it on the original 45, and I can report that, yes, Ray Stevens produced both cuts. Dolly and her uncle Bill Owens wrote the B-side ("I Took Him For Granted"), and Stevens himself wrote "Busy Signal."
---
April 26:
'Monroe' Near End Of Chart
Ricky Skaggs and Friends Sing The Songs of Bill Monroe loses nine more places in the May 4 Billboard country albums chart released Thursday, falling to No. 73 in its eighth week. The CD, which features the Dolly cut "Cry, Cry Darlin'," originally made it to No. 42 with nine weeks on the chart when released on Skaggs Family Records two years ago, and the re-issue peaked at No. 36.
Keep Tabs On The Kids
Dolly's Splash Country, Dolly's water park adjacent to Dollywood, on Thursday announced this season it will implement SafeTzone monitoring devices to aid families at the facility. The program provides to each member of a family watch-sized devices to be worn on the wrist. Parents can scan the device at one of the "LocationStations" in the park to then see on a map exactly where each member of their family is located. "We are very excited to be able to offer our guests this wonderful new technology", said Gene Scherrer, the park's director of operations. "The SafeTzone System is the premier technology of its kind in the country and we are proud to be making it available to our guests. If we can bring some added peace of mind to our guests' visit, then we have accomplished one more step in our goal of making Dolly's Splash Country the region's safest and most fun family destination." After its opening last year, Dolly's Splash Country won the World Waterpark Association's Industry Leadership Award, designating it as the best new waterpark of 2001.
---
April 25:
A 'Few' Tickets Still Available
Pete at the Dollywood publicity office confirmed that both Dec. 14 Dolly benefit concerts at the park sold out soon after tickets went on sale to the public on Tuesday. However, as of Wednesday, "very few" seats for the Dec. 13 show in the theater's upper level remained available. Call 865-428-9620 or 865-428-9630 for a chance at the final tickets, which are $35 each. Thanks, Pete!
Media Tour To Begin
The first date in Dolly's expected publicity stops for her July 9 Halos & Horns release was announced Wednesday, with a July 5 appearance scheduled for NBC's Today show.
Dollywood Press
Dollywood's Showcase of Stars, Country Legends and Summer Fun concert series made Yahoo's news pages on Wednesday. The story detailed the Showcase dates for keith urban, David Ball, the Charlie Daniels Band, Sawyer Brown, Jessica Andrews, Larry Gatlin and the Gatlin Brothers, Joe Diffie, Tracy Lawrence and Mark Chesnutt throughout the summer as well as details about the Legends series' twice-daily shows each Saturday in September, which will feature "Grand Ladies of the Grand Ole Opry" Jean Shepard, Jeannie Seely and Jan Howard Sept. 7; Stonewall Jackson, Ray Pillow and Tommy Cash Sept. 14; Jack Greene, George Hamilton IV and Margo Smith Sept. 21; and its final show, Sept. 28, with "Memories of Conway"' by the country legend's son and grandson Michael and Tre Twitty along with Jim Glaser and Norma Jean, the singer whom Dolly replaced on The Porter Wagoner Show in 1967. Yahoo's full story is here. Thanks, Hartman!
Spectacular Stevens


The Stevens Sisters' Little By Little made it into stores on Tuesday, and Dolly's guest appearance on her own "I'll Never Say Goodbye" is wonderful, as was to be expected, with her beautiful harmony soaring over the lead vocals on each chorus. The album is filled with other great rootsy tunes, with my personal favorite (other than the Dolly cut) being a bluegrass-folk version of Lynyrd Skynyrd's "Tuesday's Gone." The liner notes quote Dolly as saying: "I thought out voices - our little tender, emotional voices - blended so well, we sounded like family. Ain't they good, those girls from home?" In their "special thanks" section, the sisters thank Dolly "for being such as sweet person who has inspired our music from the first moment that we heard her voice." As has been previously reported here, the album was produced by Dolly's first cousin, Richie Owens, who also produced Dolly's Hungry Again, on which "Goodbye" originally appeared. Get your copy here!
Dolly And The Dead
Could Dolly's great talent have prompted the Grateful Dead's landmark Workingman's Dead country-themed album in 1970? Well, Robert Hunter, who at the time served as the band's primary lyricist and co-wrote the album with Jerry Garcia, suggested as much in a story which was published in Wednesday's The Tennessean to promote his appearance at the Belcourt Theater on Thursday. He recounted in the article that he and Jerry were watching The Porter Wagoner Show when they began work on the album. "Dolly Parton was on that show with Porter,'' he explained. ''Boy, Dolly was a hot little number. Then she opened her mouth, and you just couldn't believe it. There was never anything like Dolly. We (the Dead) were getting off of that psychedelic run that we were on. We had evolved from bluegrass and old-timey bands, but what we didn't know was country and western, or whatever it was that Dolly and Porter were doing. It wasn't . . . it wasn't so strained through the Smithsonian. Bluegrass was arguably a classical music from the first day it was ever played, but that's not what they were doing on that show. So, a little bit of Nashville moved into the Bay Area, and it was like nothing I'd ever seen." He then asked rhetorically, "You don't suppose Porter Wagoner and Dolly Parton were major influences on Workingman's Dead, do you?" Read the full article here.
A Little Coverage
Upcomingmovies.com on Wednesday updated its Frank McKlusky page using information gathered by Dollymania on the 10 markets in Florida where the film opens on Friday (see April 24 news update) and offering a direct link from their site to the Dollymania "McKlusky Page" as the source for the story. Their page on the film is available here. Thanks!
---
April 24:
'McKlusky' Openings Confirmed
Well, those in Florida are lucky, and those who don't live there may want to consider a weekend getaway, as it appears that is the only state where Dolly's new film Frank McKlusky, C.I. will open on Friday in the studio's reported test release of the film to determine its fate: national "wide release" or straight-to-video. Although I still haven't received any official word from the studio, through some cinema sleuthing Dollymania has confirmed the film will open in the 10 following Florida markets this weekend (I could not find any cinemas currently scheduled to show the film on Friday outside of Florida):
Ft. Myers
Jacksonville area - including Jacksonville and Orange Park
Miami/Ft. Lauderdale area - including Miami, Coconut Grove, the Palm Beach area (West Palm Beach, Jupiter, Delray Beach) and Ft. Lauderdale area (Lauderhill, Boca Raton)
Orlando area - including Orlando and Ocoee
Leesburg (between Gainesville and Orlando)
Tampa area - including Tampa Bay and Clearwater
Titusville (between Daytona and Melbourne near Cape Canaveral)
Lake City (between Tallahassee and Jacksonville)
Daytona area - Ormond Beach
Melbourne area - Palm Bay.
Check out the Dollymania 'McKlusky Page' here!

'Halos' Update
Rob over at Sugar Hill Records tells me the label on Monday hosted a small, private listening party for Dolly to hear the finished Halo And Horns CD (due in stores July 9) at a studio in Santa Monica, Calif. Among the tid-bits he provided:
Highlights of the album include the re-working of "Shattered Image," "These Old Bones" (in which Dolly pretends to channel her mother's voice) and the addition of a "powerful" choir to the end of "Stairway To Heaven."
The total playing time for the album will be 57 minutes.
Dolly is listed as producer, with some co-production by her band, the Blue-niques.
Legendary photographer Annie Leibowitz shot the art for the album cover, which will likely use a color shot on the front and on the back an "introspective" black and white pic of Dolly strumming her guitar. (Leibowitz also photographed Dolly's 1978 Rolling Stone shoot with Arnold Schwartzenegger, the art for her 1987 CD Rainbow and the "Desert Storm" Dolly pics from a military base in Texas for the June 1991 Vanity Fair cover story. See some of her pics here!)
They also on Monday taped an exclusive 10-question video interview which will be bundled on the CD, with Microsoft creating a special Dolly Windows Media Player with two different Dolly "skins."
Thanks, Rob!

Taking The Smokeys To The Rockies
Dolly may get a "Rocky Mountain High" this summer, as her tour to promote the album plans to stop in Denver, according to the Denver Post. The newspaper over the weekend published a list of performers who will visit the city for shows later this year, including Dolly. The exact date and venue for her concert was not included, suggesting that details may have yet to be finalized. Thanks, Holly!

Sold Out?
Although I haven't received official confirmation from Dollywood yet, a fan told me he tried Tuesday afternoon to call in for Dolly's Dec. 13-14 benefit concerts at the park, tickets for which went on sale to the public that morning, and they were already sold out! The concerts last year (of which you may read a re-cap and view photos here and see more exclusive photos here) raised $225,000 for the Dollywood Foundation's Imagination Library program.
---
April 23:
Dolly Dulcimer Up For Bids
Wynonna recently collected several items from celebrity friends for auction to benefit the American Red Cross, including an autographed Dolly dulcimer. Others from whom she solicited contributions were Garth Brooks, Madonna, Rosie O'Donnell and Oprah Winfrey. On her website, Wy noted: "I thought long and hard about how I could make a difference. I was delightfully surprised at the generosity of my fellow artists who committed to this cause. These are exceptional gifts from artists who opened up their hearts at a time when our neighbors really needed us. As amazed as I am by the talents of Madonna, Dolly, Rosie, Garth and Oprah and all of the others who donated, I am forever changed by the size of their hearts." Dolly's dulcimer is one of a limited edition of 12 crafted by Jerry Meador, of Dollywood's Off The Beaten Path, exclusively for Dolly. They feature cutouts of butterflies on the face of the instrument. Dolly has autographed the front of the dulcimer, and it comes with a certificate of authenticity, cotton drawstring bag and instructions on how to tune and play the instrument. As of the last time I looked, one bid had been placed for the item (in excess of $200). The auction, hosted by ebay, ends at 10 a.m. Pacific time on May 2. Take a look (and place your bid!) here.
---
April 22:
'McKlusky' Update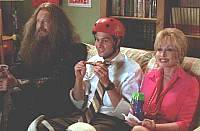 Although I have received no official word from the studio on this yet, Upcomingmovies.com reported on Friday that Dolly's upcoming comedy Frank McKlusky, C.I. is in fact to be released on a "test" basis in 10 cities on Friday. The site identified one city as Tampa, Fla., where commercials for the film reportedly have been airing on late night television, but the nine other cities were not known. According to the site, an anonymous source with the studio confirmed to them that the film is being released this week to gauge audience reaction so a determination may be made of whether to send it into wide release in cinemas nationwide or issue it directly to video. The site noted that the majority of films sent into a test release are soon after released nationally. Upcomingmovies.com was also the first to cite an anonymous source as saying the film was to be released in only 10 cities in a report dated April 3. Their page on the film is here. The movie, which marks Dolly's first return to the big screen in a decade, has been rated PG-13 by the MPAA. As has been previously reported, Dolly portrays the mother of comedian Dave Sheridan, who plays the title role of an insurance claims investigator. Randy Quaid plays Dolly's husband, a former daredevil, and the film also features cameos by Chyna and Hanson, among others. (Check out the Dollymania McKlusky Page here!) Image © Touchstone Pictures. All Rights Reserved. Used With Permission.
Is Dolly 'Flameworthy'?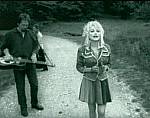 CMT recently released its preliminary round of nominees for the first annual Flameworthy video awards, and Dolly is up for Flameworthy Female Video of The Year for "Shine" from Little Sparrow. She faces Jessica Andrews' "Helplessly, Hopelessly," Sara Evans' "Saints and Angels," Faith Hill's "There You'll Be," Carolyn Dawn Johnson's "Complicated," Reba's "Sweet Music Man" (a Kenny Rogers song which Dolly covered on Here You Come Again), Jo Dee Messina's "Bring On The Rain," Chely Wright's "Never Love You Enough" and Trisha Yearwood's "I Would Have Loved You Anyway." The network will begin airing reports on nominees in late May, and the awards will be presented June 12. Of course, Dolly's "Shine" won the Best Female Country Vocal Performance Grammy this year and was lauded by critics as one of last year's best recordings, even if it received almost no radio airplay. The video peaked on CMT's weekly countdown at No. 4 and spent 13 weeks on their chart. Cast your vote for Dolly here! Thanks, Manuel!
Stevens Perform On 'Halos & Horns'


Dolly appears on their new CD coming out this week, so it was only fair that The Stevens Sisters return the favor. According to an article in Friday's Elizabethan Star in Elizabeth, Tenn., the duo has recorded harmony vocals for Dolly's July 9 release Halos & Horns and will appear on seven of the CD's 15 cuts. As was previously reported here, Dolly provides vocals on the pair's cover of her own "I'll Never Say Goodbye" (which she originally recorded on Hungry Again). Their CD, Little By Little, to be released Tuesday, was produced by Dolly's first cousin, Richie Owens, who also produced Hungry Again. The sisters are frequent performers at Dollywood and previously covered Dolly's "Tomorrow Is Forever" on their major label debut, Rounder's Sisters in 1996. Get your copy of their new CD here, and read the full news story here.
Getting More Children To Read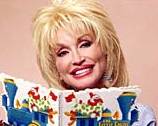 The Dollywood Foundation's Imagination Library was all over the news on Friday thanks to an Associated Press report on the program's rapid expansion which was reproduced in several newspapers and websites. The story noted that the program, serving more than 50,000 children in 31 communities in a dozen states, this year will distribute 300,000 books to children. It is expected to pass 1 million in a few years, according to the report. The program, which Dolly began in Sevier County, Tenn., before taking it nationwide two years ago, provides one free book per month from birth to age 5 for every child who signs up in a served community. It has earned her several honors, including the American Association of School Adminstrators' Galaxy Award and the American Association of Publishers's AAP Honors. Dolly noted in the article that children have taken to calling her "The Book Lady," to which she replied: "I think it's great . . . My husband thinks that's the greatest compliment I've ever been paid. He says, 'It means you are doing something worthwhile.' Hopefully, we are." The full text is available from Fox News here.
New Museum Photo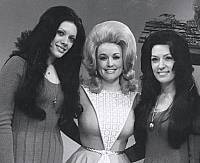 The Southern Gospel Music Hall of Fame at Dollywood recently added the picture at left of Dolly with gospel legends Dottie and Reba Rambo from an appearance which the two made on The Porter Wagoner Show in 1974. As Dollymania exclusively reported in March, Dolly and Dottie are to record a duet for an upcoming album by Dottie. (See Dottie's website here.) Thanks, Heather!
More Photos
My pal Hartman just sent over a few more great pictures from Dollywood's opening weekend. View them here and other opening weekend photos available exclusively on Dollymania here!
'Sparrow' Returns


Dolly's Little Sparrow returns to the 20-position British country albums chart released Sunday, re-entering the chart at No. 19 for a 60th week. The Grammy-winning CD peaked at No. 1 for eight weeks last year and reached gold status overseas. Also across the pond, Rik Waller's cover of Dolly's "I Will Always Love You" falls off the UK 75-position pop singles chart, down from No. 61. In five weeks on the chart, the single peaked at No. 6.
Links Page Updated
The Dollymania links page has been updated. The layout has been changed to make it more reader-friendly, a few new Dolly-related links have been added and some dead links have been removed. See the new links section here.
---
April 19:
'Monroe' Still Falling
Ricky Skaggs and Friends Sing The Songs of Bill Monroe loses one more place in the April 27 Billboard country albums chart released Thursday, falling to No. 64 in its seventh week. The CD, which features the Dolly cut "Cry, Cry Darlin'," originally made it to No. 42 with nine weeks on the chart when released on Skaggs Family Records two years ago, and the re-issue peaked at No. 36.
Another Mask Photo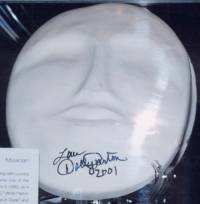 Denver area reader Holly Ulibarri sent in a better photo of Dolly's mask up for auction in the third annual Mask Market, an event to raise funds for Hospice of Metro Denver. The masks, painted by more than 400 local and national celebrities, will be on display at the Cherry Creek Shopping Center in Denver (where she took the photo at left) through May 26, during which time the silent auction will be held. For more information, visit their site at www.themaskproject.org. Thanks, Holly!
---
April 18:
'Halos' Track Listing Announced
Sugar Hill Records on Wednesday night released the track listing for Dolly's July 9 release Halos & Horns. In addition to the covers of Led Zeppelin's "Stairway To Heaven" and Bread's "If" and Dolly originals "Halos & Horns" and "Hello God" which have previously been reported here, the 15-track CD will include two covers of previous Dolly material. She will offer new versions of "What A Heartache" (originally from 1984's Rhinestone soundtrack which she also recorded on 1991's Eagle When She Flies) and "Shattered Image" (originally from 1976's All I Can Do). The other Dolly-written selections are "If Only," "In The Meantime," "I'm Gone," "Dagger Through The Heart," "John Daniel," "Sugar Hill," "Raven Dove," "Not For Me" and "These Old Bones." Thanks, Rob!
Orlando On Hold
The opening of Dolly's Orlando, Fla., Dixie Stampede equestrian dinner theater, the fourth in her chain across the country, will be delayed until spring 2003 at the earliest, it was announced this week. The facility was to be open by November, but construction has yet to start. An article in the Orlando Sentinel on Wednesday quoted a company spokesman as stating that since last year's terrorist attacks, they wanted to make sure the tourist destination's economy is recovering before they break ground on the $25 million structure. Dollywood had purchased the property off Interstate 4 in late 2000 for $3.4 million and announced the restaurant plans on Sept. 10. The article noted that the other three restaurants are located in areas to which most visitors drive, rather than fly. With Orlando's reliance on air travel, which took a drastic hit following September, the tourism industry in town has suffered, but those in the area have said it is beginning to return to normal. Read the full story here.
Porter, Dolly And A Beatle
Thursday's Nashville Scene carries an interesting article on Paul and Linda McCartney's 1974 vacation to Nashville, complete with a brush with then-Nashville duet royalty Porter and Dolly. McCartney pal Buddy Killen decided to take the couple to the Grand Ole Opry, but instead of calling ahead for special arrangements, they just got tickets and walked in. As soon as crowd members recognized the former Beatle, they started to move in on them. Paul signed autographs for fans as they walked along, and security escorted them to a roped off area where Porter and Dolly were performing during an intermission. The couple visited with country's top duo backstage at the Opry, which the article notes likely helped lighten the mood, as Porter and Dolly had just finished their final appearance together on the Opry (well, their last one for 14 years). Read the full story here.
They Better Listen
Tuesday's New York Post criticized Time-Life Music for leaving out women in its new Treasury of Bluegrass collection. The CD contains only one song by a woman, frequent Dolly back-up singer Alison Krauss. Critic Dan Aquilante complained: "What about Dolly Parton, Connie Smith, Kathy Mattea, Patty Loveless or the scores of other women who understand and deliver string-band velocity and virtuosity? Maybe the ladies of bluegrass are Time-Life's next installment in its 'Treasury' series." Read his full review here.
---
April 16:
More Opening Weekend Photos


Dollymania contributor Chris Dossenbach sent in some wonderful pictures (like the one at left) from Dollywood's grand opening weekend, which are available here. And be sure and check out all of the other great photos taken by fans here!
Shooting Commercials
The Daily Times of Maryville, Tenn., (just outside of Pigeon Forge) reported Sunday that Dolly visited a log cabin in nearby Townsend last week recording a commercial for Dollywood and Dolly's Splash Country. Maggie's Cabin was chosen as representative of Dolly's childhood growing up in a cabin in the Great Smoky Mountains, according to the director of the East Tennessee Film Commission. The commercial begins with Dolly stepping off the front porch of Maggie's Cabin and promotes Dollywood's new Adventures in Imagination addition, the article states. You may read the full story on MSNBC here.
Dolly Unmasked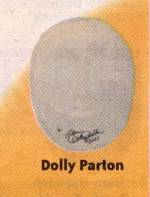 Ads in the Denver newspapers for the third annual Mask Market, an event to raise funds for Hospice of Metro Denver, have been promoting the images of some of the more than 400 masks painted by celebrities and local folks which are to be auctioned to benefit the charity. A reader sent in a scan of Dolly's at left. As Dollymania reported last month, along with Dolly painters this year include Barbara Striesand, Jesse Ventura, Whoopie Goldberg, Elizabeth Dole, Glenn Close, Bill Cosby and others. The masks will be on display at the Cherry Creek Shopping Center in Denver through May 26, during which time the silent auction will be held. For more information, visit their site at www.themaskproject.org. Thanks, Holly!
Everybody Loves Dolly
The weekend edition of Extra revealed that new blues artist Norah Jones, 23, is a big Dolly fan. While she said she digs jazz greats Billie Holiday and Ray Charles, she said at heart she is a country girl. Asked who her favorite all-time performer is, she replied: "Dolly Parton. I love her!" The show at that point featured a clip of Dolly performing in a light green denim outfit. Thanks, Michael!
---
April 15:
More Dollywood Coverage
The Citizen Times in Asheville, N.C., on Friday had a great article on Dollywood's opening weekend, even chronicling the trip of a Dolly fan from Louisiana who considered her excursion to the park a pilgrimage. Read the full article here. Thanks, Michael!
'I Will Always Love You' Falling
Rik Waller's cover of Dolly's "I Will Always Love You" falls seven more places on the UK pop singles chart to No. 68 in its sixth week, according to the chart released Sunday; it had peaked at No. 6. With just 75 positions on the chart, it will likely be gone in a week or two.
Dolly Performs In Myrtle Beach
Dolly entertained an invitation-only crowd at her Dixie Stampede in Myrtle Beach, S.C., on Thursday night in the pre-show saloon area by telling stories and singing along to pre-recorded accompaniments of "9 to 5," "Coat of Many Colors" and "I Will Always Love You," according to a report in the town's Sun News newspaper on Friday. Following the equestrian show in the theater's main arena, Dolly took the stage to perform "Color Me America," the post-Sept. 11 patriotic song which she premiered at her Christmas concerts at Dollywood this year (although the newspaper mistakenly said that Thursday was the song's premiere). Standing on the front porch of the show's antebellum home, Dolly sang as the riders circled on horseback wearing illuminated red, white and blue costumes and waving American flags. The article continues to state that the song will now serve as the finale at all Dixie Stampede theaters and that she has no plans to release it commercially unless fans request it. (So everyone contact Sugar Hill Records and Dollywood and Dixie Stampede and anyone else you can think of to ask that the song be released! She could always donate the proceeds to the Families of Freedom Scholarship Fund, which her May 17 Minneapolis benefit will support.) Read the full article here.
Cook Some Parton Cornbread
The Tennessean on Friday featured a cooking article on country foods, complete with Dolly's family recipe for her mother's cornbread. It read:
1 cup cornmeal
¼ cup flour
1 egg
½ cup of buttermilk (or milk, if buttermilk not available)
1 teaspoon sugar
Optional: a small onion, chopped finely
1 tablespoon of bacon grease.
Combine cornmeal, flour, sugar, egg, onion, milk and oil. In a skillet (iron skillet, if available) warm about four tablespoons of oil or bacon grease.
Fry until brown on both sides. The recipe makes eight small or four large piece of cornbread.
The full article is here.
April 12:
Opening Weekend Recap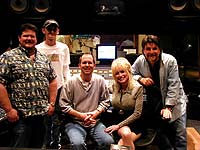 There was lots of fun and excitement at the annual season opening of Dollywood over the weekend. And a special thanks goes out to Greg, Debbie, Harrell, Hartman and others who volunteered to provide news and photos to Dollymania since your webmaster couldn't attend. Here are a few highlights from the events:

Dolly announced, and Sugar Hill Records later confirmed, she will tour this summer. Although no dates or locations have been announced, look for them here as soon as they're available. Her Minneapolis show to benefit Sept. 11 victims in May will serve as a preview of what's to come on the actual tour, she said. The news made several media outlets, including People Online, Launch, CMT.com (here) and dozens of newspapers across the country via stories filed by the Associated Press and UPI. In addition, according to The Mountain Press (story here), Dolly expects that she and her new touring band, The Blueniques, will schedule additional benefit concerts for last year's terrorist attack victims during the tour on July 4 and Sept. 11.

Dolly also announced, and Sugar Hill confirmed, her self-produced CD Halos & Horns is currently scheduled to hit stores July 9. Along with the Dolly-penned title song and new Dolly original "Hello God," it will feature bluegrass-flavored covers of the Led Zeppelin's "Stairway To Heaven" and Bread's "If." (Photo at left from Southern Sound Studios in Knoxville where Dolly recorded the album.)

Dolly performed a media show on Friday and three free shows for fans on Saturday consisting of "Train, Train," "Little Sparrow," "Shine," "Coat Of Many Colors," "Smoky Mountain Memories," "Chasing Rainbows," "9 to 5" and both the standard and a bluegrass version of "I Will Always Love You."

The new Chasing Rainbows museum features several additions to the Dolly collection, including the handwritten lyrics to several songs (such as "Eagle When She Flies" and "Blue Valley Songbird"), recent awards (including her International Bluegrass Music Association's Album Of The Year trophy and Best Bluegrass Album Grammy for The Grass Is Blue as well as the Trio's Country Vocal Collaboration Grammy for "After The Goldrush"), and tons of dresses (the silver dress worn on Jay Leno for Hungry Again and also worn at Merlefest, the mustard leather dress for her David Letterman appearance with the Trio which she also wore at the Stars Over Mississippi benefit, the black dress from her American Songwriters Association Hall of Fame induction, the red and black Native American print dress from the inside cover photo for White Limozeen, her gold dress from Unlikely Angel, and the dress from the "Honky Tonk Songs" video).

Organizers say that the BlondeButterflyBash Dolly convention went exceedingly well also, calling it a major success. There were even a couple of filmmakers from New York present to interview Dolly fans for a documentary about them, I'm told!

Look for great photos from the events over the weekend here, where more will be added as they come in! Thanks to everyone!

Making Wishes Come True
Dollymania is pleased to bring you an exclusive report which shows the huge heart of Dolly Parton. A friend and reader accompanied a cancer patient to a meet and greet which Dolly does twice a year to grant wishes through the Make-A-Wish Foundation and other assistance agencies to those with terminal illness or disabilities. The fans were taken to the Backstage Restaurant for breakfast on Sunday, where they found at their tables a tote bag of Dolly items, such as mugs, key chains, 8X10 photos and the Coat of Many Colors coloring book. Therapy dogs involved in local programs for nursing homes and children's hospitals were also on hand to visit with those present. At 9 a.m., Dolly entered the room. She visited for a little less than 10 minutes at each table, chatting with those seated, autographing photos and posing for pictures. She softly sang the chorus of "I Will Always Love You" to a young girl with Down's Syndrome and danced with an older man. Dollywood Foundation staff members collected the participants cameras when Dolly approached their tables and took photos for those at each table. These types of activities by Dolly, which she does rather frequently, are not often reported, but they exhibit the great caring and sympathy she has for those around her. We are grateful for the opportunity to shine a small light on this aspect of her work. Thanks, Hartman!

Please Help Me I'm Fallin'


After 59 total weeks on the overseas chart, Dolly's Little Sparrow fell off of the 20-position British country albums chart released Sunday, down from No. 20. The Grammy-winning CD peaked at No. 1 for eight weeks last year and reached gold status overseas. Also across the pond, Rik Waller's cover of Dolly's "I Will Always Love You" falls 23 places on the UK pop singles chart to No. 61 in its fifth week; it had peaked at No. 6. On the U.S. side of the water, Ricky Skaggs and Friends Sing The Songs of Bill Monroe drops two places to No. 63 in its sixth week, according to the April 20 Billboard country albums chart released Thursday. The CD, which features the Dolly cut "Cry, Cry Darlin'," originally made it to No. 42 with nine weeks on the chart when released on Skaggs Family Records two years ago, and the re-issue peaked at No. 36. On the magazine's World Music Albums chart, Irish group Altan's The Blue Idol, boasting the gorgeous Dolly duet on "The Pretty Young Girl," leaves the 25-position chart after peaking the previous week at No. 10 in just its second chart week.
Imagine South Carolina
According to The Sun News and The State, two newspapers in South Carolina, Dolly was in town Thursday to announce the Dollywood Foundation's Imagination Library program was expanding into the Horry County community, home of tourist center Myrtle Beach. Read a brief story from The Sun here and a longer Associated Press story in The State here. As in Branson, Mo., the program in Myrtle Beach is sponsored by Dolly's Dixie Stampede restaurant in town. The state superintendent of education made the announcement with Dolly, adding that her office had written all school districts in the state to encourage them to sign up as well.
Why Don't Ya Come Up And Vote For Me Sometime?
CMT.com's question of the day on Thursday was whether Dolly is a good choice to portray Mae West in a made-for-television bio-pic she is expected to film later this year. As of the last count I saw, 70 percent answered "Yes!"
---
April 6-11:
Museum Coverage
The Associated Press on Friday posted a story about the new "Chasing Rainbows" Dolly museum which opens at Dollywood this weekend. To read it in the Knoxville News-Sentinel, click here. And see the paper's own coverage of Friday's media events here. While there will be no news updates for a few days due to your webmaster being out of town on business (This Week In Dolly History at left has been updated for Monday), check back here on April 11 for a recap of season opening festivities courtesy of a few readers who are on site at the park this weekend. Thanks!
---
April 5:
Governor Update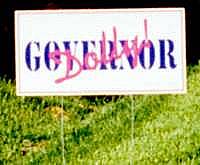 The deadline to qualify for governor of Tennessee passed at noon on Thursday, and Dolly apparently did not choose to enter the race. On Wednesday, supporters had placed the sign at left at the entrance to her estate outside of Nashville. As far as I know, Dolly made no public comment on her decision. As you will recall, a grassroots effort to encourage her to run for the office had collected several thousand voters' signatures on their petitions.
Down And Up


The Hollywood Records/Lyric Street re-issue of Big Mon: The Songs of Bill Monroe under the new title Ricky Skaggs and Friends Sing The Songs of Bill Monroe moves down 13 places to No. 61 in its fifth week, according to the April 13 Billboard country albums chart released Thursday. The CD, which features the Dolly cut "Cry, Cry Darlin'," originally made it to No. 42 with nine weeks on the chart when released on Skaggs Family Records two years ago, and the re-issue peaked at No. 36. In the same chart, the Songcatcher soundtrack, which features the wonderful Dolly duet "When Love Is New," drops off the chart after holding onto No. 75 last week for its 31st chart week. It had peaked at No. 42. On the World Music Albums chart, Irish group Altan's The Blue Idol, boasting the gorgeous Dolly duet on "The Pretty Young Girl," re-enters the chart at No. 10 for a second chart week.
Opening Weekend Is Upon Us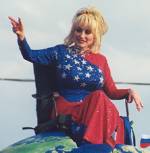 Remember, Dollywood's season opening is this weekend! Festivities begin at 6 p.m. Friday with Dolly's "Chasing Rainbows" parade through Pigeon Forge (photo at left from last year's parade courtesy Brenda Willis), followed with the park's opening on Saturday with Dolly's Parade of Nations through the park at 10 a.m. Debuting this year is the $10 million Adventures in Imagination addition with the new Dolly musuem and Dolly-narrated Smoky Mountain Wilderness Adventure ride. Also featured through May 12 is the second annual Festival of Nations, showcasing entertainers and food from several countries around the world. And don't forget, this year's alternate Dolly convention, the BlondeButterFly Bash, will be held at Green Valley Motel South Convention Center in Pigeon Forge from 8:30 p.m. until 11 p.m. on Friday. Visit their site here or call 214-929-4428 for more information. The Mountain Press had a great preview article on Thursday discussing this year's additions and the hectic work to ready the park for opening. You may read it here. And, of course, Dolly is expected to announce a possible tour at opening weekend, and CMT.com on Thursday chose as its question of the day if readers would go see Dolly on the road. As of the last time I looked, 63 percent had voted "yes!"
---
April 3:
Sept. 11 Benefit Announced
Get ready to travel to the north in May, as the non-profit scholarship management agency the Citizens' Scholarship Foundation of America announced in a press release Tuesday morning that Dolly will perform a benefit concert in Minneapolis, Minn., on Friday, May 17. The show, during which she will be backed by an acoustic band, will benefit the Families of Freedom Scholarship Fund, which assists the children of Sept. 11th terrorist attack victims to further their education. The show will take place at the Hyatt Regency in downtown Minneapolis, and tickets are on sale now for $75 each ($25 of which is tax-deductible). According to the release, the show will also feature Minnesota natives and Grammy winners Sounds of Blackness, the teen pop group Jump 5 and gospel performer Whitney Phipps. As you may recall, Dolly had initially scheduled a New Year's Eve concert in Nashville called "Red White And Bluegrass" as a fundraiser for the scholarship program but postponed the event because many of the performers she hoped would join her on stage could not attend. She had said at the time that she hoped to perform a series of concerts across the country this summer or fall to benefit the fund. Also, as you may recall, she is expected this weekend at Dollywood's season opening to announce a brief tour to promote her new album to be released this summer, suggesting that this appearance may be part of that possible tour. Within an hour of the announcement Tuesday morning, Billboard had posted a story about the show on its website. By afternoon, it was also reported on CMT.com. To order tickets, visit TicketWeb at www.ticketweb.com or call 1-866-468-3401.
No Dolly For ACM Awards
Reba has signed on to host the 2002 and 2003 Academy of Country Music Awards, CMT.com reported on Tuesday. As you may recall, Dolly's hosting duties in 2000 brought the awards show its highest-ever ratings, while Leann Rimes followed her last year, bringing the awards show its lowest-ever ratings.
No Word On Election Bid
Although organizers had expected an announcement from Dolly on Monday night to say whether she would consider their request for her to run for governor of Tennessee, there has been no word released from Dolly on the matter as of Tuesday evening. We'll keep you posted!
Singles Discography Updated
The Dollymania singles discography, the most complete listing of Dolly's singles ever compiled anywhere, has been updated to reflect her complete adult contemporary chart rankings. According to the new book of Billboard adult contemporary hits, Dolly ranks at No. 70 for her 26 appearances on the chart, including two No. 1 hits and one No. 2 cut. The big surprise in the listing is that two duets which didn't make the U.S. country or pop charts had in fact registered on the AC chart: "I Know You By Heart" with Smokey Robinson hit No. 22 in 1988, and "The Day I Fall In Love" with James Ingram went to No. 36 in 1994. View the full singles listing here and her full albums discography and chart history here.
---
April 2:
Governor Update
There's no word yet on whether Dolly will take up the call for her to enter the race for governor of Tennessee, but look for news here if any announcement is made. The petition drive got a little coverage on Nashville's WSMV news, with the television station noting the lunchtime signature gathering Monday at Legislative Plaza. The story said about 5,000 voters have signed up to ask Dolly to run. It quoted her publicist as saying Dolly is getting a big kick out of the idea but that there was no word on whether she will consider running.
First Look: The New Museum

Dollymania is pleased to be the first to bring you news from the inside of Dolly's new and expanded museum at Dollywood. A Dollymania reader got a chance to take a preview tour of the facility on Sunday and reports that the museum overflows with new displays, including many more outfits from Dolly's career. When you enter, it appears as if you're in Dolly's attic, where you see her on film. The tour takes you next into a church, school and office before entering the two-story showroom full of costumes, photos, awards and more. There is even an interactive video screen where you can call up and view any of Dolly's music videos, including the never-broadcast "Peace Train" remix video in its entirety! A new computer interaction system also allows you to ask Dolly virtual questions, appear on screen and sing with her, try on her wigs or listen to her music. I'm also told that a new Dolly compilation CD is on sale this season at the park from Green Hill Music titled Country Legends. The museum opens to the public with the park's season opening on Saturday. Thanks, Solomon!
Place Your Bids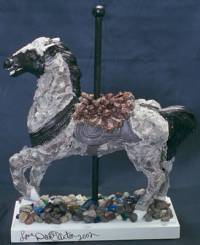 If you want to support a good cause and have a couple thousand dollars to spend, why not get your hands on a nine-inch carousel horse autographed by Dolly. Dolly is one of several dozen celebrities who have donated pieces for the Around Town Carousels Abound auction to benefit Hope Village for Children, a home for abused and neglected children in Meridian, Miss., founded by Once And Again actress Sela Ward, a Meridian native. According to an article in our local newspaper on Monday, Dolly is one of several celebrities who, instead of painting their own horses, chose to commission artists to create pieces which capture their personalities. The celebrities then signed the horses. Dolly's (shown at left) is covered in glitter representing her "glitz and glamour" as well as her Smoky Mountain roots. Online bidding is open through Thursday. The highest online bid will serve as the starting bid for a live auction to be held in Meridian on Saturday (although online bidders may submit proxy bids if they cannot attend in person). To place a bid on Dolly's horse, click here, or for more information on the auction and the children's home, visit their website at www.carouselsabound.com.
---
April 1:
Governor Decision Expected Monday
Dolly is expected to make her decision known on Monday of whether she will run for governor of Tennessee, organizers of the grassroots campaign to convince her to enter the race said over the weekend. The last chance to add signatures to the thousands collected will be between noon and 1 p.m. at Legislative Plaza in Nashville, after which the stacks of petitions will be presented to Dolly at an undisclosed location. She is expected to announce her decision late that night. In a press release, several citizens across the state expressed their support. Fellow entertainer and friend Charlie Louvin said: "If she could do only half as much for Tennessee as she has done for Pigeon Forge and Sevier County, we'll be doing great in no time. She's truly a great lady!" Murfreesboro dentist Jim Bishop noted, "With her business sense, she will boost our image and expand the state's economy beyond our wildest dreams." If she chooses to run, her candidacy must be formalized by noon on Thursday. The Dolly For Governor Valentine Committee is asking people all over the state (and everywhere else for that matter) to display something pink next week to show their support for Dolly. Committee members and other volunteers across Tennessee have collected signatures since Valentine's Day to ask Dolly to run, as Dollymania was the first media outlet to report. Organizers say that approximately nine out of 10 people who were asked to sign petitions agreed to do so immediately. Thanks, Rem!
'Sparrow' Down One


Little Sparrow slips one spot to No. 20 in its 59th week on the British country albums chart released Sunday. The Grammy-winning CD peaked at No. 1 for eight weeks last year and reached gold status overseas. Also across the pond, Rik Waller's cover of Dolly's "I Will Always Love You" falls 22 places on the UK pop singles chart to No. 38 in its fourth week; it had peaked at No. 6.
Elviswood?
An article in Friday's DeSoto (Miss.) Times Today (actually written by a former employee of mine from when I was a newspaper editor) discussed a proposed Elvis theme park being considered for the area and draws many comparisons to the success which Dollywood has brought to Pigeon Forge, Tenn. An interview with Pigeon Forge's city manager gives a good impression of the impact which Dolly has had on the area, such as the town's quadrupling in population since the park's opening and the transition into a major tourism center.
Library Comes To Columbia
The Dollywood Foundation's Imagination Library is rolling into Columbia, Tenn., according to an article Friday in that city's Daily Herald. The program was brought to the area by the school district, in the hope of improving literacy in young children and over the years having the expected impact of lowering the high school drop-out rate. The program, started in Dolly's home of Sevier County and now in dozens of communities across the country, provides one free book per month to every child in the area from birth to age five and has won Dolly numerous national awards from the education and publishing communities. Read their article here.
---