---
www.dollymania.net News August 2018
---
Aug. 29:
'King of The Road' Track With Dolly, Willie, More Released



King Of The Road, the multi-artist tribute album to the legendary country music singer and humorist Roger Miller coming out on Friday, on Tuesday teased its release with a Facebook posting here of a new all-star music video of its title track. The song starts with Willie Nelson, followed by Merle Haggard (in one of his final recordings), Kris Kristofferson and Dolly wrapping up the first verse. Others on the track include Eric Church, Randy Travis, Dwight Yoakum, Bill Anderson, Radney Foster, Emmylou Harris, Alison Krauss, Ronnie Dunn and more. All voices join for the final chorus before two final encores of the "king of the road" song title, the first sung by Nelson and the final one by Dolly. Dolly's contribution to the project, a cover of "The Last Word In Lonesome Is Me" with Krauss, was released as a single a month ago. No word on which artists from the project appear on its other various artist collaboration, "You Can't Rollerskate In A Buffalo Herd."

Bristol-Inspired Album With Dolly Is Out
That's not the only new Dolly song out now, as 1927 Jubilee: The New Bristol Sessions , a various-artist album celebrating what is considered the birth of recorded country music, has been released, including Dolly's contribution of "Something More," which formerly had been used in her Smoky Mountain Adventure Dinner Theatre show. Download Dolly's track here.
---
Aug. 27:
'Very Best' Gains Down Under
The "gold series" re-issue of The Very Best Of Dolly Parton (Australian Tour Edition) moves up two places this week on the Australian country albums chart to No. 17 in its 362nd chart week since its original 2007 release Down Under.
---
Aug. 25:
Be In Dolly's First Netflix Movie
Catrett Casting is seeking extras to work on Dolly's first project in her Netflix series of films based on her songs, which appears to still be "These Old Bones." As Dollymania.net first reported back in June, the same firm that cast Dolly's "Coat Of Many Colors" films for NBC had been hired for the Netflix project, with "These Old Bones" planned as the first installment focusing on "in 1945, a legal battle ensues over land in Tennessee between two young lawyers and an elderly woman named Old Bones who is determined not to let the city folks have their way." The Atlanta Journal-Constitution reported here Friday that the company has put out a call for extras willing to get period haircuts for the 1940s under the possible series title Dolly Parton Theater, suggesting it is still "These Old Bones," which was to be set in the 1940s. They are seeking white men ages 18-26 to play World War II soldiers (subject line: "ENLISTED"), white men and women age 18 and up to play 1940s townsfolk (subject line: "TOWNFOLK"), white men ages 18-26 with amputations to play war amputees (subject line: "WOUNDED VET"), African-American men ages 35 and up to play diner staff (subject line: "DINER STAFF") and white men age 35 and up to play "stone-faced yet reactionary citizens" (subject line: "EXPRESSIONS"). All men should be clean-shaven and all actors should specify if they smoke or are comfortable around simulated smoking on set. Interested actors should send an e-mail to submissions@catrettcasting with the subject line of the role of interest, three current photos, name, age, height, weight and current phone number. The soldiers, amputees and diner staff will film Sept. 13, the 1940s townsfolk Sept. 11-13, 20-21 and 24-25, and facial expressions citizens Sept. 12, 20-21 and 24-25. All filming will be in the Atlanta area and pay $75 for eight hours. Dolly's movie series is expected to premiere on Netflix in 2019.
Dolly Celebrates Women's Suffrage On Album
WNYC Studios' More Perfect political show this week announced Dolly as the biggest artist paying tribute to the amendments to the U.S. Constitution on the podcast's 27: The Most Perfect Album, which will become available for download Sept. 18. Dolly's contribution is a song honoring the 19th amendment, which gave women the right to vote. Learn more from Billboard here.
Trio Takes U.K. Top Spot Again
The Complete Trio Collection Deluxe by Dolly, Emmylou Harris and Linda Ronstadt this week recaptures the pole position on the British country compilation albums chart, gaining one to No. 1 in its 102nd chart week, 27 of which have been at No. 1. Also on the U.K. country compilation albums chart, Harris's Original Album Series: Volume 1 (with two Dolly covers, one track with Dolly harmony and one track with Trio harmony by Dolly and Ronstadt) gains one to No. 6, while Ronstadt's Original Album Series (featuring one Dolly cover and one track with Dolly harmony) re-enters the top 20 at No. 15.
---
Aug. 23:
'9 To 5' Gets British Cinematic Re-Release
Dolly's classic film debut 9 To 5 will get a limited theatrical re-release overseas this fall as a centerpiece in the British Film Institute's "Comedy Genius" series of the funniest movies and television programs of all time which will be screened over a three-month period of October through December. Co-star Jane Fonda is expected to travel to London to introduce a preview of the film, according to The Guardian here. A limited release of the film will be seen in several cinemas across the U.K. during the festival, which will also see classics such as Monty Python's Life of Brian and Some Like It Hot.
Dolly 'Jolene' Meme Circulates Online
Dolly this week took the Internet by storm when her social media accounts shared updated the "distracted boyfriend" meme to reflect "Jolene." The attention prompted W magazine to take a look at her other terrific memes here.
---
Aug. 20:
YouTube Kids Uses Dolly For Reading Month



YouTube Kids has selected Dolly as spokesperson for its second annual Reading Month, and she has posted a reading list of videos to the service. Check out a story on the announcement from People magazine here and watch her welcome video here or in the media player above.

Dolly Updates Projects
The USA Today Network last week published a new interview with Dolly here listing her current projects. She noted that her first Netflix movies based on her songs won't air until 2019, the Dumplin' movie and soundtrack should be out sometime later this year, she wants to record an updated version of "9 To 5" for that movie's sequel and she may have a new Christmas musical out as early as sometime next year. While the article says no additional information is available on the Christmas musical, Dollymania.net had actually reported on it back in May when the season schedule for the Ordway Theatre in St. Paul, Minn., was released. The theatre on Nov. 17 znd 18 will host three concert-style world premiere performances of Dolly Parton's Smoky Mountain Christmas Carol, which features an original score by Dolly resetting the classic Dickens story in a mining camp in the Smokies owned by Ebenezer Scrooge. Dolly, who the theatre notes in its promotional materials is not expected to attend the concerts, last week released a personal invitation video for the production. Watch it here and get more information or tickets here. It is common for new musicals to be "workshopped" or tested before live audiences in a concert-style performance in a medium-sized city for changes to be made prior to a more staged test run in a larger city prior to the official premiere of its final version on Broadway or in a major city theatre market or national tour. There is no word on what the plan for Dolly's new holiday musical – whether it is headed to Broadway or off –Broadway or national tour or somewhere else.

Overseas Chart Update
Down Under, the "gold series" re-issue of The Very Best Of Dolly Parton (Australian Tour Edition) regains one this week on the Australian country albums chart to No. 19 in its 361st chart week since its original 2007 release. The British country compilation albums chart was not updated for the week on Friday.

Dolly Remembers Aretha Franklin
Queen of Soul Aretha Franklin died Thursday, prompting tributes from many, including Dolly, who said in a statement: "I'm one of the lucky ones to have seen Aretha perform in the very beginning of her career. She was amazing then and just became greater through the years. Talk about R.E.S.P.E.C.T., we have it for you, Aretha. You will never be forgotten."

Dollywood On FOX News
FOX News' Fox & Friends last week profiled Dollywood as "good old fashioned country fun." Check out their story here.

Dolly Records Duet For 'Special'
She didn't give any hints as to what the project is, but vocalist Joyce Sanders on Wednesday shared to Facebook here that she recorded a duet with Dolly for a song to be included in "a new special" Dolly "is working on." "Holy Cow, Y'all," she wrote. "Dolly. And Me."
---
Aug. 15:
Forbes: Dolly Was Last Year's Top Earning Country Music Woman
For the second consecutive year, Dolly was country music's top-earning female entertainer, Forbes magazine revealed Tuesday, as she was the only woman on the publication's top 10 list of income for the year from June 1, 2017, to June 1, 2018. She is also by far the oldest person on the list, at 72, 15 years older than No. 9 Toby Keith and 14 years older than No. 2 Garth Brooks. The average age of the top 9 artists is just 44. This was her third year on the tally, thanks to a rule change three years ago that added non-entertainment/non-endorsement business income as well as removed additional scoring for online popularity and magazine covers, both of which tended to help younger stars rank higher on the list. She dropped significantly from last year's ranking at No. 4 for country performers (and No. 71 for all entertainers) with $37 million down to No. 10 country (but not in the top 100 for all entertainers, which had a $35 million cut-off) with $19 million in estimated earnings. The 2016-17 tally included an album release and one of the most successful concert tours of her career, accounting for about $18 million of her total that year, while her business interests (Dollywood; Stampede, Celebration, and Pirate's Voyage dinner theatres; DreamMore Resort; and production companies) brought in about $19 million. For the past year, she did not tour and did not release a commercial album (putting out only the children's CD I Believe In You from which all proceeds were donated to her Imagination Library charity, which would not count toward her income here), so nearly the entire $19 million total for 2017-18 came from her business holdings instead of her music career. She first showed up on the list at No. 13 country for 2015-16 (she was No. 3 country female, as Shania Twain and Carrie Underwood had ranked higher) with $19 million from her business income. This year's No. 1 country artist was Luke Bryan with pre-tax income of $52 million. Read more here.
N.C. Police Lipsynch To Dolly Tune
Another police department has turned to Dolly for its entry in the lipsynch challenge. The Kill Devil Hills, N.C., force filmed themselves and others in town to Dolly's cover of "Put A Little Love In Your Heart." Check it out from Outer Banks Voice here.
---
Aug. 13:
Dolly Scores First U.K. Platinum Single
Dolly on Friday earned her career-first platinum single in Great Britain, with "9 To 5" picking up the digital award for downloads in excess of 600,000 copies. The song had previously been certified silver (200,000 downloads) in 2013 and gold (400,000 downloads) in 2016. Her only other single certifications from BPI for UK sales are digital silver and gold status for "Jolene" and two silver awards – one for physical 45s when originally released and one for digital downloads – for "Islands In The Stream" with Kenny Rogers. "9 To 5" earned a digital platinum award in the U.S. for more than 1 million downloads and/or 100 million streaming plays in September.
Leadership Tennessee Names Award In Dolly's Honor
That was not Dolly's only honor of the weekend, as Leadership Tennessee on Saturday presented her with the first Dolly Parton Excellence In Leadership Award in a ceremony held at the Country Music Hall of Fame in Nashville. NewsChannel 5 reports here that the award was for "her selfless work to improve lives across Tennessee." Dolly commented: "My dream was to make as many people happy as I could in this life, and I am grateful to Leadership Tennessee and First Lady Crissy Haslam for recognizing our work done to improve the lives of all Tennesseans. Even more humbling is for decades to come the future leaders of Tennessee will receive an award with the Parton family name attached to it, and for that I am truly honored and thankful." Tennessee First Lady Crissy Haslam added: "Tennessee has many talented sons and daughters, but there are few who are as beloved as Dolly Parton. And while she may be most known for her music, she has undoubtedly proved to be an exemplar of leadership through her generosity, humility, inclusiveness, expertise, and passion. As a state, we are indebted to all that Dolly has done for Tennessee and its people; there is no one better suited for the very first Excellence in Leadership Award."
'Trio' Celebrates 100 Weeks On U.K. Chart
The Complete Trio Collection Deluxe by Dolly, Emmylou Harris and Linda Ronstadt this week scores its 100th week on the top 20 British country compilation albums chart, gaining one to No. 2. Also on the U.K. country compilation albums chart, Harris's Original Album Series: Volume 1 (with two Dolly covers, one track with Dolly harmony and one track with Trio harmony by Dolly and Ronstadt) dips two to No. 12, while Ronstadt's Original Album Series (featuring one Dolly cover and one track with Dolly harmony) and Harris's Original Album Series, Volume 2 (featuring one track with Dolly harmony and two tracks with Trio harmony by Dolly and Linda Ronstadt) fall out of the top 20, down from No. 9 and No. 16, respectively. Down Under, the "gold series" re-issue of The Very Best Of Dolly Parton (Australian Tour Edition) slips seven this week on the Australian country albums chart to No. 20 in its 360th chart week since its original 2007 release.
Dolly Records Gershwin Duet With Michael Feinstein
Dolly has recorded a duet with legendary artist Michael Feinstein for an album of Gershwin songs as collaborations with country artists, he revealed this week. Although the title of the track was not announced, Feinstein said it is the only one recorded thus far, although he has commitments from Jennifer Nettles, Brad Paisley and Martina McBride to also appear on the project. Learn more from The Daily Herald here.
Stella Interviewed Overseas
The Daily Mail in London gave a great interview to Dolly's sister Stella in advance of her appearance later this month on the BBC's Celebrity Masterchef. They focused primarily on what it is like being Dolly's sister. Check it out here.
---
Aug. 6:
Further Coverage Of Dolly's Dollywood Announcement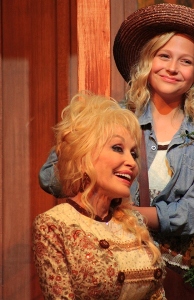 Special thanks to Dollymania.net correspondents Jason and Daniel Worley for their report on Dolly's Friday appearance at Dollywood to reveal the park's $37 million 2019 expansion with the new Wildwood Grove section. Their story has been uploaded to the site here with several photos from the announcement, including the one at left. Dolly was back on park Saturday, greeting fans at her revamped "My People, My Music" show with her family members (sitting in the audience to watch it) as well as her planned afternoon park tour parade.
'Very Best' Hangs On Down Under
The "gold series" re-issue of The Very Best Of Dolly Parton (Australian Tour Edition) holds steady this week on the Australian country albums chart at No. 13 in its 359th chart week since its original 2007 release.
---
Aug. 4:
Dolly Announces Wildwood Grove For 2019



Dolly was all giggles and smiles on Friday to announce the largest-ever expansion of her Dollywood theme park with 2019's addition of Wildwood Grove, a $37 million new themed area. Alyvia Alyn Lind, who played little Dolly in the Coat Of Many Colors movie series, was on hand to play "Rebecca," the girl who "discovers" this magical land in the mountains. She and Dolly lip-synched to a re-written "Love is Like A Butterfly" for which Dolly changed the lyrics to reflect the attractions in the new area, and they sang live on "My Tennessee Mountain Home." Dolly also had an afternoon park tour for fans.

Visitors will enter the new area through the hollow trunk of a fallen tree and will immediately notice the centerpiece, the 55-foot Wildwood Tree, towering over the landscape covered in a green, leafy canopy but also adorned with thousands of butterflies that dance in the breeze. At night, the butterflies come to life with a unique light show of color. And it is set upon a stone stage for live music performances.

Other attractions include:


The Dragonflier suspended family roller coaster which boasts being the fastest and longest of its class of coasters in the world.

Black Bear Trail, which takes riders for a trek through the woods on the back of a bear-shaped car.

Sycamore Swing, which is a pirate ship-style ride which the park is calling a "leaf boat" swinging back and forth like a leaf falling from a giant sycamore tree.

Treetop Tower, a family tower that takes riders 40 feet into the air seated in giant acorns to spin around the top of an oak tree.

The Mad Mockingbird ride, which sees giant birds take flight in a circle around a tall tree where riders control their ride experience by moving a sail.

Frogs and Fireflies kiddie ride chasing each other around a lily pad.

The Hidden Hollow 4,000-square-foot indoor play space with climbing structures, slides and games.

Wildwood Creek splash pad.

A Southwestern-style restaurant, Till & Harvest, featuring burritos, salads, churros, ice cream and more but with a Southern twist.

In a press release, Dolly noted: "I've told you before about how I'd let my imagination roam free when I'd be out exploring in the hills around our home in the Smoky Mountains. I'd pretend that the frogs and butterflies were my friends. I'd imagine about what it'd be like to fly with a dragonfly or to follow a bear family through the woods. Now all these things are coming true for our guests to experience in Wildwood Grove; it may be my new favorite part of Dollywood! This area is going to give families a place to explore, play and imagine together—but more importantly—it's a place where they can spend more time together. I believe everyone has a song in their heart that needs to be set free. Wildwood Grove will be a place where families can learn together about what their heart song truly is."

Dollywood Company President Craig Ross added: "I think our guests are going to be excited about the diverse combination of attractions they will find in Wildwood Grove. It continues our commitment to provide guests a variety of unique experiences and attractions that every visitor to the park can enjoy. We've also incorporated many of their requests for certain amenities that help make their visit more enjoyable. In Wildwood Grove, you'll find more charging stations, a climate-controlled indoor space for play, larger respite locations, additional play areas which are more inclusive for everyone, and more entertainment opportunities for every member of the family. We have continued to expand and develop Dollywood over the last several years but Wildwood Grove is the first expansion of the park's footprint since we added Wilderness Pass in 2008. It is rare in our industry that a park adds a new land in its entirety. Attendance has continued to increase—we've set attendance records each of the last six years and we're having a strong season this year—so this new area helps satisfy consumer needs as guests have more room to spread out, imagine and explore another chapter in the epic Dollywood story."  

To promote the new addition, the park has a special limited-time offer through September 2 to pre-sell 2019 season passes at the 2018 rate with extended nine-month payment plans, exclusive first access to the new area and three Bring-A-Friend-Free tickets.

Dolly is scheduled to remain on park Saturday and has a second park tour, weather permitting, planned for 4 p.m. that day.

Watch the full announcement on YouTube here or in the media player above. Check out coverage of the announcement from Dolly's official website here and here, People here, WBIR here, USA Today here and The Knoxville News-Sentinel here. An artist's rendering of the area entrance is viewable below.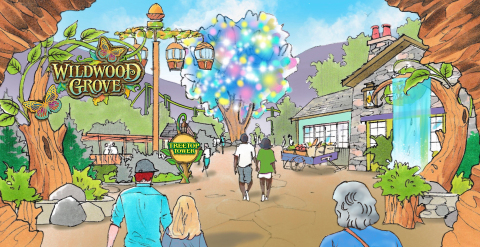 Dolly Makes 'Billboard' All-Time Chart
In honor of the 60th anniversary of the Billboard Hot 100 singles chart, several all-time countdowns were released Friday by the magazine, such as the top 60 women based on chart performance, top 100 artists, top songs that never made it to No. 1, and more. One of the lists was the top 600 songs of all time based on chart performance, and Dolly makes three appearances: one as a songwriter only and two as a performer. Whitney Houston's mega-hit cover of her classic "I Will Always Love You" ranked at No. 54, because even though it is one of the longest-running No. 1 songs of all time, the rankings take into account the length of the entire chart run of a song. Her duet of "Islands In The Stream" with Kenny Rogers made it at No. 238, while her "9 To 5" clocked in at No. 468.
Overseas Chart Updates
The Complete Trio Collection Deluxe by Dolly, Emmylou Harris and Linda Ronstadt this week dips one on the British country compilation albums chart to No. 3 in the album's 99th chart week. Also on the U.K. country compilation albums chart, Harris's Original Album Series: Volume 1 (with two Dolly covers, one track with Dolly harmony and one track with Trio harmony by Dolly and Ronstadt) loses one to No. 10, Ronstadt's Original Album Series (featuring one Dolly cover and one track with Dolly harmony) slips one to No. 9, and Harris's Original Album Series, Volume 2 (featuring one track with Dolly harmony and two tracks with Trio harmony by Dolly and Linda Ronstadt) drops two to No. 16.
---
Aug. 2:
Aniston: Watch For 'Dumplin'' Later This Year
Dumplin' star and producer Jennifer Aniston is the cover girl for September's In Style magazine and gave an update that the film and Dolly's soundtrack album for it should be out before the end of the year. She also recounted watching the final cut of the film with her: "When Dolly and I watched the movie together, we were in a theater full of people who didn't know we were sitting in the back. During one of the funnier parts, she's stifling her laugh and whispers to me, 'They can't hear my laugh. They'll know my laugh.' A couple of minutes later I look over and she's crying, and she says, 'But they don't know my tears.'"
Read more here.
Dollywood Appearance Reminder
Don't forget to tune in online here at 11 a.m. Friday for Dollywood's "biggest announcement ever" of its 2019 expansion, "Wildwood Grove." For those able to make it in person, I understand that the first 1,100 season passholders who get a wristband that morning (presumably at the front gate, just like at season opening) will be able to join the media and VIPs for the announcement at DP's Celebrity Theatre. Later in the day, weather permitting, Dolly will have a park tour from Showstreet Palace Theater to Heartsong Theater at 4 p.m. She will repeat the park tour, weather permitting, on Saturday as well.
Price, Carlile Duet On '9 To 5'
Singers Margo Price and Brandi Carlile appeared at the Newport Folk Festival over the weekend and covered Dolly's "9 To 5" as a duet. Check out footage from Wide Open Country here.
---