---
www.dollymania.net News September 2002
---

Sept. 30:
VH1 Poll Puts Dolly In Top 50
Dolly ranked in the first half of the top 100 female artists of all time in a poll of VH1 viewers, Reuters news service announced Friday. Dolly came in at No. 47. Taking the top spot with 17 percent of votes was Material Girl Madonna, and Kylie Minogue came in second. Reuters said more than 750,000 votes were cast in the poll. Others on the list included Tina Turner at No. 6, Mariah Carey at No. 7, Janet Jackson at No. 8, Britney Spears at No. 9, Kate Bush at No. 10, Barbara Streisand at No. 22, Dusty Springfield at No. 30 and Billie Holiday at No. 50. At the bottom of the 100 best were Yoko Ono at No. 99 and Erykah Badu at No. 100. Of course, Dolly ranks much higher when music industry insiders cast their ballots for the best and most influential female artists. The network's music professionals poll of the greatest women of rock put her at No. 34, and sister network CMT's music industry poll of those in country placed her at No. 4. And, statistically, she's the No. 1 female artist of all time in country singles chart performance, No. 1 country singles, country industry awards and country albums chart performance as well as being the No. 1 country artist of all time based on top 10 albums chart entries. Read the Reuters story on ABC News here.
Another European Show
According to a friend in The Netherlands, Dolly is scheduled to appear on The TV Show on Dutch television on Oct. 11. Thanks, Thea!
More 'Halos' Praise
The Miami Herald on Sunday included Dolly's Halos & Horns in a list of 11 recommended CDs of "traditional" country music in stores now along with the O Brother, Where Art Thou? soundtrack and the Dixie Chicks' Home, among others. Halos and Home were the only two in the group to get the paper's highest review level, four stars. About Dolly's album, reviewer Howard Cohen noted: "Not many artists can craft the best album of their career 35 years after making their debut. Dolly did. 'These Old Bones,' an amusing and touching story about a misunderstood mountain psychic, is of a piece with her earliest story songs like 'Coat of Many Colors.' Parton's transformation of Led Zeppelin's 'Stairway to Heaven' from overplayed classic rock staple to Southern gospel marvel is a stroke of genius." And Dolly also appears on two additional of the 10 remaining on the list. It included Pam Tillis' tribute to her father, It's All Relative, on which Dolly provides harmony vocals and one of just three albums on the list to receive three-and-a-half stars. And it also puts in the top 11 Patty Loveless' forthcoming Christmas album, Bluegrass & White Snow: A Mountain Christmas, which hits stores Oct. 29, noting that Dolly and pal Emmylou Harris provide harmony vocals. Cohen gives that disc three stars out of four. Read the full list here.
No 'CW' Noms
Dolly did not make the final five in either category for which she received preliminary nominations in the Country Weekly Fan Favorite Awards. As was reported here last month, Dolly made it past the preliminary round of ballots as one of 19 initial nominees for Favorite Female Artist and one of the 18 initial nominees for Favorite Collaborative Song for "Shine." However, when actual nominations came out Friday, she wasn't in the five finalists in either category. Online voting for all categories begins Tuesday, with the winners announced in the magazine's Jan. 7 issue.
---
Sept. 27:
Drop Continues On U.S. Charts


Dolly's Halos & Horns loses three more spots on the Oct. 5 Billboard country albums chart released Thursday, coming in at No. 32 for its 11th chart week. The album had peaked at No. 4. It is down four on the independent label albums chart, down to No. 22. It remains steady on the bluegrass albums chart at No. 4. The Songcatcher soundtrack, which includes a Dolly duet, falls one on the bluegrass chart to come in at No. 11. Pam Tillis' It's All Relative, a tribute to her father with one cut featuring amazing Dolly vocals, inches up one spot on the country albums chart in its third chart week to come in at No. 67.
No Dumb Blonde
In response to criticisms that they are looking for dumb country bumpkins for a new reality show based on The Beverly Hillbillies, producers say that instead they want someone like Dolly. "We want to put somebody out there who's dignified and has real country wit and wisdom and is by no means stupid and see them dealing with the insanity of Beverly Hills," a producer told Cox News Service this week, adding that they want to "find the new Will Rogers and the new Dolly Parton." Read the full article here.
Dollywood Harvest Celebration Near
Dollywood's annual Harvest Celebration kicks off Oct. 4 with the return of the woodcarvers' showcase, featuring many carvers from all over the nation competing in 55 different categories, concluding with the pumpkin carving contest. The Harvest Celebration also features the nation's largest showcase of Southern gospel music with the 7th Annual Southern Gospel Jubilee. The celebration spans Oct. 4 through Nov. 2, although the park is closed on Thursdays. Visit www.dollywood.com for more information.
---
Sept. 26:
NPR Interview II: 'Halos'


The second part of Dolly's Morning Edition interview provided NPR listeners a good overview of the new CD, Halos & Horns, with clips played of the new version of "Shattered Image" as well as "These Old Bones," "Sugar Hill" and "Stairway To Heaven." She talked about how "Shattered" was an old song but that she felt it was appropriate given that she's still always in the tabloids and how some of the worst stories they publish about her hurt. She also offered some of the stories she felt were the "craziest" they've published about her. On "These Old Bones," she talked about how she first did the old lady's voice as a joke and it then hit her that it would be great to record it that way. She also discussed briefly the fact that she's no longer played on most radio stations but that a handful are starting to play cuts from her three most recent albums. Listen to Wednesday's 7-minute, 8-second segment from NPR's website here (and Tuesday's installment here). NPR has also posted the entire half-hour interview here (since the aired versions have song clips, that amounts to more than 20 minutes of extra material). Among the "bonus" material: discussion on other songs from the new CD, that she plans to direct the video for "These Old Bones" herself, more on the tabloid stories, her movies, her other bluegrass-style covers, more on her childhood, "Jolene," her business interests, the Mae West movie, touring and more. And of course they have a story based on the interview here. The interview seems to have had an impact on sales, at least at Amazon.com, where the album on Wednesday shot up to the top 30 of the site's sales from down in the lower-400s.
More Dolly In Print
I'm told that Dolly appears in the October issue of Biography magazine in a section talking about museums devoted to celebrities, including a small article on the Chasing Rainbows museum at Dollywood. Thanks, Manuel!
---
Sept. 25:
NPR Interview I: 'Herstory'


Part one of Dolly's Morning Edition interview on NPR offered a nice overview of Dolly's history and a few insights into her music, and her appearance was touted as NPR's lead story on the front page of the network's website Tuesday. She said she often thinks of her childhood in the Appalachian Mountains and finds it amazing that she went from not having electricity to living in today's high-tech world. Host Bob Edwards commented that many of her songs are autobiographical, as clips were played from "My Tennessee Mountain Home," "Coat of Many Colors," "Dumb Blonde" and the original "Shattered Image." Part two of the interview is scheduled to air on Wednesday morning's program, set to focus mainly on her new CD, Halos & Horns. Listen to Tuesday's 7-minute, 19-second story from NPR's website here. Audio of part two should be posted on their site after noon Eastern on Wednesday.
Americana Chart Update
Dolly's Halos & Horns loses six spots on Tuesday's Americana Music Chart, falling to No. 14. Its songs logged 305 radio spins for the week, down from the previous week's 370.
New Imagination Library Expansions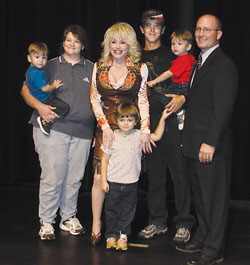 Dolly's Imagination Library program, which provides one free book a month to every child in a participating community from birth to age five, is continuing to grow. As was previously reported, Dolly held a fundraising concert in South Dakota earlier this month to help United Way chapters there make it the first state to take the program statewide. And in the past week, two other communities in other parts of the country have announced their participation as well. On Monday, the Board of Education in Greene County, N.C., heard Dollywood Foundation President David Dotson explain the program as they finalize signing on. And late last week, the United Way in Whitney County, Ill., announced it will bring the program to that community. Read a story in the Kinston Free Press about the North Carolina plans here and about the Illinois program in the Columbia Post And Mail here. (Photo of Dolly at the South Dakota events earlier in the month by Roger Kasa of the Huron Plainsman. © 2002 Huron Plainsman. Used with permission.)
A Nice Story
I came across a very cute article Tuesday from the McCook Daily Gazette in Nebraska about a little girl and her concern for Dolly after seeing her on television. It's a great statement on the simplicity and innocence of children. Read it here.
More Print
I haven't seen it, but I'm told Dolly made a couple of appearances in US Weekly magazine earlier this month. She was shown in a celebrity fashion section wearing the outfit from her Today show appearance and shown in a photo later in the magazine wearing her light blue leather jacket with musical instruments on it with the line: "The tits and the hair and the personality helped build the whole Dolly deal, but it was my music that brought me out of the Smokies" (a quote which had been noted here earlier when it was re-printed by Salon magazine.) In the "Fashion Police" section, comments about her outfit are: Jackie Beat: "It's dry-clean only - but enough about her hair." Cathryn Michon: "The fabric was engineered by NASA to withstand the G-forces generated by Dolly's chest." Goumba Johnny: "New Starburst flavor - Parton-Berry." Woody Thompson: "The dress draws attention from her big set of... earrings." Thanks, Hartman!
---
Sept. 24:
NPR Show Airs Tues, Wed
Dolly's interview on NPR's Morning Edition with host Bob Edwards is scheduled to air on Tuesday and Wednesday mornings, according to a promotional spot which aired on the network's afternoon news program All Things Considered on Monday. NPR's website also on Monday evening posted a story based on the interview here. Part one of the two-part interview will air on Tuesday morning's program, with part two on Wednesday morning. Not to worry about listening to the entire show, as its main stories are repeated about once an hour during the four-hour program. Audio of the interview will be posted on the NPR site at around noon Eastern time Tuesday. No word on why it was changed from its originally-planned air date last week.
Dolly In Scotland
BBC Scotland has asked Dollymania to announce that Dolly is tentatively scheduled as a guest for its Tom Morton Show on the afternoon of Oct. 7. The show is also broadcast online from 2 p.m. until 4 p.m. U.K. time at http://www.bbc.co.uk/scotland/radioscotland/programmes/main/tom_morton.shtml. Officials with BBC Scotland also tell me they plan to archive Dolly's interview on the site so it may be accessed at any time following her expected appearance. Of course, Dolly will travel to Scotland again in November as part of her sold-out tour of the U.K. and Ireland. Thanks, Kirsteen!
Dolly's Shoes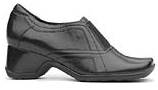 Want to walk a mile in Dolly's shoes? Well, you can, thanks to designer Kenneth Cole, who has apparently come out with a shoe in honor of Miss Dolly. While I could find no mention of it on his official website, the site for Nordstrom's department store shows a loafer titled "Dolly Parton" (pictured at left) from Cole's Reaction line of clothing. Thanks, Robert! (A reader contacted Cole's company and learned that the shoe was produced in 1998 and is no longer in production. The only ones you might find are at stores which had not sold out of their original stocks already. Thanks, Joanathan!)
---
Sept. 20:
Ambassador Dolly
Dolly on Friday was named Tennessee's official ambassador for film and music by Gov. Don Sundquist, several media outlets reported over the weekend. The governor told the Knoxville News-Sentinel: "Dolly exemplifies the total spectrum of Tennessee's extraordinary talent. Her involvement in promoting Tennessee's film and music industries will be a tremendous asset to our economic development efforts." The paper also quoted Dolly as saying the state is "a one-stop location for film-making, film scores and soundtracks." In Brad Schmidt's celebrity column of The Tennessean, he quoted Patricia Ledford, director of the state Film, Entertainment And Music Commission, as saying: "She's going to help in our promotional efforts to maximize Tennessee's image in the industry. It's something she's always done naturally, but now it's official. Dolly's a natural for the job because she's an actress, as well as a singer, and she's had two Academy Award-nominated songs in movies." Schmidt continued to explain that Dolly will be in a front-page ad in The Hollywood Reporter on Tuesday touting the state's hospitality for entertainers as well as an ad in Variety. He said she is also expected to be featured guest at an event in L.A. next month as part of the state's promotions. Read Saturday's Tennessean story here and Friday night's News-Sentinel story here.
Dolly In Print
Photos of Dolly and a story on her appearance two years ago at Stars Over Mississippi will be featured in the October issue of Southern Living magazine, I'm told. Dolly headlined the fundraising concert in Amory, Miss., in 2000. This year's show on Oct. 5 features headliners Brooks and Dunn as well as Whoopi Goldberg, Ray Romano and others. Thanks, Ken!
Praising A Down-Home Request
Dolly's request for a "low-key" hotel for a recent interview stop in Washington, D.C., resulted in a columnist's praise in Saturday's Northeast Mississippi Daily Journal. Read Rheta Grimsley Johnson's interesting story here.
Reserve Christmas CD
You may now reserve your copy of the Oct. 29 release Rose Of Bethlehem by Christian group Selah which will feature Dolly vocals on a cover of her holiday classic "Once Upon A Christmas." Get your copy here!
---
Sept. 20:
U.S. Chart Update


Dolly's Halos & Horns loses seven more spots on the Sept. 28 Billboard country albums chart released Thursday, coming in at No. 29 for its 10th chart week. The album had peaked at No. 4. It falls off the 200-position pop albums chart, down from No. 198, and is down seven on the independent label albums chart, down to No. 18. It remains steady on the bluegrass albums chart at No. 4. The Songcatcher soundtrack, which includes a Dolly duet, falls one on the bluegrass chart to come in at No. 10. Pam Tillis' It's All Relative, a tribute to her father with one cut featuring amazing Dolly vocals, drops 14 spots on the country albums chart in its second chart week to come in at No. 68. The Dixie Chicks' Home remains at No. 1 on both the country and pop albums charts for a third week in a row.
On The Radio
Dolly's interview on NPR's Morning Edition taped earlier this week is scheduled air in two eight-minute segments on Friday, Sugar Hill Records announced Thursday night. Thanks, Rob!
Blonde To Blonde
In an interview promoting her new film Sweet Home Alabama (which includes Dolly's "Marry Me" on the soundtrack), actress Reese Witherspoon said in USA Today on Thursday that she is star-struck with Dolly. "I love her. If I ever got to meet her, I'd probably keel over and have a convulsion," she told the newspaper. Read the full article here.
Only You Can Prevent Forest Fires
According to a story in middle-Tennessee's Herald Citizen on Wednesday about the area's wildfire season approaching, Dolly has recorded promotional commercials for the state Forestry Division warning citizens to help prevent forest fires. Read the full story here.
---
Sept. 18:
'Halos' Selling Well


For the dozens of fans who have been e-mailing me asking about record sales: Ten weeks into its release, Dolly's Halos & Horns has sold about 91,000 copies, Sugar Hill Records confirmed to Dollymania this week. For comparison, Little Sparrow had sold a little more than 80,000 at this point in its release last year, meaning copies of Halos are selling about 10 percent faster than did those of her most recent album. Since its release almost 20 months ago, Sparrow has sold about 198,000 copies. And since its release nearly three years ago, The Grass Is Blue has sold about 179,000 copies. Since the release of Halos, these two other Sugar Hill titles by Dolly have logged about 8,000 units sold each. Thanks, Rob!
Americana Chart Update
Dolly loses one spot on the American Radio Chart released Tuesday, with Halos & Horns down to No. 8. Radio spins of cuts from the CD dropped 10 to 370 for the week.
Lose Weight The Dolly Way
A New York Times News Service story on Tuesday said Dolly's diet program is one of the top ones used across the country. In a story on dieting, it was reported: "Despite the endless stream of newfangled ways to count calories and cut fat, it's the vintage systems like Weight Watchers, the Atkins program, macrobiotic diets and even Dolly Parton's program of eating many tiny meals that seem to have the strongest pull. Maybe that is because, just like fashion trends, diets slip in and out of vogue. And, just like the Marc Jacobs military jacket, the vintage aspect of a diet can hold a lot of appeal." Dolly credited her amazing weight loss of the mid-1980s and subsequent ability of keeping off the weight to eating several small meals a day whenever she gets hungry instead of the three standard-sized meals most people eat. Read the full text of the article on the Naples Daily News website here.
Request Dolly Duet
Help Dolly get played on gospel radio. Request her new duet with Dottie Rambo, "Stand By The River," on Solid Gold Gospel here. Click on "Contact" and then "General Comments or Requests for Information." The song is great, and since this is the largest gospel network around, if they start playing it, the cut will get more airplay on other stations as well. Thanks!
---
Sept. 17:
Look Out Sweden!
Dolly is scheduled to appear Oct. 12 on Sweden's Bingo Lotto program, which is the highest-rated television show in that nation. News of Dolly's appearance was announced Friday in the Swedish newspaper UNT. According to the paper, Dolly will be the show's sole guest that evening and will perform three songs, one of which will be "I Will Always Love You," and the episode will feature an interview with her. You may read the story here, but it is in Swedish. Special thanks to my friend Anna who translated it for me!
Dolly Sig On Guitar For Auction
Another item signed by Dolly for charity is on the auction block. If you're in the Nashville area on Friday, stop by Trinity Elementary School's Tiger Tailgate fundraiser from 5:30 p.m. until 9 p.m. A guitar donated by George Jones and signed by him and dozens of his friends, including Dolly and Reba, will be part of a silent auction to help the school, The Tennessean reported this week. Read their full story here.
No British Chart Update
Fans who read the Sunday night/Monday morning update each week to see Dolly's standing on the British country albums chart may have noticed it was missing this week. Dot Music, which to my knowledge was the only online resource to publish the official U.K. country chart, this week apparently dropped that chart from its listings as well as the independent label albums and singles chart and one or two others. So until they start publishing it again, or another site does, you likely won't see that information updated here any longer. Dolly has done very well overseas lately, with Little Sparrow passing the silver record mark, staying No. 1 on their country albums chart for eight weeks and spending more than a year and a half in the top 20, while Halos & Horns was at No. 1 for six weeks and as of last update was still in the top three.
---
Sept. 16:
European Tour Officially Sold Out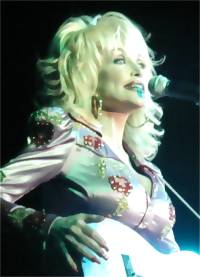 Dolly's European tour has finally officially sold out, organizers have confirmed to Dollymania. The last tickets for the Nov. 26 and 27 concerts in Glasgow, Scotland, were sold on Friday, said officials with Asgard, the company which put together Dolly's seven-date, five-city November tour of England, Scotland, Ireland and Northern Ireland. Most dates on her first European tour in two decades sold out almost immediately after becoming available, but as you may recall Dollymania was the first media outlet to report, a scheduling conflict forced postponement of all overseas dates, which had originally been planned for October, prompting sales to cease. To help make up to fans for the date change, Dolly added a second show in Glasgow. When tickets for the new dates went on sale, all except Glasgow sold out almost immediately. A little more than a month ago tour organizers said that based upon the previous week's sales they had expected the two dates in Glasgow would in a matter of days be the last stop of the tour to sell out. However, they tell me, the final 300 or so tickets went much more slowly than anticipated, with the final ones being sold last week, meaning tickets for all seats for her European tour are now in the hands of fans. The complete listing of dates and venues is published on the right hand side of the page. The European leg follows her sold-out 13-city U.S. tour. (Image at left of Dolly at Dallas' Granada Theatre in August by Duane Gordon. Copyright © 2002 Duane Gordon/Dollymania. See more exclusive pics here and here!)
Mae West Project Still On
The celebrity questions portion of Sunday's South Florida Sun Sentinel addressed Dolly's upcoming Mae West bio-pic for ABC. When asked about the status of the film, the paper replied that shooting will not begin until the screenplay sees further revision. It also quotes Dolly saying, "I know I can walk the walk like Mae. But talking the talk like her -- that's going to be a challenge because I've never spoken in anything but a Southern accent in my life." Read the full response here.
---
Sept. 13:
Dropping On U.S. Charts


Dolly's Halos & Horns loses three more spots on the Sept. 21 Billboard country albums chart released Thursday, coming in at No. 22 for its ninth chart week. The album had peaked at No. 4. It falls 18 places on the 200-position pop albums chart to No. 198, but gains a notch on the independent label albums chart to move up to No. 11. It inches down one place on the bluegrass albums chart to No. 4. The Songcatcher soundtrack, which includes a Dolly duet, gains two on the bluegrass chart to come in at No. 9. Pam Tillis' It's All Relative, a tribute to her father with one cut featuring amazing Dolly vocals, debuts at No. 54 on the country albums chart but didn't sell enough copies to get on the pop chart. The Dixie Chicks' roots album Home remains at No. 1 on both the country and pop albums charts after selling more than 300,000 copies in its second week of release to pass the 1 million mark.
'Hello God' Meaningful On Sept. 11th Anniversary
Another critic singled out Dolly this week as one of the most poignant voices responding to last year's terrorist attacks. Thursday's Houston Press contained an article by David Cantwell looking at songs which have addressed God's role during and after the events of Sept. 11th, including works by Alan Jackson, Bruce Springsteen, Steve Earle, Chuck D and Dolly. He wrote about "Hello God" from Halos & Horns: "No one has broached this issue with more humility than Dolly Parton . . . In a prayer that begins like a whisper but quickly builds in intensity, she admits she's recently questioned her faith . . . She needs help, she says; we all do. 'Do you love some more than others?' she asks, but she knows the answer. At the close, Parton raises her voice alongside a gospel choir, a collection of voices at first so much larger than life that it feels over the top but soon sounds necessary, suggesting as it does the people of the world. 'Hello, God, please forgive us,' Parton cries, 'for we know not what we do.' Her fragile plea, stacked upon all those other voices, rises to a height it could never reach alone." Read the full story here.
A Few More Chicago Pics
Rolling Stone recently posted some photos of Dolly from her concert last month in The Windy City. Under the headline "Parton Serenades Chicago," they are available here.
'Frank' Art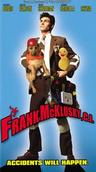 Disney's production company Buena Vista has released the cover art for Frank McKlusky, C.I. (at left). As was reported here last month, the comedy featuring a Dolly supporting role will hit stores Nov. 19. Dolly plays the title character's overprotective mother. The film made it into a limited test release in Florida earlier this year but lasted only a couple of weeks before movie bosses decided to ship it straight to video. Reportedly filled with slapstick and some sexual humor, it is rated PG-13. Reserve your copy of the film here. Thanks, Tony!
---
Sept. 11:
Critic: Dolly 9-11 Reaction One Of Best
Chet Flippo's weekly CMT.com column this week focuses on country's musical responses to Sept. 11. In recounting the various songs written after the terrorist attacks, he notes: "those written with some perspective and some time removed from the actual events themselves -- are emerging as a sturdy body of work themselves. As country's more gifted songwriters assess the impacts of the past year, their entire work can't help but be affected in some ways by 9/11 and its emotional fallout." Key among these, he cites Dolly's "Hello God," from Halos & Horns. He quotes lyrics from the work, which he notes "considers the world from the viewpoint of one whose faith has been utterly shattered by the 9/11 atrocities . . . Unlike most of her optimistic works, Parton's 'Hello God' finds no answers: only heartfelt, agonized questions." Read his full story here.
'Halos' Steady On Americana
Dolly remains steady on the Americana albums chart released Tuesday, with Halos & Horns at No. 7, recording 380 spins on radio, compared to 385 for the previous week.
Pam Getting Good Reviews
Pam Tillis' It's All Relative tribute to her father on which Dolly appears has been getting great reviews since its release last week. In Friday's Miami Herald, critic Howard Cohen said it is one of the four "immediate country classics" released this year, with the other three being Alan Jackson's Drive, Dolly's Halos & Horns and the Dixie Chicks' Home. Read his review here. (And get your copy of the CD here!)
'Gimme Down To There Hair'
A&E has announced that its documentary Uncut: The True Story of Hair hosted by Bo Derek will premiere at 9 p.m. Eastern Oct. 21. The two-hour special includes interviews with such hair-worthy celebs as Dolly, Florence Henderson and Minnesota Gov. Jesse Ventura.
Americana Everywhere
Dolly got a mention Tuesday in The Tennessean in an article about the front-runners of the Americana music scene. Read it here.
Porter In Stores
Porter Wagoner's new CD, Unplugged, on which he covers the Dolly song "Lost Forever In Your Kiss," a 1972 top 10 duet he had with Dolly, hit stores on Tuesday. To celebrate its release he performed at Billy Block's Western Beat in Nashville that evening, according to The Tennessean. Get your copy here.
Phil Wants To Sing With Dolly
Phil Vassar recently did the "20 Questions" segment with CMT, and when asked who would be the one person he would love to duet with in the studio, his sole reply was Dolly. Thanks, Earl!
Another Guest Appearance
Dolly has recorded vocals for newcomers Pinmonkey's self-titled CD coming out Oct. 8. According to BNA Records, Dolly so loved their version of her 1976 song "Falling Out Of Love With Me" that she volunteered to sing on it. Pinmonkey is currently on tour opening for acts such as Alan Jackson, Tim McGraw and Brad Paisley. Read the band's bio here and reserve your copy of the CD here!
'DP Central' News
Although I haven't found independent confirmation of these items yet, Dolly Parton Central reported this week that Dolly will appear on NPR's Morning Edition program on Sept. 16 and that Patty Loveless' Christmas album Bluegrass & White Snow, on which Dolly appears, is slated for an Oct. 15 release.
---
Sept. 9:
Steady Overseas


Dolly's Halos & Horns remains steady at No. 3 in its ninth week on the British country albums chart released Sunday. The CD had peaked at No. 1 for six weeks. And Little Sparrow, which had fallen off the 20-position countdown last week, returns to No. 16 for its 79th chart week. It had peaked at No. 1 for eight weeks last year and has been on the chart overseas for more than a year and a half.
'Hello God' Talked About
Dolly's "Hello God" from the new CD got a mention in Saturday's Commercial Appeal in Memphis for an article on country songwriters' reactions to Sept. 11th. The story includes a few sentences from Dolly on how she came to write the song. Read it here.
Down-Home Dolly
The Washington Post reported on Friday that Dolly "may be a star, but she ain't no diva." Their reasoning, her down-home request for a "low-key" hotel for an upcoming visit to D.C. for a National Public Radio interview. The NPR staff had planned to book her into the luxurious Four Seasons Hotel in Georgetown, but her assistant replied that Dolly would much prefer a basic hotel like a Days Inn or Best Western. NPR editor Susan Feeney said, "When we heard that, a cheer went up in our office." But the Four Seasons manager said he was "stunned" Dolly wouldn't want to stay there. Read the brief at the end of a story here.
Another Dollywood Giveaway
Want four free tickets to Dollywood this fall? The park is giving away tickets to be used anytime during its Harvest Celebration. Each person 18 and older may submit one entry through Sept. 23, and the winner will be notified by e-mail on Sept. 27. Enter here.
Convicted Felon Busboy
Several papers on Friday and Saturday re-printed an Associated Press story about Iran-Contra figure Oliver North using Dolly's former tour bus for a book tour. However, the original story in The Tennessean said the bus, which North's staff has taken to calling the Dolly-Ollie, wasn't Dolly's personal bus but rather one used by her band. Read CNN's version here. (You may recall that North was convicted on several criminal counts for illegal activities connected to the Iran-Contra scandal. His convictions were overturned on technicality in an appeal because immunized evidence had been improperly introduced at his trial.)
Another S.D. Story
Friday's Daily Republic in Mitchell, S.D., carried another story on Dolly's appearance in Sioux Falls earlier in the week to raise money for her Dollywood Foundation's Imagination Library program's statewide expansion there. Read it here.
Dollywood Story Printed Again
With the fall travel season upon us, the Albany, N.Y., Times Union on Sunday published an article profiling Dollywood, complete with an interview with Dolly herself, which had originally appeared in Knight-Ridder newspapers and was reported here in July. Read it here.
---
Sept. 6:
A Few Changes On The Chart


Dolly's Halos & Horns loses three spots on the Sept. 14 Billboard country albums chart released Thursday, coming in at No. 19 for its eighth chart week. The album had peaked at No. 4. It drops 15 on the pop albums chart to No. 180 and two on the independent label albums chart to No. 12 but stays steady at No. 3 on the bluegrass albums chart. Her Little Sparrow falls off the bluegrass chart, down from No. 14, while the Songcatcher soundtrack, which includes a Dolly number, inches down one on the bluegrass chart to No. 11 and falls off the country albums chart, down from No. 69. The Dixie Chicks' Home debuts at No. 1 on both the country and pop albums charts after selling more than 780,000 copies in its first week of release.
Sioux Falls News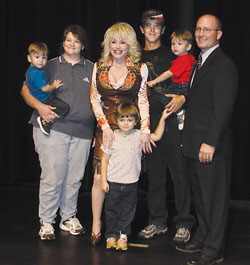 Dolly's Sioux Falls, S.D., fundraiser show for the Dollywood Foundation's Imagination Library on Wednesday night started getting press in the local papers on Thursday. The Huron Plainsman offered a great story of a press conference Dolly held prior to the concert at which she talked about the program to give free books to children from birth to age 5 and after which autographed copies of The Little Engine That Could, the first book in the program, for children representing participating United Way chapters throughout the state in the first-ever statewide expansion of the literacy project, expecting to reach 30,000 children in South Dakota. She also sang "Try" at the press conference. Read that story here. Sioux Falls' Argus Leader reported that her concert brought in $58,000 in proceeds for the program, plus a $50,000 contribution from the Citigroup Foundation and $10,000 from the South Dakota Community Foundation. Dolly told the crowd, "We're calling this the little state that could." Dolly's appearance also kicked off the local United Way's regular annual fundraising campaign, during which they hope to net nearly $7 million for other programs. The second story is available here. Photograph at left of Dolly in Sioux Falls by Roger Kasa of the Huron Plainsman. © 2002 Huron Plainsman. Used with permission.
Another Great Concert Review
Although it wasn't published until a couple of weeks after the concert, PopMatters last week posted a review of Dolly's Chicago show. Writer Charlotte Robinson took several jabs at House of Blues, basically saying it's almost the worst concert hall in town, but she said she found Dolly's performance sublime, saying that despite all the venue's problems "attending a live show by one of the living legends of country music as she's riding high on the crest of a comeback was nothing less than fabulous." She raved about Dolly's voice, her musicianship accompanying herself on several instruments and her decision to focus on the roots music which has brought her critical acclaim in recent years. She finished by saying she hopes Dolly returns, but to a better venue, soon. Read the full story here.
And Another 'Halos' Review
E-Trucker recently published its review of Halos & Horns, with Jon Rawl calling the CD "another bluegrass dynamo." He says "Hello God" is so moving that it makes the hair on the back of one's neck stand on end and that the CD continues to prove Dolly "is an angel of music." He gives it an "A." Read his full review here.
Porter Does Dolly Again
A story in the Sept. 7 print issue of Billboard on former Dolly partner and soon-to-be Hall of Famer Porter Wagoner was chosen as its website's Artist Of The Day profile on Thursday. The article focuses on Porter's new CD, Unplugged, which hits stores next Tuesday. In addition to duets with Willie Nelson on a couple of Willie originals, Porter also revisits the Dolly-written "Lost Forever In Your Kiss," which was a top 10 single for the pair in 1972, and another song they had recorded as a duet in 1969, although not written by Dolly, "Why Don't You Haul Off And Love Me." Dolly's road manager Don Warden, a member of Porter's band in the 1950s and 1960s, also appears on the CD providing harmony vocals on "I Cried Again." Read the article here. (And reserve your copy of his album here.)
Dolly Book Coming Out Again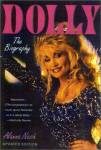 Alanna Nash's 1978 biography on Dolly is set to be re-issued in paperback form by Cooper Square Press as an updated version, it has been announced. The cover art is shown at left. The book was originally published as a hardback by Country Music Magazine Books and was re-issued in 1980 and again in the mid-'90s. The newest version, titled Dolly: The Biography, will hit stores in November.
---
Sept. 5:
More Dolly Overseas
A new Dolly recording was recently released overseas, with the issue of Banjoman, a tribute album to legendary banjo picker Derroll Adams (who died at the age of 75 two years ago) with proceeds benefiting Adams' family. However, all of us Dolly sites completely missed this story when it first broke in Europe. Musician Hans Theesink announced nearly a year ago that Dolly was participating in the project, and recording was completed early this year. By April, several websites overseas reported the CD's August release date. Produced by Theesink and Arlo Guthrie, the CD features Dolly and Guthrie singing "Dixie Darling," an A.P. Carter composition. Visit Theesink's site here for a photo of Dolly in the studio and more information on the album, released in Europe about a week ago on Theesink's Blue Groove label. It is to be released in the U.S. on Guthrie's Rising Son label but has yet to become available here.
Christmas Tune Release Date Announced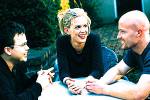 Amazon.com lists an Oct. 29 release for Dove Award-winning trio Selah's Rose of Bethlehem, which is believed to be the Christmas album which it was reported here Friday will feature Dolly vocals on a new recording of her classic "Once Upon A Christmas." (Image of Selah courtesy Curb Records.) Reserve your copy here!
Dolly On Lifetime
The Lifetime television network announced this week that instead of its regular schedule of programming on Sept. 11th, it will air a series of inspirational films. One of the day's first offerings will be Dolly's Lifetime film Blue Valley Songbird, which will air at 7 a.m. Eastern.
---
Sept. 4:
More KC Pics


Debbie was able to have another photo developer salvage a few better shots of Dolly (such as the one at left) from her tour-closing concert in Kansas City over the weekend after another store accidentally exposed her film before developing. Take a look here. Images are copyright Debbie Poole and used with permission. Thanks, Debbie!
Tillis Album A Keeper!


Pam Tillis's wonderful tribute to her father, It's All Relative, hit stores Tuesday on the Lucky Dog imprint and Sony Music. Dolly's guest appearance on the tender "Violet And A Rose" is simply gorgeous! Other choice cuts include the soulful "So Wrong," feisty "Unmitigated Gall" and "Mental Revenge" and jazzy "Emotions," which may just tie "Violet" as the CD's best cut. Other guests on the album include guitarist Bryan Sutton on several songs and Rhonda Vincent, Trisha Yearwood, Emmylou Harris and Delbert McClinton. Get your copy here!
South Dakota Date Almost Here
The Argus Leader in South Dakota last week published an article previewing Dolly's sold-out fundraiser there Wednesday night to benefit the statewide expansion of the Dollywood Foundation's Imagination Library into the Coyote State. Read it here. (And anyone who attends, please send in a recap and, if you get them, photos here. Thanks!)
Americana Update


Dolly's Halos & Horns slips two places to No. 7 on the Americana Radio Chart released Tuesday. Its number of radio spins for the week dropped from 424 to 385.
No Hate Group Links Here
It has come to my attention that some readers mistakenly thought the site linked from Friday night's news update concerning a protest at Dolly's Kansas City concert was to the official page of the protest organizer. It was not. It was instead a link to a site opposed to his teachings. I would never post a link to a hate group site.
---
Sept. 3:
More From Kansas City
Debbie Poole has submitted a few more details (and a couple of photos) from Dolly's tour-closing show over the weekend in Kansas City. She tells me that this show catered to an older crowd, as about 60 percent of the audience appeared to be over 40. They rose to their feet and clapped along to "Train, Train." She commented that she had always loved "Rocky Top" and wished she had written it herself. Toward the end of the show, she said she was going to try and do another sad one that she wrote before starting "Try." She thanked the crowd for their kindness, saying that she appreciates everything everyone has done for her and hoped that everyone enjoyed the shows on this tour and what better place to end it than in Kansas City. She started to exit the stage but turned around to perform "I Will Always Love You" to another standing ovation, finishing it off with a verse done in the bluegrass style. (Debbie unfortunately had a film developing accident which ruined most of her shots of the evening. However, they were able to salvage one shot of the venue exterior here and one of Dolly on stage here.) Thanks, Debbie!
Stampeding Into Orlando
Friday's Orlando Business Journal featured a story profiling Dolly and her fourth Dixie Stampede, which is under construction in Orlando and expected to open in May. The only surprise in the story is a revelation that Dolly and Disney had held off-and-on again talks for a decade about bringing the Stampede to Florida as part of the Walt Disney World complex of entertainment centers. Read the full story here.
Glasgow Still Available
I've confirmed with the British promoters of Dolly's November tour that there are still a couple hundred tickets available for her Glasgow shows via Ticketmaster UK.
New UK Compilation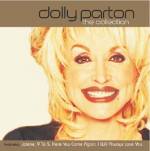 The British department store Marks & Spencer has released a new Dolly compilation CD containing 20 cuts from her RCA years spanning 1969 until 1984. The track listing is as follows: 1. Jolene 2. I Will Always Love You 3. Here You Come Again 4. Love Is Like A Butterfly 5. 9 to 5 6. Me And Little Andy 7. Do I Ever Cross Your Mind 8. D. I. V. O. R. C. E. 9. Harper Valley 10. Heartbreaker 11. But You Know I Love You 12. Two Doors Down 13. Just Because I'm A Woman 14. In The Ghetto 15. Save The Last Dance For Me 16. Daddy's Working Boots 17. Mule Skinner Blues 18. We Used To 19. Down From Dover 20. Starting Over Again.
---
Sept. 2:
Dolly Wows Crowd In K.C.
I'm told that Dolly was "in great spirit, just singing her heart out for the crowd" at Saturday night's sold-out concert in Kansas City, the final stop on her official Halos & Horns Tour. Wearing the same outfit she had on at her Grand Ole Opry appearance last month, she stuck to pretty much the same set list as at previous shows, including the song "Try," which she added to the last few dates on the tour. She also sang "Happy Birthday" to a 90-year-old man in the audience. Fred Phelps was outside protesting, I'm told, but authorities early on moved him away from the line of fans waiting to get inside. However, probably due to the protest, agents from the FBI and CIA were reportedly assigned to keep an eye on the show. Look for more details (and possibly a few photos!) soon. Thanks, Debbie! This concert closed out her official summer U.S. tour. She still has separate sold-out shows being performed as fundraisers for the Dollywood Foundation's Imagination Library -- Wednesday night in Sioux Falls, S.D., and in December at Dollywood -- and a seven-date tour of the British Isles in November. And although tour organizers had said the Glasgow dates only had a handful of tickets left a few weeks ago and were expected to sell out at any time, a fan says he was able to get a ticket last week from Ticketmaster U.K., so there may be a few dozen still left!
British Chart Update


Dolly's Halos & Horns loses one more place on the British country albums chart released Sunday, falling to No. 3 in its eighth chart week. The CD peaked for six weeks at No. 1. The Dixie Chicks debut their new disc at No. 1 this week, while Shania Twain falls to No. 2. And after a solid year and a half on the country albums chart overseas, Dolly's Little Sparrow falls this week out of the top 20, down from No. 16 last week. That album had peaked at No. 1 in England for eight weeks.
Gospel Single Almost Here
The Tennessee Star Journal's issue last week featured a cover story on gospel legend Dottie Rambo to promote her new duet with Dolly, "Stand By The River," which hits radio as a single later this month. In the article, Dottie said: "Dolly is one of those special people that you just have to love. No matter where I go, people always tell me that Dolly and I should record together so we finally did and I couldn't be more proud or excited about anything as I am of our recording. We are planning on writing a song together sometime. I think the two of us could write a song that really would bless people and be something talked about for years after we are both gone. There's not a writer in country music that can touch Dolly in my opinion...she just has that special raw gut gift that comes from God. I love 'Coat Of Many Colors' and she told me that she loves my song 'Come Spring' and wants to record it someday. I would love to hear Dolly record 'Come Spring' or another song of mine, 'Tiny,' that sounds like something she and I could have written together."
No Nudes Is Good Nudes
I've been alerted that some more fake "cut and paste" nudes of Dolly are up for auction again on ebay. For fans who may be unaware, Dolly has never done any nude photography, and all pictures which purport to be of her are doctored. (Although Dolly has taken the issue in stride, joking that the only thing that makes her mad about the fakes is that the bodies of the models on whom her head has been superimposed aren't as nice as hers!) Thanks, Holly!
---