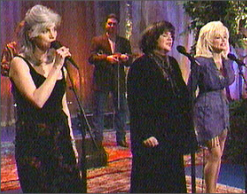 The Trio on "Leno." Thanks Gregory!
Trio II made it into stores Feb. 9, and it consists simply of 10 slices of heaven! My favorite cuts are "He Rode All the Way to Texas," "After the Goldrush," "High Sierra," and "Do I Ever Cross Your Mind." As always, Dolly's angelic cry, Emmylou's haunting sound, and Linda's powerhouse voice combine into a truly moving experience for the listener. Every bit as good as the original album! Below you will find stories, television appearances, reviews and more!
The video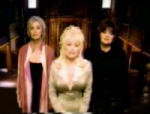 The video is here! "After the Goldrush" by the Trio. Request it today at GAC, CMT, CMT Canada and VH1!
Charts
Trio II
*Billboard country albums: Spent 36 weeks on the chart; peaked at No. 4 for two weeks.
*Billboard pop albums: Spent 14 weeks on the chart; peaked at No. 62.
* U.K. country albums: Spent 31 weeks on the chart; peaked at No. 3.
TV/Radio/Web
For a recap of each TV appearance (plus many photos from "The Rosie Show") click here. "Late Show" and "Live! With Regis and Kathie Lee" added March 25.

NPR finally aired the Trio interview. For information, click here.

Stories
* May 12 CNN story.
* April article from Wal-Mart's Profile magazine.
* April 19 CBS Online story.
* March 23 Billboard article on Emmylou-Linda duet project.
* March 22 Nashville Business Journal article on the Trio recording a video and releasing three simultaneous singles.
* March 11 Associated Press article.
* March 9 Country Weekly article.
* Feb. 14 America On Line article on Trio here.
* Feb. 16 New York Daily News article. It's interesting and has good details, but it was filled with errors. I've catalogued them at the end of the story.
* Feb. 9 Country.com article.
* Billboard story, here.
* OUT Emmylou Harris interview about the album, here.
* For the Asylum Records PR story on the album, click here.
Links
* Trio II's official site at Asylum/Elektra Records:

* Mark Burgess' "Best Little Dolly Site on the Web," Dolly.net, has posted an AWESOME Real Video clip showing a few seconds of the Trio performing several songs on Dolly's 1975 syndicated television show in their first public performance together. It runs about two minutes and takes four or five minutes to download, but believe me, it's worth it!
* There's a great Trio history on Kate's Emmylou Harris website.
* More Trio information and history on my Dolly Duets page here.
Reviews
Here's what some leading publications are saying: For full text, click here.
* The Nashville Tennessean: "... it's difficult not to gush over the pristine beauty of Trio II... Four stars."
* Billboard: " . . . eternal appeal of such ethereal singing . . . shimmering . . . "
* Country Weekly: " . . . could have been released 10 years from now and sound just as timeless . . .This reunion of three of America's most beloved singers is cause for celebration."
* Entertainment Weekly: " . . . comes about 75 percent of the way . . . very fine nonetheless . . . B+"
* Rolling Stone: "THREE OUT OF FIVE STARS: Not as good as their first meeting, but darn good . . . approaching the heavenly."
* Amazon.com: ". . . doesn't disappoint . . . seamless . . . sweet, sweeping . . . treasures . . . pure magic."
* People: ". . . harmonically rich as a rainbow."
* Salon Magazine: ". . . On every track on this CD the singing is flawless. But missing is any real emotion or sense that the singers feel a deep connection to the songs. . ."
* Birdpages (UK magazine): "... since no one's come back from the Great Beyond to tell us exactly how angels sound we'll have to make the earthly assumption that this is as close as we're gonna get ... [three of Dolly and Emmylou's leads] are so authentic you want to forgive Trio II its surface sins and testify ... [but the other songs] remind you that even angels can fall victim to sloth and laziness..."
* I got e-mail the other day about a somewhat funny and flattering review of Trio II on a weekly music site, The War Against Silence. To read the review, click here. But to understand some of what is said in it, you should be aware the review came at the end of the column after a number of reviews of albums by depressing or angst-ridden alternative bands. Thanks, Tim, for the note!
The songs
The album, originally slated for a November 1998 release, is produced by George Massenburg for WEA/Elektra Entertainment. The track listing is as follows (click on linked songs for sound clips): 01. Lover's Return, 02. High Sierra, 03. Do I Ever Cross Your Mind, 04. After The Gold Rush, 05. Blue Train, 06. I Feel The Blues Movin' In, 07. You'll Never Be The Sun, 08. Rode All The Way To Texas, 09. Feels Like Home, 10. When We're Gone . (Dolly has previously recorded her own "Do I Ever Cross Your Mind" and Neil Young's "After the Goldrush.")
The artwork

It shows a photo of each of our divas as children. Dolly's, of course, is the most famous, being the shot of her as a child in her "Coat of Many Colors" and used as the cover of both that 1971 album and Porter Wayne and Dolly Rebecca.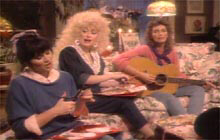 The Awards
The original Trio project in 1987 was a critical and financial success, selling more than 1 million copies in less than five months to be certified platinum on July 14, 1987. Along with rave reviews, the collection made it to No. 7 on the pop charts and No. 1 on the country charts, spawning one No. 1 country single ("To Know Him is to Love Him") and three additional top 10s (No. 3 "Telling Me Lies," No. 5 "Those Memories of You," and No. 6 "Wildflowers"). It also picked up several awards, including the 1987 Grammy for Best Country Performance by a Duo or Group with Vocals, 1987 Academy of Country Music Album of the Year, 1988 CMA Vocal Event of the Year and 1988 Music City News Vocal Collaboration of the Year plus nominations for the 1987 Grammy for Best Pop Album and 1987 CMA for Album of the Year. Trio II is certain to rack up just high of honors.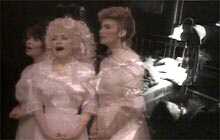 The Musicians
Playing on Trio II are: David Grisman, mandolin; Alison Krauss, fiddle; Larry Atamanuik and Jim Keltner, drums; Carl Jackson, Dean Parks and Mark Casstevens, acoustic guitar; David Campbell, strings; Robby Buchanan, keyboards; Dennis James, glass harmonica; Ben Keith, steel guitar; Leland Sklar and Edgar Meyer, bass; David Lindley, autoharp; and the late Roy Huskey Jr. (to whom the album is dedicated), bass.
Purchase
Buy your copy of Trio II, the original Trio, and the other Trio recordings!


The first "Trio" was actually a quartet. In 1975, Dolly joined Emmylou Harris, Linda Ronstadt, and Neil Young to record "Light of the Stable" for Harris' Christmas album Light of the Stable.
In 1977, Dolly joined Linda Ronstadt on "I Never Will Marry" on Ronstadt's Simple Dreams.
Also in 1977, Dolly sang harmony on Emmylou Harris' "When I Stop Dreaming" on Luxury Liner.
In 1979, the Trio (Dolly, Linda, and Emmylou) got back together again for "Even Cowgirls Get the Blues" on Harris' Blue Kentucky Girl.
In 1980, Dolly again sang harmony on an Emmylou Harris cut, "Green Pastures" on Roses in the Snow.
In 1981, the Trio reunited yet again, this time on Emmylou Harris' Evangeline to record the title song and "Mr. Sandman." Because of contractual problems with the record labels, Emmylou had to re-record "Mr. Sandman" for the single version featuring only her vocals, but the album contained all three ladies. Although this album has not been reissued, the Trio versions of both songs appear on Harris' box set Portraits. (It also includes "To Know Him is To Love Him," "The Pain of Loving You," and "Farther Along" from Trio.)
Their final collaboration prior to recording 1987's Trio album was a Trio cover of Dolly's "My Blue Tears" on Linda Ronstadt's 1982 release Get Closer.